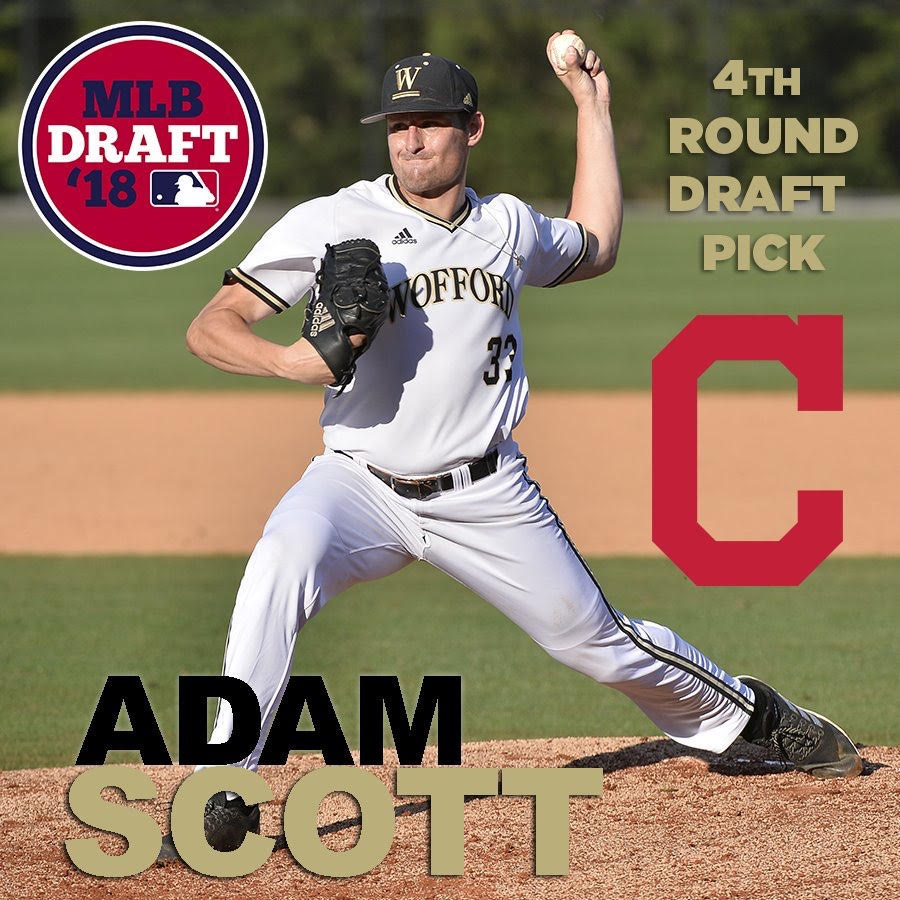 By BILLY HEYEN
Adam Scott once told the Daily Messenger that his favorite sports moment was meeting Andy Pettite on a travel baseball trip. After Tuesday afternoon, that is surely no longer true.
A 6-foot-4 lefthander who attended Wofford after graduating from Canandaigua Academy, Scott was selected with the 133rd pick in the 2018 MLB Draft by the Cleveland Indians. As four-year college pitcher, he very likely will be sent to the Indians' short-season Class A affiliate, the Mahoning Valley Scrappers, in Niles, Ohio.
Scott just completed his senior year at Wofford, a Division I school in Spartanburg, South Carolina. He pitched to the tune of a 3.14 ERA and struck out 137 batters in 103.1 innings. He was named second-team All-Southern Conference following the completion of this season.
At Canandaigua, Scott started for four years but had shortened seasons as a sophomore and junior due to injury, per his Wofford bio. In his senior season, he went 6-3 with 96 strikeouts in 59.1 innings and made the All-Greater Rochester team. He was also named Monroe County League Player of the Year.
For four of the last five years, Section V has had a player selected in the top 13 rounds of the MLB Draft: Grant Heyman (Pittsford Sutherland) in the eighth round in 2014, Conner Simonetti (Fairport) in the 13th round in 2016, Ernie Clement (Brighton) in the fourth round last season, Logan Harasta (Webster Thomas) in the fourth round last season and Scott this year.
Section V players chosen in MLB Draft since 2006
2017
Player –School – Position — Round — Team
Ernie Clement – Brighton – INF — 4th – Indians
Logan Harasta – Webster Thomas –P —  7th – Giants
2016
Conner Simonetti  — Fairport – OF — 13th – Nationals
2015
Matt Portland –Victor – P — 17th – Royals
Danny Mendick – Pittsford Mendon – INF – 22nd – White Sox
Steven Klimek – Greece Arcadia – P – 33rd – Baltimore
2014
Jordan Schwartz – Hornell – P – 4th – A's
2012
Grant Heyman – Pittsford Sutherland – OF – 11th – Blue Jays
Trey Pascazi – East Rochester – INF – 23rd – Blue Jays
2011
Brian Dupra – Greece Athena – P – 7th — Nationals
Jon Schwind – Hilton – C – 41st — Pirates
Chris Bostick – Aquinas – INF – 44th – A's
Andre Kinder – Albion – P – 42nd — Phillies
2010
Cito Culver – Irondequoit – INF – 1st – Yankees
Brian Dupra – Greece Athena – P – 11th – Tigers
Yimy Rodriguez – Greece Arcadia – P – 27th – Dodgers
2009
Dusty Odenbach – McQuaid – P – 8th – Royals
Matthew Tone – Irondequoit – P – 14th – Twins
2007
Andy Parrino – Brockport – INF – 26th – Padres
Brian Dupra – Greece Athena  — P – 36th — Rangers