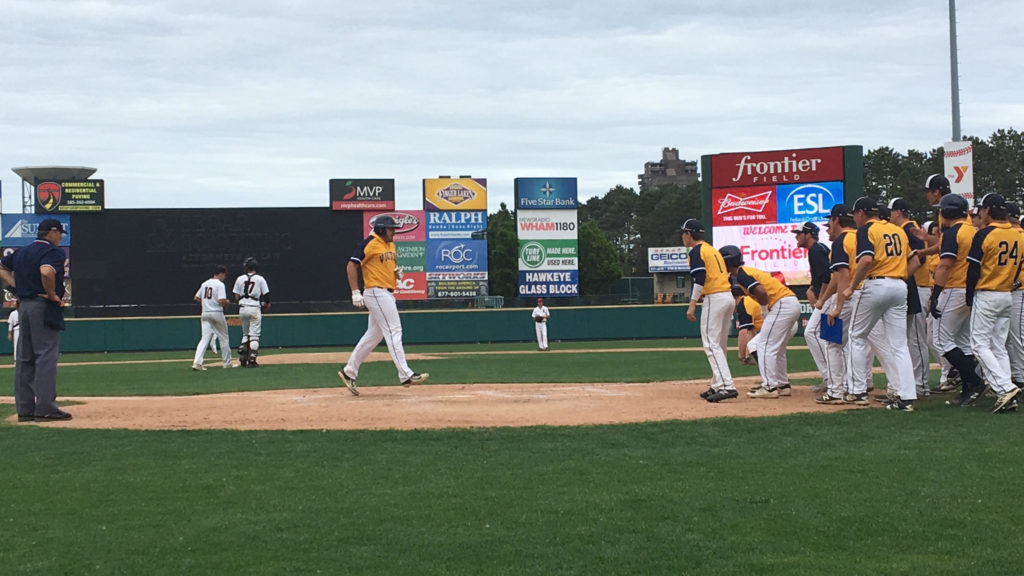 By BILLY HEYEN
ROCHESTER, N.Y. — Victor scored three runs on Saturday evening at Frontier Field. They came on two pitches that were at or above the top of the strike zone. Beyond pitch location, the at bats were almost nothing alike.
The first was a two-run homer. The second was a successful suicide squeeze. Those two plays encompassed so much of what Victor baseball is all about and were enough to send the Blue Devils to the state final four.
Section V's Victor was able to knock off Lancaster of Section VI, 3-1, in the Class AA Far West Regional behind those two big moments and an Andrew Westbrook complete game. Chris Varone homered in the first. Santino Rosso laid down the squeeze in the second. And all throughout, Westbrook worked quickly, got strikeouts when he needed and induced a few key double plays to escape jams. That trio ensured that Victor will get one more week of practices and at least one more game, at next weekend's Class AA state final four.
"The kids just have a great time coming to practice and after practice they go out and they get a meal together," Victor head coach Sean Rucker said. "So they're just having a blast."
Varone wasted no time getting Victor on the board. In the sectional semifinal, he had launched a ball to almost dead center at Frontier Field for a home run. This time, in the bottom of the first, the ball wasn't hit quite as well.
Tom Bednarski threw him a high fastball, and Varone turned on it. It took a high-arcing path toward the left-field fence. The flags were blowing in. The ball had just enough, though, as it settled on the other side of the wall. The Blue Devils burst out of the dugout and waited to envelop Varone at home plate in celebration of an early two-run lead.
"I had a good feeling it was going," Varone said. "Saw the guy start running back and was like, alright, this has got a shot. And then when it went over, it's just a great feeling when that happens."
And Chris Varone has his second homer of the postseason at Frontier Field, a two-run shot. 2-0 @vshsbaseball. @PickinSplinters @PBRNewYork pic.twitter.com/UIAH785MRw

— Billy Heyen (@Wheyen3) June 2, 2018
As it turns out, Westbrook would have been fine with just those two runs. But Victor got him an insurance run the very next inning.
Runners were on first and third with one out as Victor's leadoff hitter, Santino Rosso, stepped to home plate. He took a pitch inside for ball one. Then he fouled one off to even the count.
On the third pitch of the at bat, pinch runner Matt Leonardo broke from third. Rosso squared around. The pitch was a high curveball, one that Rosso said after the game was up near his eyes. But he reached up, almost leaving the ground, to square the ball up and get it on the ground. Leonardo slid home safely and the Blue Devils had a third run.
"I knew, as soon as I got the squeeze sign, that I had to be ready for anything, any pitch, anywhere," Rosso said. "Find a way to put a bat on it. So I was just on my toes and I saw that it was high right from his hand and I was just ready to jump if I had to."
Victor being Victor. Santino Rosso with the suicide squeeze to score another for @vshsbaseball, 3-0 Blue Devils. @PickinSplinters @PBRNewYork pic.twitter.com/zirZQ6KFwy

— Billy Heyen (@Wheyen3) June 2, 2018
From there, Lancaster's Bednarski settled in. He didn't allow a run to Victor in any of the Blue Devils' final four innings at the plate. It was up to Westbrook to make the three-run lead hold up.
Westbrook had already pitched one big game on the Frontier Field mound: the sectional final. But he'd been pulled in the middle innings after struggling to command his offspeed stuff. Saturday, his curveball and slider were sharp from the outset. He struck out the first batter of the game on that curveball, one of his five punchouts.
"I think it's a feeling when you first warm up in the bullpen you know what's working and what's not," Westbrook said. "Just had all three of them working today and we got the win."
The first trouble he faced came in the fourth. Max Giordano led off that frame with a homer of his own to left field. Westbrook hit the next batter. But then he induced a groundball to his second baseman, Ryan Lukas, who started the 4-6-3 double play. Westbrook had to grind to get the third out after allowing a walk and a single, but his curveball got another grounder to Lukas for the third out.
The fifth looked to spell more trouble for the Victor senior righthander. After getting the first out, Lancaster's leadoff guy roped one past Westbrook's face for a single and the two hitter knocked one into left for a hit. Two men were on, Giordano and his one home run already were coming up, and Rucker was walking to the mound to speak with Westbrook for the second time that inning.
In high school baseball, though, two visits does not equal automatic substitution. Brandon Meeks ran halfway from the Victor bullpen into the game mound before being waved back by Rucker, who always intended to keep Westbrook in the game.
"It was just a mix-up there," Rucker said. "I guess they were trying to force the issue on me. We were all kind of in agreement out there that we were going with Westbrook and turns out it was a good decision."
Rucker's confidence in his righty was rewarded when Westbrook induced a groundball to Zack Carpin at third. He stepped on the bag and fired across the diamond to Varone for another double play.
Westbrook carried his momentum into the sixth when he worked a one-two-three inning against the four, five and six hitters of Lancaster. He'd given himself a shot to finish the game against the bottom of the Legends' order.
His cutter was looked at for strike three and the first out of the seventh. Then he walked the next batter before getting a popout to Lukas. With the Victor crowd in full voice and the Blue Devils bench all on their feet, Westbrook and Lancaster's leadoff man, Kyle Backert, worked to a full count. Westbrook, who'd been able to last as long as he had on Saturday because he had control of his non-fastball pitches for the whole game, went to the well once more.
He threw a slider that Backert swung and missed on. The players near Lancaster's dugout didn't move and stared at the ground. Victor's reserves burst out of their dugout to go celebrate with Westbrook. The senior had given his team one more week to play.
"Kinda felt like I needed to throw the strike there at the end," Westbrook said. "I couldn't walk him. Just worked out well."
Victor is heading to the state final four. @vshsbaseball 3, Lancaster 1. Andrew Westbrook throws a complete game and Chris Varone homers. @PickinSplinters @PBRNewYork pic.twitter.com/vuFQ8Zgzo8

— Billy Heyen (@Wheyen3) June 2, 2018
Following the game, Victor received its Far West Regional champion plaque near the first-base line. Westbrook was not the player who was handed the plaque by the Section V official. But the Blue Devil who did turned and quickly found Westbrook and handed it to him.
Only then was the Far West Regional champion plaque raised into the air. Only then did Victor get to celebrate the complete game thrown by Westbrook. Only then could the Blue Devils bask in the fact that they get to play baseball for another week.
"Best feeling in the world," Rosso said. "Just to keep practicing and playing with my friends and my school, just making my school proud. It feels amazing."