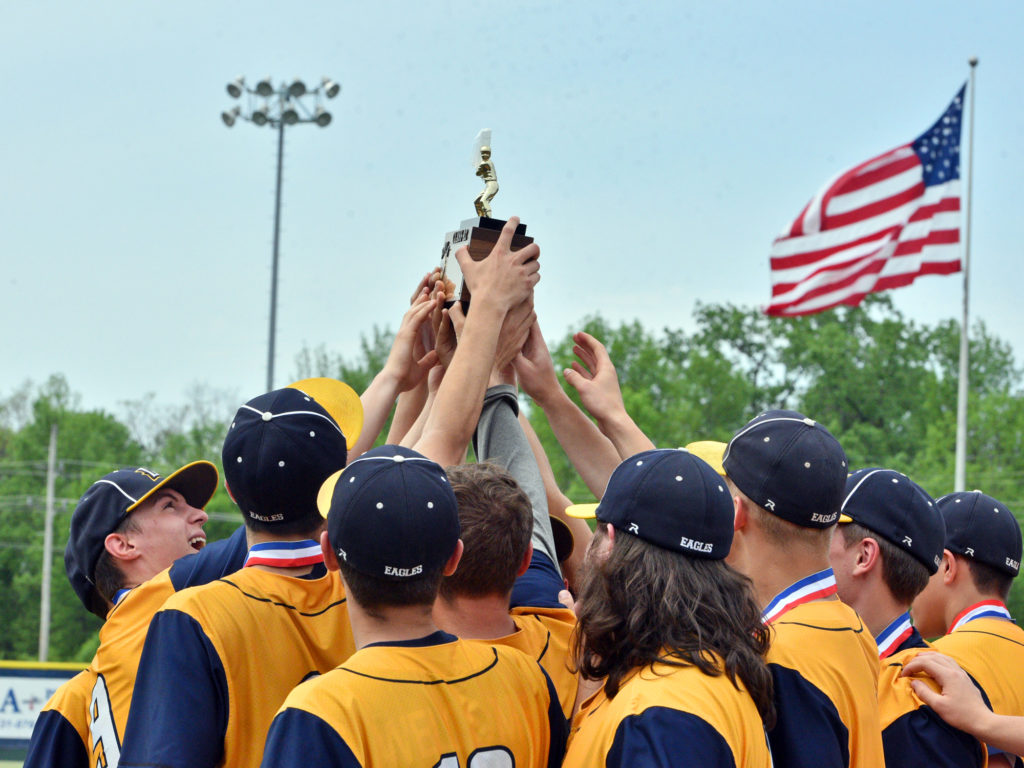 NEWARK, N.Y. — The Wayne Eagles varsity baseball team capped off its historic run through the Class A2 playoffs on Saturday at Colburn Park in Newark, defeating the Batavia Blue Devils 5-2 to claim its first baseball championship since winning the Class A title in 1955.
Starter Logan Holgado tossed a complete game for Wayne, limiting the Blue Devils to two runs on five hits and three walks, while striking out four. Holgado threw 64 of his 105 pitches for strikes, giving him a .610 strike percentage.
"This is kind of surreal," Holgado said. "I was shaking hands with people I don't even know telling me good job, saying thank you. My teammates behind me were great all day."
The Eagles wasted little time on offense, opening the game with a two-run rally to take an early lead. Sean Flannery, the A2 Player of the Year, led off with a double to left field and moved to third on a sacrifice bunt by Holgado. Tommy Bolt followed by drawing a walk to put runners on the corners, scoring on a Josh Armstrong triple to put Wayne up 2-0. Flannery, who finished the game 3-for-4 had scored from third on an error during Armstrong's at bat.
VIEW MORE TRAVIS LARNER PHOTOS HERE. 
"It obviously boosts everybody's confidence," Flannery said. "I left one away and then he threw me an up and in fastball, and I didn't miss it. I got a good piece of it and everybody erupted."
The Eagles held the 2-0 lead up until the bottom of the fourth inning, when Batavia finally was able to muster a response.
Batavia's Jordyn Schmidt started the bottom of the fourth in attack mode, fouling off the first four pitches of his at bat and managed to square up the fifth for a single to center. The single was the Blue Devil's first base hit since another Schmidt single in the bottom of the first and their second of the game.
After Schmidt's single, Sam Sallome reached base the hard way, being hit by the first pitch of his at bat to put two on with none out. Griffen Della Ponna seized the opportunity for Batavia, working a 2-0 count before slapping a double to center, scoring both Schmidt and Sallome to tie the game.
However, the tie would be short-lived, as Wayne went back on the attach in the top of the fifth.
With one out, Flannery singled to left in hopes of sparking a rally, but Holgado struck out in the following at bat, putting any potential rally in jeopardy. That brought Bolt to the plate with two out and a runner on first, and Bolt would not be denied. After taking three straight balls, he ran the count to full and was able to hit the seventh pitch of the at bat into center field for an RBI double.
The Eagles were not finished though, as Armstrong was intentionally walked, allowing Jack LeStrange to drive in another run with a single to center. Jaiden Burlee followed with an RBI single of his own to increase the lead to the eventual final, 5-2.
"I don't even feel like that was real, but it was amazing. It was an amazing week," Wayne head coach Andy Struzik said. "Holgado was on today, Sean Flannery played a great game in the field and at the [plate], they put up two runs in one inning and we came back, answered the call and scored three the next inning. We never trailed in four games this week and we were tied three innings.
Batavia nearly began a comeback in the bottom half of the fifth when Hunter Mazur singled to lead off, but he was picked off at first base moments later. Tayo Beth then doubled to left field, but was thrown out at third attempting to stretch it into a triple. It would be the closest the Blue Devils would get to coming back.
Andrew Francis threw two scoreless innings in relief for Batavia, giving up three hits and one walk with two strikeouts on the day.
Wayne is now set to play the winner of Canandaigua and Brockport in the Section V Class A crossover game on Tuesday, May 29.