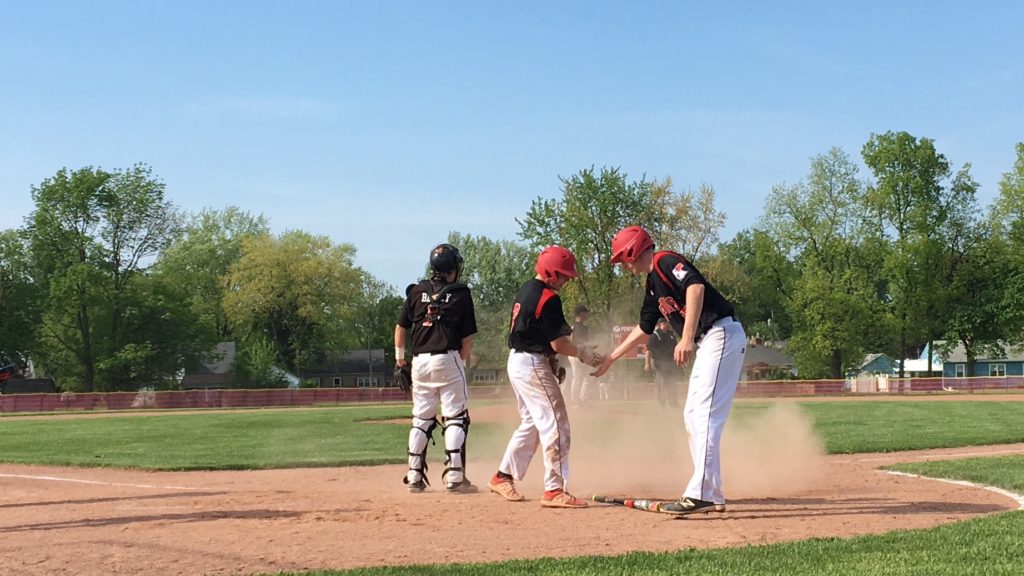 By BILLY HEYEN
PENFIELD, N.Y. — Based on seeds and records, three-seed Penfield was supposed to beat 11-seed Churchville-Chili on Wednesday. Based on that same logic, though, Churchville shouldn't have even been playing the Patriots in the first place.
The Saints had pulled off one upset on Monday night to knock off six-seed Webster Thomas and advance to the Class AA quarterfinals. But they couldn't keep the magic going.
With a clear, blue sky and the sun shining, Penfield encountered little adversity en route to a 13-0 win against Churchville at Penfield High School. Daniel Stapleton cruised through five shutout innings on the mound while throwing less than 50 pitches, and a 7-0 lead after two innings meant the Patriots could coast to the finish line. Penfield's win sets up a date with McQuaid on Thursday in the Class AA semifinals after the Knights knocked off Rush-Henrietta on Tuesday.
"Coming back to a game right after a win is a pretty good feeling," Stapleton said when looking forward to Thursday.
The sophomore starter allowed a hit to Churchville's leadoff hitter, Jacob Carroll, but then just two more among his 15 outs from that point on. He didn't rely on a strikeout pitch, and he didn't need to. His defense had his back on more than one occasion.
After a single led off the fourth inning for the Saints, Stapleton induced a groundball to shortstop. 6 to 4 to 3, a quick, clean double play, and the leadoff hit was erased. The next inning, Stapleton copied that blueprint with some fielding of his own.
With one out in the fifth, a Churchville batter reached on a popup that dropped between Penfield players just beyond second base. Stapleton took matters into his own hand, getting a groundball right back at him, turning and firing to his shortstop who completed the double play with a toss to first.
After Penfield lets a popup drop just behind second base, Stapleton takes matters into his own hands by inducing a double play ball right back at him. Jacob Loewke on to pitch for Churchville, 8-0 Penfield, middle of five. @PickinSplinters pic.twitter.com/OlApmnwu7X

— Billy Heyen (@Wheyen3) May 23, 2018
That would be the last throw Stapleton made, as pulling him at less than 71 pitches — and he was well below at about 45 — keeps him eligible and well-rested if the Patriots make Saturday's sectional final.
"We certainly aren't looking ahead of anything but we know we can't use him tomorrow," Penfield head coach Nick Marcin said. "So okay if we can get him out, if we get to Saturday, now maybe he can give us a little something."
Penfield built up its lead in part because of two costly Churchville errors. With the Patriots up just a run and two outs in the second, a groundball wasn't handled in the infield, allowing Penfield to keep hitting. Another groundball was misplayed a few batters later. The bottom of the second featured six unearned Penfield runs, with the biggest Patriot blow coming from a Gage Ziehl two-run triple. Ziehl finished the game 2-for-2 with two walks.
In the remainder of the ball game, after an early 7-0 lead, the Patriots kept playing as if the game was much closer. They tried sacrifice bunting multiple times, took the extra base and kept most of their starters in the ball game.
Penfield tacked on five more runs in the bottom of the sixth. They came courtesy of three hits, three walks, a hit by pitch, and a sacrifice fly. Marcin wanted to see the Patriots "turn six into seven, seven into eight, and eight into nine."
Marcin said that there's simply no time to lose the Patriots' roll. Thursday brings a sectional semifinal against a strong McQuaid team, and Penfield had to ensure it would be ready.
"That wasn't to try to run up the score or anything like that," Marcin said. "But it was to make sure we had momentum going into tomorrow and not play with our foot on the gas for five innings and then sleepwalk through the last two. "
AJ Kimmins, Penfield's catcher, and Marcin both emphasized that there'll be nothing different about Thursday's meeting with McQuaid than Wednesday's game against Churchville. Kimmins said it'll be just game 22 to him, "just another game of baseball."
And for the Patriots, the message they've been hearing from Marcin since the regular season ended has focused on one thing: one-game winning streaks.
"The approach is that there was only one thing we could do today and that was win a sectional quarterfinal," Marcin said. "There's only one thing we can do tomorrow, and that's win a sectional semifinal."