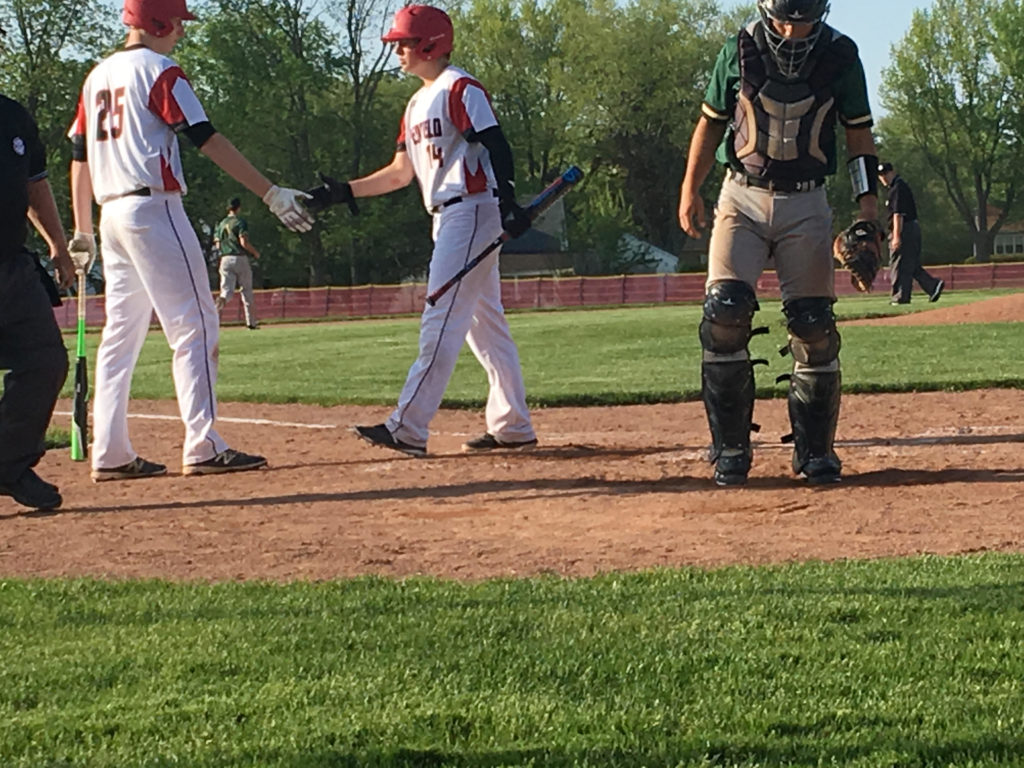 By BILLY HEYEN
PENFIELD, N.Y. — Rush-Henrietta's Lukas Haefner had mowed down the Penfield lineup the first time through, allowing one hit in the first three innings. But in the fourth, things took a turn for the Patriots.
Leading off the frame, Connor Stuewe was hit on his left knee. Then, Patrick Bowes laid down a sacrifice attempt that was overthrown to give Penfield runners on second and third. It set up freshman clean-up hitter Gage Ziehl, and he delivered. Ziehl, facing a two-strike count, ripped a fastball back up the middle past a diving shortstop and into centerfield. Two runs scored. Penfield had a lead it wouldn't relinquish.
"Just to not do too much," Ziehl said of his mindset in that at bat. "Single's gonna do it."
A hit by pitch and an error on a sacrifice attempt set up Gage Ziehl for this two RBI single. That puts Penfield up 2-1 in the bottom of the fourth, still no outs in the frame. @PickinSplinters pic.twitter.com/IM96sG20Q0

— Billy Heyen (@Wheyen3) May 17, 2018
Ziehl's hit, part of a two-hit, three-RBI day, was the catalyst for a four-run fourth inning for the Patriots and opened up the home side's scoring in a 6-1 Penfield win over Rush-Henrietta on Thursday evening. After allowing a first inning run, Penfield's Daniel Stapleton didn't allow another in his final four innings of work to earn the win and bring the Patriots to 7-3 in Monroe County Division I play. The win gives Penfield a share of its league title with Victor and Fairport and lets the Patriots enter sectionals next week coming off a win.
"You always want to go in on a high note," Stapleton said. "So this win against a quality team just is a great way to go into sectionals."
Stapleton didn't get off to the start he wanted. His opposite number, Haefner, hit a double to right-center leading off the game. He came around to score two batters later on a sacrifice fly to put the Royal Comets on top.
It's 1-0 @RHvbaseball after the top of the first. Lukas Haefner helped his own cause by doubling to right center. Two-hitter moved him to third and then this sac fly from Raymond Specht brought Haefner home. @PickinSplinters pic.twitter.com/h9jftFYObZ

— Billy Heyen (@Wheyen3) May 17, 2018
Then, for three innings, Haefner cruised. Penfield head coach Nick Marcin said that Haefner "throws very hard" and the R-H starter struck out three batters the first time through the order on the back of that velocity. Marcin's message to his team: shorten up in the box.
"Just try to spread out and let his velocity do some of the work," Marcin said. "But if we had big long swings like we did the first time through the order, we weren't going to be able to catch up to him. Some of the guys did a good job of spreading out and trying to go the other way."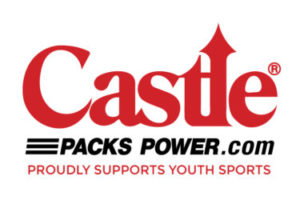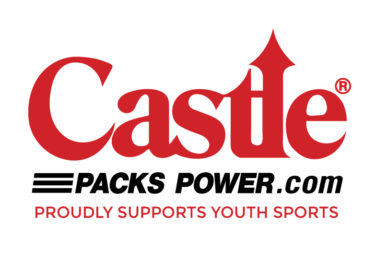 In the fourth, shorter swings worked out for the Patriots. After Ziehl drove in the first two, Penfield was able to load the bases. With one out, Haefner struck out a batter to get the second. But then Penfield's catcher, Andrew Kimmins, knocked a ground ball through the right side to drive in two more runs.
Marcin spoke postgame about how he preaches to his team the importance of what it does after putting a crooked number on the scoreboard. The Patriots' offense delivered the crooked number. It was Stapleton's job to respond with a zero.
Things looked dicey after he loaded the bases with just one out. But Stapleton induced a grounder to the shortstop, who stepped on the bag and fired to first to complete the double play. The Patriots hustled off the field with voices from their bench echoing a refrain, "Let's get more."
Daniel Stapleton, who had suddenly lost his control, induces this double play ground ball to escape bases loaded danger and bring Penfield's 4-1 lead to the bottom of the fifth. pic.twitter.com/kOmOE1X6kt

— Billy Heyen (@Wheyen3) May 17, 2018
In the bottom half, they did. Penfield tacked on another two, with Ziehl delivering another RBI on a bullet back up the middle off a hanging curveball.
"Those were huge hits to give us a little bit of breathing room," Marcin said.
All the momentum was on the Patriots' side, and it stayed that way. By the time the top of the seventh rolled around and Brendan Miller warmed up for his second inning of work to try and close it out, the home team's sound system blared what turned out to be foretelling words.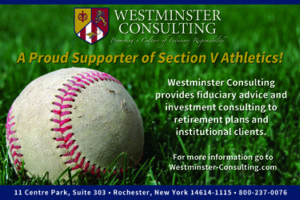 Closing time
Time for you to go out go out into the world.
Closing time
Turn the lights up over every boy and every girl.
Miller made those words ring true with a one, two, three seventh inning to close out the game. The win earned a share of the league title for Penfield. But for the Patriots' head coach, there's much left to do.
"Nobody plays for league titles," Marcin said. "You play for sectional titles but you gotta learn how to win important games. This was an important game for us."