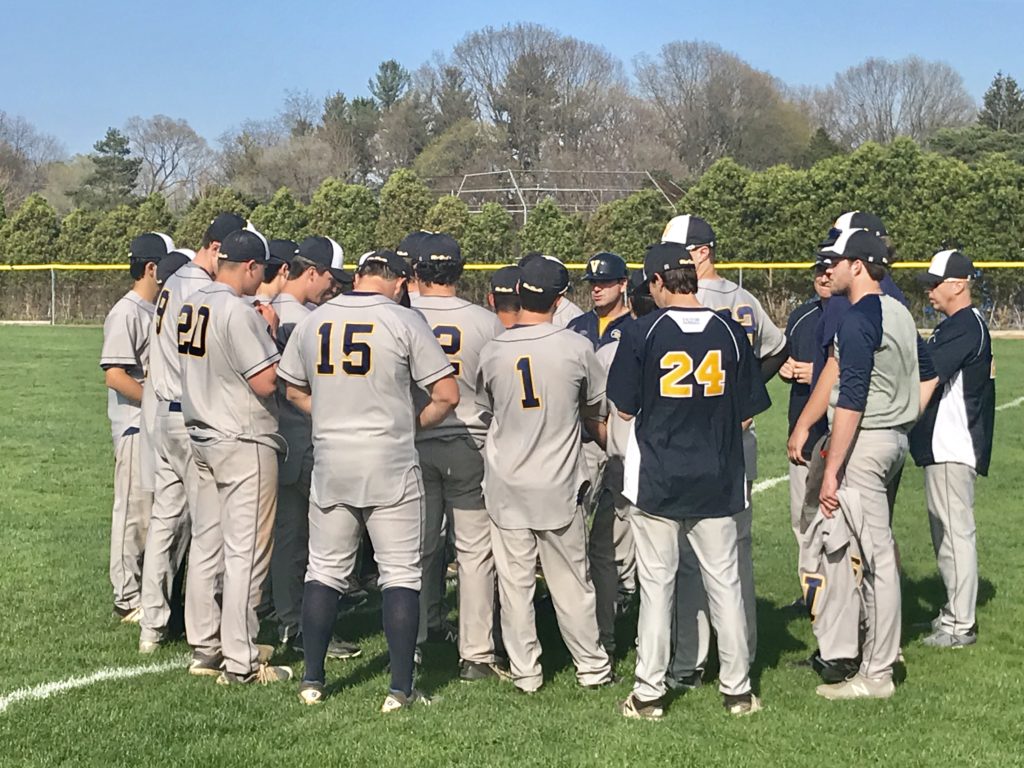 McQUAID 4
WEBSTER SCHROEDER 2
McQuaid pinch hitter Zach Lee singled home Tyler Bergeron and then was driven home by Ryan O'Mara's double in the bottom of the sixth to break a 2-all tie and send the Knights to a 4-2 victory over Webster Schroeder.
McQuaid (13-6) drew first blood in the fourth when Jarrett Odorisi led off with a triple and eventually scored on a passed ball. The Warriors got the run back after Corey Spooner, Robert Merkov and Tommy Baxter slapped singles.
In the fifth, McQuaid regained the lead when Steve Sercu scored on an O'Mara single, but Schroeder (13-6) answered with a lone run in the sixth as Nick Vogt doubled and scored on an error.
O'Mara finished 2-for-2 with 2 RBI to lead McQuaid. For the Warriors, Baxter and Vogt each went 2-for-3 and Jack Willard took the loss despite tossing a complete game, 6-hitter.
CANANDAIGUA 3
VICTOR 5
Andrew Westbrook tossed a complete game, scattering 6 hits and allowing 0 earned runs and Tommy Ryan homered in the fifth for an insurance run to lead the Victor Blue Devils to a 5-3 road victory over rival Canandaigua.
The Braves scored all three of their runs in the bottom of the first as Dylan Mackenzie doubled home Jordie Johnstone and Joe Brinza singled home Michael Sculli. Canandaigua then threatened in the bottom of the seventh as Seth Vigneri singled to bring the winning run to the plate with two outs, but Westbrook covered first on a ground ball to first baseman Chris Varone to end the game.
Offensively, the Victor bats stayed relatively quiet, mustering only four hits. But it made those four hits count. In the first, a single by Varone scored Ryan. Then in the third Victor scored three times, one on a wild pitch, another on an errant throw and the third on a well executed hit-and-run bunt by Ryan Lukas to score Varone.
Victor was led by  Ryan's 2-for-3, 1 home run outing
Brinza led the Braves from the plate with a 2-for-3 day. Sculli took the loss. 
GATES-CHILI 4
FAIRPORT 11
Five Fairport pitchers combined efforts to limit Gates Chili to just four hits, and the Red Raiders scored 6 runs in the second inning to log an 11-4 victory over Gates Chili on the road.
Jackson Sullivan started an allowed just one hit in three innings then the relief efforts of Zack Salisbury, Davis Gee, Perry Wheeler and Matt Adams shut the door over the last four innings for Fairport. Ten players each had one hit and Devin Marshall's was a bases-loaded 3-RBI double in the third and Josh Van Bramer's was triple.
Trailing 10-0 in the fifth, the Spartans scored three times on two Fairport errors.
Noah Esten finished the day 2-for-3 for Gates.
BATAVIA 6
EASTRIDGE 1
Batavia scored 3 runs in the first and 2 in the second to cruise to a 6-1 victory over visiting East Irondequoit.
Back to back doubles by Chandler Baker and Jordyn Schmidt in the bottom of the first accounted for three runs, and in the second and two errors led to both Batavia tallies in the second. In the fourth Batavia made it 6-0 on a sacrifice fly by S Sallome.
The Lancers (8-9) got their lone run in the sixth after Patrick Mortillaro drew a bases-loaded walk. East Irondequoit loaded the bases on three consecutive singles by Dylan Hanley, Austin Robinson and Shane Harisis
Hunter Mazur was solid on the mound for Batavia, going 6.2 innings allowing just 5 hits and the lone run. Steve Kemp took the loss for the Lancers.
BROCKPORT 7
GREECE ARCADIA 0
Quinlan Ignaszak and Troy Leibert combined to toss a 3-hitter and struck out 10,  and the Blue Devils exploded for 6 runs in the bottom of the sixth inning to defeat Greece Arcadia, 7-0. Leibert earned the win pitching the last two innings and striking out four.
Brockport (12-7) sent 10 men to the plate in the sixth, and pounded out 4 singles, 1 double and 1 triple to put the game out of reach. The big swings were delivered by Troy Leibert's 2-run scoring double and Joshua Keenan's RBI triple in the next at bat. Frank Lauricella and Samuel Velletri each had run scoring singles in the inning. It was Leibert's second extra base hit of the game as he drilled a home run in the fifth.
For the game, Leibert went 2-for-3 with 3 RBI. For Arcadia, Justin Augustine notched a double.
IRONDEQUOIT 6
PITTSFORD-MENDON 4
Chris Butler allowed just 6 hits over 6 innings with 5 strikeouts and helped himself at the plate with an RBI double in the first inning to pace Irondequoit to a 6-4 victory over Mendon.
Mendon made it interesting in the top of the seventh. Trailing 6-2 heading into the inning, the Vikings stroked two doubles – one by Jared Petrichick and the other Hudson Bockmier – to pull to within 2 with the tying run at the plate. But the Eagles' John Fernandes shortstop made swift work of a ground ball to end the game.
Petrichick had a fine day at the plate for the Vikings going 3-for-4 including two doubles, while Jacob Wilson had two hits in three at-bats, one of which was a double. Chad Gartland, Nick Serce, Jackson DeJohn, Jimmy Weaver each had two hits for Irondequoit, and Serce drove in two runs.
CHURCHVILLE-CHILI 10
HONEOYE FALLS-LIMA 8
Amaury Samalot picked up the win in relief. Joey Puglia nailed down the save with the tying runner on base. Samalot had three hits including a 3-run home run and six RBI. Matt Worley had two doubles and Hayden Smith three hits for HF-L.
WEBSTER THOMAS 11
BRIGHTON 8
Thomas rallied for its third straight comeback win of the week.  The Titans trailed Brighton 8-0 going into the top of the fifth inning.  Brighton's pitcher Trent Wasserman had a no-hitter thru four innings.  In the fifth, Ryan Ogi broke up the no-no with a lead-off single. Sam DeGrace followed with a single, a walk to Derek Ogi loaded the bases for the Titans.  Steve Minardo singled to make it 8-1. Ryan Hill delivered from there with a grand slam to cut the margin to three at 8-5  Damian Wright, Justin LaLoggia had singles, and then Matt Stuewe doubled to make it 8-6.  Brighton's RF Ryan Watson made a diving catch to end the inning.
In the sixth, the Titans scored three runs with two outs to take a 9-8 lead.  Steve Minardo started the rally with a 2-out single, Ryan Hill doubled, and Devin Mulcahy connected on a 2-run single to tie it at eight.  After a walk to Damian Wright, Justin LaLoggia singled to give the Titans their first lead.  They tacked on two more in the seventh with a walk to DeGrace, a single by Minardo and a 2-run double from Ryan Hill.
Derek Ogi came in relief and pitched three scoreless innings to pick up his first varsity win. Ryan Hill pitched a scoreless seventh to pick up the save. Hill finished 3-for-5, with a grand slam, two doubles, 6 RBI and two runs scored. Minardo went 3-for-4, with three runs scored and an RBI. LaLoggia was 2-for-3 with a run and an RBI. Sam O'Hora and Jack Falter had three hits apiece for Brighton.
GREECE ODYSSEY 1
BRIGHTON 7
Tanner Frank struck out six and allowed one run on four hits in a complete-game effort. At the plate, Frank drove in three runs and scored another with two hits including a double. Trent Wasserman was 2-for-3 with two RBI and a run scored. Ryan Watson was 3-for-3 with an RBI and a run scored. Jack Falter doubled and scored a run. Korey Canton singled and scored for Odyssey.
MONROE 6
EAST 9
Jean Carlos Alomar's RBI triple to right field gave East its first lead of the game. Jordi Agosto followed one batter later with an RBI double and the Eagles never looked back. They sent 10 to the plate in the inning and turned a two-run deficit into a five-run lead. READ MORE.
SOTA 11
FRANKLIN 12
Israel Cuevas capped a three-run seventh with a walkoff single, and Franklin advanced to the RCAC Championship game where the Quakers will meet East for the second straight year. Cuevas finished 3-for-5 with two RBI and one run scored. Frankie Santiago started the Franklin rally with a two-out walk. Julian Cotto followed with another base on balls. Jonathan Dones tied the game with a two-run double and scored on the Cuevas game winner. Dones was 3-for-4 with three runs scored. Santiago had two hits and crossed home three times. Cotto scored three runs. Angel DeJesus was 2-for-4 with three RBI. Nomar Quiones worked a scoreless seventh for the win. Reece Correa homered and drove in three runs for SOTA. Justice Salamone was 3-for-3 with a double, three RBI and two runs scored. Alfredo Alponte was 2-for-4 with two runs scored. Ross Janezic scored three runs.
WAYNE 4
PENN YAN 7
Peyton Schuck connected on a grand slam and finished with five RBI to lead Penn Yan. Derrick Rivello homered, drove in two and scored twice for the Mustangs. Rivello hurled four innings for the win. Donny McMahon tossed three shutout innings for the save. Wayne's Logan Holgado was 2-for-3 with a double and run scored. Tim Catalano had a double, two hits and a run scored.
GANANDA 12
CLYDE-SAVANNAH 0
Zach Ciprich went 3-for-4 with a double, three runs scored and two RBI for Gananda which scored three runs each in the first and second innings and four in the third to take a 10-0 lead after three innings. Tim McClare doubled twice, drove in a run and scored two more. Cody Hill doubled and drove in four runs. Austin Jacobs struck out seven over four shutout innings for the win.
GENESEO 7
YORK 4
Jason Valentine struck out nine over 6 1/3 innings to pick up the win. Valentine allowed four runs on six hits. Jake Hamilton worked 2/3 innings for the save. Cole flint went 2-for-4 with two RBI and a run scored. Luke Harris and Daniel Kaye scored two runs apiece. Russell Brownell finished 1-for-2 with two walks, an RBI and a run scored.