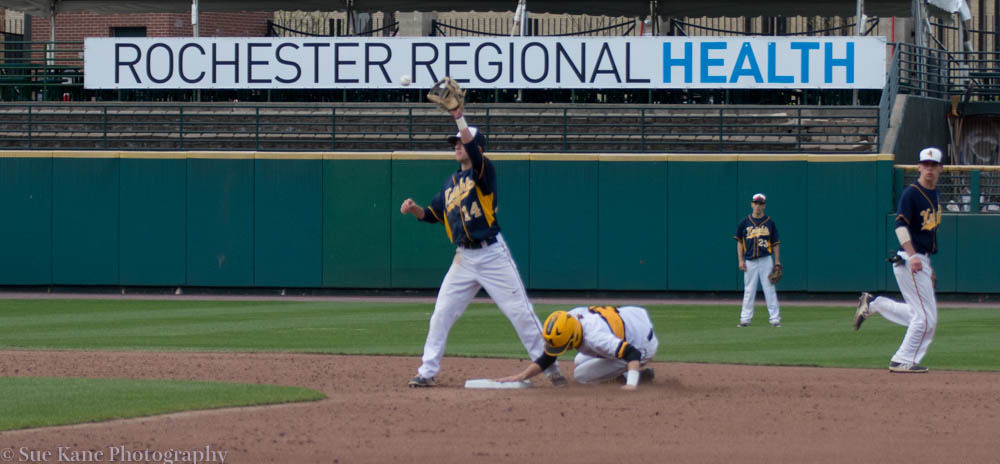 By PAUL GOTHAM
Jockeying for position in the upcoming sectionals takes center stage this weekend with several matchups serving as potential post-season previews. Here's the breakdown:
FRIDAY
McQuaid Jesuit (11-3) at Pittsford Sutherland (8-8) 5:00 PM
A clash of NYS semifinalists from a year ago (McQuaid Class AA/Sutherland Class A): McQuaid goes with senior left-hander Erik Johnson (5-0). Sutherland counters with senior right-hander Graham Schild (5-1). Johnson hurled a complete game on April 26th when the Jesuit Knights avenged an earlier loss with a 5-3 win over Rush-Henrietta. Johnson struck out eight in the rematch of the 2017 Section V Class AA final. Schild fanned 10 over 5 1/3 in Sutherland's 6-3 win over Pittsford-Mendon last week. Mendon had won three straight coming into the game and seven of eight. Ryan O'Mara drove in four and finished 3-for-5 with two doubles in McQuaid's win over Aquinas earlier this week. Will Ling tripled, homered, scored twice and plated two in Sutherland's 6-3 victory over Greece Athena on Monday. Ben Beauchamp ended a bases loaded threat in the top of the 10th and scampered home with the winning run in the bottom of the inning and McQuaid Jesuit Knights completed a late comeback to defeat the Pittsford Sutherland Knights 6-5 when these two teams met at Frontier Field last season.
Webster Thomas (8-6) at Rush-Henrietta (7-6) 5:00 PM
Pay no attention to the records. Both of these teams will have say in who wins the Class AA title. Winners of four straight, Thomas holds the second longest streak in Monroe County (Canandaigua has won seven straight). Jadon Massucci hurled five-plus innings when Thomas handed cross-town rival Webster Schroeder its first divisional loss of the season. Raymond Specht had three hits and four RBI in R-H's win over Churchville-Chili.
Webster Schroeder (10-5) at Hilton (7-8) 4:30 PM
Schroeder started the week clinging to the No. 4 seed in Class AA. The Warriors have split a pair this week. Hilton has won three straight. Alex Vogt had  three doubles, a triple and three home runs as part of 8-for-13 (.615) over three games last week. Collin Nelson had two hits in Hilton's 6-5 win over Fairport.
Aquinas (5-6) at East High (13-2) 4:30 PM
Winners of three in a row, East holds the top seed in Class A2.  Aquinas, a finalist last season and champion in 2016, held the seven seed at the beginning of the week. Easy to see these two meeting again in the post-season. Jordi Agosto stole home to scoring the eventual winning run and came on to strike out the side in the final inning to give East the win over league rival SOTA earlier this week. Tyler Szalkowski went 2-for-4 with an RBI and a run scored when the Lil Irish beat SOTA in extra innings.
Midlakes (11-4/10-1) at Newark (12-5/8-3) 7:30 PM Colburn Park
Midlakes won 11-5 when these Finger Lakes East rivals met last month. The Screaming Eagles bring a seven-game winning streak to Coburn Park. Newark has taken six straight. Ezra Maslyn drove in three and scored three with three hits in Midlakes' win over Waterloo earlier this week. Dylan Blanchard drove in two with two doubles in Newark's 6-5 win over Penn Yan.
*Updated to include accurate winning streak for Canandaigua.