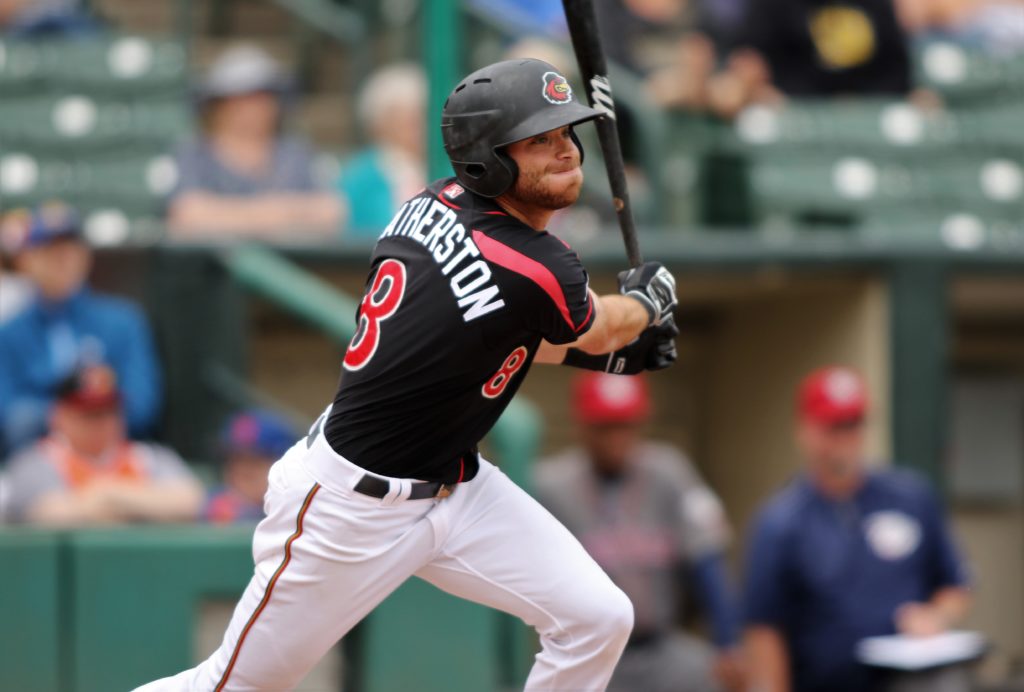 By KEVIN OKLOBZIJA
You can say it's a long season, that when you're playing games in April it's still early, that there's plenty of time to overcome a rough start.
But when the calendar turns to May and you're still scuffling at the plate, when you're still failing to produce in key situations, then there's truly trouble on the horizon.
After Friday night's 11-3 loss to the Lehigh Valley IronPigs, the Rochester Red Wings were well aware of what may have been happening to their season. That loss dropped their record to 10-13, including 2-9 at Frontier Field.
So after the City of Rochester's Clean Sweep on Saturday morning and before they took the diamond on Saturday afternoon, the Wings had a little clubhouse chat. They needed to sweep away very fresh memories of a horrid first month.
"We had a little get-together and talk and got back to basics," second baseman Taylor Featherston said. "At-bats changed from top to bottom."
Indeed, the Wings pounded out 13 hits in an 8-0 victory over the IronPigs on Saturday. Two of those hits, by Sean Miller and Jermaine Curtis, came with two outs and runners in scoring position, a situation where as a team the Wings had been borderline deplorable.
On Sunday, the big-hit parade continued. Featherston delivered a two-out, bases-loaded double into the right field corner to give the Wings a 4-0 lead in the bottom of the first.
VIEW MORE JOE TERRITO PHOTOS HERE.
They tacked on two more in the fourth on Leonardo Reginato's two-run sacrifice fly — yes, you read that correctly — for a 6-0 lead, and that was more than enough for starter Stephen Gonsalves (one run in 6 2/3 innings) and Nick Anderson (a scoreless 2 1/3). Right fielder Dylan Cozens made a fine running catch of the Reginato fly ball to the gap but apparently thought it was the third out and two runs scored easily, Featherston from third and James Ramsey from second.
"When you put together some good at-bats and get some consistency, all the other things fall into place," said manager Joel Skinner, whose club has climbed to within a game of .500 (12-13).
The first inning was a perfect example. With two outs, Jake Cave hit a single back off the leg of IronPigs starter Jacob Waguespack (0-3, 7.62 ERA) and Kennys Vargas lined a single to left-center. Cave then scored on a wild pitch before Brock Stassi walked and Willians Astudillo singled to load the bases.
A run in the first after two outs in many situations would be considered a decent start. In this situation, however, leaving the bases loaded would have been depressing.
Featherston delivered, lining a pitch into the corner in right. Before the at-bat, he had been 1-for-10 this season with two outs and runners in scoring position (RISP). Overall he had been just 2-for-19 with RISP and 7-for-37 with runners on base.
His stats mimicked the Wings as a team; they entered the game hitting .136 with two outs and RISP. Overall their RISP batting average was .204.
Forget the past, however. Featherston's clutch hit got the Wings rolling on Sunday.
"When things aren't going your way, everyone wants to be the guy to do the damage," Featherston said.
But trying to be the hero often leads to failure, he suggested. It turns out that simply getting back to the proper approach in the batter's box cured all.
"You're seeing pitches, you're trying to do a little less, you're not trying to hit the six-run homer," Featherston said. "Then one big hit and the monkey's off your back."
Ahead 4-0, Gonsalves was cruising. He was perfect through 14 batters and then Mitch Walding bashed a curve ball onto the pavilion behind the Wings bullpen and the IronPigs had a run in the fifth.
"He made one mistake and lost his perfect game, his no-hitter, his shutout, everything, on one pitch," Skinner said. "But he threw the ball extremely well."
That sentence should actually end on "again." In two starts since coming up from Double-A Chattanooga, Gonsalves has allowed one run in 14 1/3 innings. He has allowed two hits, walked two and struck out 14.
So far, so good, but there's still work to be done, he said. He needs to make his curveball more effective. He got called strikes on Sunday but also missed his location with it against Walding and saw it land a good 370 feet from the plate.
Notes: Wings outfielder Jimmy Kerrigan picked up his first Triple-A hit when he lined a single in the sixth inning.
Protective netting will be installed across the fronts of both dugouts after the game on May 20 and will be in place for the homestand starting May 25, Wings general manger Dan Mason said. Even if the netting was in place on Sunday, it would not have protected the fan who was struck in the lower seats beyond the first base dugout. The woman was taken to a hospital for examination and/or as a precaution.