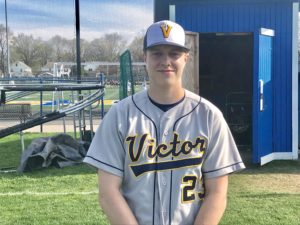 By PAUL GOTHAM
ROCHESTER — Sean Rucker gave Louie Schafer the jersey off his back. The Victor senior repaid his coach and then some on Saturday.
With a high number of student-athletes suiting up for the Blue Devils this season, the 22nd-year coach needed to part with his favorite uniform top.
No. 23 never looked so good as it did Saturday on Schafer's back for a pair of home run trots.
"When I rounded third he said 'I like 2-3 on you,'" Schafer said after Victor's 10-2  win over Irondequoit in non-league action. "I was like yeah."
Schafer connected on a pair of grand slams, and Victor (11-4) won its fifth straight game.
"I actually hit my first home run this year on the big diamond earlier this year," the Victor left fielder said. "To hit two grand slams in one game it's just like I have no words for it."
Schafer got a fastball down the middle of the plate in the first inning to give the Blue Devils a 5-0 lead. He turned on a down and in fastball in the seventh for the final margin of victory.
Louie Schafer connects on his second GRAND SLAM of the day. @vshsbaseball leads 10-2 in the 7th. pic.twitter.com/fp67glyqzH

— Paul Gotham (@PickinSplinters) May 5, 2018
"I was definitely seeing it pretty well," he added. "It felt good off the bat, both of them. I was just hoping they got out, and they did."
He gave Victor starter Owen Delforte all the run support he needed. "He's just a bulldog," Rucker said of his starter. "He doesn't get behind in the count. He just keeps going at people and doesn't give anyone free passes. He makes people earn their way."
Owen Delforte ???? the corner for @vshsbaseball pic.twitter.com/JFK0ExuTSC

— Paul Gotham (@PickinSplinters) May 5, 2018
The senior right-hander struck out three, walked two and allowed four hits. His two mistakes came to Irondequoit first baseman Nick Serce who drilled a pair of solo shots to account for all of the Eagles offensive production.
"Those were two decent pitches," Rucker said of Serce's two home runs. "He tattooed 'em. He did a nice job. You tip your cap to him. The kid's a good hitter."
Nick Serce over the hills and through the trees for @WIEagles pic.twitter.com/tNVXo5TCJX

— Paul Gotham (@PickinSplinters) May 5, 2018
Delforte did not allow a hit the first time through the order and improved to 3-0 on the season. He retired the side in order in three separate innings. The senior right-hander also slowed an Irondequoit (9-5) squad which had won three straight.
"He's really gone from being a position player early on in the season to our third game-of-the-week starter," said battery mate Tommy Ryan. "He keeps the ball low. He changes speeds really well. He's not afraid to go after kids."
The game was the continuation of a suspended affair from Friday. A little luster might have been taken off Schafer's performance if not for teammate Zack Carpin.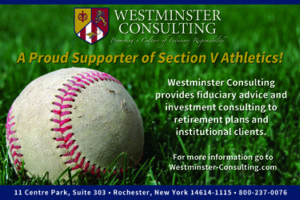 "We had first and second and a 3-2 count on him to resume the game," Rucker explained of the situation when the game restarted on Saturday. "He only got one pitch, and it was out of the zone, a curve ball that he could have swung through and missed. Instead he takes it, loads the bases, and gives Louie a chance to hit that grand slam. That was huge for us."
With Schafer's success today, Rucker might have to reconsider which number he takes in future seasons.
"We had a few extra guys this year, a bigger club. We didn't have enough jerseys in the (road) gray, so he's wearing my jersey. We have enough (home) golds. "He's making it look pretty good. (Might have to) hand it down to the next guy. Keep that in the lineup."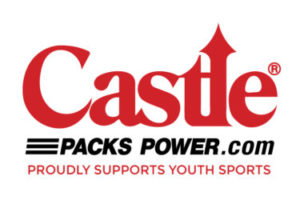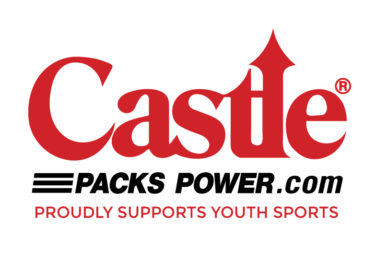 Victor senior reliever Brandon Meeks tossed two scoreless innings. The left-hander allowed a single to the first batter he faced and then retired the next six batters.
Santino Rosso went 2-for-4 with an RBI for the Blue Devils.
Irondequoit's Jackson DeJohn and Cullen Pease both collected a hit and a walk apiece.