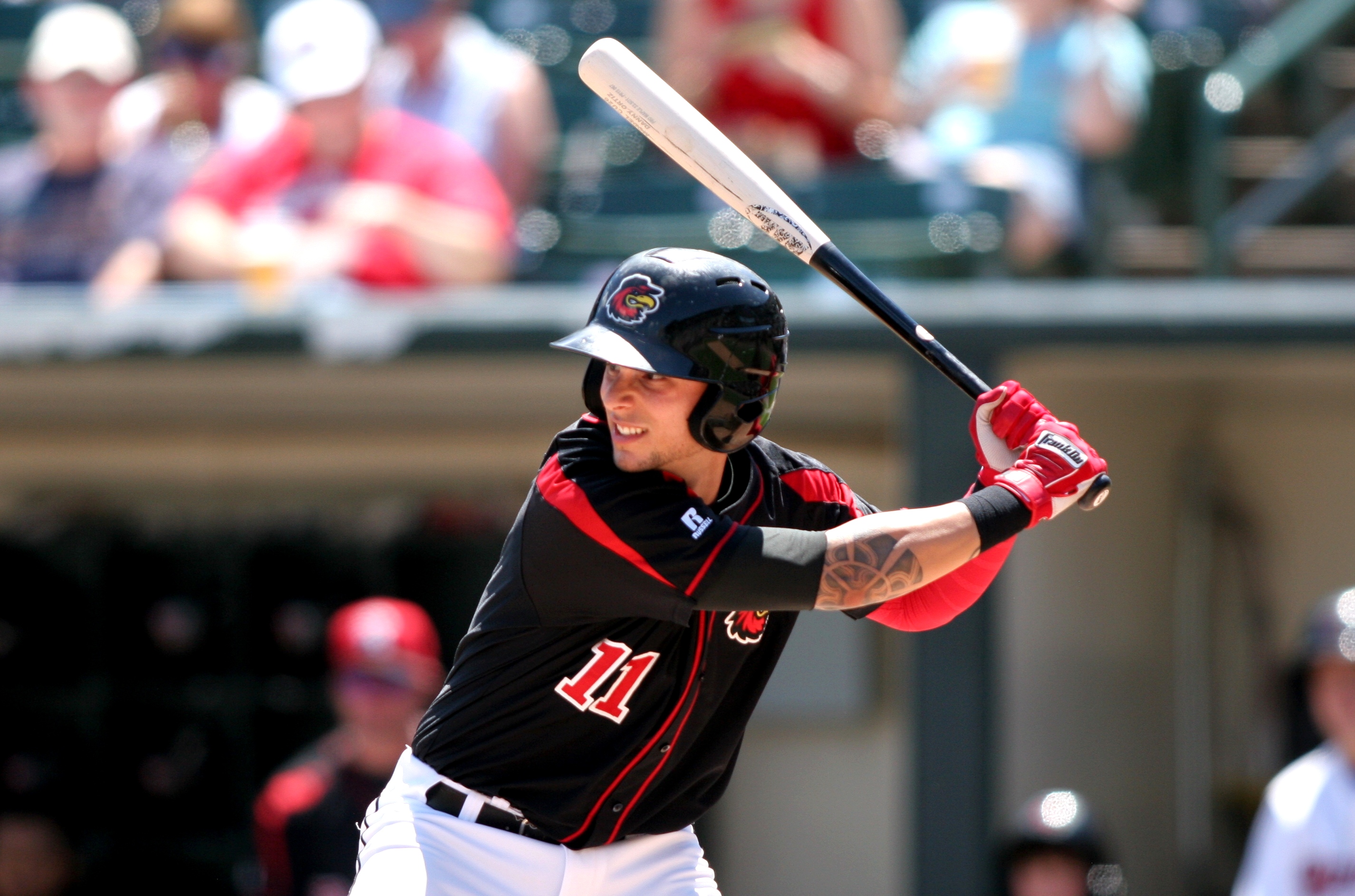 By KEVIN OKLOBZIJA
The first sign that the wind was in extreme crazed mode were the flags behind the left field fence at Frontier Field on Friday night. They were perpetually blowing out toward Plymouth Avenue.
Then came the press box announcement: Winds steady at 36 mph, gusting to 56 mph.
Just how overbearing is that sort of wind at a ballpark?
It was so windy that Danny Ortiz needed to call time out in the batter's box because his helmet was turning on his head.
"Two times I had to say 'time,' " he said.
"It was the first time for me playing in the wind like that," said Ortiz, who played the outfield for the Rochester Red Wings for part of 2014 and all of 2015.
He sure didn't mind the new experience. Ortiz belted two-run home runs in the first and second innings — a combined 889 feet worth of home runs — and powered the Lehigh Valley IronPigs to an 11-3 victory over the Red Wings.
In track meets they use an asterisk to denote wind-aided. In baseball they just smile and touch the plate.
The first homer by Ortiz was going to be an out, or so he thought. Instead it hit half-way up the batter's eye, 449 feet from the plate and it was 2-0 IronPigs.
"I hit it pretty good but it was a line drive and I thought he (center fielder Jake Cave) would catch it," Ortiz said.
In the second inning he hit another DJ Baxendale pitch high and far, and this time there was no doubt it was leaving the yard. It hit two-thirds of the way up the right-field scoreboard and put the Wings in a 6-0 hole. It traveled 440 feet.
SEE MORE JOE TERRITO PHOTOS HERE. 
He now has six homers in 24 games and is hitting .293.
"I don't change anything because of the wind, I don't try to hit a fly ball," he said. "Just stay to the middle and keep my same approach."
Ortiz was a solid part of the Wings in 2015. He homered 17 times and drove in 78 runs, the fourth-highest total for a Wings player during the Minnesota Twins era (which started in 2003).
He signed with the Pittsburgh Pirates as a free agent for the 2016 season and spent that year and 2017 with Triple-A Indianapolis of the International League. He also was rewarded by the Pirates with action in nine MLB games last May.
In 13 plate appearances he had a single and a walk.
"That was the best experience of my life, my first call-up and my first hit," Ortiz said. "I have played for a long time and I have had only one dream. It was amazing for me, for my family."
In the off-season he signed with the Philadelphia Phillies and hopes to duplicate last year's success.
The Wings (10-13) could use someone with a little power. While the IronPigs (14-12) hit three homers and collected 11 hits, the Wings were held to seven hits and just one extra-base hit, a two-run double by Wynston Sawyer in the eighth.
As a team, the Wings have hit 10 homers, tied with Indy for worst in the IL.
While manager Joel Skinner said the wind wasn't a factor with Baxendale and Tyler Duffey being unable to throw strikes, it's pretty obvious they didn't want to be throwing down the middle since any fly ball may have turned into a home run.
The four-game series continues with a 1:05 matinee on Saturday.