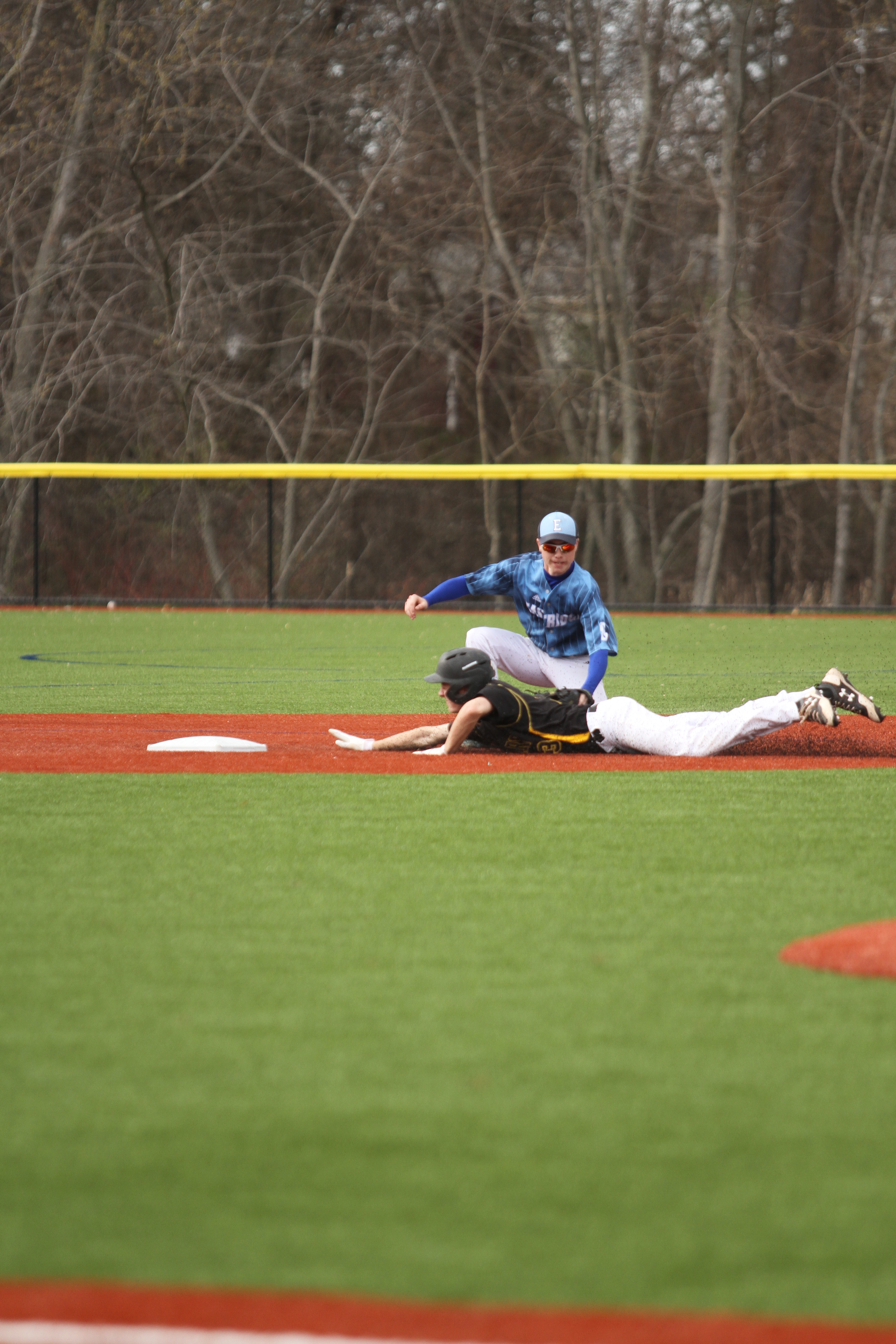 By PAUL GOTHAM
ROCHESTER, N.Y. — For the second time this week, Dan Hoyt's Honeoye Falls-Lima Cougars used a late-inning rally to upend the Eastridge Lancers.
Scoring two runs in the sixth and three more in the seventh, HF-L defeated Eastridge, 7-5 to win its fifth straight game.
Ben Sousa brought home Will Gaylord with a one-out single in the seventh to knot the game and later scored the go-ahead run.
"This team doesn't quit," Hoyt said. "The seniors are great leaders and they don't quit."
Jake Calhoun worked six innings to pick up the win. The junior right-hander struck out six and allowed five runs (two earned) on four hits.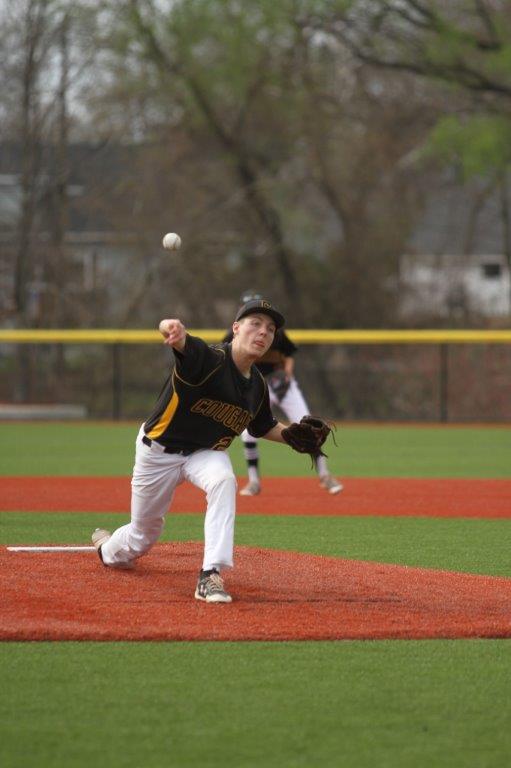 "He kept us in the game and gave us a chance when we butched it around and put him down," Hoyt said. "He has a great breaking ball. When he locates his fastball, he's difficult to hit."
After allowing three walks (all of which scored) in the first two innings, Calhoun settled in and issued just one free pass over the remaining four frames.
Jake Calhoun gets through 6 for @HFLCSDAthletics @eridgebasebal leads 5-4. pic.twitter.com/qDuPDQQOzE

— Paul Gotham (@PickinSplinters) May 2, 2018
"At the beginning, I was walking people," Calhoun explained. "I was a little riled up. I took a deep breath, settled down. I changed my approach a little, got my timing down. Shortened my arm speed and I was able to throw more strikes. I got my confidence up then my team had my back. I was able to get the job down."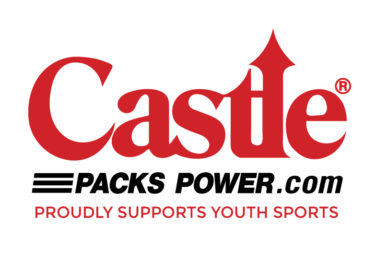 Sal Trippi sparked the decisive inning with a one-out double. Trailing 5-4, the junior poked a change up into right center to get the Cougars started.
"I didn't have any good at bats before that," Trippi explained. "I was just trying to get a ball to drive. I went oppo with it, so it worked out. Just stayed back and drove it."
Trippi gave way to pinch runner Will Gaylord and Sousa delivered with a full-count single up the middle.
Ben Sousa's 1-out single scores Will Gaylord to knot the game at 5 in the seventh. @HFLCSDAthletics pic.twitter.com/R6atLpa5ru

— Paul Gotham (@PickinSplinters) May 2, 2018
"I've been having some rough at bats lately," said the junior who was leading off earlier in the season but hit out of the eight hole on Wednesday. "I had my 3-2 approach. It felt good to get back and get that hit and come up clutch."
Connor Kattato followed with a walk and both runners moved up on a wild pitch. Sousa scampered home on a Brian Reinke groundout.
"I saw it short, but I wasn't sure if I should have gone," Sousa explained. "My instinct was just to run home. Got around that catcher and scored."
"Ben is our best baserunner just because of instincts," Hoyt noted. "The only way you score on that is you got to break right away. He's fast. I told him 'anything you're gone.'"
HF-L used a two-out rally in the sixth inning to pull within one run.
Reinke got the Cougars started with a base hit to center. Hayden Smith followed with a double, and Owen VanNewkirk brought home both runners with a single to left field.
Owen Van Newkirk brings in a pair for @HFLCSDAthletics pic.twitter.com/V1tpPMpADR

— Paul Gotham (@PickinSplinters) May 2, 2018
HF-L trailed 5-4.
"One through nine everybody can hit," Trippi said. "We're never down. We always keep the energy up. It worked out for us today."
"Bunch of fighters on this team," Sousa added. "We never give up."
Josh Phelps retired all three batters he faced in the seventh to pick up the save.
Josh Phelps gets the final 3 outs. @HFLCSDAthletics 7 @eridgebasebal 5 pic.twitter.com/LMcZrU6FcE

— Paul Gotham (@PickinSplinters) May 2, 2018
Reinke finished 3-for-5 with two runs scored. Sousa crossed the plate twice. Smith added an RBI with a sacrifice fly in the seventh to score HF-L's seventh run of the game.
The Cougars improved to 6-2/5-0 on the season.
Eastridge scored three runs on a pair of errors to take a 4-1 lead in the second. When Steve Kemp's groundball was mishandled, Dylan Hanley, Shane Harisis and Patrick Mortillaro all came home.
Kemp worked a leadoff walk in the first, moved to third on a Jayden Fayad single and scored on a John Montana ground out.
Avery Bowens finished 2-for-3 on the day with a double and a two-out RBI triple to give Eastridge a 5-2 lead in the fifth.
Avery Bowens connects on a 2-out double but is left stranded. We've played 3: @eridgebasebal 4 @HFLCSDAthletics 1 pic.twitter.com/WacMedSpGa

— Paul Gotham (@PickinSplinters) May 2, 2018
Brady Booher started and worked 5.2 innings for Eastridge. The sophomore right-hander allowed four runs (three earned) on six hits. He struck out three. Booher retired the first two batters of the sixth inning on a infield pop up and groundball before surrendering the single to Reinke and the double to Smith which opened the gate for HF-L.
So. RHP Brady Booher through 5 for @eridgebasebal Lancers lead @HFLCSDAthletics 4-2. pic.twitter.com/E3r6vPv35k

— Paul Gotham (@PickinSplinters) May 2, 2018
Eastridge fell to 5-7/1-5 with the loss.
HF-L scored four runs in the bottom of the seventh to beat Eastridge 10-9 on Monday.