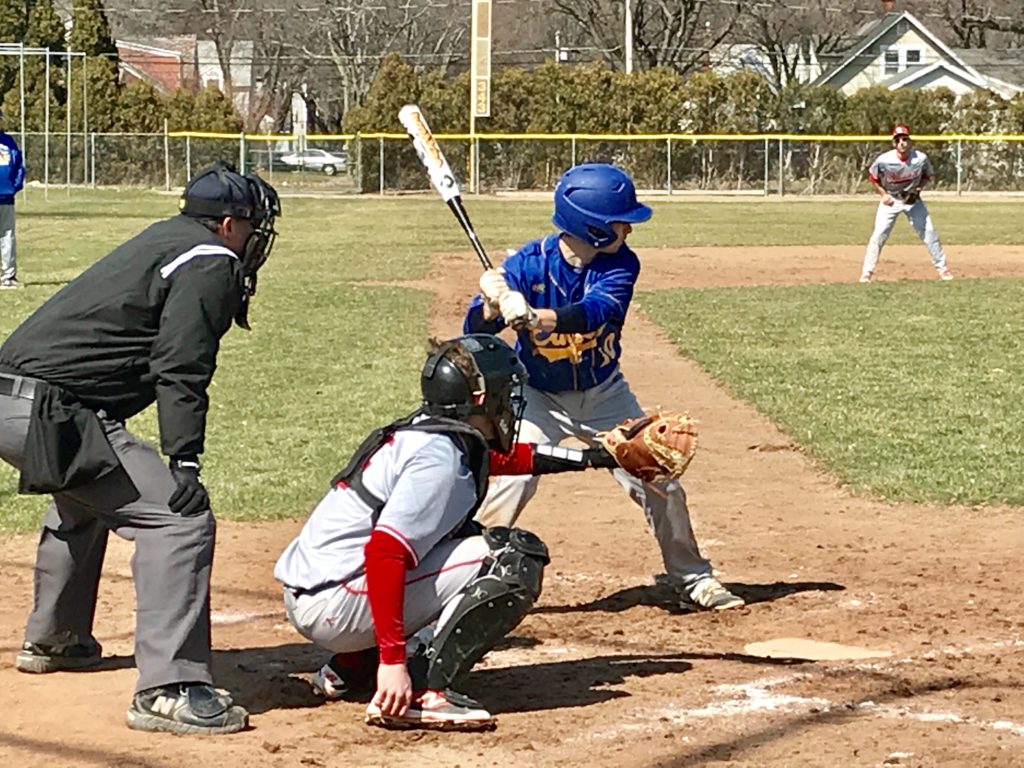 By PAUL GOTHAM
ROCHESTER, N.Y. — Connor Fisher figured he owed his teammates, so when the senior got a chance he made good on it.
Fisher hurled two and a third scoreless innings of relief and delivered the game-winning hit as the Canandaigua Braves opened the 2018 season with a 5-4 victory over the Irondequoit Eagles.
"I was a little frustrated with myself because we shouldn't have been in that position," the 6-foot-1 right-hander said. "I made a couple errors, and I felt like I had to go out there and make up for that. I needed to pick my pitcher up."
With the bases loaded, three runs in and the game tied, Fisher struck out the first batter he faced to end a fifth-inning threat.
"I knew I had to pound the zone," he said. "That's all you got to do. You come in during a tight situation just hit the zone. Hopefully you get the batters to swing at some."
Fisher struck out four, walked one and retired seven of the 10 batters he faced for the win. He threw 35 pitches in all – 24 for strikes.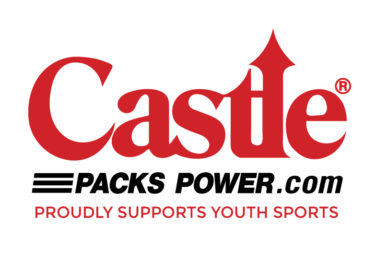 "He was awesome," Canandaigua coach Dale Werth said. "Just came in, threw strikes and gave us a chance."
Fisher only had one hit on the day, but it proved timely as he plated John Disalvo with the winning run in the top of the sixth.
"I wanted to make sure I got ahead in the count," he explained. "First two at bats I didn't get ahead in the count. Watched a couple balls go, and I was just anxious. I just wanted to help my team out. I felt like I owed it to everybody."
He drove a 3-1 fastball on the outside part of the plate up the middle for the game winner.
"The pitch was a little high. Probably should have let it go, but I just wanted to get the bat on the ball and put it through. Luckily it found a hole."
With the game tied at four, Disalvo led the sixth with a base hit. Jordie Johnstone followed with a sacrifice bunt, and Disalvo moved to third on a wild pitch to set the stage for Fisher.

"He's a senior," Werth said of Fisher. "He and Jordie had a great day offensively. We need seniors to step up especially here early in the season. We have a lot of young players that are up from JV or didn't play much last year. We need the seniors to lead us, and they did. That was great to see."
Irondequoit threatened in the bottom of the seventh. Kyle Taylor and Jose Morales worked a pair of two-out walks and moved into scoring position on a wild pitch before Fisher slammed the door shut.
"I was proud of the way the kids battled," Irondequoit coach Tim Mabb commented. "We were down 4-1 against a team like that with the pitchers they threw.
"We had opportunities. We stranded a lot of runners. We had too many guys not put the bat on the ball in key moments. That's got a lot to do with their pitching."
Mike Sculli started and hurled 4.2 innings innings for Canandaigua. After giving up a leadoff triple to Will Porter in the bottom of the first, the junior southpaw settled in and fanned 11 batters. He walked three and allowed five hits. Three fifth-inning errors proved his undoing as the Eagles pushed across three unearned runs.
"He's got a very good curveball," Werth said of his starter. "He can throw it for strikes behind in the counts. If you can do that in high school, you're going to be pretty effective."
Johnstone finished 3-for-3 on the day out of the leadoff spot for Canandaigua. The senior centerfielder drove in two with a pair of doubles and he scored a run. Dylan Mackenzie was 2-for-4 with two RBI. Disalvo scored two runs. Ryan Hubler had a hit and run for the Braves.
Chad Gartland led Irondequoit going 2-for-4 with a double, two RBI and a run scored. The junior reached base all four times he came to plate getting aboard on a fielder's choice in the fifth and an error in the third. Garland struck out five and walked none over three innings of relief work. He allowed one run on three hits.
Nick Serce started and fanned nine over four innings for Irondequoit.
"We knew this was going to be a game where we threw our two top guys, and they threw their top two guys," Werth said. "That's why it was a great baseball game.
"They're good. That's a good baseball team. They're going to win a lot of baseball games. We were really happy with that win."
Will Porter was 2-for-4 with a triple and a run scored for Irondequoit.
Irondequoit's Cullen Pease tied the game with a pinch-hit RBI single in the fifth.
Johnny Fernandes had two walks for Irondequoit.