Gerald Drumgoole paced Irondequoit to a second straight Monroe County Division II title and another trip to the NYS semi-finals. Dan Hayes led Honeoye Falls-Lima to a program-first league championship. Christian Jones and Nigel Scantlebury headed a Greece Athena Trojan squad which claimed top seed in the Class A1 tournament. Kailee White topped all scorers. The quintet earned Player of the Year honors as voted upon by Monroe County league coaches.
Drumgoole, the Monroe County Division II Player of the Year, averaged 21.6 points per game for the Eagles (22-4 overall) which won their second straight Section V Class A1 title and fourth overall in program history.  The junior guard scored 30 or more points in three separate contests including a pair of season-high 37-point performances to lead Irondequoit to its fifth Monroe County DII title in the last six years.  Classmates Freddie June (8.95 ppg) and Josh Stenglein (9.55 ppg) joined Drumgoole on first team Monroe County Division II. Webster Thomas sophomore Andrew Mason (18.5 ppg) earned a first-team nod as did Churchville-Chili senior Eric Lewis (14.1 ppg) and Spencerport senior Josh Reding (13.1 ppg). Drumgoole and Lewis both earned their second straight first-team nod. Reding was named 2nd-team All-League in 2016-17.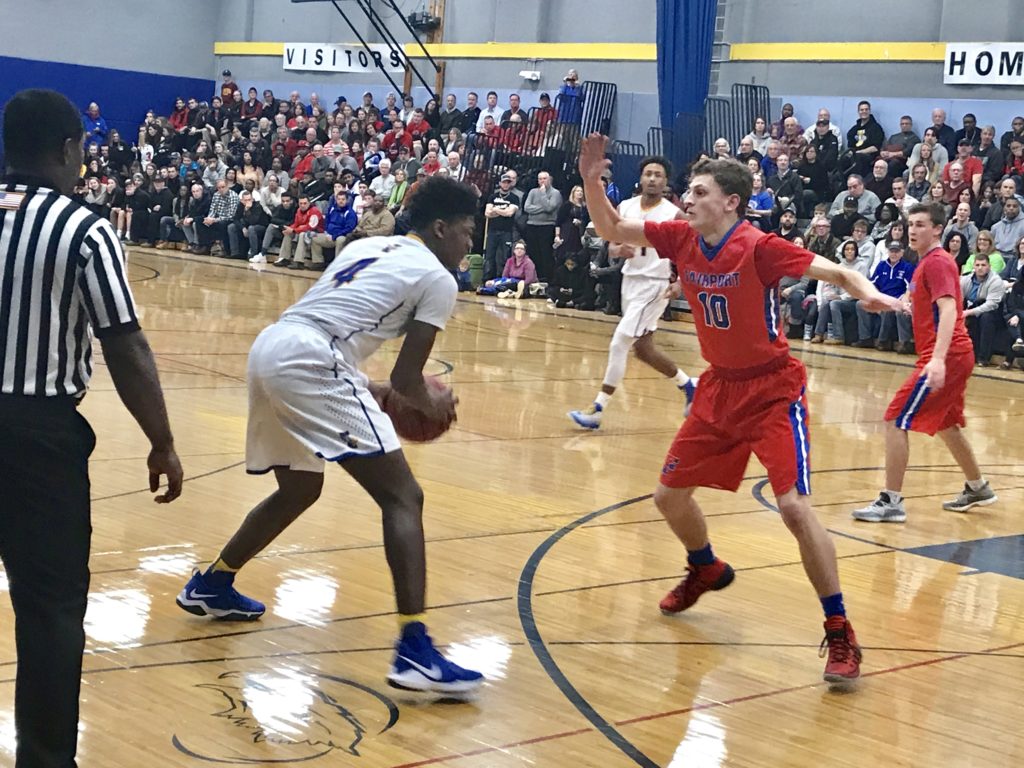 Hayes (18.5 ppg) scored 20 or more points in HF-L's last five regular season games to earn Monroe County Division IV Player of the Year. The senior forward paced HF-L to a 6-2 mark in MC DIV action – good for the Cougars first MC League title. He netted a career-high 32 in the Cougars win over Brockport on January 17th. Eastridge Lancers junior Tony Arnold (21.7 ppg) and senior Kyndal Taggart (13.9 ppg) joined Hayes on the first team as did Batavia junior Antwan Odom (15.4 ppg) and Greece Olympia senior William Green, Jr. (15.3 ppg).  Green, Hayes and Odom all earned their second straight first-team selections. Arnold and Taggart were second-team All-League a year ago.
Jones (15.9 ppg) and Scantlebury (15.2 ppg) shared Monroe County DIII Player of the Year. The senior duo paced a Greece Athena offense which scored a Monroe County-high 73.5 points per game. Jones, a transfer from Memphis, Tennessee, poured in 39 points in his third game as a Trojan. Scantlebury, a first-team selection last year, registered a 32-point performance two games later. Pittsford Mendon junior Daniel Cook led the division with 20.5 points per game. Canandaigua senior Danny Herrick scored 16.3 per game. Pittsford Sutherland junior Kevin Ryan (18.1 ppg) and senior Matt Thaney (10.9 ppg) rounded out division three first team. Ryan was a second-team selection in 2016-17.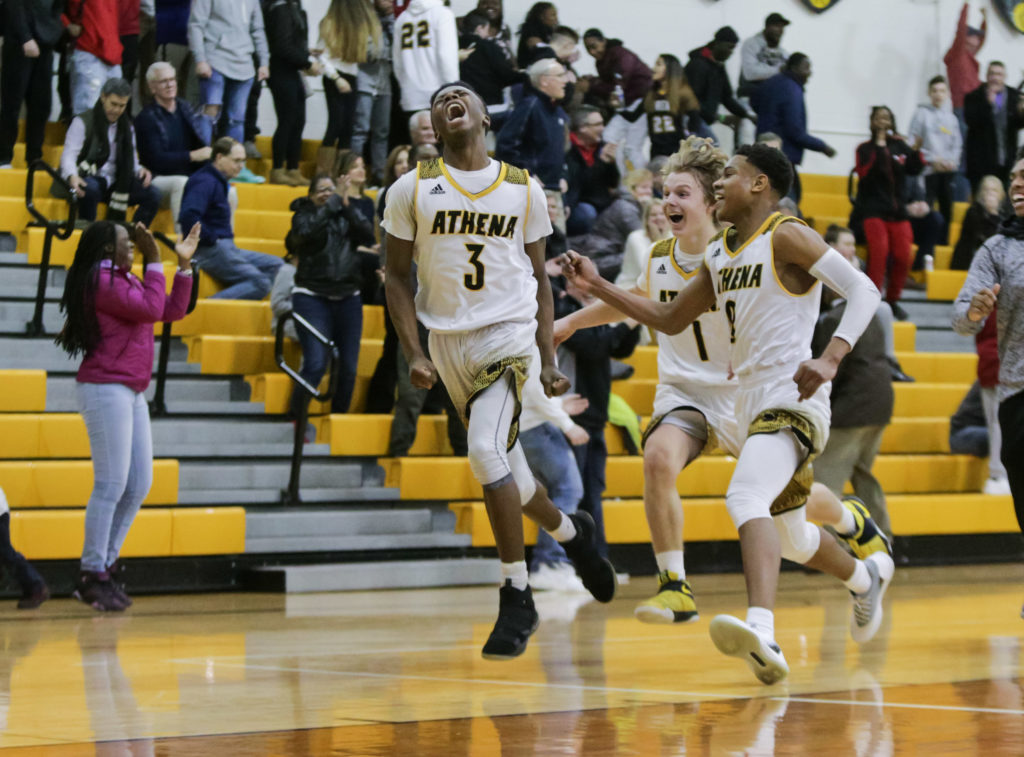 VIEW MORE CHRISTOPHER CECERE PHOTOS HERE.
White averaged 25.2 points per game to lead all Monroe County scorers and earn Monroe County Division I Player of the Year. The senior guard opened the season with a 39-point performance, one of six occasions where he reached 30-point mark in a contest. He finished his career with 1,155 points. Fairport seniors Andrew Bartlett (12.7 ppg) and Jackson Sullivan (11.6) led the Red Raiders to their sixth straight divisional title and earned first-team nods as did Hilton sophomore Tah-jae Hill who averaged 21.7 per game. Penfield senior Isaiah Preston scored 21.8 points per contest for the Patriots, and Gates-Chili junior Keith Slack (22.7) will enter next season as Monroe County's career-active scoring leader with 1,171 points.
Gates-Chili's Terry Nowden, Webster Thomas's Griffin Coles, Pittsford Mendon's Bob Nally and HF-L's Kevin Neenan earned Coach of the Year for their respective divisions.