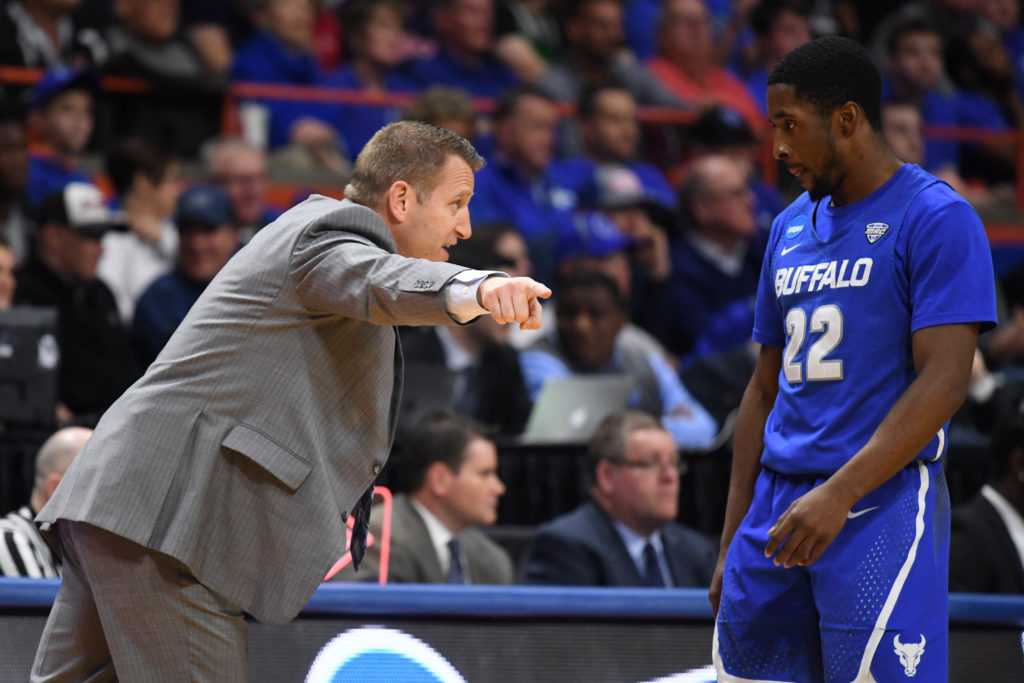 Courtesy of UBBulls.com
BOISE, ID – The magical season of the University at Buffalo men's basketball team came to an end on Saturday as the Bulls lost to 5th-seeded Kentucky, 95-75, in the second round of the NCAA Tournament. Two days after rolling up 89 points in an upset of 4th-seed Arizona, the Bulls struggled at the offensive end against the length and athleticism of Kentucky.
Kentucky led for nearly the entire game thanks to shooting 56 percent from the field. The Wildcats, who were 0-for-6 from beyond the three-point line in their opening win against Davidson, shot 7-of-15 from three against the Bulls. Conversely, Buffalo knocked down only 7-of-31 three-point attempts.
In his final game in a Buffalo uniform, Wes Clark single-handedly tried to keep the Bulls in the game. The senior guard scored 26 points, including four three-pointers, to lead the Bulls. C.J. Massinburg added 18 points and Jeremy Harris chipped in with 10.
The Wildcats built their nine-point halftime lead into a 56-43 advantage. However a 9-0 Buffalo run, capped by two Clark free throws, cut the Kentucky lead to 56-52 with 15:32 left. The Kentucky lead would remain in single digits for the next seven-plus minutes.
A steal by Dontay Caruthers led to a fastbreak and-one for the junior guard. His free throw cut the Kentucky lead to 72-67 with 8:10 left. On the Bulls' ensuing possession, Harris' pull-up three-pointer, to cut the lead to two, came up short and the Wildcats scored and and-one at the other end to extend their lead to eight. The play ignited a 12-2 scoring run, enabling Kentucky to pull away.
Caruthers finished with seven points and three stelas. Nick Perkins added eight points for the Bulls.
Buffalo finished its season with a school-record 27 wins and advanced to the second round of the NCAA Tournament for the first time in school history. The Bulls will return 11 players next season looking to win their fourth MAC Championship in five years.