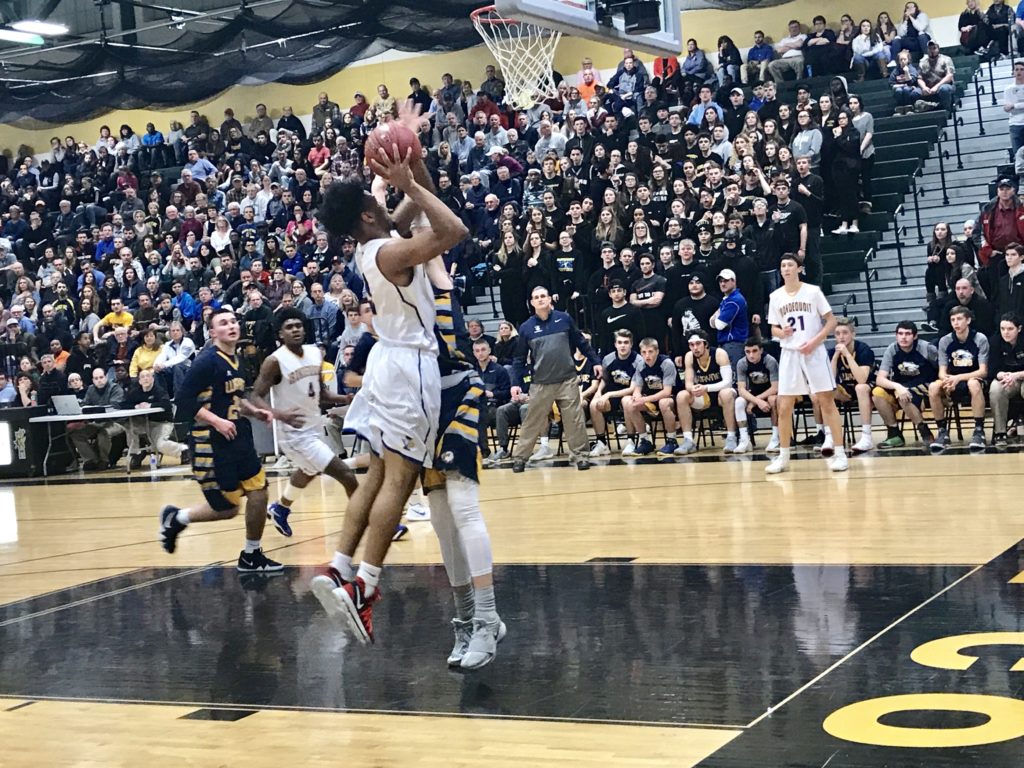 By PAUL GOTHAM
ROCHESTER, N.Y. — After Saturday's Section V Class A1 championship win, Chris Cardon joked that  his Irondequoit Eagles couldn't guard a fire hydrant earlier in the season.
It's safe to say considering Wednesday night's result, Cardon's Eagles have figured out their defensive identity.
"I thought our defense was really good tonight," Cardon said after Irondequoit dominated Wayne, 69-41 in the Section V Class A regional qualifier played at Rush-Henrietta High School. "We've been playing better defense. I've been on these guys all year about their defense, all year."
In holding Wayne 14 points under their season average per game, Irondequoit limited their opponent to 17-of-52 (32.7 percent) from the floor including 5 of 22 (22.7 percent) from behind the arc.
"The last time we were at this gym we couldn't guard anybody," Cardon said referring to a Christmas Tournament from earlier in the season. "We couldn't guard Henrietta in the second half. We couldn't guard UPrep in overtime. The guys have really stepped up."
Cardon pointed to the box score to find the reason for his team's success Wednesday night.
"The big thing was the rebounding," Cardon said referring to Irondequoit's eye-popping 50-20 advantage on the boards. "We limited them to one shot. They have a big team and they only had six offensive rebounds."
Irondequoit won the opening tap and scored on the game's first possession. Five trips down the floor later, the Eagles pushed their lead to double-digits. The advantage swelled to 20 before halftime.
"Rebounding just gives us momentum to go on offense and get fast breaks points," said Frederick June, Jr. who finished with nine rebounds and six points on 3-of-4 shooting. "Our defense is good and when we get rebounds, we just run the court well."
Freddie June leads Patrick Thomas into the open court for 2. End 1st: Irondequoit 20 Wayne 4 pic.twitter.com/3aZ6KKwduB

— Paul Gotham (@PickinSplinters) March 8, 2018
Patrick Thomas led Irondequoit with 17 points on 8-of-11 shooting. Gerald Drumgoole scored 12 points and grabbed a game-high 14 rebounds. Robert Diaz-Judson added 10 points.
Josh Stenglein had a dozen points, but the junior guard's biggest contribution came on the defensive end where he limited Wayne's leading scorer, Logan Blankenberg, to four points.
Josh Stenglein gets @WIEagles started with a corner 3. pic.twitter.com/4dudVuuBcC

— Paul Gotham (@PickinSplinters) March 8, 2018
"I wanted Josh to know what he had for dinner last night," Cardon joked about how closely he wanted Blankenberg guarded. "I have a lot of respect for Logan Blankenberg. Josh played him really tough tonight."
Blankenberg finished the night 2 of 10 from the floor including 0 of 3 behind the 3-point arc.
"He's a really good player," Stenglein said. "I denied him the ball and didn't help off him. We're about the same height so that gives me an advantage over a lot of defenders. I can contest his shot better."
Blankenberg, who scored 11 in the first half when the two teams met last month, finished 13 points off his team-leading 17.0 points per game.
"Josh came up as a shooter, but he has put so much time in the weight room," Cardon explained. "He's strong for his size. He has good balance and great length. He has good instincts."
Stenglein had motivation to spark the Irondequoit offense in the early going. With his two older brothers, in the stands, the youngest of three connected on four of five attempts from behind the arc in the first half.
"My oldest brother started shooting the ball well at the end of the year," Stenglein said referring to his brother Tyler the Empire 8 Player of the Year from Nazareth College. "He said that he's the best shooter in the family, so I had to prove him wrong."
Irondequoit outscored Wayne in the paint (44-16) and on second-chance points (33-5).
The teams combined to take just 11 free throws in a game where only 20 fouls were called.
Nick Carmichael led Wayne with 13 points on 6-of-13 shooting from the floor.
The win was the third straight for Irondequoit in the head-to-head meetings between the two teams. Irondequoit beat Wayne in last year's regional qualifier. The Eagles went on to win their first state title in program history.
Irondequoit moves on to the NYS Far West Regional for the second straight year. The Eagles will take on Section VI champion West Seneca West (24-0). A 7 PM tipoff is scheduled at Buffalo State College on Saturday.
IRONDEQUOIT 69, WAYNE 41
WAYNE (20-4)
Nick Carmichael 6-13 1-1 13; Braeden Zenelovic 3-12 1-1 8; Tom Bolt 2-5 0-0
6; Jaiden Burlee 2-3 0-0 5; Logan Blankenberg 2-10 0-0 4; Logan Holgado 1-2
0-0 3; Billy Thomson 1-5 0-0 2; Anthony Flatt 0-0 0-0 0; Max LaRocco 0-1 0-0
0; Caleb Kornaker 0-0 0-0 0; Tanner Clark 0-1 0-0 0; Brandon Nowak 0-0 0-0
0. Totals 17-52 2-2 41.
IRONDEQUOIT (21-3)
Patrick Thomas 8-11 1-3 17; Gerald Drumgoole 5-14 2-4 12; Josh Stenglein
4-11 0-0 12; Robert Diaz-Judson 5-13 0-0 10; Tanner Pioch 3-3 1-1 7;
Frederick June Jr. 3-4 0-1 6; Luke Meldiona 1-1 0-0 3; Keegan Vankerkhove
1-2 0-0 2; McGuire Craig 0-0 0-0 0; Grayson Smith 0-1 0-0 0; William Porter
0-2 0-0 0; Kenny Gonzalez 0-0 0-0 0; Connor Shafer 0-0 0-0 0. Totals 30-62
4-9 69.
Wayne…………………….    4   12    9   16  –   41
Irondequoit……………….   20   12   24   13  –   69
3-point goals–Wayne 5-22 (Tom Bolt 2-5; Braeden Zenelovic 1-5; Jaiden
Burlee 1-2; Logan Holgado 1-2; Tanner Clark 0-1; Billy Thomson 0-3; Logan
Blankenberg 0-3; Nick Carmichael 0-1), Irondequoit 5-15 (Josh Stenglein 4-9;
Luke Meldiona 1-1; Robert Diaz-Judson 0-1; Frederick June Jr. 0-1; Keegan
Vankerkhove 0-1; Gerald Drumgoole 0-2). Fouled out–Wayne-None,
Irondequoit-None. Rebounds–Wayne 20 (Braeden Zenelovic 4; Logan Blankenberg
4; Billy Thomson 4; Nick Carmichael 4), Irondequoit 50 (Gerald Drumgoole
14). Assists–Wayne 7 (Tom Bolt 2), Irondequoit 12 (Gerald Drumgoole 6).
Total fouls–Wayne 13, Irondequoit 7. Technical fouls–Wayne-None,
Irondequoit-None.