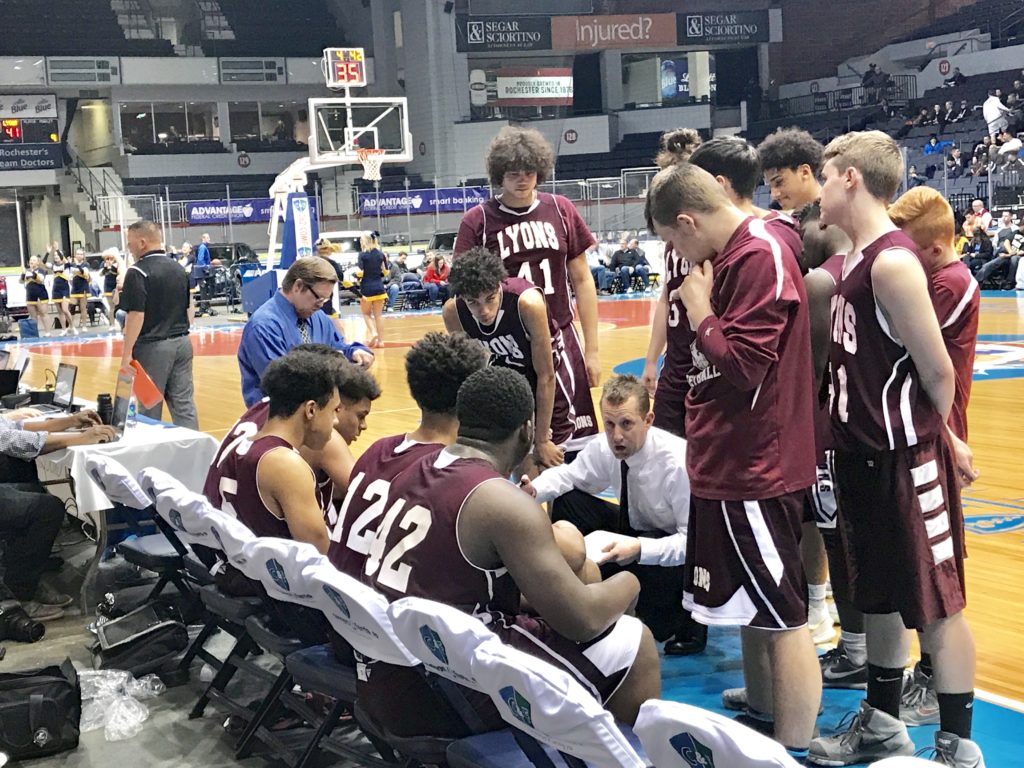 What: Section V Class C NYS Far West Regional Qualifier
Who: Section V Class C1 champion Northstar Christian Academy (23-1/Independent) vs. Section V Class C2 champion Lyons (20-3/Wayne County).
When: Wednesday March 7, 6:30 PM.
Where: Rush-Henrietta High School.
How they arrived here: Northstar Christian opened sectionals with an 89-24 win over No. 16 seed North Rose-Wolcott. The Knights followed with a 99-69 victory over East Rochester in the quarter-finals and a 66-42 triumph over No. 5 Marcus Whitman in the semis  before beating No. 2 Pembroke 80-72 to claim their 3rd straight sectional title.
Miles Brown catch-and-shoot 3 from the right corner. Northstar Christian 68 Pembroke 63 pic.twitter.com/J51v1a73nf

— Paul Gotham (@PickinSplinters) March 5, 2018
Lyons beat No. 14 Rochester Prep, 73-61 in the opening round. The Lions defeated No. 11 Warsaw, 84-59 in the quarters and No. 7 Cuba-Rushford, 92-50 in the semis. Lyons knocked off top-seeded Perry in the final, 58-53.
What's at stake: A spot in the NYS Far West Regional against Section VI champion Tapestry Charter (17-6). A 1:45 PM tip off is scheduled Saturday at Buffalo State College.
History 101: Northstar Christian has won three straight Section V championships and four overall. Lyons is second only to East High (24) with 18 all-time Section V titles.
Trends: Northstar has scored 87.2 points per game while allowing 59.1. The Lyons offense has accounted for 71.4 points while giving up 54.2 per game. Northstar Christian currently ranks No. 2 NYSSWA, Lyons is No. 10. Northstar junior Miles Brown scored his 2,000th point earlier in sectionals. Lyons junior Justice Smith reached the 1,000-point plateau during the regular season.
Justice Smith sticks the wing 3 to give @AthleticsLY a 38-34 lead with 6:22 remaining. pic.twitter.com/WY0subEm1r

— Paul Gotham (@PickinSplinters) March 6, 2018
Players to Watch for Northstar Christian: Miles Brown Jr. G 30.6 ppg, 7.5 rpg, 6.2 apg, Michael Brown 12.4 ppg, 6.4 apg Jr. G, Matthew Medeiros Sr. G 13.0 ppg, 6.5 rpg and Tray Roberts Sr. G 13.8 ppg, 4.1 rpg).
Players to Watch for Lyons: Justice Smith Jr. G/F 22 ppg, 8 rpg, 6 apg and David Weaver Jr. G 13 ppg (hit 10 threes in one game this season).
Coaches: JJ Garwood (Northstar Christian) and Zac Young (Lyons).