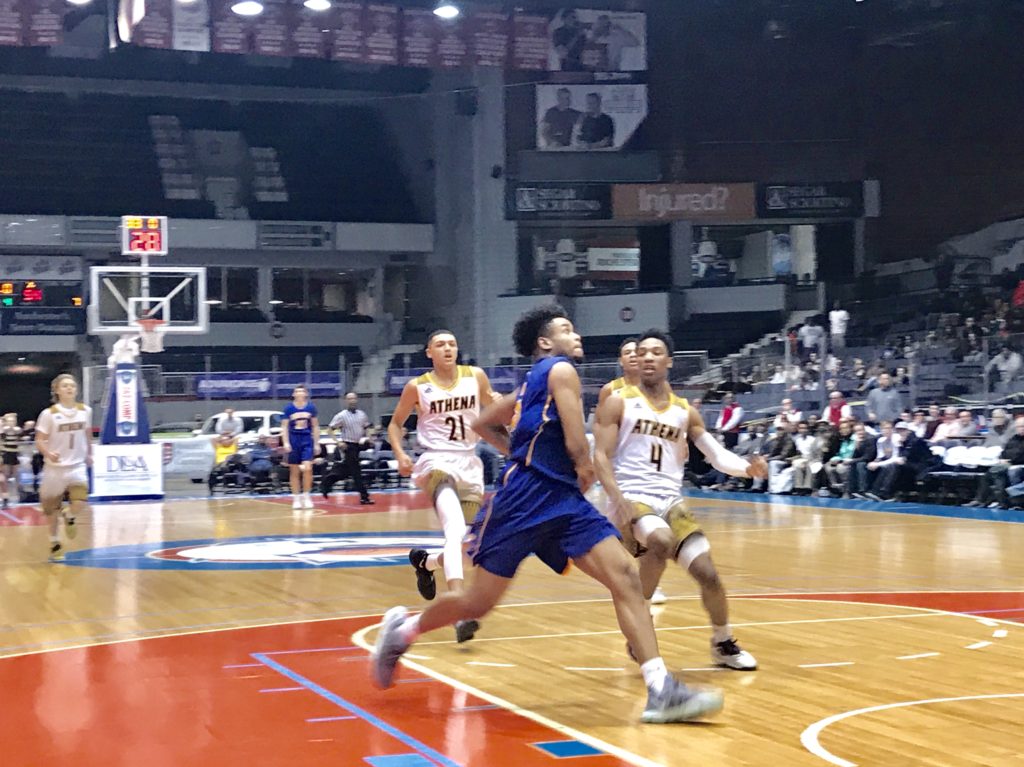 By PAUL GOTHAM
ROCHESTER, N.Y. — They were playing in front of nearly 4,000 fans at the Blue Cross Arena, but the Irondequoit Eagles treated it like they were running on the practice court at their Cooper Road gymnasium. In doing so they held one of the area's more prolific offenses nearly 30 points under average and gave a once title-starved community its second straight Section V championship.
Tournament MVP Gerald Drumgoole finished with 18 points. Patrick Thomas added 14. Frederick June, Jr. had 11, but it was the collective efforts on the defensive end of the floor which allowed the Eagles to avenge a loss from earlier in the season.
"We knew this game was going to be a lot harder," Drumgoole said after Irondequoit's 58-51 victory over Greece Athena in the Section V Class A1 final. "We knew we had to come in two times better offensively and defensively. It was a goal to come out with another sectional championship."
Athena hit 13 3-pointers in a 74-67 win over Irondequoit on January 31st. The Trojans offensive output represented the most points allowed all season by an Eagles defense which held opponents to 48.7 points per game during the regular season.
"I know we got criticized for giving up a lot of threes for the first time, but people have to realize Patrick Meisenzahl scored eight points a game, and he had 24 in that game," said 32nd-year Irondequoit coach Chris Cardon. "They're fantastic. You got to pick your poison when playing them."
On Saturday, Irondequoit limited Athena to just three successful attempts from behind the 3-point arc.
"We tried to close out short on the guys with high hands because they can all drive," Cardon said of Irondequoit's defensive approach to Athena's shooters. "We just felt if we can make it a little bit more of a half-court game, if we could play some good defense for 15-20 seconds that that might help us a lot because they can score so fast."
Cardon pointed out the efforts of June who drew the assignment of covering the Trojans Nigel Scantlebury.
"I think he's their best player," Cardon said of Scantlebury who averaged more than 15 points per game this season and garnered Co-Monroe County Division III Player of the Year honors. "I thought Freddie really did a great job.  He got into a few fast breaks, but in the half court we were able to keep him at bay.
"We felt that we over-helped the first time we played or we helped late. We wanted to help early. Then we worked on stunning where we would help and then come back on him."
Scantlebury still finished with 17 points, but Athena's offense struggled to find its rhythm in the second half.
"We all came in the locker room talking about what we need to do better," Drumgoole said of the halftime discussion. "We go by the terms of three kills in practice. If we get three stops in a row, it's called a kill. We're aiming for three stops in a row every time down on defense, and it paid off."
The title is Irondequoit's third in seven years. The program won its first sectional championship in 1945 and had gone more than 65 years before claiming its next crown in 2011. Cardon worked 25 of those seasons to return a title to Cooper Road.  After graduating four starters and seven of the top eight players from last year's championship team, Irondequoit claimed the prize with a starting lineup consisting of four juniors.
"Tonight was the end result of a lot of hard work on their part," Cardon said of his players who had to shoulder the responsibility of defending last year's title. "They started working harder and harder during the season. We got the kinks out a little bit."
Drumgoole connected on 6 of 11 shots from the floor and five of seven from the free throw line. The junior guard scored seven in the second half when the Eagles stretched a three-point halftime edge to 10 late in the game.
Gerald Drumgoole gives @WIEagles a 31-28 lead at half over @GAHSBoysHoops Class A1 Final. pic.twitter.com/tqkasKq3hU

— Paul Gotham (@PickinSplinters) March 4, 2018
Thomas added 10 of his points after halftime. After missing nine games earlier in the season with a wrist injury, the junior forward connected on six of nine shots from the floor for the night.
"We have some stuff for Patrick, but we run a lot (of offense) through Gerald because he can pass and drive it," Cardon said. "He usually makes pretty good decisions. We have some sets we put in for Patrick and we've been using them more and more."
June connected twice behind the arc in the third quarter
Christian Jones scored 15 for Athena.
Christian Jones brings the JELLY. ???????????? @GAHSBoysHoops 20 @WIEagles 19 pic.twitter.com/t1TXLiACYB

— Paul Gotham (@PickinSplinters) March 4, 2018
Athena edged Irondequoit in points off turnovers (10-6) and second-chance points (13-11).
June and Thomas joined Drumgoole on the all-tournament team. Jones and Scantlebury represented Athena on the tournament team. Pittsford Mendon's Daniel Cook and Pittsford Sutherland's Kevin Ryan rounded out the squad.
The two teams have played six times in championship games over the past 12 years and have split those decisions. Steve Kerr had the winning bucket in 2006 when Athena triumphed 54-51. John Wallace Jr. capped a late comeback with two free throws in Athena's 57-54 2009 victory. Josiah Heath led Irondequoit to the 2011 title when the Eagles won 61-38. Zac DiSalvo connected on a 3-pointer to clinch the 2013 championship for Athena, 44-42. Tournament MVP Gerald Drumgoole paced four in double figures as Irondequoit stormed out to an early lead and never trailed en route to a 61-44 victory last year. Athena has a 7-3 advantage in post-season matchups since 2005 between the two schools.
Irondequoit will play Wayne in Wednesday's Class A regional qualifier.
IRONDEQUOIT 58, GREECE ATHENA 51
IRONDEQUOIT (20-3)
Gerald Drumgoole 6-11 5-7 18; Patrick Thomas 6-9 2-4 14; Frederick June Jr.
4-9 0-0 11; Robert Diaz-Judson 3-9 3-4 9; Josh Stenglein 2-5 0-0 6; Tanner
Pioch 0-2 0-0 0. Totals 21-45 10-15 58.
GREECE ATHENA (20-3)
Nigel Scantlebury 6-15 4-6 17; Christian Jones 6-17 2-2 15; Kelvin Reaves
Jr. 4-8 0-0 8; Ryan Kubanka 2-6 0-0 5; DeAndre Newsome 1-1 0-0 2; Patrick
Meisenzahl 1-5 0-0 2; Johnny Salone 1-6 0-0 2. Totals 21-58 6-8 51.
Irondequoit……………….   14   17   14   13  –   58
Greece Athena……………..   11   17   12   11  –   51
3-point goals–Irondequoit 6-13 (Frederick June Jr. 3-6; Josh Stenglein 2-5;
Gerald Drumgoole 1-2), Greece Athena 3-15 (Ryan Kubanka 1-3; Christian Jones
1-6; Nigel Scantlebury 1-1; Patrick Meisenzahl 0-3; Johnny Salone 0-1;
Kelvin Reaves Jr. 0-1). Fouled out–Irondequoit-None, Greece Athena-Ryan
Kubanka. Rebounds–Irondequoit 36 (Patrick Thomas 9), Greece Athena 31
(Johnny Salone 7). Assists–Irondequoit 11 (Robert Diaz-Judson 4; Frederick
June Jr. 4), Greece Athena 7 (Patrick Meisenzahl 3). Total
fouls–Irondequoit 14, Greece Athena 15. Technical fouls–Irondequoit-None,
Greece Athena-None.