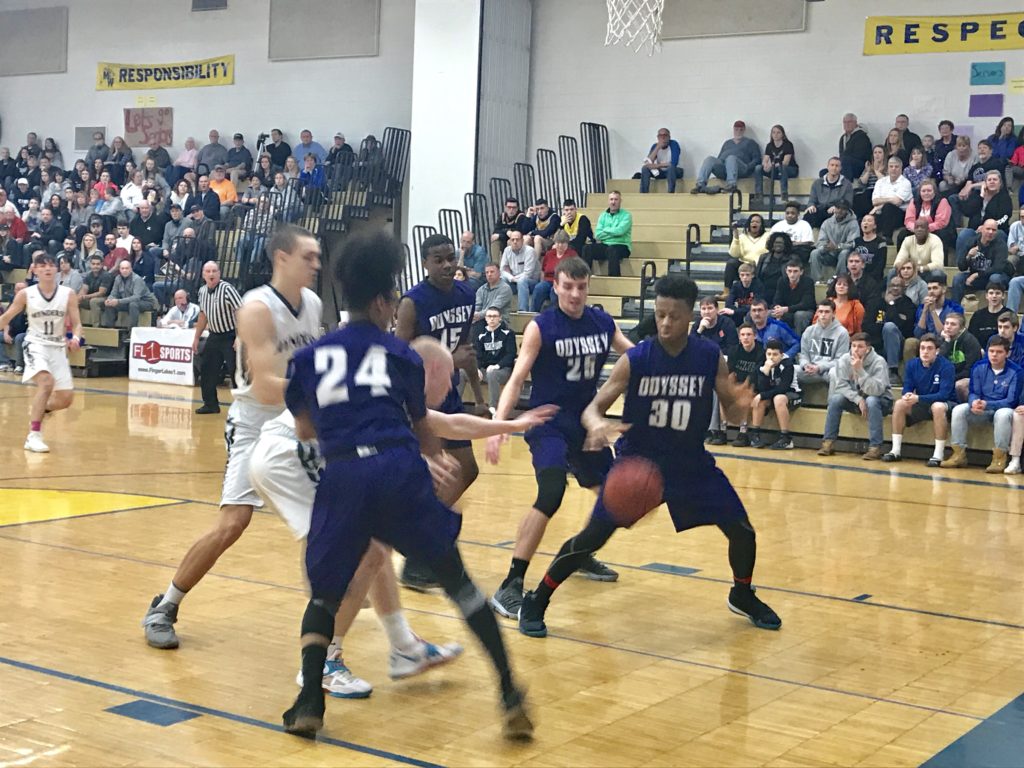 By PAUL GOTHAM
RUSHVILLE, N.Y. — Jim Guzielek talks frequently about the trust he has for his Greece Odyssey Leopards. The third-year coach put that faith to the test Tuesday night.
Trailing by 10 early in the third quarter, Odyssey did something out of character when it switched defenses. Five minutes and nine possessions later, the Leopards had a lead they did not surrender.
"Ninety-five percent of our possessions this year have been played in zone," Guzielek explained after Odyssey's 62-57 victory over the Mynderse Blue Devils in Section V Class B semi-final action at Marcus Whitman High School. "We switched to man-to-man. We haven't done that all year."
Scratching and clawing for everything they could get, Odyssey forced turnovers on five straight possessions. Travon Harper hit a floater in the lane for a 44-43 edge with 14.5 to go in the third quarter. Three possessions into the fourth, Jaden Hartsfield grabbed a loose ball off an Aric Williams block, went the length of the floor and finished with a layup.
Odyssey led 46-44 and did not trail again.
"This team can adjust and adapt to whatever we need," Guzielek stated. "We needed man-to-man."
Oh and how they needed it. Less than four minutes into the second quarter Odyssey watched as a one-point lead turned into an 11-point deficit. The Leopards' season was about to collapse under an avalanche of 3-pointers.
Mynderse senior guard Jesse Kabat connected on four straight 3-point attempts. Three of those coming on consecutive possessions.
They trailed 29-18.
"We were tight and nervous," Guzielek said of his squad. "First half there was a body language. There was a shock.  We talked about that at half that we got to get those loose balls. Those are the 50-50 balls that we won in the second half getting those tips, deflections. Getting on the ground. Getting on the floor."
When the Leopards whittled the deficit to three before half only to watch the margin swell to double digits early in the second half, Guzielek knew his team had to make a change.
"We needed to switch to man-to-man to get to those shooters, to go put more pressure on the ball."
Hartsfield grabbed the first turnover and converted at the other end of the floor. Harper followed with a back tip to create another loose ball. The junior guard alertly grabbed the 50-50 chance pushed the ball in transition and set up teammate Romell Griffin for a triple.
Romell Griffin drills a 3 to pull @ODYbball within 3 at 43-40. pic.twitter.com/r5HDEdJf6z

— Paul Gotham (@PickinSplinters) February 28, 2018
"When I got that tap all I was thinking was to make a smart play and just getting the ball in the basket," Harper said. "Just trying to get points."
Mynderse called a timeout with 3:24 to go in the quarter. The break served no purpose in aiding the reigning champion. Momentum's pendulum cast a purple hue.
Odyssey rattled off an 18-1 run.
End 3rd Class B: Travon Harper gets the floater to fall @ODYbball 44 Mynderse 43 pic.twitter.com/e6RxbkdPs3

— Paul Gotham (@PickinSplinters) February 28, 2018
"That's what we're able to do; create that quick offense," noted Guzielek. "All of a sudden you go on a run and the other guys are kinda scratching their heads. We can get that intensity and keep that up."
Griffin's three was the first of a bookend effort. If the junior guard's triple served as a body blow, his stick back with 32.2 seconds remaining was a haymaker to the chin that sent the No. 1 seed sprawling to the canvas.
Leading by three in the final minute, Odyssey (16-7) used a high weave to run clock. When a DJ Billings attempt late in the shot clock found back iron, Griffin was there on the doorstep for the and-one.
"I knew DJ was going to take the shot because he's our main guy on the team," Griffin said. "Just in case he missed I wanted to be there. Luckily it came my side. I did what I do best: tipped it back in and got lit."
Romell. Griffin. Hurt. Harm @ODYbball 59-53 with 32.2 to go. pic.twitter.com/EmpOOqoYG9

— Paul Gotham (@PickinSplinters) February 28, 2018
The win avenged a loss in last year's Class B quarter-final when Mynderse (19-4), currently ranked No. 23 NYSSWA, won 61-51.
"We were definitely prepared for these guys," Guzielek said. "We had scouted them. We had watched a lot of film. The boys were prepared."
Odyssey's defense forced six turnovers in the first half and 10 in the second. Harper was the main culprit in a majority of the thefts.
"He plays so hard," Guzielek said of the junior guard. "He plays to exhaustion. He's the biggest winner of all."
Griffin finished with 14 points on the night. Harper and Darren Davidson had 12 apiece. Williams and Hartsfield added seven apiece. Ray Colbert had six and Billings four points.
Hunter Haust paced Mynderse with 15. Kellen Caraher and Kabat both scored 12. Quinten Battle had eight points. Darren Miller chipped in with four.
Odyssey (the No. 5 seed) will meet No. 3 seed Livonia in Friday's final. This will be the Leopards third appearance in the championship game. They are looking for the program's first title.
"First time going to the Blue Cross," Harper said of his own experience. "I've been waiting for this a long time. It's in our hands. We can take it. We got the confidence."