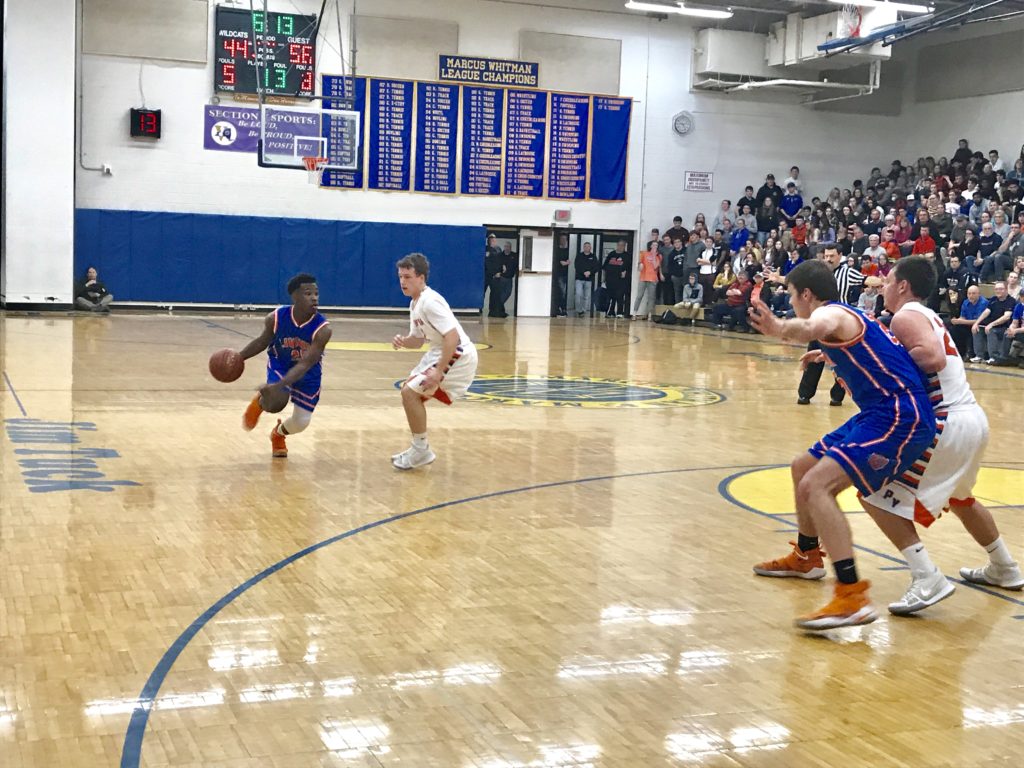 By PAUL GOTHAM
RUSHVILLE, N.Y. — Four players scored in double figures, and the Livonia Bulldogs held off a late charge charge to defeat the Penn Yan Mustangs, 70-65 in Section V Class B semi-final action at Marcus Whitman, Tuesday night.
Forwards Devante Gwyn and Barrett Lowe combined for 31 points in the post while guards Alex Minnehan and Da'Vieque Naulls poured in 33.
"We got that big guy in there so we try to take advantage," Livonia coach Matt Young said of the 6-foot- 5 Lowe who accounted for 13 points on the night. We try to establish the post. He's got a pretty good counterpart in Devante.
"We got some guards that can stroke it. Just takes some confidence."
Deploying that inside-out attack, Livonia scored 20 straight in the first quarter.
Trailing 6-1 early, Minnehan hit his first of two 3-pointers. The freshman guard followed two possessions later with a stop-and-pop jumper in transition for an 8-6 edge.
The Bulldogs did not trail again.
Lowe hit a jump hook  in the lane off an inbound pass and set up Gwyn for two of his 18 points next trip down the floor with a block-to-block feed. After the and-one Livonia led 18-6.
Naulls drilled a 3-pointer to open the second quarter, and Minnehan dropped a baseline floater on the next possession to give Livonia its largest lead of the game at 26-9.
The Bulldogs took a 38-24 advantage into halftime and cruised for 12 minutes with a double-digit lead until Penn Yan scratched its way back into the contest.
"Sometimes I don't want to go into halftime," Young said. "I want to go right into the third because it kills your momentum.
"Penn Yan didn't give up. That's a heckuva team. We knew they wouldn't give up."
Cade Curbeau converted a pair one-and-one free throws, and Penn Yan cut the margin to single digits at 60-52 with 2:25 remaining in the contest.
Desmond Battin's runner with an and-one made it a six-point game with 54.6 left on the clock.
"We tried to take away their momentum couple times by getting some big baskets underneath. Proud of my guys.. They kept their composure for the most part. At the end we got to finish with our foul shots a little better, but we made the buckets when we needed to."
Da'Vieque Naulls drills a triple to give Livonia a 65-55 lead with 1:16 remaining. pic.twitter.com/9FpZjHDonb

— Paul Gotham (@PickinSplinters) February 28, 2018
Penn Yan cut it to four with 4.8 to go but ran out of time.
Battin registered a game-high with 25 points in a losing effort. Dylan Stape added 17 for the Mustangs (17-6). Curbeau scored eight. Conner Fingar had six points. Derrick Rivello (5), Ben Emerson (4) rounded out the scoring for Penn Yan.
Minnehan scored 17 points for Livonia. Naulls had 16. Cody Ullock added six.
No. 3 seed Livonia (18-5) will play No. 5 seed Greece Odyssey in Friday's final.