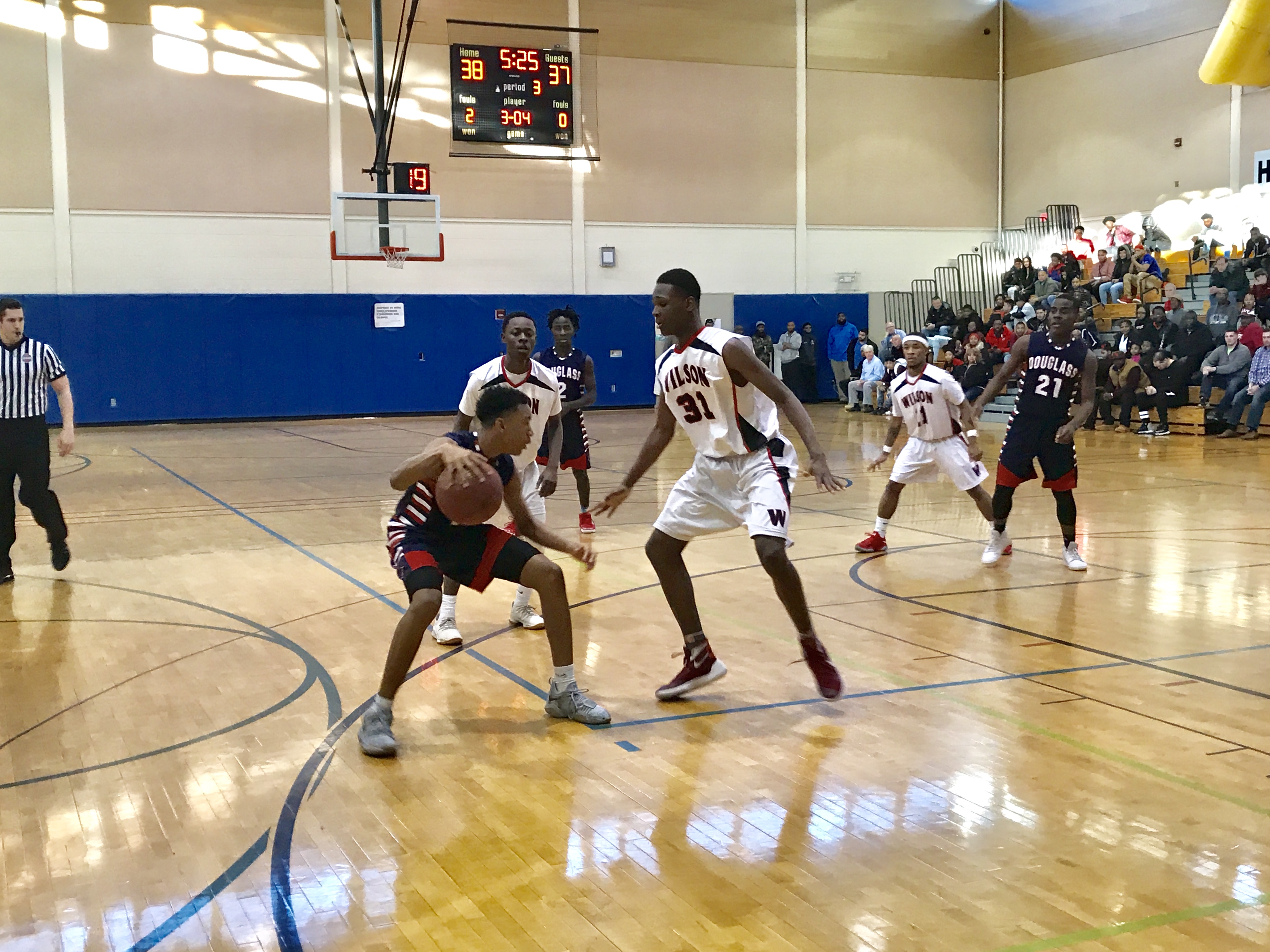 By PAUL GOTHAM
ROCHESTER, N.Y. — On paper the better-seeded team won. To the NE Douglass Panthers, their victory over division rival Wilson Magnet also provided ounces of validation.
Adonis Flagler and Jiahmere Mitchell combined for 49 points, and NE Douglass ended a brief post-season drought with a return to the Class A2 semi-finals.
"I know a lot of people thought with us having a really young lineup and Jiahmere as our returning starter that this would be a rebuilding year," fifth-year coach Kyle Crandall said. "For us to get back to the semis for the first time in three years is a testament to how hard these kids have worked."
Flagler overcame early foul trouble to pace a second-half rally. The sophomore guard/forward did all the scoring during a 12-4 second-half run as the Panthers erased a four-point deficit and did not trail again.
"We started playing as a team," he said. "The ball got in the right person's hands. Every possession, even if it wasn't me, the ball got in the right person's hands on every possession."
Trailing 53-49 late in the third quarter, Flagler tapped in his own miss. He opened the fourth with a bucket in the lane and tied the game at 55 with a pair of free throws.
"Adonis has had several times this when he has stepped up and stepped up big," Crandall said referring to earlier this season when his player scored 26 points in a win at East High and followed that later with 21 and 22-point performances. "I think he was a little upset with the foul trouble he had in the first half. You could just see it in his eyes. He wanted the ball."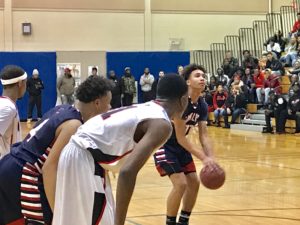 Flagler saved his best for last connecting on back-to-back 3-pointers to give NE Douglass a lead it did not surrender at 61-57 with 5:25 remaining in the contest.
"They were focusing on and doubling Jiahmere a lot," said Crandall of his leading scorer at 23.4 points per game. "Adonis took advantage of that."
Flagler connected on four 3-pointers for the day and finished with 23 points.
"We were getting him the ball," said Mitchell who finished with a game-high 26 points. "If he's hot, we were going to keep giving him the ball. It doesn't matter who it is."
The win was the first in three attempts this season for NE Douglass over Wilson. The Wildcats had taken a pair of regular season meetings (69-57/61-59) on their way to an undefeated record (8-0) in RCAC Division B play.
"It's a great feeling now that it's sectionals instead of the regular season game," Mitchell said of the win. "They probably thought they were going to beat us because they beat us twice, but we had confidence."
Mitchell scored 13 in the first half as NE Douglass went into the break trailing 33-31.
The Panthers outrebounded Wilson for the game 45-40 and forced 14 turnovers from their opponent while committing just 11 ballhandling miscues.
"At the beginning of the day we said we didn't care who scored the points as long as at the end of the day we had more than Wilson. That was the goal," Crandall noted. "I'm just really proud of these guys for being unselfish and letting who ever had the hot hand take over which is exactly what happened down the stretch."
The Panthers have played most of the season without starting point guard Maurice Glenn who has been sidelined with injury. Glenn started the first nine games of the season but played just three of the last 11 regular season contests.
"This is a group of kids who before the preseason all the way through have just worked their butts off," Crandall said. "Every single kid on this team was fully eligible for the entire season When you get a good group of kids who work hard, it's nice to see them rewarded like this."
Lamar Lovelace added 12 points for NE Douglass. Trevion Miller had 10 points and Nicolas Jeanty, four.
Robert Davis led Wilson with 20 points. Malikk Johnson finished with 14, and Brennan Clark had 13. Anthony Jubray scored eight. Desi Floyd (6), Christian Harmon (5) and Tory Bradley (2) rounded out the scoring for the Wildcats.
Wilson had reached the Class A2 finals in each of the past two seasons.
NE Douglass (14-7) will play Leadership Academy (17-3) in Wednesday's semi-final. A 6:30 PM tip off is scheduled at Victor High School.