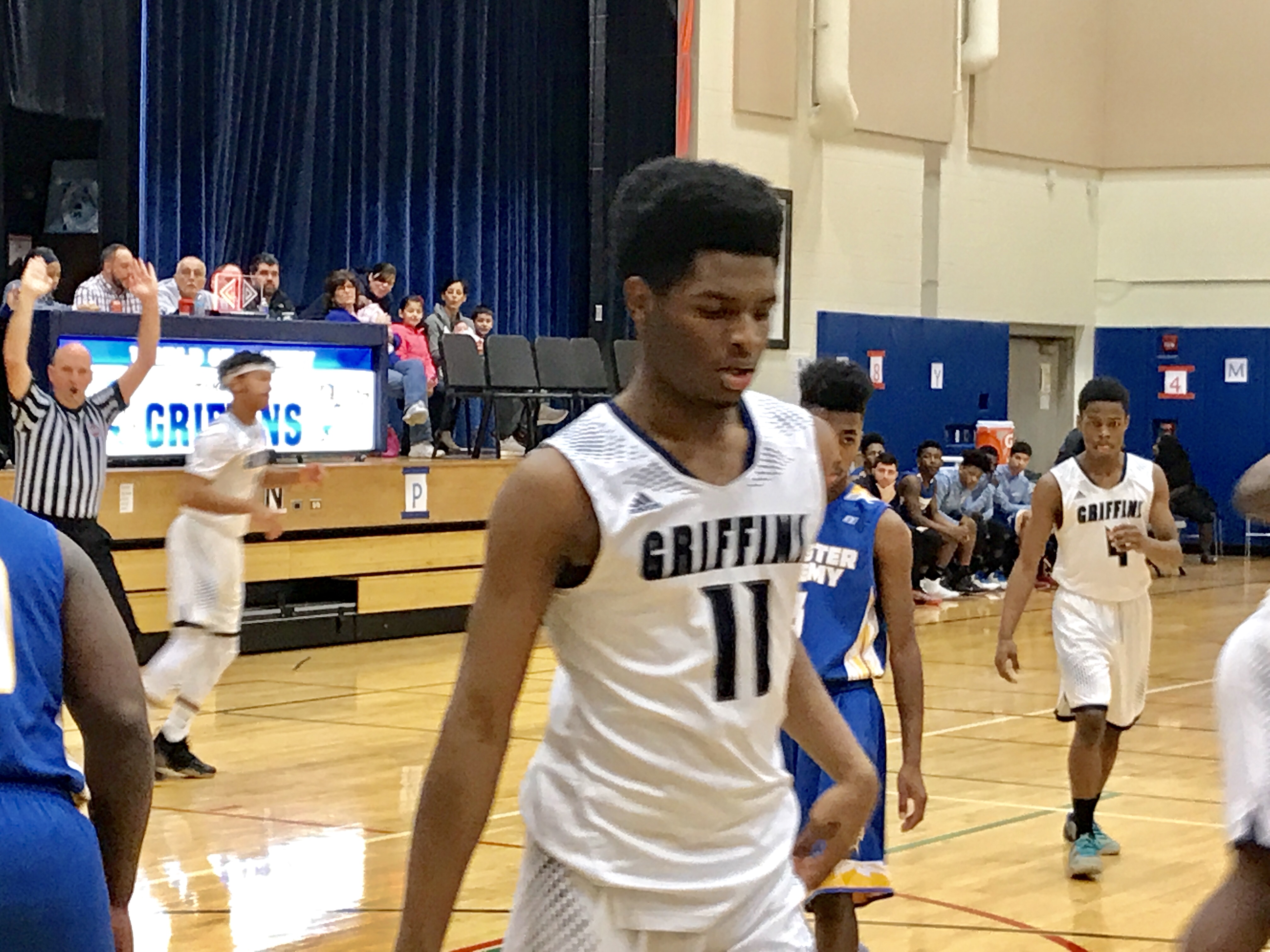 By MATT TRABOLD
TRABS KEEPS TABS
Sectional Individual Battles to Hope for
Mainly in terms of sleepers, this part of the column has taken a stroll through the topic of upcoming sectional play when it comes to the team perspective for the last few weeks. Now, tabs will be kept, or more so gushed about, on the characters on those teams that make the novel of postseason competition in the sporting world even greater.
The first individual battle to the party comes from the highest classification the state provides on top of being one that will occur in the current round of sectional play. This bad boy involves Thomas Jones III of three-seed Gates Chili against Kidtrell Blocker of fourteen-seed Aquinas Institute. Both Jones III and Blocker are springy swingman with plenty of size who can hurt an opposing force from the inside and outside. Blocker is very much the mold of player that Jones III was when he was just starting his time with McQuaid Jesuit a couple of years ago. 6-foot-4 sophomore Kidtrell has been a virtually unstoppable freight train for Aquinas Institute since recently returning to action after missing seven weeks of ballgames. He almost singlehandedly pulled off a massive upset of rival McQuaid Jesuit last Thursday with what he unleashed from the perimeter and at the cup in the second half.
The second individual battle takes us one classification size down to Class A2. If one-seed Leadership Academy for Young Men and five-seed Wilson Magnet both reign supreme in their first postseason game this season, then basketball fans in this area will get to watch Rondell Watson of the Lions square off with Robert Davis of the Wildcats. Both stand under 6-foot-0, but each can put up tens of points in a single ballgame against any type of defender. Despite being the shorter of the two at 5-foot-7, former CP3 Rising Stars Camp, named for Chris Paul, participant Robert Davis does a little more of his damage inside the perimeter. That scoring style can also be seen in the game of a renowned backcourt mate of Watson in Dezmere Ellis. This backcourt tussle is probably just as good though if Northeast Douglass beats Wilson Magnet tomorrow behind Jiahmere Mitchell.
After what he did on the final day of the regular season that just wrapped up, it is hard to not get Miles Brown in here. The aspect of this individual battle reference that will probably be more surprising to fans though is that it could come for Northstar Christian in just the quarterfinals of its sectional bracket. Eight-seed East Rochester has a preeminent do-everything guard in the Rochester area in senior Mat Cicero. Over the years, Cicero has transformed himself from a perimeter offense role player into a wowing talent that you just expect to drop your jaw on any given offensive possession. On the other side of this battle, Brown is coming off 44 points against Leadership Academy for Young Men in a mesmerizing victory that we will delve deeper into below. Miles might turn the most heads through the effortless manner in which he can get to the rim to the dunk the sphere, but he is a more efficient shooter on top of that than many might expect.
SLAP YOUR PEEPERS ON THIS FIVER
Rochester Prep at Lyons—Tues., Feb. 20, 7:00 PM
This is a game that Horace and Harvey Grant would be proud of. There will be three players on the court donning recreation spectacles at just about all times at Lyons Senior High School tonight. Among that group will be an all-state-caliber talent in 6-foot-4 swingman Justice Smith. The first aspect of what these Lions bring to the table that arguably jumps out at you, frequently literally, is the tireless production on both ends of Justice and his younger brother in 6-foot-2 freshman guard Justin Smith. Included within the deep repertoires of those two is a keen passing acumen that results in plenty of transition scoring for their fellow Lions, especially junior backcourt mate Kerel Kelly.
The main recreation spectacles star for Rochester Prep is starting center Bruce Lewis. A freshman starting guard in Wesley Henderson is not far behind. Lewis uses his lengthiness to aggressively attack the glass and the hoop. He wastes no time scoring off offensive rebounds before the defense collapses. The other frontcourt piece that has been starting for the Tigers is Terrance Washington, who has the thicker frame of the two. Washington has been proficient at times this season scoring the basketball when doubled. Marquis Thomas is a hard-nosed shorter guard that is a confident perimeter shooter.
North Rose-Wolcott at Northstar Christian—Tues., Feb. 20, 7:00 PM
Northstar Christian is one of the very best teams in this section regardless of classification at the moment and should consequently not have too much trouble in this one, but North Rose-Wolcott is not your typical sixteen-seed. That is a program that has experienced all sorts of postseason success over the past few years. The Cougars were a sectional finalist in the larger and currently defunct Class B2 in both 2015 and 2016. Maybe the biggest star on those teams was Tyler Norris. His younger brother that looks like his twin in rangy 6-foot-2 freshman Quinton Norris is now starring for the program. Quinton had to leave a sectional game this past Saturday against Letchworth with a hurt right shoulder after falling hard on an impressive scoring drive while getting fouled in the fourth quarter of that one. North Rose-Wolcott obviously needs his services if it wants to stay remotely close with those Knights.
There needs to be some mention in this column post about how Northstar Christian ended its regular season. This go-around, Leadership Academy for Young Men has arguably been a top three squad in the larger school ranks for this sport in this area. Northstar Christian is the eighteenth smallest out of the 118 current Section V schools that carry this sport. The Knights won last Thursday by double figures after being up at the halftime break by sixteen points. That effort by the home side in that one needs to be remembered for decades.
University Preparatory Charter School for Young Men vs. Churchville-Chili at Roberts Wesleyan College—Tues., Feb. 20, 7:00 PM
Corey Powell has not been with the team at games for much of the last few weeks for Churchville-Chili now. His vertical athleticism talents would have been vital against a group of Griffins oozing with leapers even with Jeenathan Williams and Jabez Thomas not on the team anymore. He might not get his hands on the rim as expertly as Powell, but Eric Lewis could be the most underrated backcourt player in the section this year, especially with him being injured for a stretch of competition earlier on as a senior. For spans during a ballgame, it is impossible for a defense to prevent Lewis from scoring due to his diverse selection of hardwood skills on the offensive end. As far as the current guardplay sidekicks for Lewis go, Fidel Brock provides the quickness, and 6-foot-2 sophomore Griffen Stella brings the hustling shiftiness to find the holes between defenders to score the rock.
Going back to the leapers that these Griffins possess, sophomore KayShawn Ross has what it takes to eventually pull off the very difficult task of being one of the very top dunkers in the short but storied career of the program. James Reaves, Demond Stewart and the rest of the coaching staff for University Preparatory Charter School for Young Men must adore having a player like J.J. Strothers. There have not been many players in this generation of the game around here who have been a bigger workman than that kid. The 5-foot-8 starting guard will grab consecutive offensive rebounds for you in an offensive possession that he created by throwing his body on the floor for a steal.
Midlakes at World of Inquiry—Wed., Feb. 21, 5:00 PM
Maybe the most misleading detail of the current sectional brackets for this sport across this section is that World of Inquiry is just the six-seed in Class B. The heightened level of competition for a team in that classification that accounted for most of the losses these Griffins suffered to make them a lower seed like that is what should also help their postseason longevity this year. CeyQuan Salmon is on the short list of the best backcourt players in these parts this season. From highlight reel plays to scoring milestones, both career and single-game, Salmon has certainly done enough over the past few campaigns to deserve a moniker like that. Alongside him stands a premiere local frontcourt pairing of beef and coordination in the form of Charles Maurice Brown and Bobby Searight. Between the way Brown expertly shoots mid-range jumpers and how Searight frequently glides through multiple defenders for buckets at 6-foot-5 and 320 pounds, they are a visual marvel.
Midlakes has its share of size up front as well when it comes to 6-foot-5 Trevor Milliman. He has been thoroughly battle-tested for a long time now after beginning his high school career playing AAU basketball for Primetime Ballers alongside notable current local commodities Anthony Iglesia, Thomas Jones III, Robert Davis and Braeden Zenelovic. His primary backcourt complement on the Screaming Eagles in Bryce Burri is more than capable of scoring outbursts.
East High vs. School of the Arts at John James Audubon School No. 33—Wed., Feb. 21, 7:00 PM
Head coaches Darrell Barley of East High and Al Nash of School of the Arts are far from strangers to major recent sectional success. East High was a state finalist in 2014. School of the Arts went 20-3 on its way to a sectional crown in 2015. At the very least, there is postseason swagger ingrained in these programs. It certainly remains to be seen what can be accomplished past that with mighty Leadership Academy for Young Men awaiting the victor. Fairport's Jackson Sullivan and Bobby Searight have understandably received most of the love as far as being an incredibly silky mountain of a man this campaign, but a 6-foot-4 junior for the Silverhawks in Jotham Denegal is up there as well.
The present roster for East High boasts a variety of dangerous guards with Maurice Coney III and the very experienced Chaz Washington at the center of that distinction. One side of the productive freshman backcourt duo for School of the Arts in Reginald Smith will be sidelined with an injury tomorrow night, which could severely malign the chances of the Silverhawks. With that being said, the other side of that duo in 6-foot-1 Ethain Clarke DeSouza should still provide plenty of positive statistics if that occurs.
SECTION V IN DIVISION I UPDATE
Antwoine Anderson—Sr., Connecticut (Bishop Kearney)
It was not the best week for Section V products playing in the highest rung of collegiate basketball, but one local hardwood talent is starting to return to the productive form that he flaunted in the non-conference portion of this campaign. The first part of that last sentence does not include the delightful recent off-the-court news that former Greece Athena and current Vermont star forward Anthony Lamb had a promising medical evaluation a short time ago and could very well be healed enough after a foot fracture to be available for upcoming postseason play for the Catamounts. As for Anderson, he scored at least eight points in each of his last three contests. Maybe more notable over the span was that he had eight more assists than turnovers against Tulsa, East Carolina and a ranked Wichita State group. Antwoine is actually presently averaging a lower amount of turnovers than he did at the end of his three seasons with Fordham. That is presumably just one of the reasons why Kevin Ollie has started him here and there down the stretch despite some scoring issues at times in conference play. Also, he is currently at a career-high 77.6% shooting clip at the charity stripe.