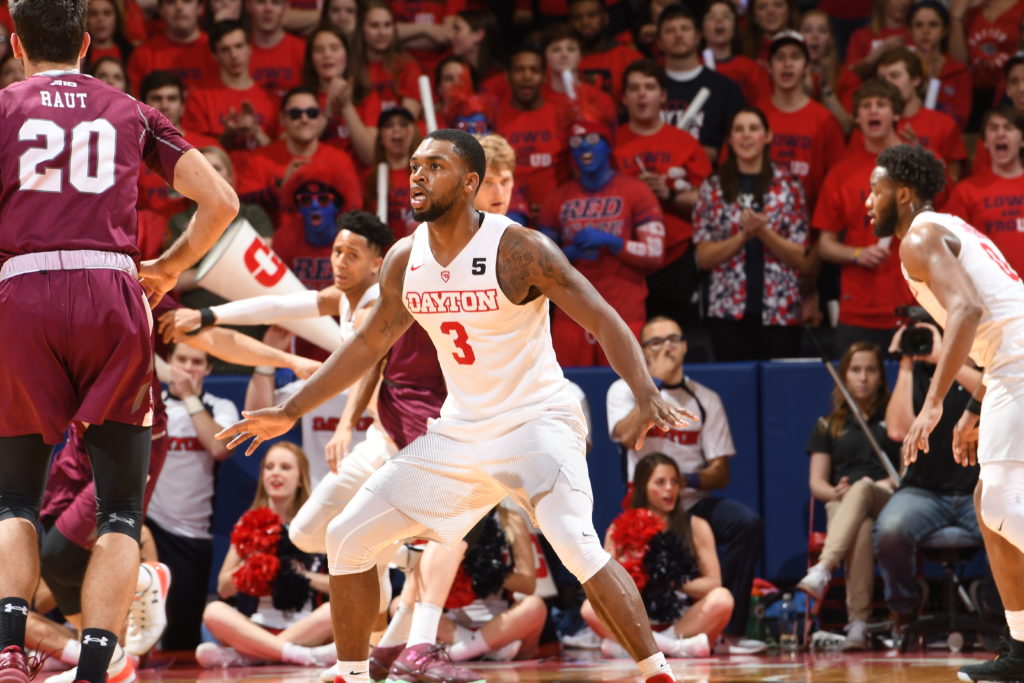 By PAUL GOTHAM
DAYTON, OH — Losers of two straight and four of five, the University of Dayton men's basketball team had plenty of questions entering play Saturday night. Two freshmen and a sophomore provided answers.
Taking on a pesky cellar-dwelling squad from Fordham, Dayton got a bulk of its offensive production from Jalen Crutcher and Trey Landers. Jordan Davis proved to be timely.
"We knew coming in that we were going to see a lot of different looks defensively from Fordham and that we'd have to handle different levels of pressure," first-year head coach Anthony Grant said UD's 80-70 victory. "I thought for the most part we did a good job."
Landers netted 15 of his career-high 26 points in the first half to pace the Flyers to a 42-33 lead going into the break.
"Trey did a great job," Grant said. "He was able to take advantage of what the defense gave him at the rim, on the perimeter."
The sophomore guard connected on 6-of-8 shots from the floor in the first half including 3-of-4 behind the arc in 13 minutes of action.
"The way they play they have one man at the free throw line and a big at the basket," Landers explained. "When we run our motion, they don't deny our guards. I already knew what they were doing to me. I was looking to shoot the ball. The shots fell for me, and I started creating off the bounce."
Crutcher added 19 points on 6-of-8 shooting for the contest including 3-of-5 from long range. The freshman handed out six assists.
"Every game is a different challenge for him and all our freshmen," Grant said of his point guard. "With every game, with experience that he goes through you see the growth. You see just the comfort that he's playing with after going through almost a full season of college basketball. His performances are indicative of that."
Davis connected on all three of his shots (two from behind the arc) for eight points. His steal and layup late in the game gave Dayton a seven-point advantage at 75-68.
"That was a timely play for us," Grant said of the freshman guard.
Josh Cunningham added 10 points and eight rebounds to the UD attack. Darrell Davis had 12 and six.
Joseph Chartouny led three Fordham Rams in double figures with 28. Prokop Slanina added 15 points, and David Pekarek had 10. Fordham (9-17/4-10) was playing without Will Tavares (14 ppg/5.6 rpg).  Injuries, including Chuba Ohams who was lost earlier in the season, forced Fordham to go deep into its bench to start the game.
Chartouny grabbed a game-high 10 rebounds.
Dayton (12-14/6-8) had an advantage on points in the paint (36-26), points off turnovers (18-12), second-chance points (10-7) and fast break points (15-6).