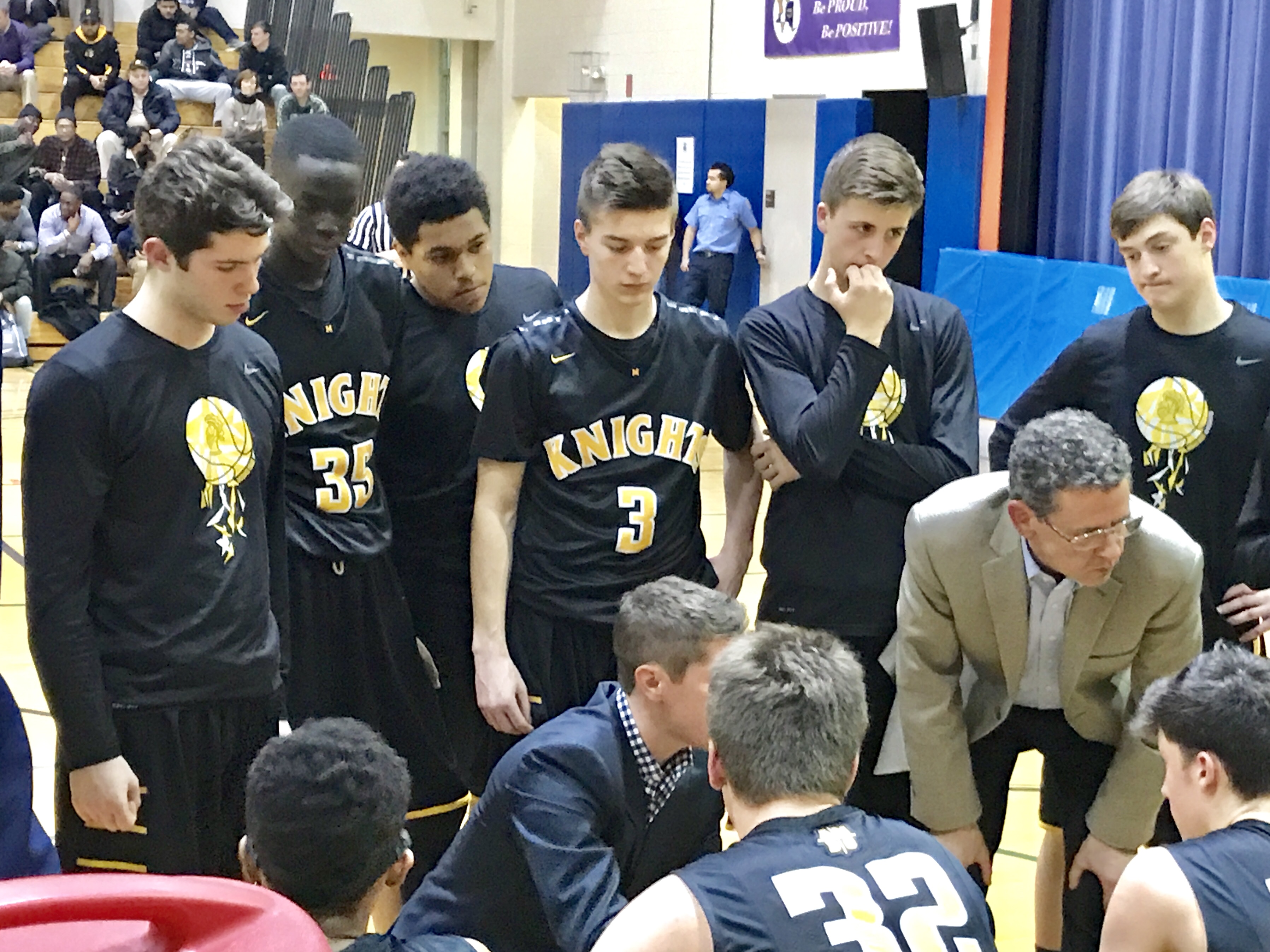 By PAUL GOTHAM
On January 13th, the McQuaid Jesuit Knights dropped to 4-7 on the season after a loss to Rice Memorial High School out of Burlington, Vermont. Being on the road for the first round of the upcoming Section V Class AA tournament looked like a reality. Thirty days and seven wins in a row later, not only has McQuaid secured a home game in sectionals but the Jesuit Knights have put themselves into the discussion of favorites. Included in its streak, McQuaid handed Leadership Academy its first loss of the season before winning at Fairport in overtime and beating Bishop Kearney also in overtime. McQuaid ran its RCAC-high winning streak to seven with a pair of road wins over East High and Franklin last week. Over their current streak, McQuaid has increased its scoring margin from +2.2 to +7.1 by improving its scoring from 68.2 per game to 71.2 while dropping points allowed from 66.0 to 64.1 points per game. The sophomore duo of Kobe Long (12.3 ppg) and Jermaine Taggart (18.8 ppg) have combined to score more than 31 per game. Senior Anthony Iglesia adds 13.4 per game.
WE DIDN'T FORGET ABOUT…
Irondequoit Eagles — Irondequoit capped a 3-0 week with a win at reigning Section V Class A2 champion, Wayne. Gerald Drumgoole averaged 20 points per game in the three wins last week. The junior guard connected on a combined 16 of 22 shots from the floor in wins over Churchville-Chili and Wayne.
Pittsford Mendon Vikings – Mendon put the finishing touches on a three-triumph week with a victory over Greece Athena. The win created a three-way log jam atop Monroe County Division III. Daniel Cook leads DIII scoring 20.8 points per game.
Batavia Blue Devils – Very quietly Buddy Brasky's squad has strung together six victories. Last week the Blue Devils won at Newark and followed that with a win over Vertus to improve to 12-6 on the season, and the Class A2 discussion just got a little more interesting.
Fairport Red Raiders – All Scott Fitch's team did was hold Bishop Kearney and Rush-Henrietta to a combined 98 points. Kearney was averaging better than 62 per entering the game including topping 70 or more in six of their previous eight contests. Fairport held the Kings to 50. Three days later the Red Raiders kept R-H more than 20 points under average in a division-clinching 63-48 win.
HIGHLIGHT OF THE WEEK
Slamming. Salmon. CeyQuan Salmon @GuyWith1Sleeve of World of Inquiry zested up his senior night game this evening by dribbling the basketball baseline for the dunk vs. School of the Arts. pic.twitter.com/3hKL2XRk7y

— Matt Trabold (@TrabsMatt) February 10, 2018