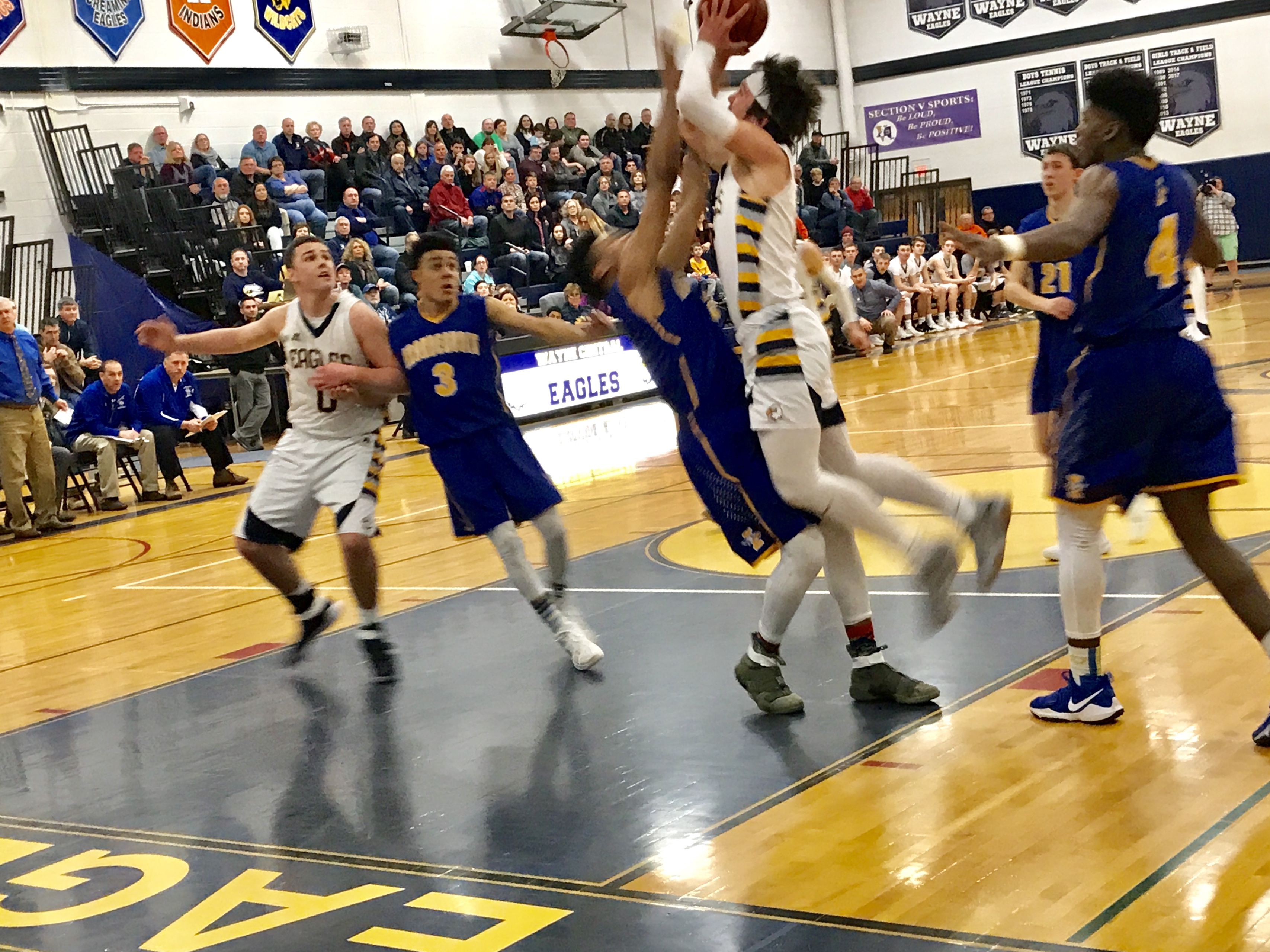 FRIDAY
EARLY COLLEGE (3-15) 49
NE DOUGLASS (12-6) 70
Adonis Flagler led Douglass with 21 points and eight rebounds, including going 10-for-10 from the charity stripe. Jiahmere Mitchell added 15 points and Miguel Santos had 12. Douglass opened the game by outscoring Early 18-4 in the first quarter, and closed the game by outscoring Early 16-8 in the fourth. Shedrick Smith topped Early with 14 points, followed by Jahkier Moore with 10 points. Other scorers: Douglas- Lonnie Watkins Jr. (7), Marquis Reed (4), Lamar Lovelace (4), Adaile Becoats (2), Trevion Miller (2), Taleak Mayo (2), Korri Salters (1), Early- Ahmir Buckhannon (8), Shamar Hampton (6), Prophet Hampton (5), Jaiden Daymon (3), Kamar McCloud (3)
MCQUAID (11-7) 91
FRANKLIN (1-17) 41
Kobe Long led McQuaid with 22 points, followed by Anthony Iglesia with 16 points (all in the first half) and Jermaine Taggart with 14 points. Iglesia also handed out eight assists. McQuaid took a 46-22 lead into halftime after outscoring Franklin 23-8 in the second quarter. Tahjir King topped Franklin with 20 points, while Tommy Coleman added 15 points. Other scorers: McQuaid- Rueben Daniel (8), Seamus Hogan (8), Will Anderson (6), Jon Catone (5), Connor Zamiara (4), Jackeen Mundy-Aeckerle (3), Aidan Ruppert (2), Mike Maloney (2), Nahom Yonas (1), Franklin- Raheim Drisdom (3), Kentonio Kelly (3).
SOTA (8-10) 33
WORLD OF INQUIRY (12-6) 69
CeyQuan Salmon and Charles Maurice Brown each scored 14 points to lead WOI. Jahmir Douglass added 12 points of his own for the Griffins. WOI outscored SOTA 45-14 between the second and third quarters, leading 58-26 at the start of the fourth. Ethain Clarke De Souza and Jotham Denegal combined for 30 of SOTA's 33 points, each netting 15 points. Denegal's 15 is his season-high. Other scorers: WOI- Javonte Burrell (9), Tyrese Walker (6), Travonte Albert-Hanks (4), Bobby Searight (4), Tremier Dollar (3), Frankie Santiago (3).
Slamming. Salmon. CeyQuan Salmon @GuyWith1Sleeve of World of Inquiry zested up his senior night game this evening by dribbling the basketball baseline for the dunk vs. School of the Arts. pic.twitter.com/3hKL2XRk7y

— Matt Trabold (@TrabsMatt) February 10, 2018
MONROE (10-8) 84
LEADERSHIP ACADEMY (16-2) 81
Chris Gibson Jr. led Monroe with 26 point, followed by Tyquil Glasgow with 24 points, his season-high. Rondell Watson topped Leadership, No. 14 NYSSWA Class A with 24 points. READ MORE.
PeeWee Mateo gives @JMHSRedjackets an 82-81 lead pic.twitter.com/Nhm64XUFv7

— Paul Gotham (@PickinSplinters) February 10, 2018
PENFIELD (7-12) 57
GATES-CHILI (13-6) 74
Keith Slack scored 11 of his team-high 27 points in the fourth quarter. Thomas Jones III added 23 points and 10 rebounds, while Vincent Ibezim and Adam Williams each had eight points. Ibezim also grabbed six rebounds for Gates. The Spartans outscored Penfield 21-9 in the first quarter to start the game. Isaiah Preston paced Penfield with 23 points, followed by Pat Piampiano with 12, Javion Moore with nine and Bryson Scott with eight. Other scorers: Gates- Mark Morrison (3), Traylan McCray (2), Gunther Kroth (2), Penfield- Gavin Williams (2), Davine Scott (2), Keenan Englerth (1)
GREECE OLYMPIA (3-15) 61
GREECE ODYSSEY (13-6) 69
DJ Billings scored nine of his team-leading 22 points, his season-high, in the fourth quarter. Aric Williams added 12 points, while Jaden Hartsfield had 11 and Travion Harper had 10. Odyssey outscored Olympia 18-8 in the second quarter, taking a 37-23 lead into the second half. Jeff Jung Jr. topped Olympia with 21 points, including nine in the third quarter, with William Green Jr. contributing 17 points. Other scorers: Odyssey- Darren Davidson (6), Romell Griffin (3), Ray Colbert (2), Ronell Joseph (2), Khyree Smith-Roberts (1), Olympia- Rah'Qual Avant (8), Samuel Wright IV (6), Trevari Sharpton-Clark (5), Kris Perez (2), Wesley Elmore Jr. (2)
GREECE ATHENA (16-2) 76
PITTSFORD MENDON (14-3) 79
Daniel Cook scored 35 points and grabbed 10 rebounds, helping Mendon, No. 29 NYSSWA Class A, snap Athena's 13-game winning streak. Jacob Shadders added 16 points and five assists, while Michael Harrington had 10 points. Mendon held on for the win despite being outscored 25-19 in the final quarter of play. Christian Jones and Ryan Kubanka each scored 18 points to top Athena, No.8 NYSSWA Class A. Kelvin Reaves and Nigel Scantlebury each contributed 12 points, and Pat Meisenzahl netted 10 points. Other scorers: Mendon- Conner Krapf (9), Matt Powers (9), Athena- DeAndre Newsome (6)
VERTUS (2-14) 43
BATAVIA (12-6) 70
TeeSean Ayala scored 14 of his team-high 29 points, and four of his eight threes, in the first quarter. Antwan Odom added 14 points, while Jon Liciaga had eight points and eight rebounds. Batavia outscored Vertus 25-10 in the third quarter, heading into the fourth quarter leading 53-27. Jahmel Demery topped Vertus with 10 points, followed by Eric LeBrane, Jabez Thompson and De'Andre Hunter with six points each. Other scorers: Batavia- John Kindig (5), Mason McFollins (5), Naz Pratt (3), Joe Martinucci (2), Steve Gilebarto (2), Ray Mlodozeniec (2), Vertus- Trevon Burkett (5), Lee Cooper (3), Desmond Brown (3), Davion Terry (3), Myles Rose (1)
HILTON (8-10) 48
VICTOR (6-13) 53
Caleb Clow scored 10 of his team-leading 16 points in the fourth quarter. Matt Caggiano added 12 points and Jack LaRue had 11 points for Victor. Victor closed the game by outscoring Hilton 22-9 in the fourth quarter. Tah-Jae Hill topped Hilton with 23 points, followed by Mitchell Carr with 15. Other scorers: Victor- Jon Crowley (4), Connor Williams (4), Jeremy Summerson (3), Tanner Hay (3), Hilton- Joey Lipani (8), Morgan Kunigan (3)
RUSH-HENRIETTA (14-5) 48
FAIRPORT (14-5) 63
Andrew Bartlett scored 16 of his game and season-high 23 points in the fourth quarter. Bartlett also finished the game 10-for-10 from the free throw line. Jackson Sullivan added 15 points for Fairport. Fairport opened the game by outscoring RH 21-7 in the first quarter. Kailee White topped RH with 24 points, including 15 in the second half. Mecca McCullough contributed 10 points. Other scorers: Fairport- Tommy Lindstrom (6), Anthony Pappano (6), Vanzell Johnson (4), Brennan O'Connor (3), Brett Heininger (3), Andre Starks (2), Ryan Lucey (1), RH- Don Swain (4), Tim Jackson (4), Matt Zarzycki (2), JeVonte Williams (2), Jake McPherson (2)
WEBSTER SCHROEDER (6-13) 52
WEBSTER THOMAS (10-8) 53
Andrew Mason led Thomas with 19 points, followed by Kelsey Carter with 11 points, and Will Johnson and Joe Luconte with seven each. Thomas took a 41-33 lead into the fourth quarter after outscoring Schroeder 16-6 in the third quarter. JJ Plummer topped Schroeder with 14 points, while Ky'mere Meeks added 12 points. Other scorers: Thomas- Colin LaBarbera (5), CJ Battaglia (2), Dannie Palmer (2), Schroeder- Colin Merkey (8), Nate Hardy (8), Luke Insley (6), Malachi Duvall (4)
CHURCHVILLE-CHILI (6-12) 44
IRONDEQUOIT (15-3) 76
Patrick Thomas led four in double figures, and Irondequoit won its third straight game. Thomas, who missed nine games earlier in the season with a wrist injury, collected six points during the second quarter when Irondequoit outscored Churchville-Chili, 23-10 in the second quarter to take a 16-point lead into halftime. Gerald Drumgoole had 17 points. Tanner Pioch added 11, and Robert Diaz-Judson chipped in 10 points for the Eagles. Marcus Postell paced C-C with 11 points. Other scorers: Churchville-Chili – Dennis Swetz (2), Eric Lewis (7), Fidel Brock (4), Marcellus James (6), Terrance Wilson (3), Garland Akins (4), David Johnson (2) and Griffen Stella (5). Irondequoit – Frederick June, Jr. (2), Keegan Vankerkhove (2), Josh Stenglein (3), William Porter (8), Gryson Smith (2) and McGuire Craig (2).
SPENCERPORT (8-10) 59
GREECE ARCADIA (0-18) 36
Noah Mundt collected 10 of his game-high 21 points in the fourth quarter when Spencerport outscored Arcadia 20-3. Josh Reding and Alton Jones, Jr. added 12 points apiece on the night. Evan Clarke hit three first-quarter 3-pointers to finish with nine points. David Stewart (3) and Malcolm McCollough (2) rounded out the scoring for Spencerport.  Arcadia's Lucas Sadwick scored eight points to lead the Titans. Chris Collili had seven. Joe Gallery added five points. Ray Mineo and Robert Smith added four apiece. Davion Hill, Caleb Barnard and Brendan Wilson each scored two.
BROCKPORT (4-15) 56
PITTSFORD SUTHERLAND (15-3) 70
Kevin Ryan and Matt Thaney combined to score 33 points, and Sutherland joined a three-way tie atop Monroe County Division III. Chaney topped double figures for the third straight game with 18 points. Ryan added 15. Craig Rosen added nine points and Chris Cox scored seven. At 6-2 in the division, the Knights are tied for first with Greece Athena and Pittsford Mendon. Willie Ball led Brockport with 20. Kyle Palka had 12. Other scorers: Brockport – Cory Gross (7), Jacob Jurhs (6), Amire Odey (3) and Noah Schultz (8). Sutherland – Matt Panara (2), Josh Rosen (2), Ben DiGiovanni (5), Davis Heyman (6) and Cade Ruffin (6).
EAST (6-13) 41
EDISON TECH (8-11) 56
KENDALL (2-16) 54
ROCHESTER ACADEMY (10-9) 84
LIMA CHRISTIAN (6-12) 73
GOW SCHOOL 53
NORTHSTAR CHRISTIAN (16-1) 86
C.G. FINNEY (15-3) 74
Miles Brown scored 37 points. Matt Medeiros collected 22 points and 12 rebounds for Northstar. Keegan O'corr led C.G. Finney with 30 points.
NEWARK (7-12) 52
PENN YAN (14-4) 56
MIDLAKES (6-13) 51
WAYNE (14-2) 72
Thomas Bolt connected on two 3-pointers and scored eight in the first quarter as Wayne jumped to a 17-12 advantage after eight minutes on their way to an 18-point halftime lead. Bolt led four in double figures with 16 points. Logan Blankenberg, Max LaRocco and Braeden Zenelovic scored 10 apiece for Wayne. Blankenberg returned to action after missing three games with an injury. Logan Holgado scored six points. Nick Carmichael and Jaiden Burlee scored five apiece. Anthony Flatt and Caleb Kornaker both had three points. Brandon Nowak and Billy Thomson scored two each. Wayne hit 11 3-pointers. Bryce Burri scored 14 to lead Midlakes. Dan VanNostrand had 12. Matt Cheney, Marsall Wasman and Devin Hicks scored four apiece.
WEEDSPORT (III) 63
NORTH ROSE-WOLCOTT (2-16) 37
CUBA-RUSHFORD (10-8) 62
BOLIVAR-RICHBURG (7-12) 58
FRIENDSHIP (1-16) 20
SCIO (16-3) 61
ATTICA (5-13) 52
BYRON-BERGEN (7-12) 59
OAKFIELD-ALABAMA (12-5) 60
HOLLEY (4-15) 44
PEMBROKE (19-0) 50
ALEXANDER (12-5) 49
ELBA (13-5) 65
WHEATLAND-CHILI (5-13) 50
NOTRE DAME BATAVIA (14-4) 62
LYNDONVILLE (5-13) 44
AVON (11-6) 68
WAYLAND-COHOCTON (8-10) 67
LIVONIA (14-4) 63
HORNELL (14-5) 70
LETCHWORTH (1-18) 51
CALEDONIA-MUMFORD (17-1) 69
Ian Lenhardt led Cal-Mum to its 14th straight victory with 13 points and 12 rebounds. Jon Bollard added 15 points, and Vin Molisani had 12. Kyle Wade chipped in with nine points. Cal-Mum opened the second half on a 20-2 run. Caleb Hansen led Letchworth with 14 points. Will Bean and Zach Brown had eight points apiece.
WARSAW (8-11) 56
LEROY (13-4) 74
KESHEQUA (1-18) 46
MT. MORRIS (11-7) 63
PAVILION (5-13) 62
GENESEO (8-11) 69
PERRY (17-2) 72
YORK (9-9) 48
Tyler Cowie poured in 31 points, and Austin Croll added 22 to lead Perry. Dylan Zambito had 14 points and five rebounds for York. Josh Davis had nine points. Perry led 41-31 at half.
ALFRED-ALMOND 50
ARKPORT-CANASERAGA 38
SATURDAY
IRONDEQUOIT 60
WAYNE 50
Irondequoit was three games removed from its season-long nine-game winning streak being snapped at Greece Athena. Two games separated Wayne and their 13-game winning streak being snapped against Mynderse. READ MORE.
Exciting @sectvbb game last night between @WIEagles & @WCSD_Athletics. Irondequoit wins 60-50 in matchup of two of Class A's top teams, improves to 16-3. @g_drumgoole24 with 28 pts. to lead all scorers. @DandC @FingerLakes1 pic.twitter.com/vduAHzzM84

— Varsity Media (@VarsityMedia) February 11, 2018
VIDEO COURTESY OF VARSITY MEDIA
LIVERPOOL (III) 67
AQUINAS 53
Sophomores Kidtrell Blocker and Tyler Warner paced the Li'l Irish offense, but Aquinas fell to the Liverpool Warriors (III), 67-53 in boys basketball action, Saturday afternoon at the Wegman-Napier Complex. READ MORE. 
BISHOP KEARNEY 34
UTICA-NOTRE DAME (III) 60
Kevin Goode, Jr. connected on three 3-pointers and finished with a game-high 18 points, but Utica-Notre Dame outscored Kearney by 22 in the second half. Goode scored 10 first-half points as BK went into the break trailing 24-20. Shykell Brown added nine points, and Jamal Fennell had five. Michael Gentile chipped in two points. Utica-Notre Dame's Jaylan Warmack contributed eight of his team-17 in the third quarter to pace a 14-7 stanza for the hosts.
HAC 56
DUNDEE 43
DUNDEE — HAC's Ryan Hilton scored 15 points and grabbed 20 rebounds while Xavier Israel scored 14 of his 16 points in the second half to pace the Wolves to a 56-43 win over a pesky Dundee squad Saturday afternoon in Finger Lakes West Action.
The victory was the first win at Dundee since 2009 for the 13-5 Wolves. HAC remains in second place in the FLW Leage at 10-4. Dundee fell to 2-14 in league and 4-15 overall.
After a sluggish start — which saw Dundee take a 13-9 first quarter lead thanks to balanced scoring — the Wolves turned up the defensive intensity holding Dundee to just 5 points and led 21-18 at halftime. HAC's Rob Dorsey ZItong Jin each hit long range three pointers and added short jumpers to ignite HAC. In the second half HAC jacked up the tempo and both teams responded by quick points. Dundee's Robbie Clark had 6 points inside points but Israel had 10 points, Hilton 5 and Dorsey 3  to push the HAC lead to 42-34 lead after three. In a contest that was physical and full of fouls, both team scored most of their points in the fourth quarter from the free throw line, with Dundee scoring 5 of their 9 points and 9 of thir 14 from the charity stripe. HAC extended the lead to 53-36 on a three pointer by Dorsey before the benches were emptied.
The Scots were led by Kyle Cratsley's 14 points and Clark's 9, while Wylie Hall had 7, Austin Gibson and Prestion Cratsley 4 each, Brandon Edminster 2, Michael Hand 2 and Billy Bowers 1. Dorsey finished with 13 points, Jin 8, and Andrew Alexis 4.
SODUS 31
SOUTH SENECA 33
NORTH ROSE-WOLCOTT 41
WILLIAMSON 60
Adam Fisk led Williamson with 22 points,  six rebounds and five assists. Drew DiSanto added 13 points, and Josh Miller had 10 points. Quinton Norris paced North Rose-Wolcott with 20 points. Gage Leous  had nine points. Reese Morris added eight.
BATH-HAVERLING 44
DANSVILLE 43
Bath-Haverling's Stephan Ordway scored 17 points, and Alec Sestak added 10. Ethan Buckley had seven points for the Rams. Blake Hess contributed six. Sam Arnts and Derrick Ferguson had two apiece. Hunter Little paced Dansville with 14 points and six rebounds. Jacob Failla added nine points and six assists. Nick Rosica collected six points and six rebounds.
PALMYRA-MACEDON 65
VERTUS 61
Logan Ameele collected 11 points, seven rebounds, three assists and six steals to lead Pal-Mac. Alex Wahl added 10 points and seven assists. Sawyer Bloom had 21 points, three assists and three steals. Travis Snyder chipped in 12 points and grabbed six rebounds. Jaydin Blanc finished with nine points, seven rebounds, three assists and three steals.
HAMMONDSPORT 42
PRATTSBRUGH 71
Mason Putnam scored 23 points and Garrett Socola added 17 lead the Prattsburgh Vikings. Cameron Roote had 13 points and 10 rebounds for Hammondsport. Parker Watson netted 9 points and 5 rebounds.
BRADFORD 65
CANISTEO-GREENWOOD 37
AVOCA 56
ADDISON 60
Danny Ames hit five 3-pointers and finished with a 28 points to lead Addison. Adam Chilson added 12 points and six assists. Evan McIlwain scored nine points, and John Stierly had six points, seven rebounds and two blocks. Nick Solinas collected four points, six rebounds and three steals. Evan Reppert led Avoca with 20. Nathan Nunn had 10 points. Ladre Stanford and Tristian Stark scored eight apiece. Justin Peplicki had four points.
CAMPBELL-SAVONA 39
JASPER-TROUPSBURG 54
AVON 67
YORK 53
Aaron Ghent scored 20 and Connor Taylor added 19 to lead Avon. Matt McFarland scored 13 for York. Avon led 15-7 after the first quarter and 34-20 at halftime.
HOUGHTON 26
BELFAST 63
LeROY 54
WELLSVILLE 38
SUNDAY
BISHOP KEARNEY 67 OT
NOTTINGHAM (III) 66
Shykell Brown converted two free throws and connected on four of his game and season-high 28 points in overtime as Bishop Kearney snapped a three-game losing skid. Brown connected on five 3-pointers for the afternoon. Kevin Goode, Jr. added nine of his 16 points in the fourth quarter and overtime. Michael Gentile  hit two 3-pointers and finished with eight points. Jamal Fennell scored seven points. Anthony Gray had four. Jordan Love and Jamal Williams chipped in with two points apiece. Kearney trailed 29-25 at half.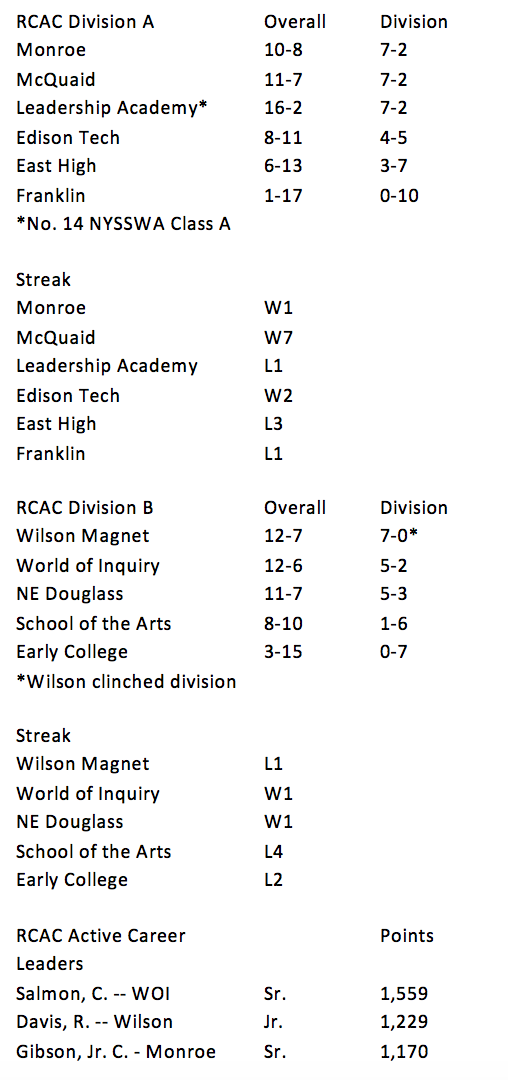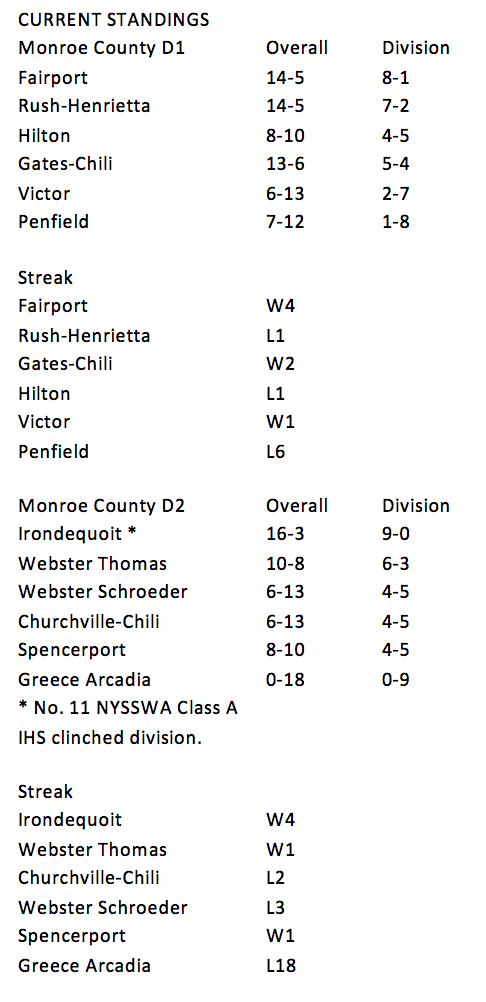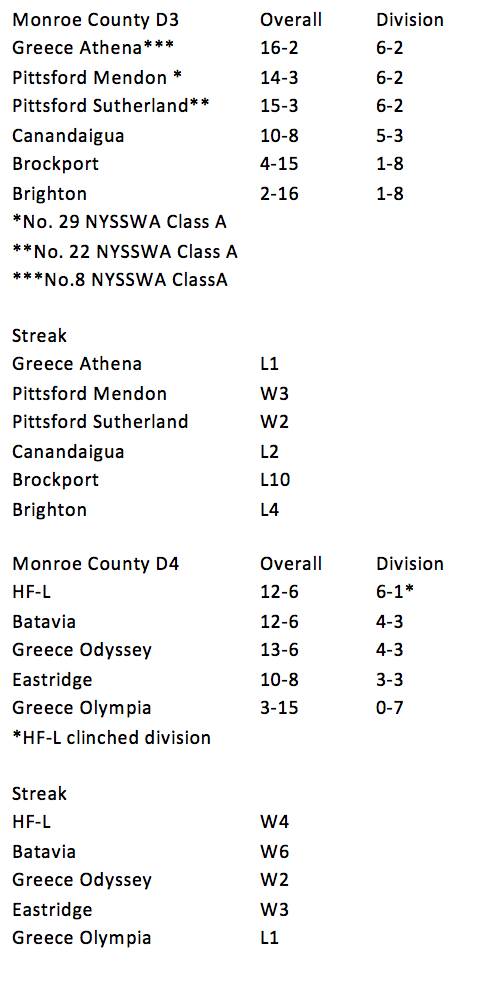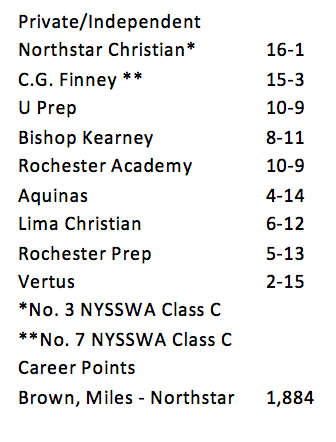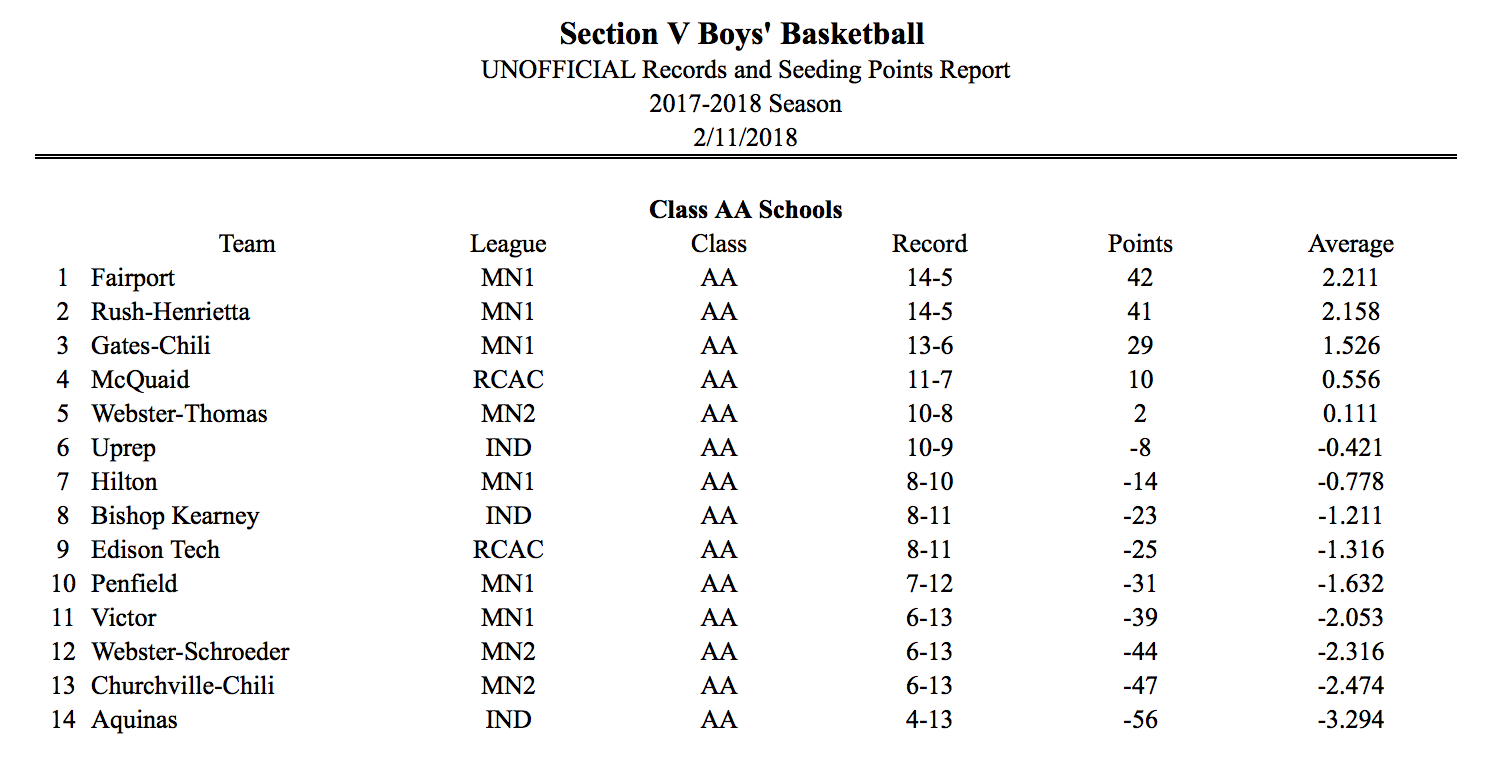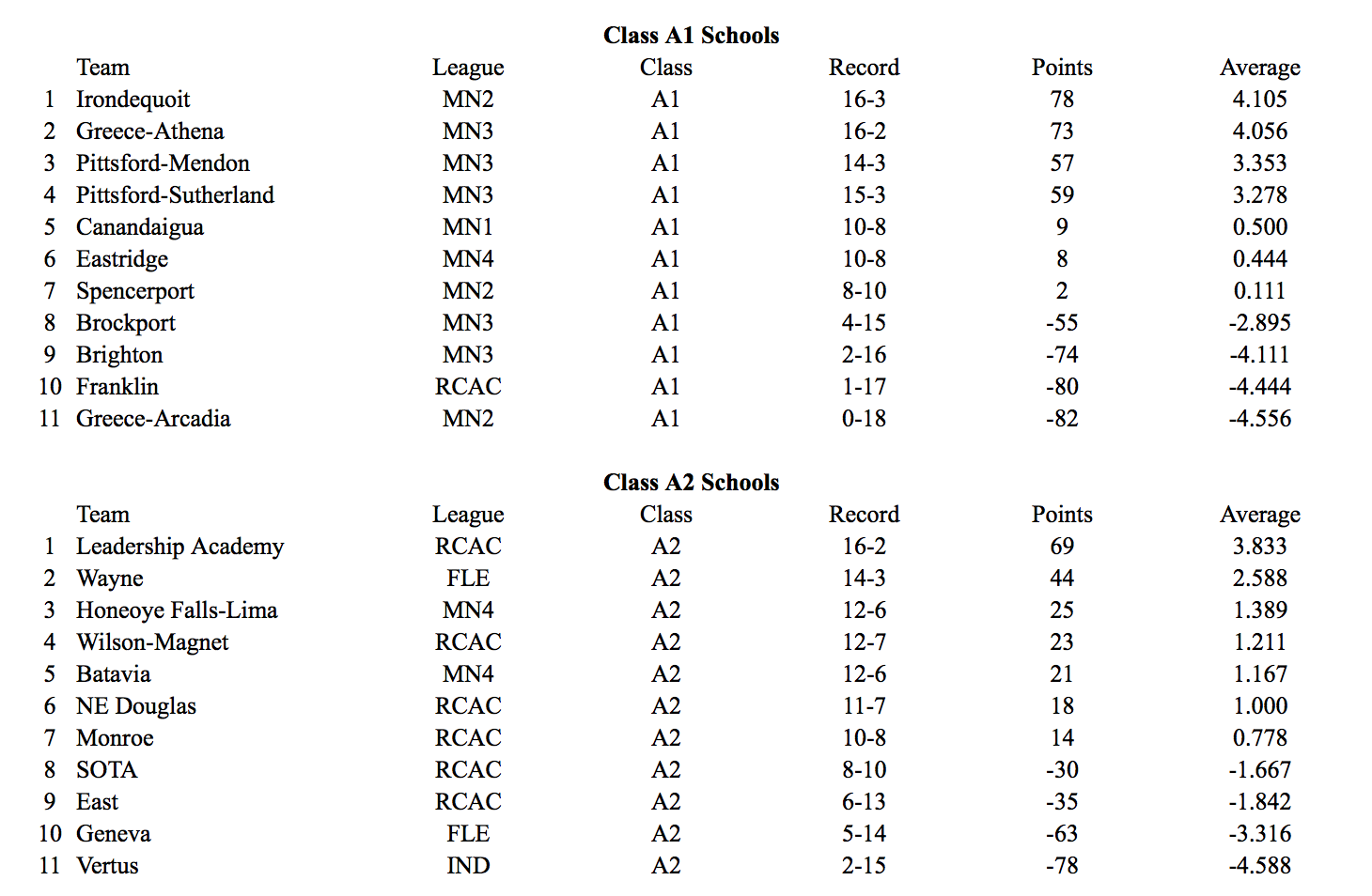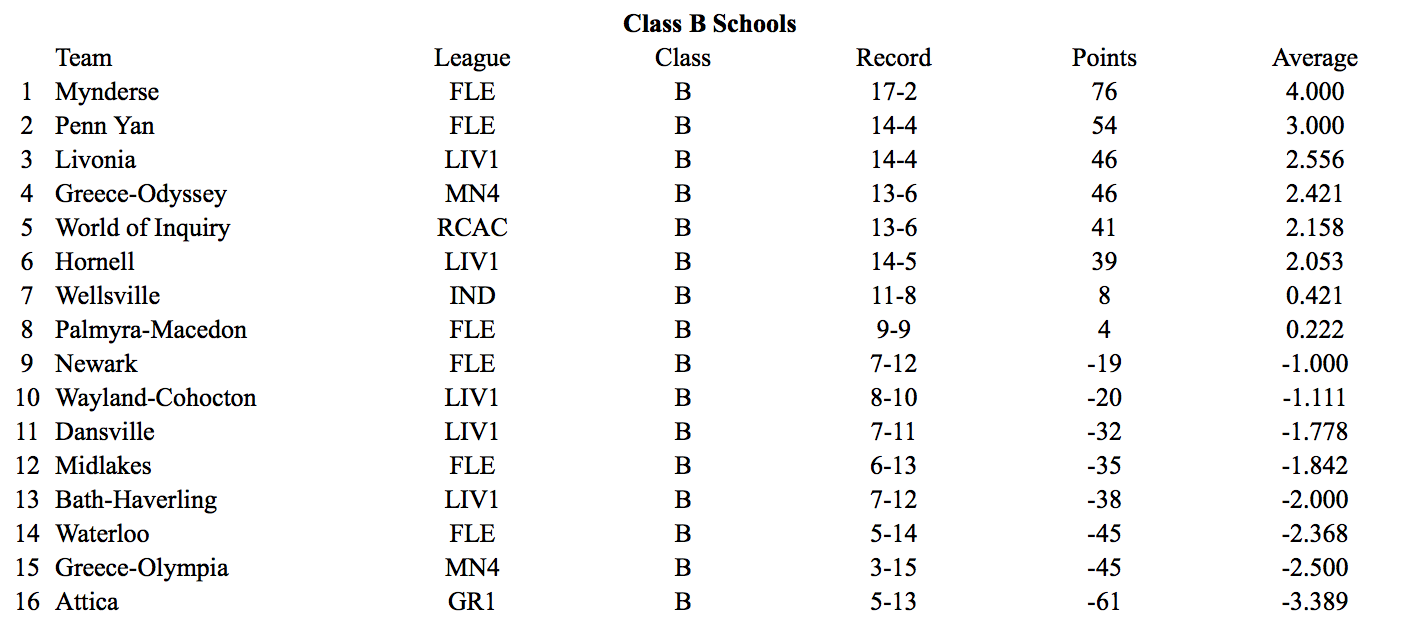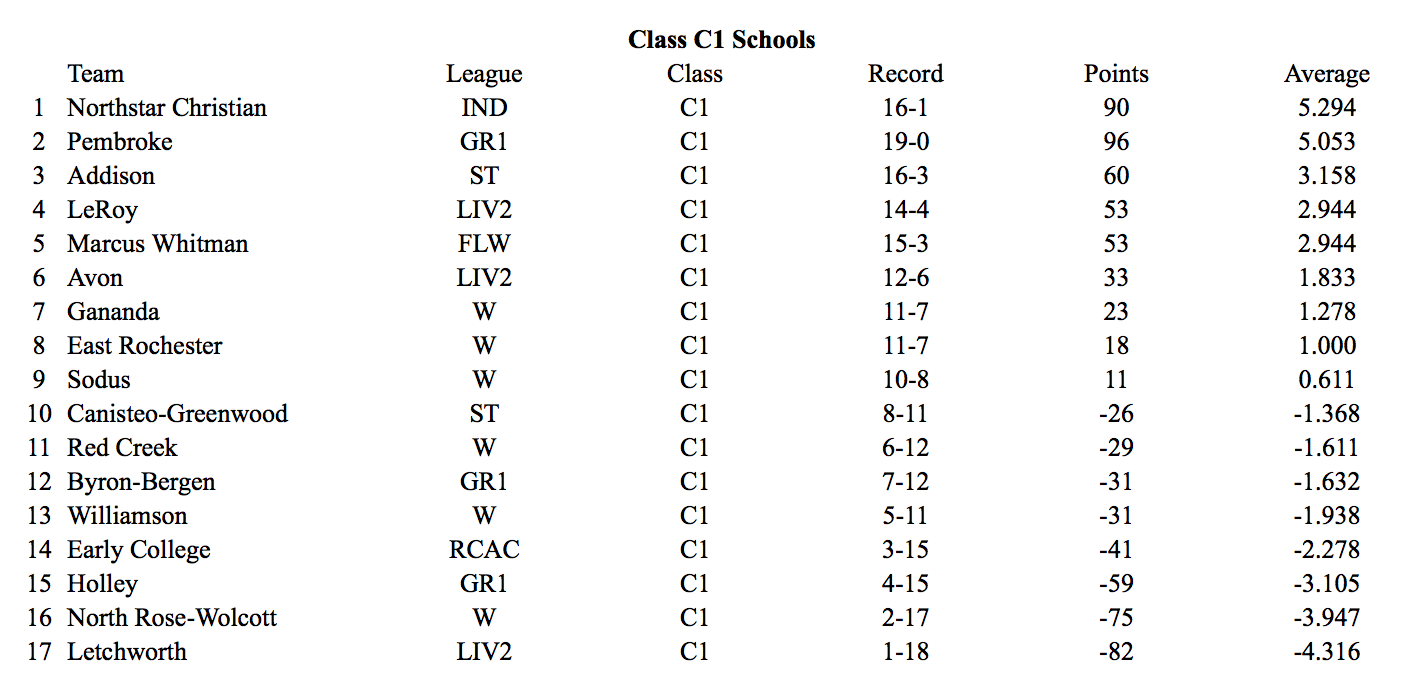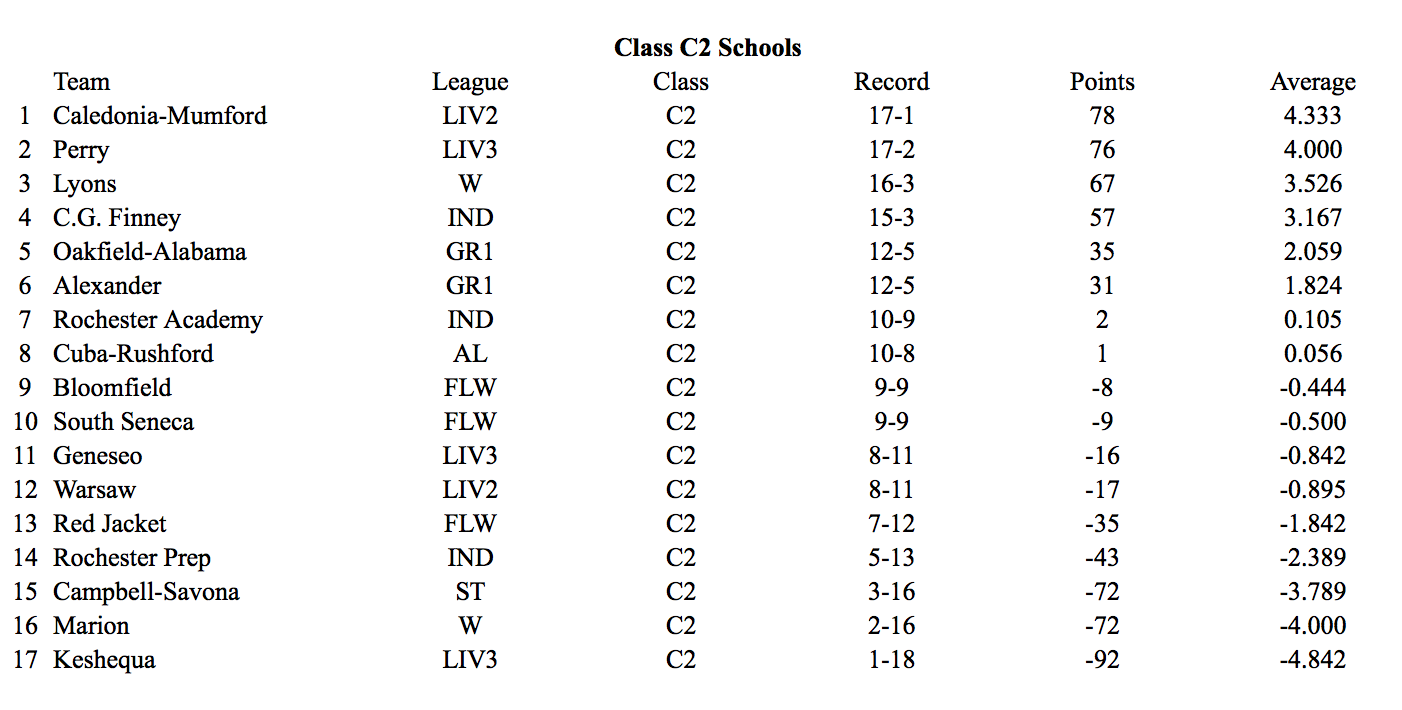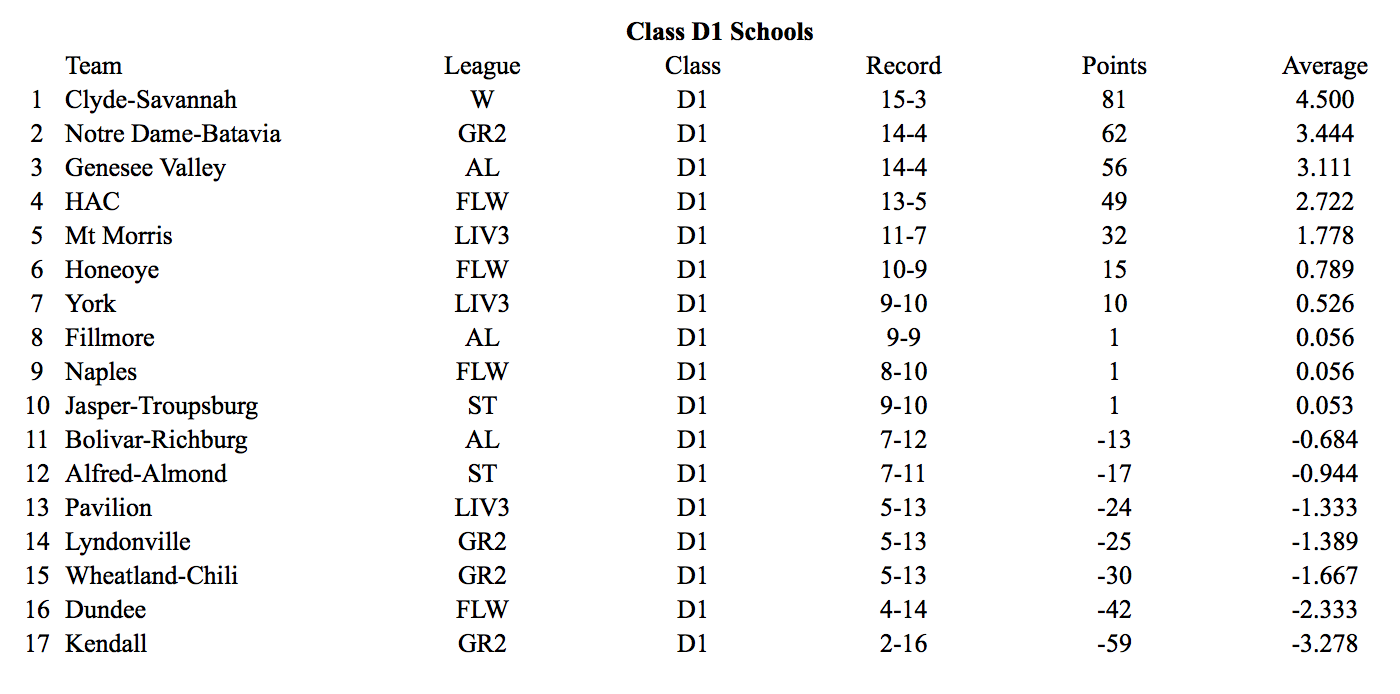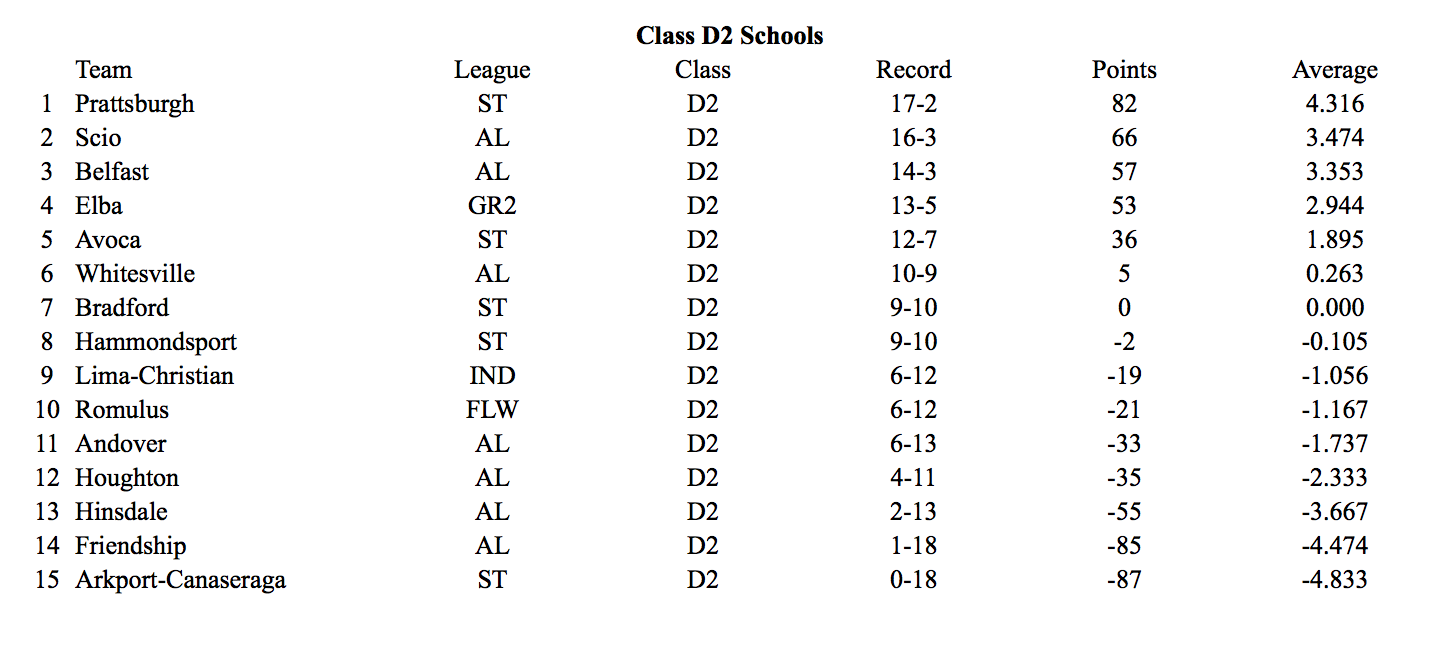 UNOFFICIAL SEEDINGS COURTESY OF SECTION V BASKETBALL.