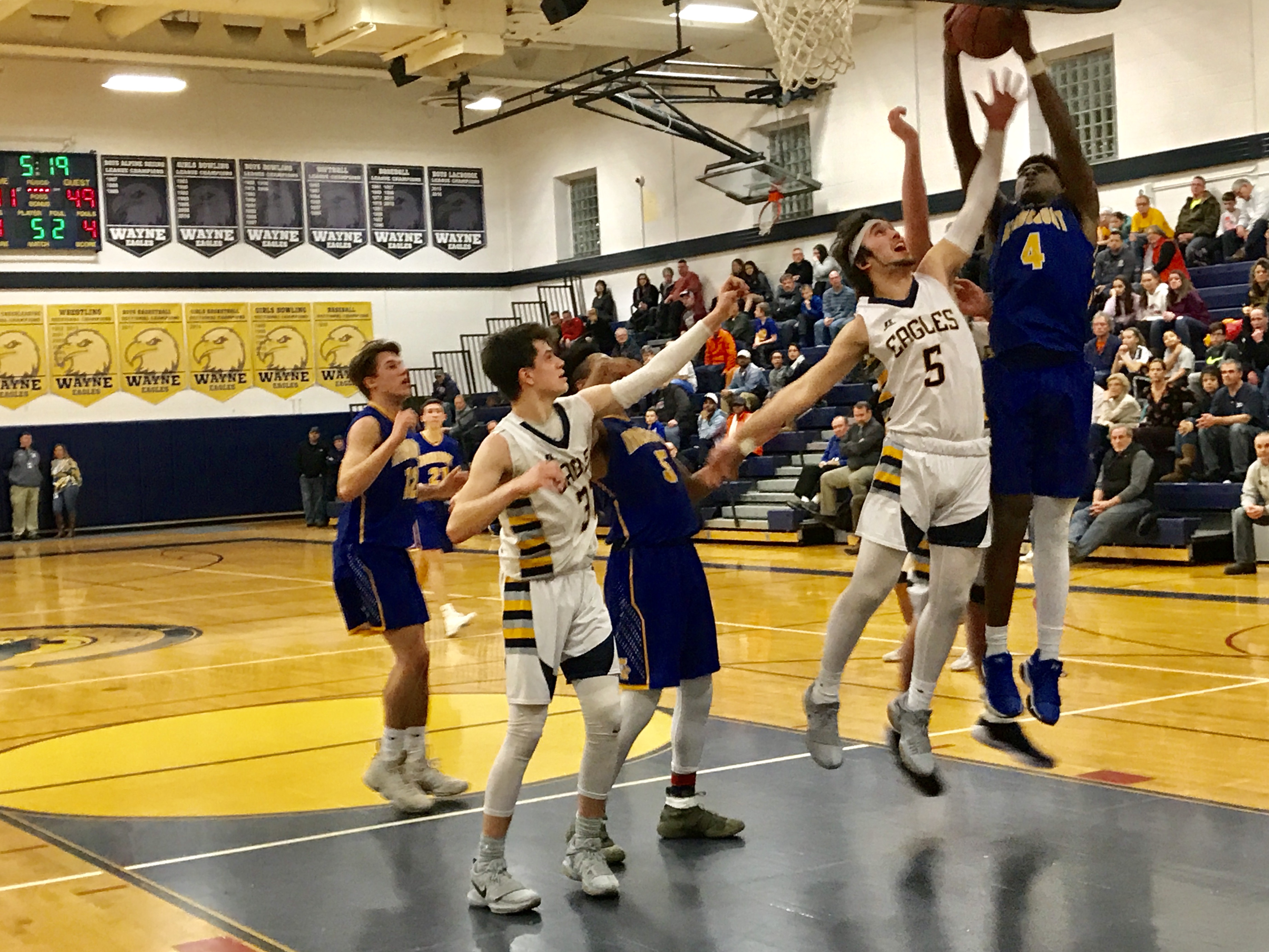 By PAUL GOTHAM
WAYNE, N.Y. —  As far as post-season warmups go, this one fit the billing.
Reigning Section V Class A1 and NYS Class A champion Irondequoit Eagles visiting the reigning Section V Class A2 champion Wayne Eagles.
Twenty-four hours after both squads celebrated their senior nights, they were back at it on the hardwood.
Irondequoit was three games removed from its season-long nine-game winning streak being snapped at Greece Athena. Two games separated Wayne and their 13-game winning streak being snapped against Mynderse.
The play on the court didn't disappoint.
"To be able to win a big game on the road it's huge," Irondequoit coach Chris Cardon after his Irondequoit squad defeated Wayne, 60-50. "If you're going to be good, you got to beat good teams. You're not going to be home. You're going to be on the road in sectionals.  I think it's a good sign for us."
Irondequoit got bookend efforts from juniors Gerald Drumgoole and Patrick Thomas. Drumgoole poured in 22 of his game-high 28 points in the first half. Thomas scored eight of his 15 in the second half.
"Overall, when you look at the game, it comes down to those two players," Wayne coach Bill Thomson said. "Drumgoole in the first half. Thomas in the second half. I thought those were the two differences."
Drumgoole shot 9-of-13 from the floor for the night including 6 of 8 from behind the 3-point arc.
"It was a good team win," Drumgoole said  "We knew they were going to be ready to play us."
The challenge for Irondequoit was to solve Wayne's zone defense.
"Setting the ball screens on the top of the 2-3 zone helped us," Drumgoole explained. "We could drive middle and it opened up a lot more space for the shooters. We were able to hit big shots."
"They play it so well. It's a match-up zone kinda like Syracuse (University)," Cardon added. "We put in a couple new things. "We tried to screen the zone a little bit and then you got Patrick along the baseline. He's really pretty tough on the baseline."
For Wayne, Saturday's tilt was an opportunity to measure is improvement since the two teams last met. Last March, Irondequoit breezed past Wayne, 56-36 and advanced to the Far West Regional. Saturday night, Wayne, returning all five starters from last year's sectional champ, led late in the first quarter before Drumgoole found teammate Robert Diaz-Judson with one of his seven assists on the night, and  Irondequoit had a 13-12 edge going into the second quarter.
The teams traded leads early in the second quarter. Drumgoole gave Irondequoit some separation with a catch-and-shoot 3 for a 24-17 lead.
Logan Blankenberg sparked Wayne's response with a three ball from the top of the key. Braeden Zenelovic used an upfake and a pair of dribbles to set up a jumper from just outside the lane. Billy Thomson knotted the game at 26 with a pull-up jumper from the free throw line.
Irondequoit led by one at half and by six after the third quarter but did not extend the lead to double digits until midway through the fourth when Josh Stenglein nailed a trey from the top of the arc.
"We played them really tough in the first half last year," Thomson said. "The second half we kinda crumbled a little bit to their defensive pressure. The difference this year I thought in the second half we were still having success."
Drumgoole, the only returning starter from last year's Irondequoit team, collected seven rebounds and two steals on the night. Thomas corralled 12 rebounds for the double-double.
Stenglein added six points. Tanner Pioch and Diaz-Judson scored four apiece. Frederick June, Jr. had three.
Blankenberg hit three 3-pointers and paced Wayne with 20. Zenelovic had 13. Nick Carmichael had eight. Billy Thomson scored seven. Max LaRocco had two points.