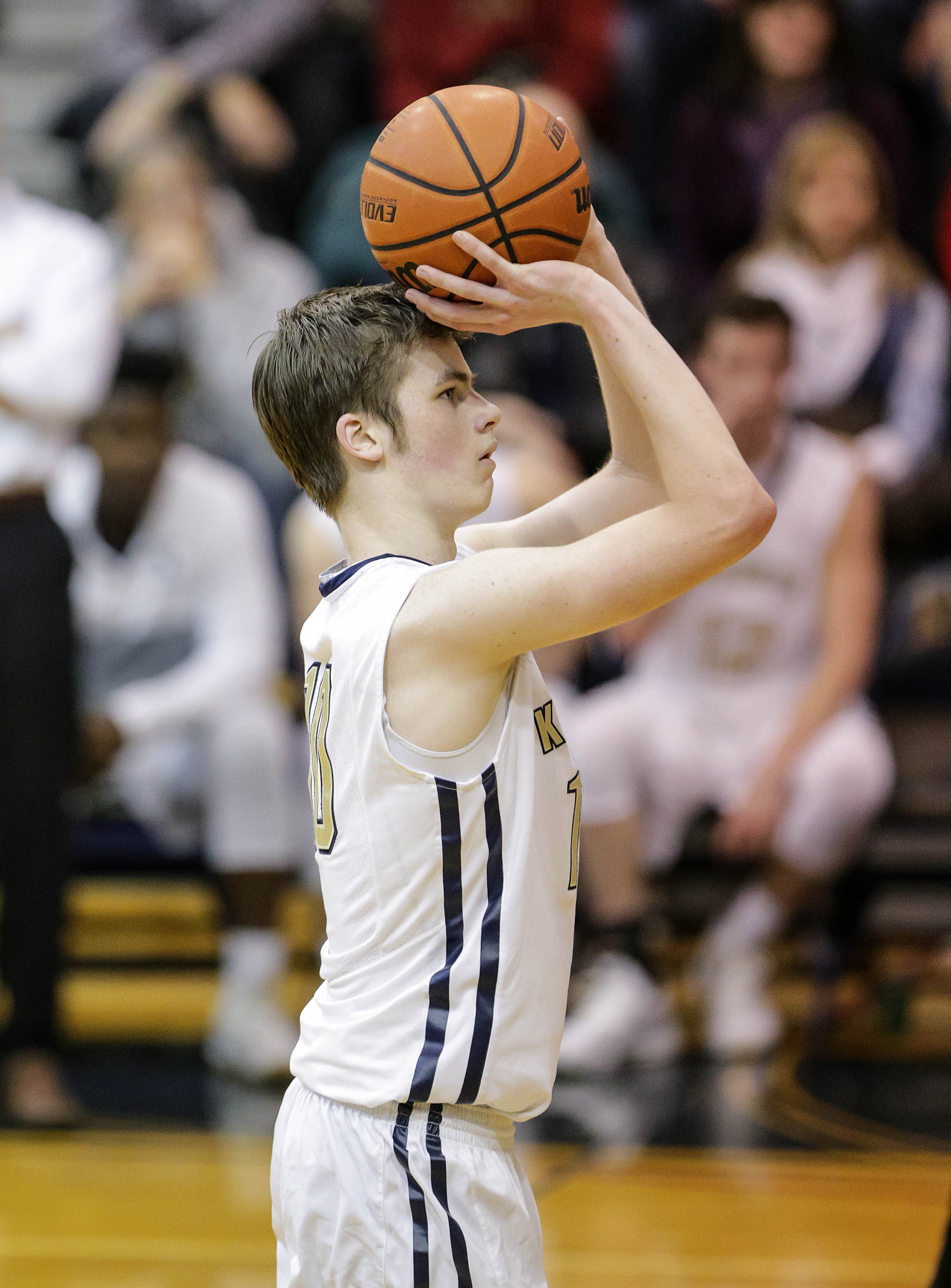 CHURCHVILLE-CHILI 49
PITTSFORD SUTHERLAND 67
Matt Thaney scored 16 and led a balanced offensive attack as Sutherland (14-3) won for the third time in four games. Chris Cox, Ben DiGiovanni and Davis Heyman scored seven apiece for the Knights. Matt Panara, Craig Rosen and Josh Rosen added six each to the output. Cade Ruffing had five points, Kevin Ryan four and Will Ling, three. Eric Lewis paced the Churchville-Chili (6-12) offense with 20 points. Marcus Postell had 12.  Griffen Stella scored five. Terrence Wilson added four. Fidel Brock, Marcellus James, David Johnson and Dennis Swetz each scored two points.
CANISIUS (VI) 59
AQUINAS 55
Sophomore Tyler Warner registered his first career double-double and led three in double figures, but it was not enough. READ MORE. 
LYONS 71
CLYDE-SAVANNAH 83
Marcus Chance connected on 3-pointers and finished with 31 points, and Clyde-Savannah clinched with Wane County league title. Cam Chance added 18 points, 12 rebounds and five assists as the Golden Eagles improved to 15-3 on the season. Camden Chance scored 10 of his 18 points in the second half. Dru Carnevale had 13 points. Austin Diver had two points. Lyons lion Justice Smith, who scored career point number 1,000 earlier this week, matched Marcus Chance with a game-high 31 points. Justin Smith scored 12. Davide Weaver added six. Benji Kemp had seven points Seth VanBuskirk had five points. Kerel Kelly (2), Parker Ball (3) and Hunter Bastian (2) rounded out the scoring.
VIEW MORE CHRISTOPHER CECERE PHOTOS HERE. 
ROCHESTER ACADEMY 74
LYNDONVILLE 54
Jevonny Brown led four in double figures with 23 points. Spencer Burns and Albert Tomlin scored 13 apiece for Rochester Academy. Trevon Stringer had 12. Nathan Poler paced Lyndonville with 21 points. Zachary Johnson had nine and Kane Flynn, eight. Other scorers: Lyndonville – Nathan Dillenbeck (2), Matthew Hess (7), Richard Forder (4) and Bryce Seddon (3). Rochester Academy – Daniel Garcia (1), Shawn Cole (2), Joseph Vazques (2), Jason Smith (2)< and Yusuf Abukar (3).
LIMA CHRISTIAN 61
ROCHESTER PREP 64
Jaden Hayes scored 19 points, and Rochester Prep won its second straight. Freshman Wesley Henderson contributed 15, and Terrance Washington had nine.
RED CREEK 39
SODUS 69
Sophomores Marquise Burton and Lonnie Logins scored 17 apiece, and Sodus (9-7) outscored Red Creek 27-11 in the third quarter. Seniors Terrell Conner and Maliq Burton had 14 and 12 points. Jack Smith paced Red Creek (6-12) with 12 points.
WATERLOO 43
PALMYRA-MACEDON 60
Pal-Mac's Travis Snyder amassed 22 points and 20 rebounds to lead the Red Raiders. Teammate Logan Ameele collected 21 points, eight assists, seven rebounds and two steals. Alex Wahl added four rebounds, five assists and three steals. Sawyer Bloom had eight points, three rebounds, seven assists and six steals. Nick Sapienza came off the bench and chipped in five points, three rebounds and three assists.
MARION 40
WILLIAMSON 59
Lucas Jackson (16 points/10 rebounds) posted a double-double to lead Williamson. Adam Fisk had a game-high 21 points. Drew DiSanto added nine points and eight assists. Mike Phelps paced Marion with a dozen points. Jake Fioco and Brandon Dobbie scored eight apiece.
DANSVILLE 48
BATH-HAVERLING 58 
Stephan Ordway had 18 points and Alec Sestak 17 as Bath-Haverling outscored Dansville 35-20 in the second half to erase a deficit after the first 16 minutes of play. Ethan Buckley added 13 points for the Ram and Blake Hess, eight. Sam Arnts scored two points. Hunter Little paced Dansville with 13 points and eight rebounds. Arrik Gerber had 17 points and two rebounds. Jacob Wadsworth added four points and five rebounds. Jacob Failla scored six and Dylan Race five. Nick Rosica chipped in with three points and four rebounds.
JASPER-TROUPSBURG 39
HAMMONDSPORT 49
Parker Watson had 16 points with 11 rebounds, and Hammondsport upset Jasper-Troupsburg in first-round action of the Steuben County tournament. Brayden Whitcomb added 11 points and eight rebounds while Luke Atkinson netted 10 points and eight rebounds. Connor VanGorden paced J-T with 14 points. Hammondsport will play Prattsburgh in the next round.
BRADFORD 37
ADDISON 80
Danny Ames and Adam Chilson scored 21 apiece to lead Addison while Nick Solinas had six points, 13 rebounds, seven assists, six steals and two blocks. Gage Ames added 10 points. Evan McIlwain had seven. Nick Sutryk scored six. Shawn Ribble had five. Nate Barber led Bradford with 13 points. Nick Bailey added 10.
MYNDERSE 68
GENEVA 46
BLOOMFIELD 57
SOUTH SENECA 67
HONEOYE 62
RED JACKET 71
MARCUS WHITMAN 53
ROMULUS 46
EAST ROCHESTER 52
GANANDA 50
ANDOVER 58
GENESEE VALLEY 89
BOLIVAR-RICHBURG 46
FILLMORE 58
WHITESVILLE 43
HOUGHTON 48
HOLLEY 58
ATTICA 50
CAMPBELL-SAVONA 32
PRATTSBURGH 88
CANISTEO-GREENWOOD 43
AVOCA 74