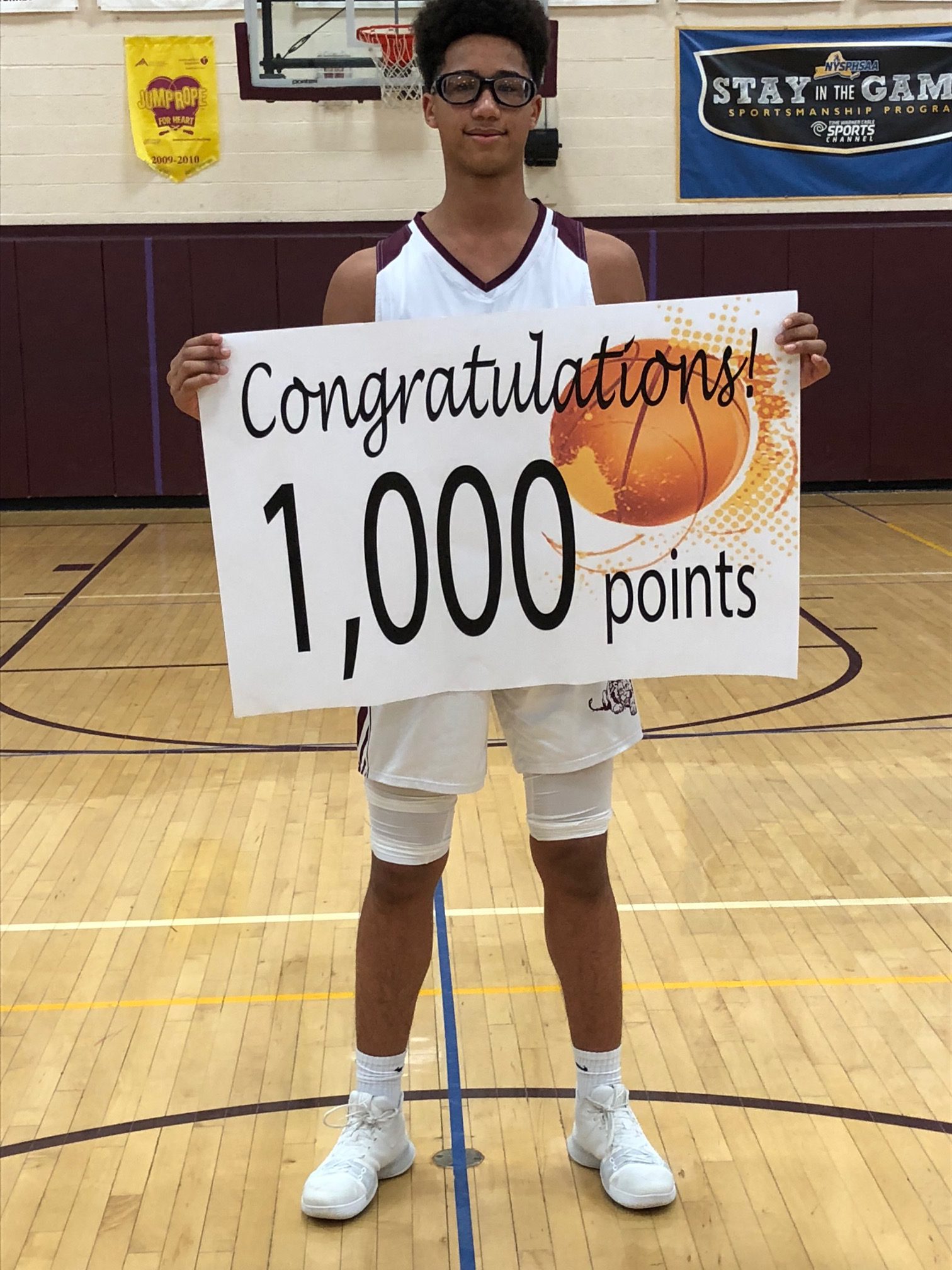 EDISON TECH 61
WILSON MAGNET 54
Nassan Scott scored seven of his season-high 12 points in the second quarter when Edison Tech erased an early deficit and went on to snap Wilson's six-game winning streak. Tristian Flowers finished with 19 points and 11 rebounds for the Inventors who were playing without leading scorer Alton Knight, sidelined with an injury. Dylon Foster added 13 points and seven assists. Scott collected eight steals. Natrell Colbert scored seven points for the Inventors. Ryziere Wilson added five. Robert Davis connected twice behind the arc in the first quarter to pace Wilson to a 14-7 lead. Davis finished with 20 points in the game. Brennan Clark added 11. Desi Floyd scored eight points. Malikk Johnson had six. Anthony Jubray added five points. Christian Oramas had four.
MCQUAID 83
EAST HIGH 52
Kobe Long connected seven times behind the arc in the first half to pace McQuaid to a 49-19 lead going into the break. Long finished with 27 points to lead McQuaid to its sixth straight win. Anthony Iglesia added 13 points and six assists. Jermaine Taggart scored 12 points for the Jesuit Knights. Chaz Washington led East with 16. Maurice Coney III had 14 points. Other scorers: East – Kaori Barley (2), Kni Jeer Sapp (6), Freddie Brock (5), Jamarin Colbert (2) and Zaire Hammond (6). McQuaid – Harry Bruu (3), Connor Zamiara (4), Aidan Ruppert (6), Reuben Daniel (5), Jon Catone (7), Mike Maloney (2), Will Anderson (2) and Jackeen Mundy-Ackerle (2).
FRANKLIN 67
EARLY COLLEGE 61
Tommy Coleman converted four free throw attempts and scored eight of his game and season-high 19 points in the fourth quarter to lead Franklin to its first victory of the season. Teammate Devonte Goins hits two 3-pointers in the final stanza and finished with 11 points for the game. Tramel Bush scored 15 for the Quakers. Kentonio Kelly added nine. Tahjir King and Anthony Smith scored five apiece. Tyree Spann had four points for Franklin. Shedrick Smith paced Early College with 18 points. Jahkier Moore added 12. Jovan Sargaet and Ahmir Buckhannon both had nine points for the Cobras. Lamar McCloud scored six. Prophet Hampton (3) and Sam Jackson (2) rounded out the scoring for Early College.
IRONDEQUOIT 58
WEBSTER SCHROEDER 37
Gerald Drumgoole and Frederick June, Jr. combined for 13 first-quarter points as Irondequoit jumped to a 24-8 lead and never looked back. Drumgoole finished with a game-high 15 points. June added 11. Patrick Thomas scored eight points for the Eagles (14-3/8-0). With the win Irondequoit clinched its second straight Monroe County Division II title and fourth out of the last five years. JoJo Plummer paced Schroeder (6-12/4-4) with 10 points. Malachi Duval had eight points, and Nate Hardy scored six. Other scorers: Irondequoit – Jack Brennan (1), Robert Diaz-Judson (6), Tanner Pioch (2), Josh Stenglein (5), Kenny Gonzalez (7) and William Porter (3). Schroeder – Luke Insley (2), Colin Merkey (2), Ky'mere Meeks (4) and Josh Hauman (5).
Another big-time throw down by @WIEagles Junior @g_drumgoole24 in IHS 58-37 victory over Webster Schroeder. Eagles improve to 14-3. @sectvbb pic.twitter.com/kuwxNpwPc9

— Varsity Media (@VarsityMedia) February 7, 2018
VIDEO COURTESY OF VARSITY MEDIA
RUSH-HENRIETTA 59
VICTOR 51
Kailee White poured in 30 points, and Rush-Henrietta won its fifth straight game. White, Monroe County Division I's leading scorer with 24.5 points per game, connected on three 3-pointers and converted all seven of his free throw attempts for the night. Mecca McCullough added nine for the Royal Comets. JeVonte Williams scored eight. Charles Nwugwo paced Victor with 14 points. Connor Williams added 11 for the Blue Devils. Other scorers: Rush-Henrietta – Don Swain (3), Matt Zarzycki (7) and Tim Jackson (2). Matt Caggiano (3), Jack LaRue (3), Caleb Clow (4), Jeremy Summerson (5), Jon Crowley (4) and Tanner Hay (7).
FAIRPORT 65
BISHOP KEARNEY 50
Fairport forced six turnovers over the 16 minutes of play from the end of the first to the beginning of the fourth quarter and outscored Kearney 37-19. The Kings came into the game averaging averaging more than 72 points per game over their last eight contests. BK managed just 36 points in the first three quarters against Fairport. READ MORE.
Jackson Sullivan to Anthony Pappano. Hurt. Harm. HALFTIME: @FCSDSports 38 @BishopKearneyHS 27 pic.twitter.com/zxF14uruKH

— Paul Gotham (@PickinSplinters) February 7, 2018
MONROE 64
HONEOYE FALLS-LIMA 90
HF-L jumped out fast as they took a 47-19 lead into halftime.  Senior Dan Hayes scored 19 of his game-high 28 points in the first half, to go with 10 rebounds and five assists in the contest. Owen VanNewkirk also posted a double-double with 12 points and 15 rebounds.  Jack Eastman hit three 3's and scored 13 points.  Tyler Selke also hit double figures as he scored 11 points.  Other HF-L scorers – Trevor Chamberlain (9), Garrett Ruff – (7 to go with seven assists), David O'Connell (4), Matt Cardon, (3) and Owen Stein (3). Monroe Leaders:  Chris Gibson, Jr. – 22, and DeVante Mateo – 21
WILLIAMSON 44
LYONS 75
Justice Smith finished 21 points, nine rebounds and five assists. The Lyons junior reached the career 1,000-point plateau. Kerel Kelly had 10, and Lucas Lucifer collected 11 points and 13 rebounds for Lyons. Adam Fisk led Williamson with 15. Smith recorded a triple-double (15 points, 13 rebounds and 10 assists) in the Lyons win over Sodus on Monday night. 
SOUTH SENECA 49
HAC 56
PITTSFORD — Ryan Hilton scored 19 points, grabbed 16 rebounds, dished out five assists and blocked five shots to lead the HAC Wolves to a hard-fought 56-49 win over South Seneca in Finger Lakes West action Tuesday night.
With HAC clinging to a 50-46 Rob Dorsey hit a deep three pointer, but it was answered by the Falcons' Matt Kenyon to pull SS to within 53-49 with less than a minute to go. On the next possession after a timeout, Xavier Israel inbounded the ball at halfcourt to Hilton at the free throw line, who then passed the ball to a streaking Israel who finished with a layup to to give HAC a 55-49 lead. Israel then hit one of two free throws with about :20 left to seal the win.
The win propelled the Wolves (12-5, 9-4) to a season split with the Falcons, who beat HAC 54-44 in January. South Seneca falls to 7-9 overall and 7-7 in the league. The 12th win of the season is the most since 2009 and HAC's slim FLW league title hopes alive. The Wolves trail Marcus Whitman by three games with three games remaining. Marcus Whitman hosted Red Jacket Tuesday night.
A tightly fought first half saw the Wolves clinging to a 28-26 lead at intermission. Neither team had a lead larger than 3 points in the first half, as Hilton scored 14 points and South Seneca's John Zajac scoring 9 points and Anthony Reff 8 points.
Israel, who finished with 15 points, was held close in check by the pressure Falcons defense, but it wasn't until Dorsey unleashe three long range three pointers and a short put pack in the third quarter did the Wolves slowly pull away. Dorsey finished with 11 points.
Kenyon tried to answer for the Falcons, scoring 8 fourth quarter points, but the balance and quickness of the Wolves was too much to overcome. Kenyon led South Seneca with 17 points. Zajac was held scoreless in the second half. Also scoring for SS were Dylan Stiles (4 points), Ben Pollack (3) and Jeremy Williamson (2). For HAC, Zitong Jin netted seven points and and sophomore Andrew Alexis four in a starting role.
Wolves sideline out of bounds leads to an Xavier Israel layup off a give-and-go pass from Ryan Hilton! Wolves lead 55-49 with less than 35 seconds left ????#HACbball #FLW #SectionV pic.twitter.com/SUzIdGx84z

— HACAthletics (@HACAthletics) February 7, 2018
RED JACKET 41
MARCUS WHITMAN 46
Seth Benedict collected 15 points, eight assists and eight rebounds as Marcus Whitman (14-3/12-1) rebounded from its first loss in Finger Lakes West action. Riley McLoud matched his teammate with 15 points including six in the final quarter to pace Whitman to a 11-8 advantage in the stanza. Jon Donovan and Liam Prendergast added seven points apiece for the Wildcats. Ben Stone chipped in with two points. Travis Liberty paced Red Jacket with 15 points. Jacob Keely had seven in a losing effort. Jacob Spencer and Chase Rizzo scored six apiece for Red Jacket. Lawrence LoBombard added five and Matt Record, two points. Marcus Whitman jumped to a 21-12 advantage after the first quarter. Red Jacket outscored Marcus Whitman 10-1 in the second quarter.
ROMULUS 48 OT
BLOOMFIELD 54
Patrick Geitner connected four times behind the arc and netted 30 points for the Bombers. Geitner converted on 8-of-8 free throw attempts in overtime to seal the win. Ryan Hawkins added nine points for Bloomfield. Tanner Kimball and Alex Roach scored six apiece. Devin Campbell contributed three for Bloomfield. Maurecio Mercedes-Rivera scored 19 to lead Romulus. Nassir Whitley scored nine for the Warriors. Roy Ball had seven and Trevor Veeder, six points. Noah Moriarty had four points and Hunter Hansen, three. Romulus outscored Bloomfield 16-14 in the third quarter to knot the game going into the final eight minutes.
GENEVA 28
PALMYRA-MACEDON 49
Logan Ameele scored 11 points and hauled in 11 rebounds to lead Pal-Mac. Teammate Alex Wahl added seven points, seven rebounds and eight assists. Sawyer Bloom paced the offense with 14 points and handed out four assists. Travis Snyder collected four points, four blocks and six rebounds. Mike Bergfjord had eight rebounds and two points off the bench.
MYNDERSE 51
WAYNE 42
Quinten Battle scored 20, and Jake Robinson added 14 as Mynderse snapped Wayne's 13-game winning streak. Braden Zenelovic paced Wayne with 18 points. Nick Carmichael had 12. Billy Thomson collected nine points and 10 rebounds. Wayne played without Logan Blankenberg (injured) for the second straight game.
PENN YAN 74
MIDLAKES 63
Desmond Battin scored 24 points to lead Penn Yan (13-4). Ben Emerson added 17, and Dylan Stape had 13. Bryce Burri led Midlakes with 27 points. Dan VanNostrand added 15.
DUNDEE 50
NAPLES 55
WATERLOO 37
NEWARK 61
Monroe Community College commit Taylor Clements led Newark with 14 points and 11 rebounds. Teammate Jayden Peters hit four 3-pointers and scored 18. The duo combined for 19 first-half points as Newark took a 37-21 advantage at the break. Adian Elliott added seven points. Terry Anglin had six. Mason VanDeMortel scored five. Logan Moynihan (4), Alex Caraballo (3), Kyle Martinez (2) and Marcel Greene-DeSouza (2) rounded out the scoring for Newark. Derek Slykwa led Waterloo with 10 points. Julian Ruiz added nine Christian Everts and Mike Hubbard scored six apiece. Joel Kraft had three points and Jaiquon Lewis, two. Tim Imhoff scored one point.
AQUINAS 50
UPREP 67
Elroy Clark connected on three 3-pointers, scored 19 points and grabbed eight rebounds to lead UPrep. Jakhi Lucas added 16, and KayShawn Ross had 15 for the Girffins which finished 8-of-17 from behind the 3-point arc as a team. Quinton Sanders added eight points. Kani Lagree grabbed a game-high 10 rebounds to go with four points as UPrep won the battle of the boards, 43-38. J.J. Strothers handed out five assists. UPrep did not trail in the game. AQ's Jack Scanlon came off the bench and hit 6-of-10 shots from the floor including 4-of-8 from long range to finish with a game and career-high 20 points. Kidtrell Blocker had nine points and seven rebounds for the Li'l Irish. UPrep outscored Aquinas in the paint (24-16) and points off turnovers (15-5).
Jack Scanlon 6-10 4-6 20; Kidtrell Blocker 3-10 2-4 9; Tyler Warner 2-4 2-2
6; Sam Kelly 1-3 3-6 5; Luke Putnam 2-7 0-0 4; Danny Speed 1-6 1-3 3; Eric
Carter 1-7 0-1 2; Marlek Connor 0-0 1-2 1; Steven Chen 0-3 0-0 0; Davon
Choates 0-0 0-0 0; Steven Mahar 0-0 0-4 0. Totals 16-50 13-28 50.
UPREP (10-9)
Elroy Clark 6-15 4-4 19; Jakhi Lucas 5-12 4-5 16; Kayshawn Ross 5-11 3-5 15;
Quinton Sanders 3-6 1-2 8; Kani Lagree 2-6 0-0 4; Christian Edwards 1-2 1-3
3; Z. Harris-Scott 1-4 0-0 2; Justin Martin 0-0 0-0 0; J.J. Strothers 0-2
0-0 0. Totals 23-58 13-19 67.
Aquinas…………………..    4   15   17   14  –   50
UPrep…………………….   14   15   22   16  –   67
3-point goals–Aquinas 5-15 (Jack Scanlon 4-8; Kidtrell Blocker 1-4; Luke
Putnam 0-2; Eric Carter 0-1), UPrep 8-17 (Elroy Clark 3-7; Kayshawn Ross
2-4; Jakhi Lucas 2-4; Quinton Sanders 1-2). Fouled out–Aquinas-None,
UPrep-Kani Lagree; Z. Harris-Scott. Rebounds–Aquinas 38 (Eric Carter 9),
UPrep 43 (Kani Lagree 10). Assists–Aquinas 10 (Eric Carter 4), UPrep 11
(J.J. Strothers 5). Total fouls–Aquinas 16, UPrep 21. Technical
fouls–Aquinas-None, UPrep-Z. Harris-Scott. A-100
CLYDE-SAVANNAH 80
NORTH ROSE-WOLCOTT 49
RED CREEK 56
EAST ROCHESTER 55
SODUS 63
MARION 37
LIVONIA 52
PERRY 58
BATH-HAVERLING 62
PAVILION 53
DANSVILLE 67
KESHEQUA 48
HORNELL 58
GENESEO 37
Luke Smith scored 17 points to pace Hornell which led by 12 at half before stretching the advantage to 47-24 after three quarters. Matt Smith hit three 3-pointers and added 13 points. Dantae Miliner had 10 points. Daniel Kaye led Geneseo with nine points. Daniel Kelly contributed seven points.
WAYLAND-COHOCTON 68
YORK 58
Wayland-Cohocton's Jamie Carman led three in double figures with 15 points. Connor Englert had 14, and Justin Horton 13. York's Dylan Zambito (24 points/13 rebounds) and Matt McFarland (14 points/14 rebounds) both posted double-doubles. Blake Nahlaka collected eight points and four assists. Way-Co led 39-29 at the half.
BELFAST 62
HOUGHTON 34
FILLMORE 72
ANDOVER 55
HINSDALE 39
SCIO 65
WHITESVILLE 62
FRIENDSHIP 45
ALFRED-ALMOND 42
ARKPORT-CANASERAGA 26