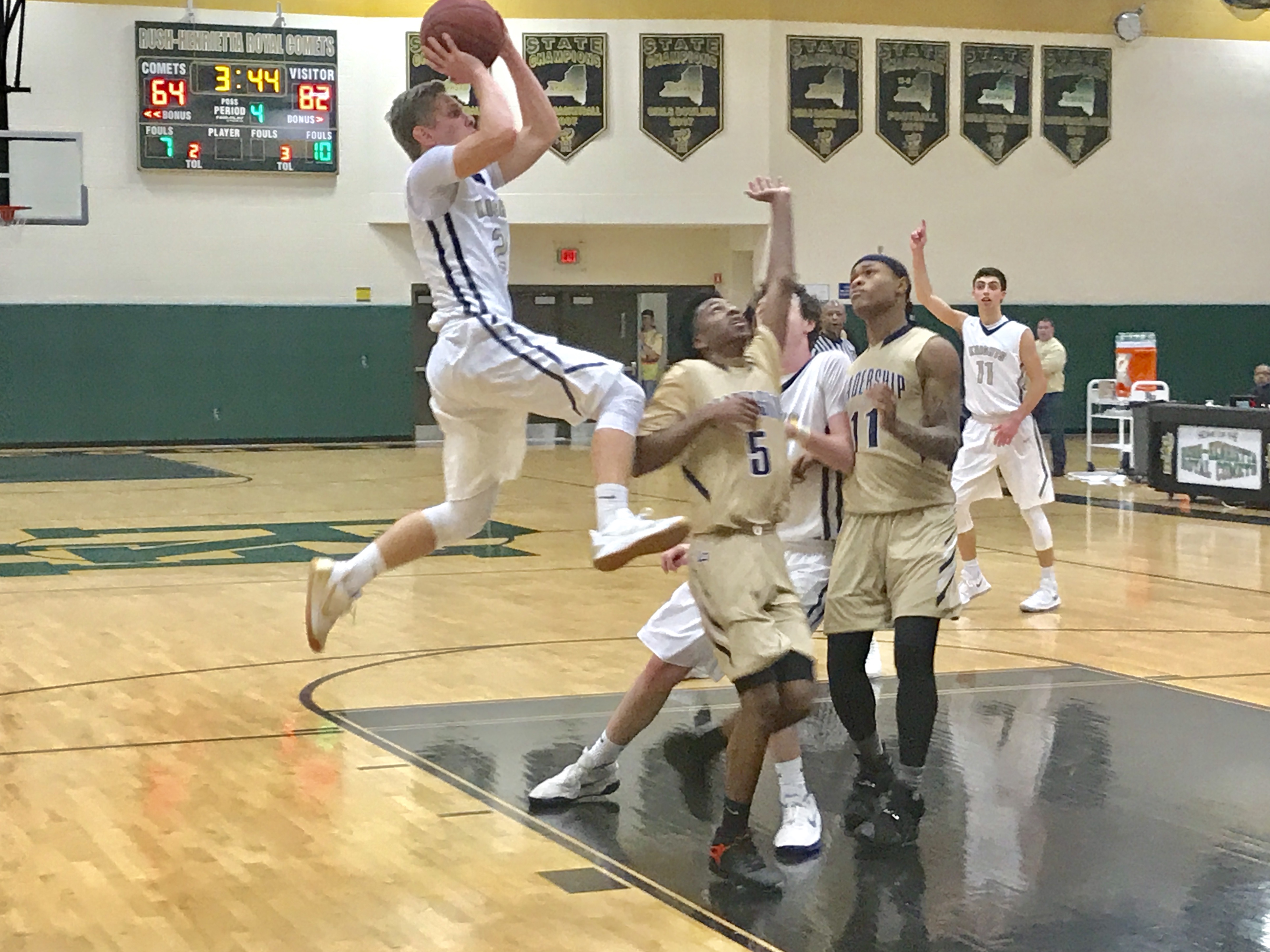 FRIDAY
GATES-CHILI (11-6) 58
RUSH-HENRIETTA (12-4) 61
Kailee White netted 21 points to lead Rush-Henrietta, followed by Jevonte Williams with 20 points. Rush-Henrietta led 37-28 at halftime. Thomas Jones III topped Gates with 18 points and five rebounds. Damon Payton added 11 points, eight rebounds and seven assists for Gates, while Keith Slack had nine points and six assists. Other scorers: RH- Matt Zarzycki (7), Don Swain (5), Mecca McCullough (4), Tim Jackson (2), Jacob McPherson (2), Gates- Mark Morrison (6), Damon Austin (5), Traylan McCray (5), Vincent Ibezim (2), Mitchell Harris (2)
PITTSFORD SUTHERLAND (13-2) 54
CANANDAIGUA (10-7) 53
Kevin Ryan scored 18 of his team-high 20 points in the second half including 10 in the fourth as Sutherland outlasted Canandaigua in Monroe County Division III battle. Davis Heyman added 10 points for the Knights. Craig Rosen and Ben DiGiovanni scored eight apiece. Graham Schild (6) and Will Ling rounded out the scoring for Sutherland. Danny Herrick paced Canandaigua with 27. The senior guard connected on four 3-pointers including two in the fourth quarter when he scored 15 points. Chris Kurowski added nine for the Braves. Connor Fisher had eight. Noah Emerson scored four. Scott Laforte (3) and Devin O'Dell (2) also scored for Canandaigua.
VICTOR (5-12) 46
FAIRPORT (12-5) 66
Brett Heninger led Fairport with 13 points, followed by Brennan O'Connor with 12 points. O'Connor hit four threes on the evening to reach his 12 points. Fairport outscored Victor 41-30 in the second half, including 21-11 in the fourth quarter. Joey Colyer was Victor's lone double-digit scorer with 10 points, seven of which came in the third quarter. Other scorers: Fairport- Tommy Lindstrom (9), Andrew Bartlett (8), Vanzell Johnson (6), Andre Starks (5), Anthony Pappano (3), Ryan Lucey (3), Victor- Matt Caggiano (8), Connor Williams (6), Charles Nwugwo (5), Jack LaRue (4), Jeremy Summerson (4), Jon Crowley (4), Caleb Clow (3), AJ Tillotson (2)
CHURCHVILLE-CHILI (6-11) 49
SPENCERPORT (7-10) 47
Fidel Brock led Churchville-Chili with 19 points. Griffen Stella added 10. Evan Clarke hit four 3-pointers to lead Spencerport with 22 points.
GREECE ARCADIA (0-17) 41
WEBSTER SCHROEDER (6-10) 59
Luke Insley hit a trio of threes and led Schroeder with 15 points. Nate Hardy added 13 points, including eight in the third quarter, while Ky'mere Meeks had nine points. Schroeder headed to the locker room at halftime up 34-25 and outscored Arcadia 25-16 in the second half. Damian Hill and Robert Smith each netted 14 points to top Arcaida. Hill posted eight of his 14 in the first quarter, while Smith dropped nine of his 14 in second quarter. Other scorers: Schroeder- Colin Merkey (7), Malachi Duval (7), Mike Northrup (6), JoJo Plummer (2), Arcadia- Joe Desiato (5), Chris Colilli (3), Garrett Hughes (3), Caleb Barnard (2)
IRONDEQUOIT (13-3)  61
WEBSTER THOMAS (9-8) 43
Gerald Drumgoole led Irondequoit in scoring with 24 points.  Andrew Mason paced Thomas with 18 points.
BROCKPORT (4-13) 50
GREECE ATHENA (16-1) 80
Christian Jones led Athena, NYSSWA Class A No. 11, with 20 points and six assists, followed by Kelvin Reaves with 18 points and seven rebounds, and Nigel Scantlebury with 15 points and six rebounds. Athena outscored Brockport 43-18 in the first half and has now won 13 straight games. Cory Gross and Noah Schultz each scored 11 points to top Brockport. Amire Odey added 10 points for Brockport. Other scorers: Athena- Ryan Kubanka (8), Pat Meisenzahl (7), DeAndre Newsome (6), Isaiah Brock (6), Brockport- Emilio Ball (8), Kyle Palka (7), Alex Trostle (3)
BATAVIA (10-6) 95
GREECE OLYMPIA (2-14) 72
TeeSean Ayala scored 22 of his season-high 31 points between the second and third quarters, finishing the game with nine threes and five rebounds, and leading Batavia in scoring. Mason McFollins added 23 points for Batavia, while Antwan Odom had 16 points and seven rebounds. Naz Pratt handed out eight assists and grabbed five rebounds. Batavia led 41-21 at the half, following a 22-8 second quarter in their favor. Jeff Jung, Jr. topped Olympia with 22 points, followed by Rah'Qual Avant with 19 points. Other scorers: Batavia- Steve Gilebarto (9), Jon Liciaga (6), John Kindig (4), Ethan Biscaro (4), Trevor Zewan (2), Olympia- William Green, Jr. (11), Kris Perez (10), Victor McCarthy(4), Samuel Wright IV (4), Wesley Elmore, Jr. (2)
GREECE ODYSSEY (11-6) 68
HONEOYE FALLS-LIMA (10-6) 78
Senior Tyler Selke hit three 3-pointers and scored 14 of his 18 points in the first half to lead HF-L to a 39-19 advantage, and the Cougars went on to win the program's first Monroe County Division title. Dan Hayes finished with a game-high 29 points, to go with eight rebounds and three blocks.  Owen VanNewkirk scored 12 of his 15 points in the second half and led the team with 11 rebounds.  VanNewkirk led Hayes with for spectacular alley oop in the second half.
Other HF-L scorers: Jack Eastman – 7 , Trevor Chamberlain – 2, David O'Connell – 2,Garrett Ruff – 2, Turner Wilson – 2. Will Gaylord – 1
Greece Odyssey leaders:  DJ Billings – scored 11 of his 21 points in the 4th quarter,  Jaden Hartsfield scored 17 of his 21 points in the 2nd half. Travon Harper – 10, Ronell Joseph – 7, Ray  Colbert – 7, Ronell Griffin – 2
BISHOP KEARNEY (7-9) 81
MCQUAID (9-7) 82       OT
Anthony Iglesia scored 13 of his game-high 34 points in overtime. READ MORE.
ROCHESTER PREP (3-12) 58
EARLY COLLEGE (3-13) 67
Shedrick Smith scored 11 of his Early-high 31 points, a season-high, in the second quarter. Prophet Hampton added 12 points for Early. Early finished the game by outscoring Roc Prep 17-8 in the final quarter. Bruce Lewis topped Roc Prep with 20 points, followed by Marquis Thomas with 13, Terrance Washington with 12 and Wesley Henderson with 11 points. Other scorers: Early- Ahmir Buckhannon (7), Danard Houser (7), Kemar McCloud (5), Jaiden Daymon (4), Sam Jackson (2), Roc Prep- Jaden Hayes (3)
VERTUS (2-13) 69
WORLD OF INQUIRY (11-5) 81
Charles Maurice Brown scored a season-high 30 points to lead WOI, including going 6-for-7 from the charity stripe. CeyQuon Salmon added 20 points for WOI, with Bobby Searight netting 14 and Tremier Dollar dropping 12. WOI outscored Vertus 46-31 in the second half and 23-12 in the final quarter of play after entering the fourth quarter up 58-57. Jahmel Demery topped Vertus with 18 points, followed by Jabez Thompson with 17 and De'andre Hunter with 11. Other scorers: WOI- Jahmir Douglass (5), Vertus- Lee Cooper (9), Myles Rose (6), Davion Terry (6), Trevan Burkett (4), Eric Lebrane (4)
WILSON MAGNET (11-6) 76 OT
EAST (6-10) 67
Brennan Clark scored 28 points and corralled 20 rebounds to lead Wilson to its sixth straight win. Desi Floyd added 16 points and 11 rebounds. Robert Davis scored 15 for Wilson. Malikk Johnson chipped in 12 points. Clark has scored a combined 49 points and grabbed 37 rebounds the Wildcats past two games. Chaz Washington paced East High with 23 points. Kaori Barley had 11 points for the Eagles and Andre Jenkins, 10.
C.G. FINNEY (13-2) 105
LIMA-CHRISTIAN (5-10) 58
NEWARK (6-10) 62
MIDLAKES (6-11) 50
Mason VanDeMortel paced Newark with 32 points. Taylor Clements had 12. Bryce Burri led Midlakes with 25 points.
GENEVA (5-12) 43
PENN YAN (12-4) 37
PALMYRA-MACEDON (6-9) 55
MYNDERSE (15-2) 72
Travis Snyder collected 20 points and 20 rebounds in a losing effort. Teammate Logan Ameele had 22 points five rebounds and seven steals. Sawyer Bloom added 10 points and three assists. Alex Wahl had seven assists.
WAYNE (13-1) 55
WATERLOO (5-11) 30
Billy Thomson led Wayne with 15 points and five assists, followed by Nick Carmichael with 14 points and six rebounds, and Tom Bolt with 11 points. Braeden Zenelovic added 10 points and five rebounds of his own for Wayne. Wayne outscored Waterloo 35-11 in the first half. Mike Hubbard topped Waterloo with 13 points and 10 rebounds for a double-double. Derek Slywka contributed six points and eight rebounds for Waterloo, while Tim Imhoff had four points and six rebounds. Other scorers: Wayne- Max LaRocco (4), Logan Holgado (2), Waterloo- Joel Kraft (3)
BLOOMFIELD (8-8) 61
RED JACKET (6-11) 54    OT
HAC (11-5) 58
ROMULUS (6-10) 54
ROMULUS — Xavier Israel scored 19 points, had 8 rebounds and 3 steals, and Ryan Hilton netted 16 with 16 rebounds and the HAC Wolves held off a furious second half rally to defeat Romulus 58-54 in Finger Lakes West Action Friday night.
Maurecio Mercedes-Rivera and Roy Ball led the charge back for the Warriors, scoring a combined 25 second half points. Romulus, which trailed by as 16 points in the first half, trailed 33-20 at intermission.
Romulus eventually took its first lead of the game at 50-49 with less than 2 minutes left on a short putback by Ball. But Israel answered with a driving layup and then it one of two free throws to give the Wolves back the lead at 52-50. Hilton added a short inside shot and two free throws to put HAC up 56-50. But the Warriors were not done as Mercedes-Rivera hits a putback and Hunter Hansen swished home two free throws with :24 seconds left cutting the lead 56-54.
Israel sealed the win with two free throws in the final 20 seconds to push the Wolves to a 58-54 win, in a gym where HAC has not won since 2014.
Romulus, (6-10, 4-9) playing without injured starting point guard Brent Aho, and Ball saddled with early foul trouble, had no answer for the Wolves speed, who raced to their 13-points halftime lead thanks to the hot hand of Zitong Jin who had 13 of those points, including 3 long-range three-pointers. But after the intermission, Ball and his mates stormed back, chipping at the lead, and eventally pulled to within 43-37 after three periods, setting up the frenetic fourth quarter.
HAC (11-5, 8-4) maintains its hold on second place in the FLW League. It was the second win in a row against Romulus
in 5 days
, as HAC defeated the Warriors 59-49
on Monday
night.
For HAC, Jin finished with 15 points, Andrew Alexis 5 and Gifford Campbell 3, a swish from the corner midway through the fourth that gave HAC a 49-45. Mercedes-Rivera finished with 17 points, 4 steals and 5 assists, while Ball had 16 points and 10 rebounds — all in the second half. Nassir Whitley had 8 points, Hansen 7 Noah Moriarity 5,and Matt Mapstone 1 and 3 blocks.
MARCUS WHITMAN (13-3) 58
HONEOYE (10-7) 65
NAPLES (7-10) 49
SOUTH SENECA (7-8) 54
MARION (2-14) 45
EAST ROCHESTER (10-6) 63
RED CREEK (5-11)
GANANDA (11-5) PPD
BOLIVAR-RICHBURG (7-9) 53
CUBA-RUSHFORD (9-7) 73
GENESEE VALLEY (12-4) 70
FILLMORE (7-9) 49
HINSDALE (2-12) 27
BELFAST (11-3) 81
HOUGHTON (3-9) 46
FRIENDSHIP (1-14) 31
SCIO (14-3) 64
WHITESVILLE (9-8) 48
BATH-HAVERLING (4-12) 62
HORNELL (12-5) 73
DANSVILLE (6-8) 43
WAYLAND-COHOCTON (7-9) 59
Connor Englert led three in double figures with 26 points, and Wayland Cohocton outscored Dansville 40-23 in the second half. Jamie Carman had 12 points and Mitch Wetherbee, 14. Hunter Little paced Dansville with 12 points and 18 rebounds. Jack Faila added 13 points. Dylan Race had seven points and three rebounds. Arrick Gerber collected seven points and two rebounds. Nick Rosica had two points and seven rebounds.
LETCHWORTH (1-17) 28
LIVONIA (13-2) 69
Da'Vieque Naulls led Livonia with 18 points. Devante Gwyn added 16, and Chris Taylor had 10 points.
LEROY (12-4) 51
CALEDONIA-MUMFORD (16-1) 60
Vin Molisani converted on 6-of-6 free throws in the fourth quarter and finished with 17 points overall as Cal-Mum held off Le Roy. Jon Boilard paced Cal-Mum with 20 points, five rebounds and three assists. Ian Lenhardt had eight points, 10 rebounds and six blocks. Joe Laursen collected six points and five rebounds. Reece Tresco and Canyon Roster had 15 apiece for Le Roy which outscored Cal-Mum 29-24 in the second half.
PERRY (15-2) 82
PAVILION (5-11) 37
ARKPORT-CANASERGA (0-16) 22
HAMMONDSPORT (8-9) 66
Brayden Whitcomb posted a double-double (14 points/12 rebounds) to pace Hammondsport. Parker Watson added 13 points and eight rebounds as every Laker chipped in with points. Noah Sleight netted eight points for Arkport-Canaseraga.
SATURDAY
NE DOUGLASS 51
WEBSTER SCHROEDER 49
Jiahmere Mitchell scored 14 of his game-high 24 points in the second half as NE Douglass erased a halftime deficit to win its third straight game. Mitchell also collected five rebounds and five assists in the win. Adonis Flagler added 10 points and seven rebounds for the Panthers. Lamar Lovelace had 10 points as well. Schroeder's Luke Insley and Colin Merkey hit three first-half 3-pointers apiece to pace the Warriors to a 31-30 edge at the break. Insley finished with 14 points. Merkey had 10. Ky'mere Meeks scored 12 points for Schroeder. Other scorers: NE Douglass – Trevion Miller (2), Lonnie Watkins, Jr. (2) and Miguel Santos (3). Schroeder – JoJo Plummer (8), Colin Donnelly (1) and Malachi Duval (4).
EDISON TECH 69
RUSH-HENRIETTA 84
Kailee White paced Rush-Henrietta to its fourth straight win with 28 points, eight rebounds and seven assists. Don Swain added 16 points and five steals for the Royal Comets. Alton Knight led Edison Tech with 14 points.
LEADERSHIP ACADEMY 97
PITTSFORD SUTHERLAND 89
Davon Brown scored seven of his 19 points on the day in a 9-2 first-quarter spurt as Leadership grabbed a double-digit less than seven minutes into the game. They took a 25-11 advantage into the second quarter, and Rondell Watson used a ball screen to get free for a trey early in the second as the Lions had their largest lead of the half at 28-13. READ MORE.
ROCHESTER ACADEMY 45
C.G. FINNEY 77
Max Harris connected on five first-quarter 3-pointers to pace Finney to a 34-16 lead after the first eight minutes of play. Harris finished the day 8-of-12 behind the arc, has 324 career 3-pointers and needs 20 three balls to break the all-time mark of 343 held by by former NFL quarterback, Joe Licata (Williamsville South). Harris currently sits in third place on the all-time list. Teammate Keegan Ocorr led all scorers with 26. Xavier Smith had 11 points for the Falcons. Joe Tomlinson scored six. Josh Taylor and Tremell Hale had three apiece. Caleb Anger and Jake Torrell both scored two.  Jevonny Brown paced Rochester Academy with 11. Spencer Burns had 10. Joseph Vasquez had nine points. Albert Tomlin and Trevon Stringer scored six apiece. Tumashye Mccullough had three points.
BRIGHTON 37
HONEOYE FALLS-LIMA 72
HF-L led 29-23 at the half, and then went on a 24-6 run in the third quarter in a game played at Quicken Loans Arena in Cleveland, Ohio. Dan Hayes paced the Cougars with 20 points and nine rebounds. Tyler Selke hit two 3-pointers and finished with 10 points. Owen VanNewkirk collected nine points and 12 rebounds. Garrett Ruff added six points and nine assists. Other scorers: HF-L – Jack Eastman (7), David O'Connell – (4), Matt Cardon (3), Turner Wilson (3), Hayden Smith (3), Owen Stein (3), Will Gaylord (2) and Jack Emerson (2). Brighton – Will Brownell (12), Kendall Clyburn (8), Sam Gosselin (2), Ryan Martin (3), Elijah Fitts (2), Will Bell (2), Owen Ronchetti (2) and Jack Falter (2).
AQUINAS 59
ST. FRANCIS-ONT 42
Steven Mahar connected on 5-of-5 from the floor, finished with season-high 11 points and paced a Li'l Irish bench which outscored its counterparts 29-11. Luke Putnam and Jack Scanlon scored nine points apiece. Tyler Warner collected eight points and 11 rebounds for Aquinas (4-11). Eric Carter scored five points. Danny Speed added four. Sam Kelly had three. Marlek Connor (2) and Steven Chen (2) rounded out the scoring for AQ. Speed handed out a game-high five assists. The Li'l Irish outrebounded St. Francis 59-25. Aquinas outscored St. Francis in the paint (34-16) and on second-chance points (22-10).
GANANDA 56
LIVONIA 68
Devante Gwyn scored 23 points to lead Livonia. Barrett Lowe added 16, and Da'Vieque Naulls had 12 for the Bulldogs.
ROCHESTER PREP 48
GENESEO 50
Daniel Kaye hit the go ahead 3-pointer with 5.2 seconds remaining to erase a 10-point fourth-quarter deficit. Kaye finished with five points, eight rebounds and six assists for the game. Danny Kelly paced the Blue Devils with 17 points and 12 rebounds. Nick Hammond added six points for Geneseo (7-10). Jaden Hayes paced Rochester Prep (3-13) with 15 points. Bruce Lewis and Wesley Henderson scored 11 points apiece.
NOTRE DAME-BATAVIA 34
PEMBROKE 51
Pembroke (16-0) remained the only undefeated team in Section V boys' basketball.
HOLLAND 51
ATTICA 49
WARSAW 88
KESHEQUA 69
YORK 51
MT. MORRIS 62
BELFAST 81
FRIENDSHIP 27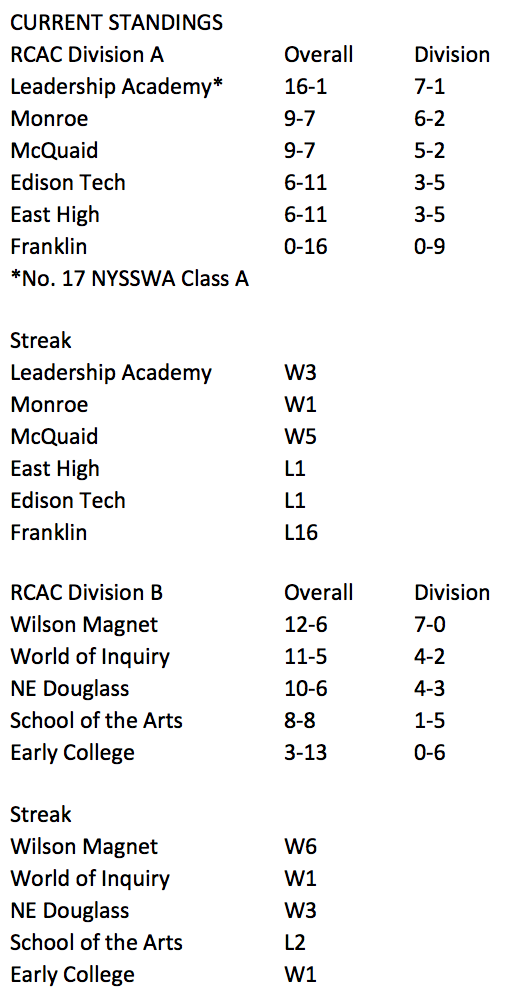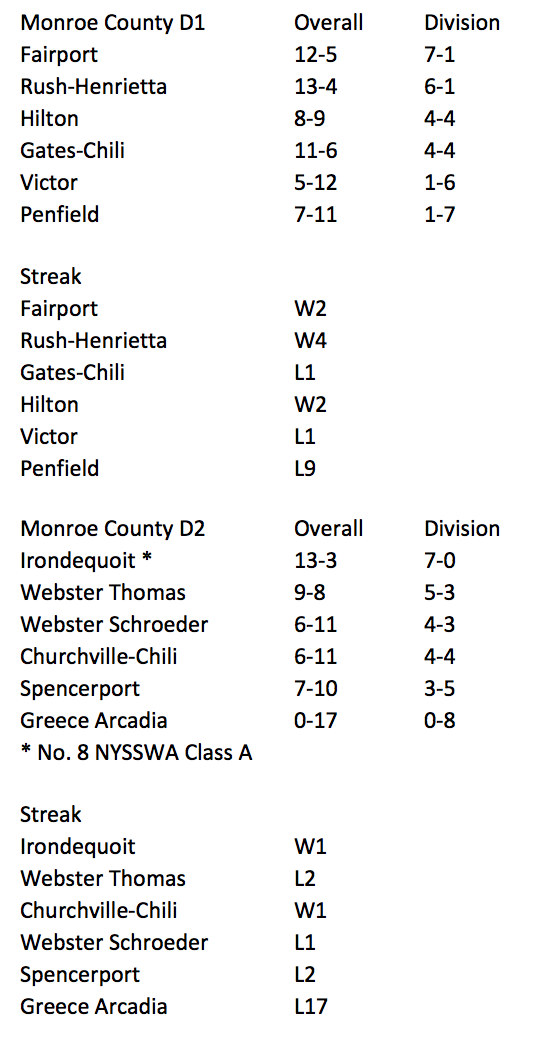 *Records for Hilton and Penfield updated.