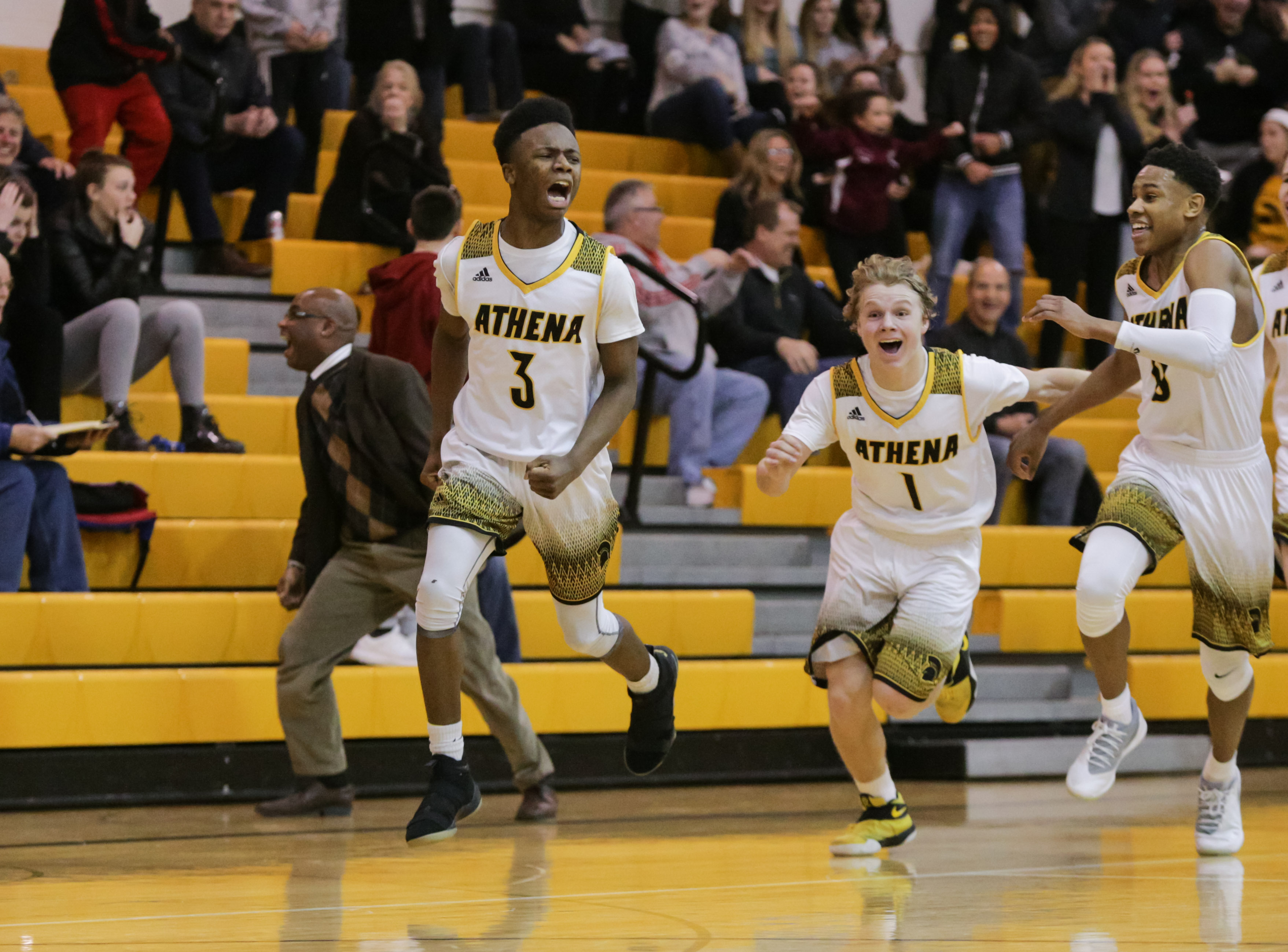 FRIDAY
FAIRPORT (10-4) 66
GATES-CHILI (10-5) 82
Keith Slack scored 34 points to lead Gates, followed by Thomas Jones III with 25. Jackson Sullivan topped Fairport with 19 points. Andrew Bartlett added 10 points for Fairport. READ MORE.
VIEW MORE CHRISTOPHER CECERE PHOTOS HERE. 
PITTSFORD SUTHERLAND (11-2) 56
GREECE ATHENA (13-1) 58
Nigel Scantlebury banked in an off-balance shot with:02 remaining as Athena, No. 11 NYSSWA Class A, avenged its only loss of the season with its 10th straight win. Scantlebury scored seven of his team-high 20 points in the fourth quarter. Christian Jones added 11 points, six assists and five rebounds for Athena, while Pat Meisenzahl had 11 points and three steals. Athena trailed 45-41 entering the fourth quarter, but outscored Sutherland 17-11 to finish the game. Kevin Ryan led Sutherland, No. 18 NYSSWA Class A, with 21 points, including 14 in the first half alone. Other scorers: Athena- Johnny Salone (8), Kelvin Reeves (4), Ryan Kubanka (4), Sutherland- Craig Rosen (10), Matt Thaney (7), Graham Schild (6), Ben DiGiovanni (4), Chris Cox (4), Josh Rosen (2), Davis Heyman (2).
FINAL: @GAHSBoysHoops 58, @PCSDAthletics 56! @_Nigel___ with a long distance 2 pointer for the win! 58-56! @sectvbb @ATHDRichardson @AthenaHigh @PickinSplinters pic.twitter.com/lCN6ghH4Tg

— Greece Athena Boys Basketball (@GAHSBoysHoops) January 27, 2018
RUSH-HENRIETTA (10-4) 76
HILTON (7-8) 56
Mecca McCullough led four in double figures and scored eight of his game-high 21 points in the first quarter as Rush-Henrietta jumped to a 20-3 lead. Kailee White added 16 points and converted on 6-of-6 free throws part of an overall effort which saw the Royal Comets hit 14 of 15 from the charity stripe. Don Swain added 11 for R-H and Jevonte Williams had 10. Tah-jae Hill paced Hilton with 20 points. Mitch Carr scored 13 and Morgan Kunigan 10. R-H led 42-21 at halftime. Other scorers: Hilton – Jack Gombatto (3), Joey Lipani (6), Joey Gombatto (2) and Jackson DiPalma (2). R-H – Tyshawn Searight (2), Kevin Leysath (2), Matt Zarzycki (2), Tim Jackson (8) and Jake McPherson (4).
VICTOR (5-10) 64
PENFIELD (7-9) 61
Joey Colyer connected on two of his six 3-pointers in the second quarter as Victor outscored Penfield 15-8 to take a nine-point advantage into the break. Colyer finished with a team-high 20 points. Caleb Clow added 13, and Charles Nwugwo hit two 3-pointers and had 10 points for the Blue Devils. Penfield's Dyllon Scott scored eight of his season-high 31 points in the third quarter as the Patriots cut the deficit to three at 44-41 going into the fourth. Javion Monroe and Bryson Scott scored 13 apiece. Penfield played without leading scorer Isaiah Preston. Other scorers: Penfield – Taylor (3) and Xavier Williams (1). Victor – Matt Caggiano (6), Jack LaRue (4), Jeremy Summerson (2), Jon Crowley (2) and Tanner Hay (7).
GREEECE ARCADIA (0-14) 48
CHURCHVILLE-CHILI (5-9) 49
Eric Lewis finished with nine points including a shot with :05 to go from inside the lane as Churchville-Chili erased a late deficit. Marcus Postell scored 16 of his Churchville-high 18 points in the first quarter. Fidel Brock added 12 points for the Saints. Churchville trailed Arcadia 38-36 entering the fourth quarter, but outscored the Titans 13-10 in the final quarter to come back and win. Chris Colilli led Arcadia with a season-high 30 points, including seven three-pointers, to finish the game as Arcadia's lone double-digit scorer. Other scorers: Churchville- Eric Lewis (9), David Johnson (7), Griffin Stella (3), Arcadia- Davian Hill (6), Lucas Sadwick (4), Caleb Barnard (2), Joe Gallery (2), Robert Smith (2), Brendan Wilson (2).
Eric Lewis hits the game winner with an acrobatic shot with 5 seconds left to lead the Saints over Arcadia 49-48 tonight. pic.twitter.com/APvYHOuZlm

— CCCSD Athletics (@CCCSDathletics) January 27, 2018
WEBSTER SCHROEDER (4-10) 42
IRONDEQUOIT (12-2) 73
Josh Stenglein knocked down five threes en route to topping Irondequoit, No. 8 NYSSWA Class A, with a season-high 24 points. Gerald Drumgoole added 14 points for Irondequoit, while Patrick Thomas had nine. Irondequoit outscored Schroeder in every quarter, including a 20-6 difference in the third quarter. Ky'mere Meeks led Schroeder with 23 points, his season-high, but struggled from the foul line, going 5-for-15. Other scorers: Irondequoit- Tanner Pioch (7), Frederick June (4), Kenny Gonzalez (4), Jack Brennan (2), Luke Melidona (2), William Porter (2), Grayson Smith (2), McGuire Craig (2), Schroeder- Nate Hardy (6), Josh Hauman (6), Luke Insley (2), JoJo Plummer (2), Colin Merkey (2), Luke Lyons (1).
The exclamation point on tonight's 9th straight @WIEagles victory delivered by @g_drumgoole24! @wihseaglesnest pic.twitter.com/rEiheEwuoQ

— Varsity Media (@VarsityMedia) January 27, 2018
VIDEO COURTESY OF VARSITY MEDIA
WEBSTER THOMAS (9-6) 56
SPENCERPORT (6-8) 45
Andrew Mason connected on four 3-pointers and led three in double figures for Webster Thomas. Joe Luconte added 15, and Kelsey Carter scored eight of his 12 points in the fourth quarter. Thomas converted 12 of 13 free throws on the night. Noah Mundt had 13 points and 11 rebounds for Spencerport. Evan Clarke chipped in 11 points.
BRIGHTON (2-12) 72
BROCKPORT (4-11) 56
Jack Falter led Brighton with a season-high 23 points on the evening, including seven three-pointers. Ryan Martin added 20 points for Brighton, while Kendall Clyburn had 15. Brighton outscored Brockport in all but one of the four quarters, with the exception being a 19-18 third quarter in favor of Brockport. Cory Gross led Brockport with 17 points, his season-high, while Noah Schultz contributed a season-high 16 points. Gross and Schultz combined for 14 points in the third quarter. Other scorers: Brighton- Najeeb Awad (5), Will Brownell (5), Sam Gosselin (2), Jasper Newman (2), Brockport- Willie Ball (8), Jake Juhrs (8), Alex Trostle (5), Ishmael Hannah (2)
CANANDAIGUA (9-6) 52
PITTSFORD MENDON (11-2) 50
Scott LoForte scored 18 points, and Danny Herrick added 12 as Canandaigua won its fifth straight game. Dan Cook led Mendon with 15. Matt Powers had 14. The loss snapped Mendon's 10-game win streak.
EASTRIDGE (7-8) 68
GREECE ODYSSEY (10-5) 73    in OT
DJ Billings scored six of his Odyssey-high 21 points, a season-high in overtime to help the Leopards outscore Eastridge 12-7 to secure the win. Jaden Hartsfield added 13 points, while Travin Harper (12) and Aric Williams (11) rounded out Odyssey's double-digit scorers. Odyssey trailed Eastridge 51-45 going into the fourth quarter, but outscored them 16-10 in the final quarter to force overtime. Kyndal Taggart netted 12 of his Eastridge and season-high 24 points in the third quarter. Tony Arnold contributed 20 points for Eastridge. Other scorers: Odyssey- Darren Davidson (8), Ray Colbert (6), Romell Griffin (2), Eastridge- Robert Clark (6), Jalen Rose-Hannah (6), Amir Spain (5), Terrence Reid (5).
HONEOYE FALLS-LIMA (8-6) 53
BATAVIA (7-6) 63
Despite not scoring in the first quarter, Antwan Odom led Batavia with a season-high 27 points and 10 rebounds. Steve Gilebarto added 21 points, while Naz Pratt had five points, 10 assists and eight rebounds. Batavia held a padded lead going into the second half at 34-22, allowing them to take the win despite being outscored 31-29 in the second half. Dan Hayes topped HFL with 12 points, followed by Owen VanNewkirk with 10. Other scorers: Batavia- Mason McFollins (8), TeeSean Ayala (2), HFL- Tyler Selke (8), Jack Eastman (6), Matt Carlson (6), David O'Connell (4), Garrett Ruff (3), Trevor Chamberlain (2), Turner Wilson (2).
LEADERSHIP ACADEMY (13-0) 87
VERTUS (2-12) 55
Dezmere Ellis scored 14 of his Leadership-leading 28 points in the first quarter, helping his team jump out to a 25-13 lead to open the game. Davon Brown added 14 points for Leadership, NYSSWA Class A No. 13 including seven in the second quarter, while Rondell Watson had 11 on the evening. Leadership scored over 20 points in three of the four quarters of play, with the exception of the fourth quarter when both teams scored 18 points. Eric LeBrane topped Vertus with 21 points, followed by Myles Rose with 17, 13 of which came in the second half. Other scorers: Leadership- Shaheem Britt (7), Nate Doyle (6), Shamir McCullough (6), Tyler Banks (6), Lee McKnight (4), Onaejae Anderson (3), Marcus Barr (2), Vertus- Jahmel Demery (9), Jabez Thompson (4), Davion Terry (2), Amauri Smith (1), Desmond Brown (1).
FRANKLIN (0-14) 51
NE DOUGLASS (8-6) 79
Jiahmere Mitchell scored 22 of his team-high 32 points in the third quarter, during which Douglass outscored Franklin 32-21. Mitchell also had three rebounds and three steals. Adonis Flagler added 13 points, nine rebounds and three assists, while Lamar Lovelace contributed 12 points and six rebounds of his own. Douglas held Franklin to single-digit scoring in the second and fourth quarters. Tommy Coleman led Franklin with 16 points, 10 of which came in the third quarter. Tyree Spann had 12 points for Franklin. Other scorers: Douglas- Nicolas Jeanty (6), Trevion Miller (5), Korri Salters (5), Miguel Santos (3), Adaile Becoats (2), Marquis Reed (1), Franklin- Tahjir King (10), Devonte Gains (6), Anthony Smith (5), Tramel Bush (2)
WILSON-MAGNET (9-6) 87
MONROE (8-6) 79
Wilson's Robert Davis topped the 30-point mark for the second straight game and third time this season to lead four in double figures with 32 points. Brennan Clark added 13 of his 20 points in the second half. Malikk Johnson scored 15, and Anthony Jubray had 12. Chris Gibson, Jr. paced Monroe with a season-high 31 points. Tyquil Glasgow added 17 for the Redjackets. Jonathan Jones and Devante Mateo chipped in eight apiece. Jo-Nathan Jones scored seven, and Giovanniel Santiago had six.
ANDOVER (5-8) 50
LIMA-CHRISTIAN (4-8) 62
NORTHSTAR CHRISTIAN (12-1) 87
ROCHESTER ACADEMY (7-7) 53
MYNDERSE (12-2) 68
MIDLAKES (6-9) 46
Jake Robinson scored 17, and Quinten Battle added 14 for Mynderse.  Trevor Milliman collected 11 points and 10 rebounds for Midlakes. Devin Hicks added 11 for the Screaming Eagles.
PALMYRA-MACEDON (4-8) 40
WAYNE (11-1) 61
WATERLOO (4-9) 32
PENN YAN (11-2) 62
BLOOMFIELD (6-8) 52
MARCUS WHITMAN (12-2) 54
With time winding down and the game tied, Jon Donovan charged down court and found Ben Stone near the basket with space, allowing Stone to lay the ball in for the game-winning shot with three seconds remaining. Donovan  led Whitman with 15 points and seven assists, followed by Riley McLoud with 14 points and nine rebounds, and Liam Prendergast with 11 points. Whitman created a cushioned lead by outscoring Bloomfield 34-13 between the second an third quarters, allowing them to hang on for the win despite being outscored 25-12 in the fourth quarter. Patrick Geitner and Tanner Kimball tied for the team lead in points for Bloomfield with 17 apiece. Other scorers: Whitman- Stone (7), Hunter Commisso (4), Tim Cornish (3), Bloomfield- Devin Campbell (7), Alex Roach (5), Trevor Farrell (3), Mitchell Bliss (3)
DUNDEE (3-10) 40
ROMULUS (6-7) 56
HAC (9-4) 56
HONEOYE (7-7) 49
HONEOYE — HAC's Ryan Hilton scored 21 points, grabbed 24 rebounds and blocked six shots to pace the Wolves to a gritty, 56-49 win over rival Honeoye in Finger Lakes West action Friday night. It was HAC's fourth consecutive victory. Hilton, who also hit 14-of-15 free throws — including all 11 in the fourth quarter — dominanted the glass on both ends of the floor. His 21 points were complimented by Xavier Israel's 17 points. Israel was pressed into duty at the point due to illness on the team. HAC outscored Honoeye 19-6 — until a three pointer at buzzer by Jon Viera — to come from behind and earn the victory. It sealed the season sweep over the Bulldogs. Honeoye was led by Jon Marble's 28 points. Marble led the charge back from a 10-0 HAC lead in the first few minutes to push the Bulldogs into striking distance. The quarter ended with HAC up 12-9. In the second quarter Honeoye took the lead on a short Marble runner 16-14, but Kyle Lacey hit wide open three pointer to give the Wolves a 25-20 lead with less than 2 minutes left in the quarter. HAC sprinted into halftime with a 30-25 lead. HAC came out flat in the third quarter and Honeoye had balanced scoring by Marble, Max Yale, Tyler Rudolph and Viera pushed The Bulldogs to a 40-37 lead after three. In the final stanza, the Wolves took the lead for good at 45-44 with two soft floaters down the lane with less than 3 minutes left. After that it was all Hilton who hit the Wolves last 10 points from the free throw line to seal the win. The win pushed the Wolves to a 9-4 overall record (6-3 league) and helpd them keep their league title hopes alive as they trail undefeated Marcus Whitman. HAC hosts Marcus Whitman next Wednesday in a huge matchup. Honeoye fell to 7-7 overall, 5-6 in FLW. Yale finished with 10 points while Viera had 7. Rob Dorsey finished with 7 points, Jin with 6 and Lacey with 5. HAC is off to their best start since 2009.
NAPLES (7-7) 68
RED JACKET (6-9) 65
BELFAST (8-3) 51
GENESEE VALLEY (9-4) 72
FILLMORE (6-7) 38
SCIO (12-3) 41
WHITESVILLE (8-7) 40
BOLIVAR-RICHBURG (7-7) 61
WHEATLAND-CHILI (3-11) 47
HOLLEY (3-11) 42
CALEDONIA-MUMFORD (13-1) 65
BATH-HAVERLING (4-10) 38
HORNELL (11-4) 51
DANSVILLE (6-6) 38
WAYLAND-COHOCTON (5-9) 43
LIVONIA (11-2) 70
Livonia's Da'Vieque Naulls led four in double figures. Alex Minnehan scored 17. Barrett Lowe had 14 and Devante Gwyn 10.
LEROY (11-3) 46
AVON (7-6) 38
WARSAW (7-7) 56
LETCHWORTH (1-14) 34
GENESEO (5-9) 58
YORK (8-6) 56
York held possession with 11 seconds remaining and a chance win the game with a basket, but Daniel Kaye took the ball from Matt McFarland and streaked down the court, eventually drawing a foul on his layup attempt. Kaye then stepped to the line with two seconds left and sank both free throws to give Geneseo the win. Kaye led Geneseo with 17 points, followed by Giovanni-Cicoria Timm with 10 and Luke Harris with eight. Leading by up to 22 in the second half, Geneseo was able to get the win despite a York onslaught that saw them outscore Geneseo 25-12 in the third quarter. Dylan Zambito topped York with 21 points and five rebounds. Walker Major added 18 points, while McFarland posted a double-double with 11 points and 11 rebounds.
PAVILION (4-9) 67
KESHEQUA (1-12) 53
PERRY (13-2) 63
MT. MORRIS (6-7) 61
HOUGHTON (2-8)
FAITH HERITAGE (III)    NO REPORT
OAKFIELD-ALABAMA (9-4) 64
BARKER (VI) 49
BRADFORD (6-9) 60
AVOCA (11-5) 73
CAMPBELL-SAVONA (3-14) 47
CANISTEO-GREENWOOD (8-8) 59
PRATTSBURGH (15-2) 85
JASPER-TROUPSBURG (7-8) 62
HANNIBAL 59
NORTH ROSE-WOLCOTT (2-11) 41
SATURDAY
WELLSVILLE 48
GREECE ODYSSEY 53
Travon Harper scored eight of his 16 points in the fourth quarter as Odyssey pulled away late for its fourth straight win. Harper added six assists in the game to help the Leopards to their third win of the week. DJ Billings added 10 points. Jaden Hartsfield had eight while Aric Williams collected seven points and eight rebounds. Max Jusianiec connected on five 3-pointers and scored 23 points to pace Wellsville. Joe Tronetti added 11. The game was tied at 33 after three quarters.
NIAGARA FALLS (VI) 68
AQUINAS 55
Sophomore Tyler Warner hauled in a game-high 11 rebounds to go with eight points, but it was not enough as Aquinas fell behind early and could not come back. Fellow sophomore Kidtrell Blocker finished with game highs of 16 point and five assists. Sam Kelly collected nine points and eight rebounds for the Li'l Irish (3-10). Quaran Dubois paced Niagara Falls (11-3) with 15 points, three assists and six steals. Willie Lightfoot had 12 points and Tazaun Rose. 10. Niagara Falls converted 22 Aquinas turnovers into a 28-9 advantage in ballhandling miscues. NF led 15-13 after the first quarter and held the advantage for 27:51 of the game. Aquinas grabbed 16 offensive rebounds and won the battle of the boards, 41-27. Other scorers for Aquinas: Justin Johnson (3), Luke Putnam (6), Danny Speed (4), Ruben Torres (2), Jack Scanlon (5) and Steven Mahar (2).
MCQUAID 88
LEADERSHIP ACADEMY 74
Jermaine Taggart grabbed 11 rebounds as McQuaid handed Leadership Academy its first loss of the season. Kobe Long had 18 points and six rebounds. Anthony Iglesia finished with 12 points and 11 assists. Connor Zamiara collected 14 points and 11 rebounds. Harry Bruu added seven points. Josh Purcell scored six, and Jon Catone rounded out the scoring for McQuaid with three. READ MORE.
CANISIUS (VI) 78
BISHOP KEARNEY 74
Anthony Gray scored nine of his 17 points in the third quarter to help Kearney grab a five-point advantage going into the final stanza, but the Kings could not hold the lead. Shykell Brown added five of his team-high 24 points in the third, and Jamal Fennell had six of his 18 coming out of the locker at halftime. Kevin Goode, Jr. chipped in 10 points for the Kings. Dewayne Vass converted a three-point play in the closing seconds to break open a tie game for Canisius. Nick Macdonald connected seven times behind the 3-point arc to pace the Crusaders with 21 points. Ryan Bradley had 16 points.
NEWARK 59 3-OT
WATERLOO 60
Derek Slywka poured in 40 points to go with 12 rebounds and three assists as Waterloo erased a double-digit halftime deficit en route to the victory. Mike Hubbard added 10 points and nine rebounds. JaiQuon Lewis had nine rebounds for Waterloo. Tim Imhoff added eight points and 10 rebounds. Monroe CC commit Taylor Clements paced Newark with 14 points, 11 rebounds and four blocks. Marcel Greene-DeSouza added 14 points and seven rebounds.
LYONS 84
GANANDA 69
Justice Smith led four in double figures with 24 points to go with 12 rebounds and seven assists for Lyons. Kerel Kelly added a season-high 20 points. Justin Smith had 16, and Benji Kemp posted a double-double (10 points/10 rebounds). Jayden Castrechini had 18 points for Gananda.
CLYDE-SAVANNAH 62
SODUS 50
Marcus Chance finished 7-of-7 from the free throw and led Clyde-Savannah (12-3) with 19 points. Dru Carnevale his a pair of 3-pointers and converted all three of his free throw attempts to add 16. Lonnie Logins led Sodus (7-6) with 23 points.
PEMBROKE 56
ELBA 47
Pembroke remained the only undefeated team in Section V at 13-0.
CALEDONIA-MUMFORD 63
LETCHWORTH 36
EAST
NOTTINGHAM (III) CANCELLED
ROCHESTER PREP 65
CANISTEO-GREENWOOD 54
MYNDERSE 47
PENN YAN 36
GENESEE VALLEY 80
LIMA CHRISTIAN 63
BELFAST 78
ANDOVER 46
MARION 53
RED CREEK 65
ATTICA 57
BYRON-BERGEN 48