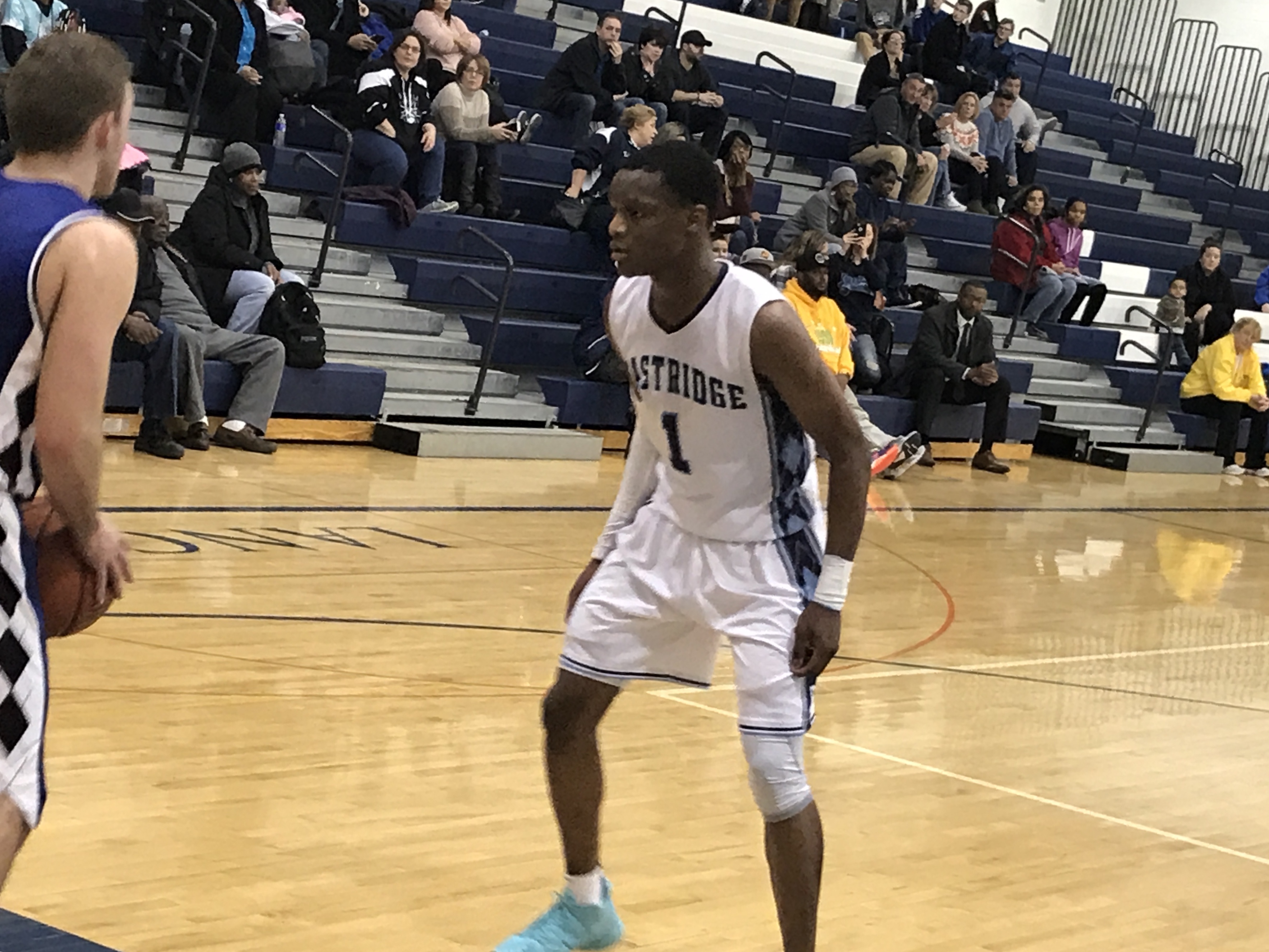 BATAVIA 51
GREECE ODYSSEY 52
Jaden Harstfield scored eight of his team-high 14 points in the second half as Greece Odyssey pulled away for a key Monroe County Division IV victory. Harstfield netted six in the third quarter when Odyssey broke open a tie game at half to take a 41-36 advantage into the fourth. Ray Colbert hit three of four free throws in the fourth quarter and finished with 11 points. Aric Williams scored nine for the Leopards (9-5/2-2). DJ Billings added six points and Darren Davidson had five. Ronell Joseph (4) and Romell Griffin (3) rounded out the scoring for Odyssey which moved into third place in DIV. Odyssey rallied from an 11-0 hole to start the game Batavia's Antwan Odom netted 12 of his game-high 21 points in the fourth quarter. Odom hit three 3-pointers and matched a season high. Steve Gilebarto and Mason McFollins scored 13 apiece for the Blue Devils (6-6/2-3). Andrew Francis and Jonathan Liciaga both added two points.
PITTSFORD SUTHERLAND 68
BROCKPORT 38
Craig Rosen and Matt Thaney paced a balanced attack which saw Sutherland jump to a 17-5 lead after the first quarter and take a 22-point advantage into halftime. Rosen scored eight in the first quarter and finished with 12 to match Thaney for team-high honors. Chris Cox and Connor Fitzsimmons added nine apiece for the Knights (11-1/4-1).  Matt Panara scored seven, and Josh Rosen had six. Ben DiGiovanni chipped in four. Graham Schild, Davis Heyman, Will Ling and Cade Ruffing scored two apiece.  Willie Ball led Brockport with 15. Cory Gross added 10. Noah Schultz had eight. Alex Trostle scored three and Ishmael Hannah two.
GREECE OLYMPIA 69
EASTRIDGE 84
Tony Arnold netted 13 of his game-high 24 points in the first quarter as Eastridge outscored Olympia 26-15 en route to taking a 10-point advantage into halftime. Jalen Rose-Hannah added 11 of his 21 in the third when Eastridge pulled away. Adrian Rodgers scored 10 for the Lancers (7-7/3-2). Kyndal Taggart added nine and Robert Clark six. William Green, Jr. led four in double figures for Olympia. Sam Wright IV had 15 and Jeff Jung, Jr. 14. Rah'Qual Avant chipped in 12. Other scorers: Eastridge – SheRon Davis (5), Taleb Kinlock (3), Jordan Capers (4) and Terrence Reed (2). Olympia – Victor McCarthy (2), Angel Perez (2) and Wesley Elmore (6).
WEBSTER THOMAS 67
GREECE ARCADIA 45
RUSH-HENRIETTA 69 OT
BISHOP KEARNEY 71
Jamal Fennell netted 11 of his season-high 22 points in the fourth quarter and overtime as Bishop Kearney rallied. READ MORE.
HAC 60
BLOOMFIELD 48
BLOOMFIELD — HAC's Ryan Hllton scored a career-high 30 points, grabbed 13 rebounds and blocked four shots to keep the Wolves league title hopes alive and propel HAC to an upset win at Bloomfield 60-48 Wednesday night in Finger Lakes West action. The game was a battle for second place as each entered the night chasing undefeated Marcus Whitman. HAC (8-4 and 5-3) still has to play Marcus Whitman twice before the season wraps up. Bloomfield falls to 6-7 overall and 6-4 in FLW. With the win, HAC salvaged a split with the Bombers, who beat HAC 62-60 early in the season.
> Xavier Israel slashed through for another 20-point night for HAC. Israel and Hilton countered Bloomfield's Alexander Roach and returning FLW Player of the Year Patrick Geitner, who had 23 and 17 points respectively. The Bombers jumped out to an early 9-0 lead three minutes in before the Wolves snarled their way back into the game. Hilton's 'and-one' midway through the first pulled HAC to within 9-5 and then HAC closed out the quarter trailing just 13-11.
Bloomfield stuggled to get to the rim in the second quarter thanks to a tenacious HAC defense which cut off any drive and Hilton, Andrew Alexis and Rob Dorsey plugging the middle. Offensively, the Wolves steadily pulled away and ran into halftime with a 28-22 lead. Hilton and Israel scored 26 of HACs points, while Roach scored 16 of his teams points by the intermission. Bloomfield opened the second half with an aggressive defense of their own and Geitner scored two quick buckets to cut the lead to just two, but HAC regrouped and a three point shot by Kyle Lacey extended the lead to 33-26 midway through the third, and by the end of the quarter the lead was 41-31.
Hilton, Israel did their parts offensively, while the defense shut down Bloomfield in the fourth, gradually extending the lead to 58-41 with about 4 minutes left. Gietner and Roach pushed the Bombers back with a combined 13 points late in the game, but the lead was too large to overcome. Hilton, Israel, Roach and Geitner combined to score 90 of the 108 total points in the game.
NAPLES 39
MARCUS WHITMAN 56
Seth Benedict and Jon Donovan combined for 15 points as Marcus Whitman opened a 21-7 lead after the first quarter. Donovan finished with a game-high 14 points. Benedict had 13. Liam Pendergast added 10, and Tim Cornish had nine on the strength of three 3-pointers. Rile McLoud chipped in six. Peyton Miller and Hunter Commisso had two apiece for Marcus Whitman. Nick Clearman paced Naples with 11. Conrad Rathbun had nine in a losing effort. Ben Chaffer scored eight. Evan Bay had six, Adam Quarterman three and Ben Green two points.
RED JACKET 69
HONEOYE 57
In order to top the Honeoye boys basketball team, Red Jacket had to go away from the basket, and let if fly from behind the three-point arch. This method can be risky, but luckily for the Indians (6-8), it worked, as they used nine three-pointers to topple the Bulldogs 69-57 on Wednesday at Honeoye. READ MORE.
ROCHESTER ACADEMY 74
LIMA CHRISTIAN 57
CARDINAL O'HARA (VI) 61
UPREP 84
BOLIVAR-RICHBURG 71
ANDOVER 40
SCIO 37
HOUGHTON 32
WHITESVILLE 48
HINSDALE 17
CUBA-RUSHFORD 70
HORNELL 74