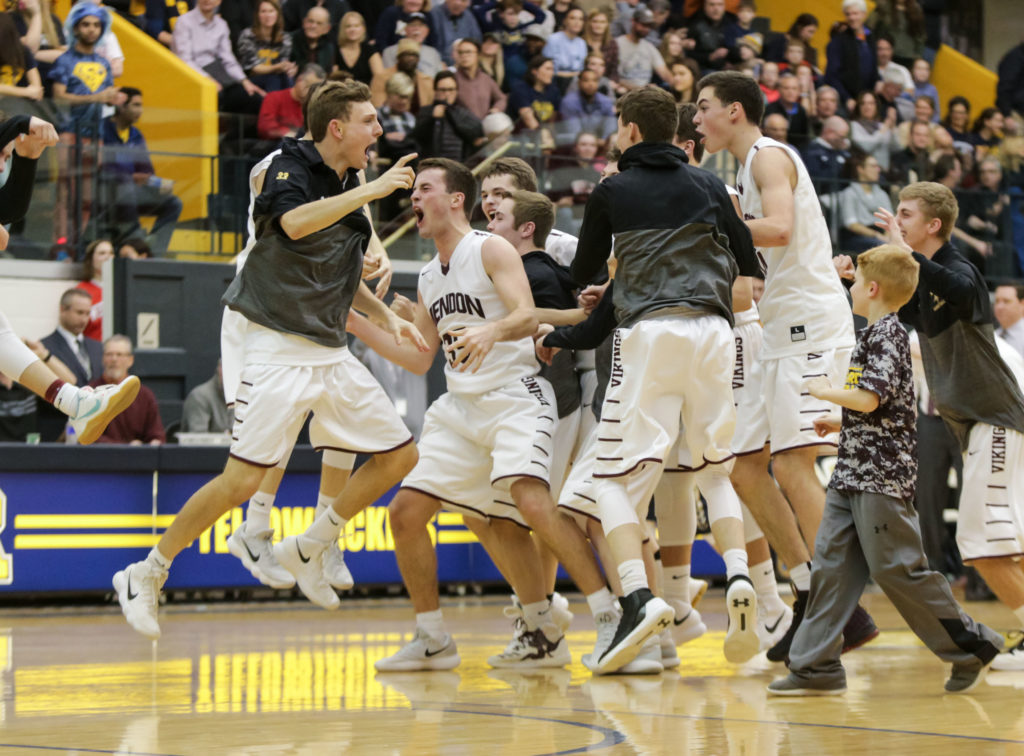 By PAUL GOTHAM
The Pittsford Mendon Vikings punctuated a 3-0 week with an overtime defeat of cross-town rival and state-ranked Pittsford Sutherland, 68-63 to claim the Pickin' Splinters team of the week. With the win, Mendon climbed atop the Monroe County DIII standings with a league mark of 4-0. The Vikings haven't lost since December 13th – a stretch of 10 games. Mendon opened the week Monday with a 93-60 win over Brockport in a DIII matchup. They followed the next night with an 81-61 triumph over Wilson-Magnet (tied for first in RCAC Division B).
Mendon is averaging a touch over 67 points per game and had double-digit margins of victory in the six straight games leading up to Friday's tilt where they handed Sutherland its first loss of the season. Daniel Cook leads the Vikings and DIII with 19.4 points per game. Jacob Shadders returned to the Mendon after missing five games and has scored in double figures in each of the last three. Michael Harrington and Connor Krapf both add 10-plus points apiece to the Vikings attack. If that's not enough, Matt Powers went off for 20 in the win over Sutherland.  Mendon hosts Canandaigua on Friday. More about the Braves a little later.
VIEW MORE CHRISTOPHER CECERE PHOTOS HERE.
WE DIDN'T FORGET ABOUT…
Leadership Academy for Young Men Lions – All this team has done is win. At 12-0 currently, the Lions have taken 19 of their last 20 going back to last season. Leadership opened the week with a win over Aquinas in the East High/RAP Invitational and ended it with a defeat of Edison Tech (winners of two straight and three of four) in an RCAC Division A meeting. In between they knocked off World of Inquiry in a matchup pitting the two teams atop their respective divisions in the RCAC. If you haven't heard or read the names Davon Brown, Dez Ellis and Rondell Watson, you just haven't spent enough time on The Pine. That's okay. We'll let it slide…this time. We are likely to have plenty on them later this week as Leadership takes on Vertus and McQuaid.
Northstar Christian Academy Knights – The Class C squad ranked No. 3 NYSSWA, knocked off its second Class AA foe of the season when they edged Bishop Kearney, 80-73. The Knights also beat the Corning Hawks (IV) last month. If you haven't seen the Miles Brown-led Knights play, here's your invitation: Northstar hosts Vertus Academy Tuesday night and plays at Rochester Academy, Friday.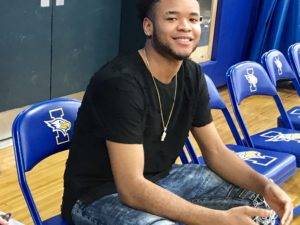 Irondequoit Eagles – Postponements resulted in an NBA-like schedule of four games over seven days for Chris Cardon's squad. The Eagles responded with four straight wins to run their streak to seven in a row. Saturday's victory over Spencerport included 19 assists on 26 made field goals. Want more good news for the Cooper Road denizens? Patrick Thomas had his cast removed. The return is imminent.
Canandaigua Braves – Don't look now but the Braves have won four in a row. In a Monroe County Division III race including the aforementioned Pittsford Mendon and Pittsford Sutherland as well as Greece Athena Trojans, the Braves are keeping pace with a divisional mark of 3-2. A stiff test looms later this week when the Braves make the trip to Mendon Road.
MOMENT OF THE WEEK: Monroe's Chris Gibson, Jr. eclipsed the 1,000-point career plateau midway through the second quarter of the Redjackets win over Aquinas on Tuesday.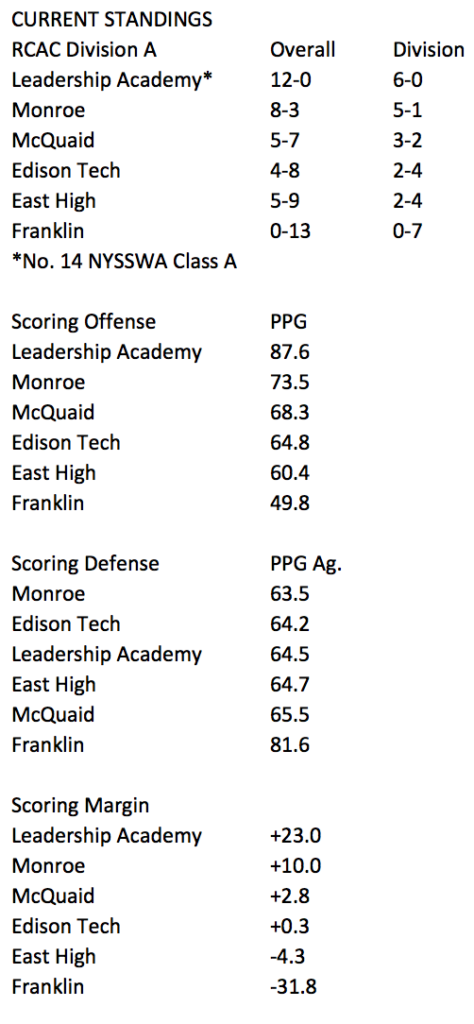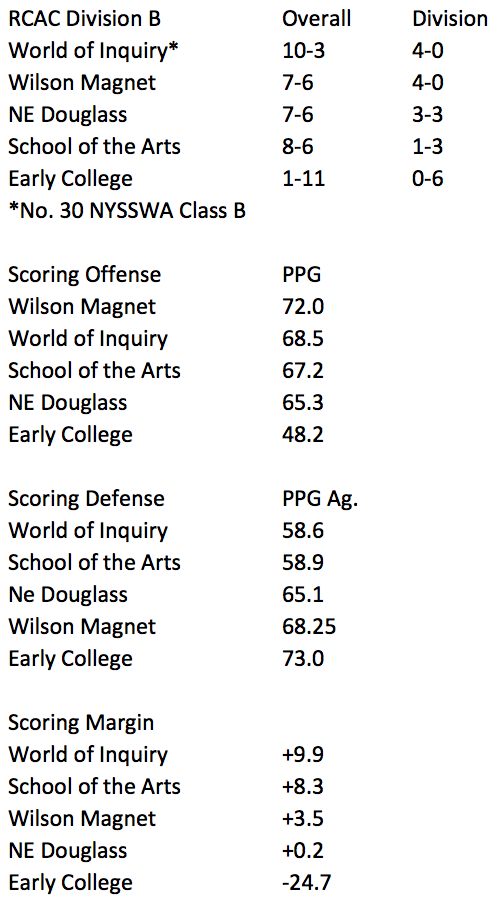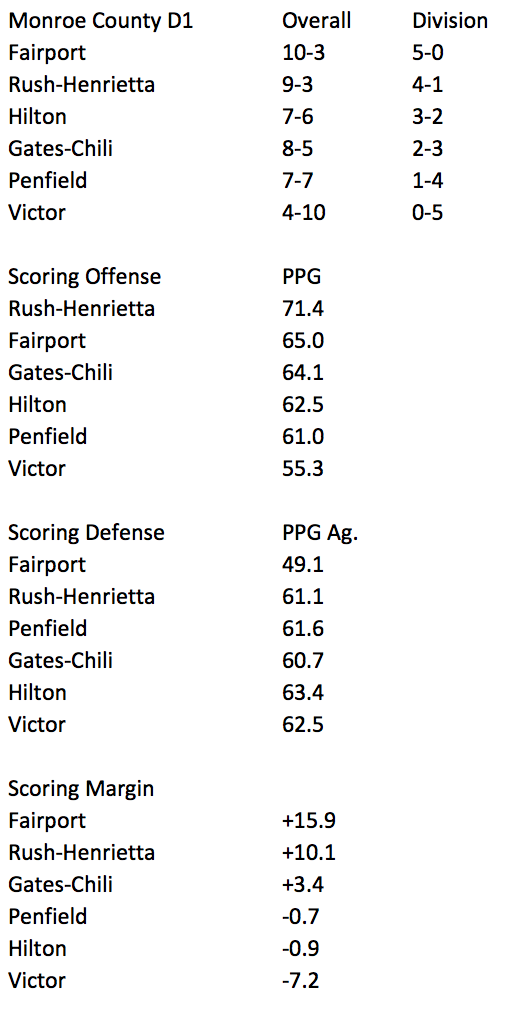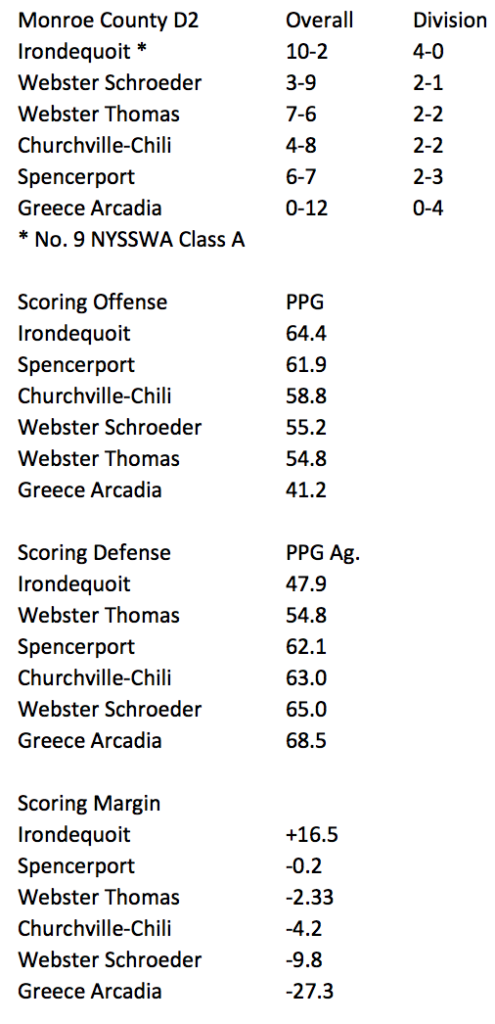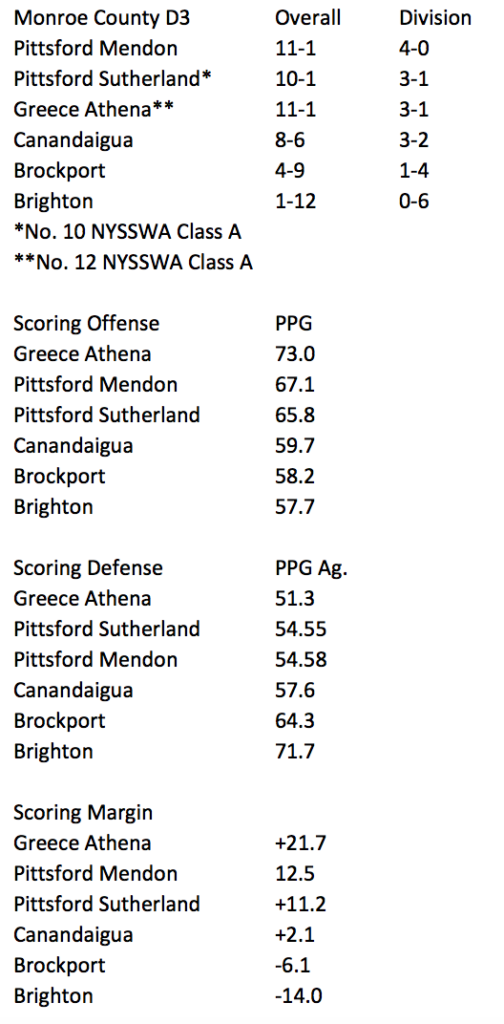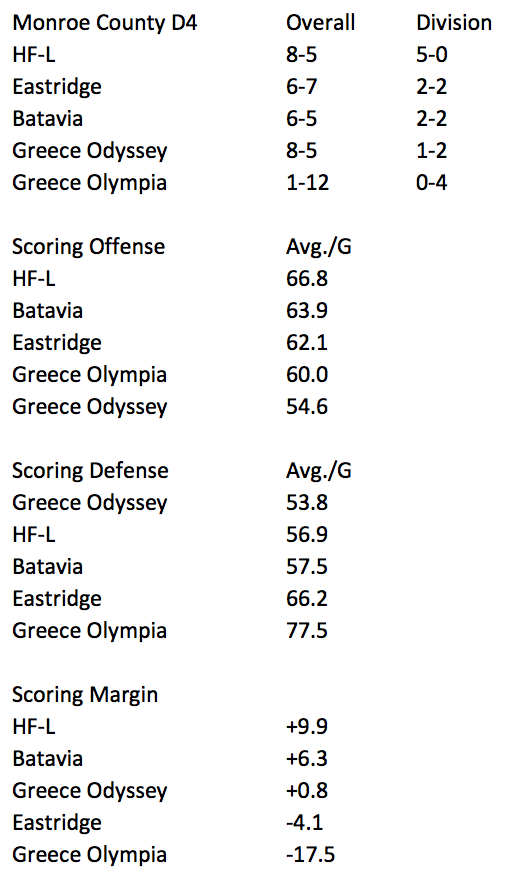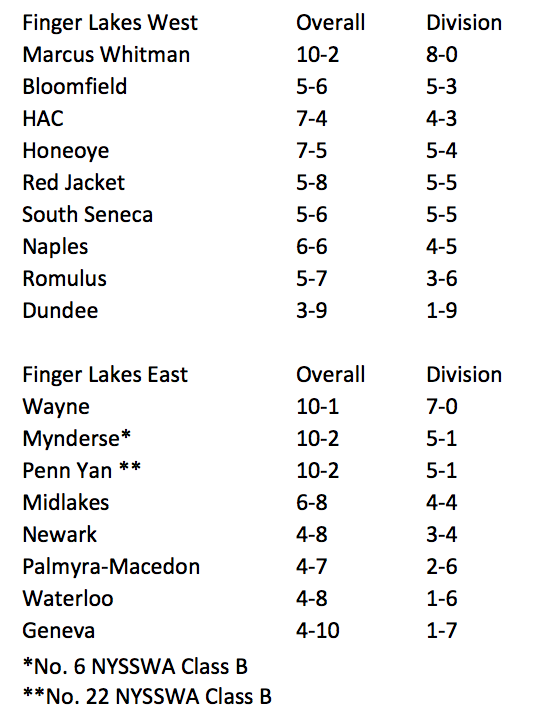 ****NYSSWA rankings taken from January 16th poll.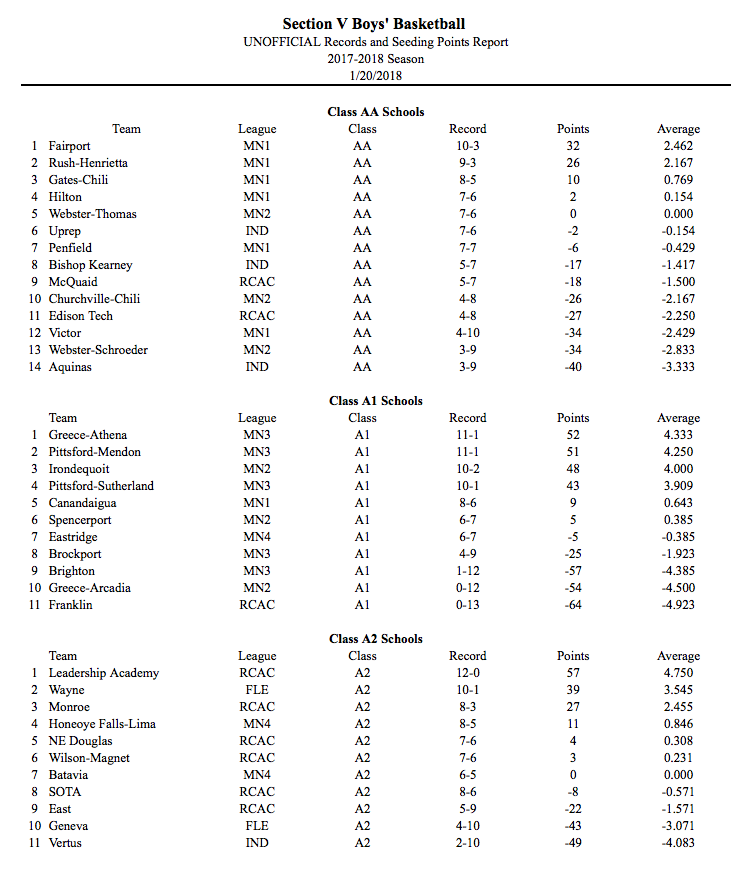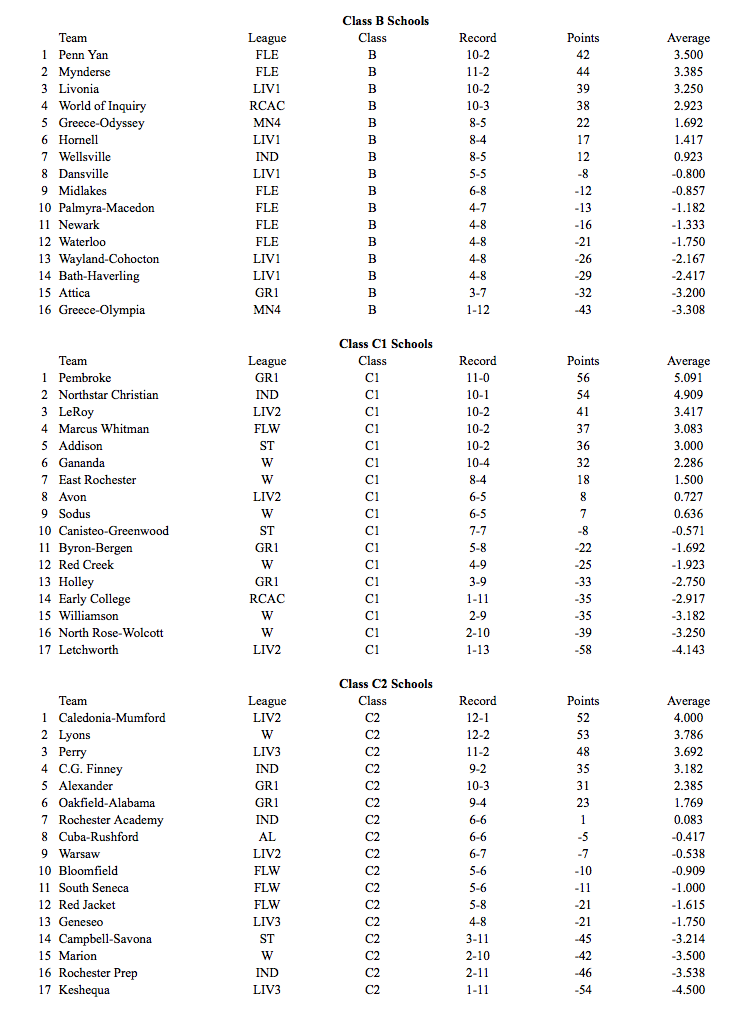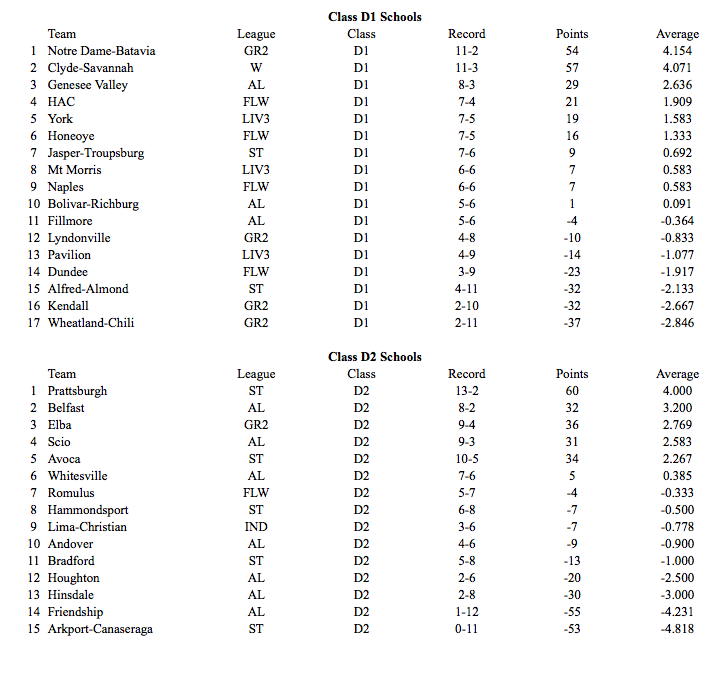 UNOFFICIAL SECTIONAL SEEDINGS COURTESY OF SECTION V BASKETBALL.