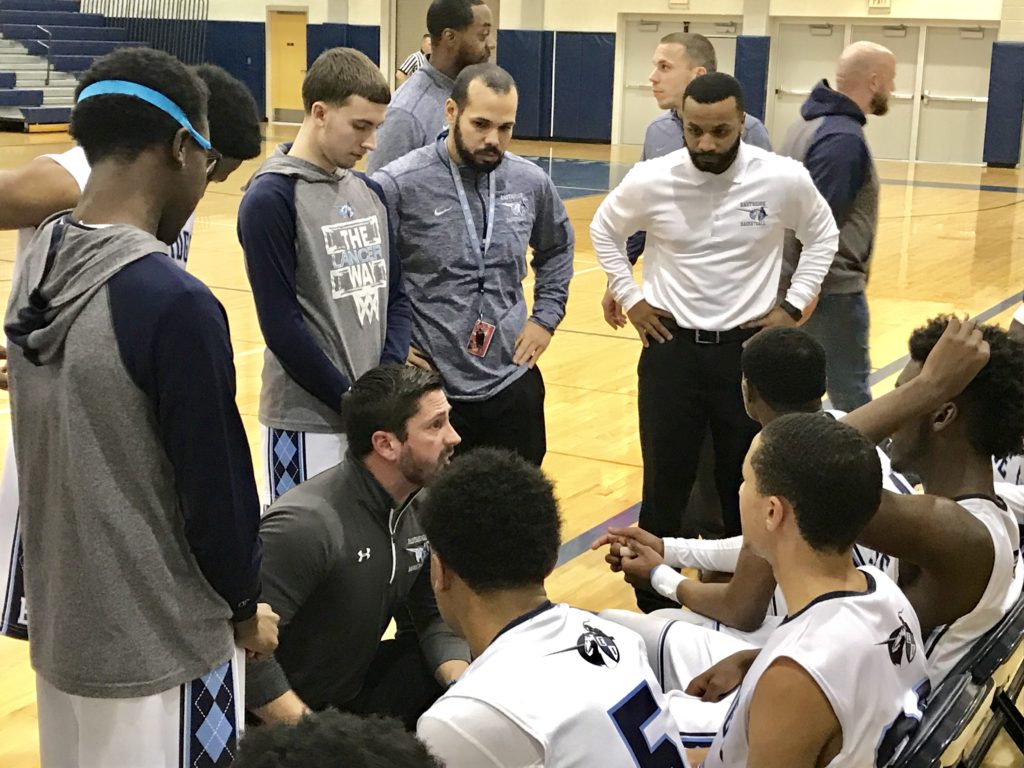 EDISON TECH 75
LEADERSHIP ACADEMY 100
Rondell Watson led three in double figures with 35 points, and Leadership Academy, ranked No. 14 NYSSWA Class A, improved to 12-0 on the season with a 6-0 mark in RCAC Division A. Watson connected five times behind the arc in the second quarter to lead the Lions to a 12-point advantage at halftime. Dez Ellis added 28 points, and Marcus Barr had 11. Shaheem Britt and Jahvon Bear scored eight apiece. Tyler Banks chipped in six points, and Onaejae Anderson, three. Shamir Mccullough added one point. Dylon Foster and Alton Knight scored 15 apiece to lead Edison Tech which had won two straight coming into the game. Tristain Flowers had nine points. Natrell Colbert added seven. Demetrius Allen, Jeremiah Caldwell and Ryziere Wilson scored six apiece for the Inventors. Da'Shawn Sims-Jones had five points. Arandus Bumphis scored four points. Marquan Anderson had two.
WILSON MAGNET 61
NE DOUGLASS 59
Sophomore Brennan Clark netted eight points in the final four minutes of play, and Wilson outscored NE Douglass 14-2 over the final stretch. READ MORE.
WORLD OF INQUIRY 86
EARLY COLLEGE 48
Jahmir Douglass led six in double figures with 17 points as World of Inquiry (10-3) remained undefeated in  RCAC Division B at 4-0. Charles Maurice Brown had 16 points. CeyQuan Salmon had 13. Tremier Dollar added 12. Frankie Santiago scored 11 and Bobby Searight had 10. Amir Buckhannon and Jahkier Moore scored 10 apiece to lead Early College. Shedrick Smith scored eight, and Sam Jackson had seven points. Jovan Sargent scored four points. Jaiden Daymon and Prophet Hampton had three apiece. Shamar Hampton scored two points. JaeQuan Nesmith added one point.
EAST 60
MCQUAID 69
Anthony Iglesia netted 16 of his 20 points in the second half to lead McQuaid in RCAC Division A action. Sophomore Jermaine Taggart matched Iglesia with 20. Kobe Long hit a pair of threes in third quarter and scored 12. Connor Zamiara had eight. Harry Bruu added five while Josh Purcell and Ruben Daniel scored two apiece. Chaz Washington led East with 17 points. Kni Jeer Sapp had 12. Kaori Barley, Maurice Coney III and Tay Fennel contributed six apiece. Jordan Randolph scored four points. Trepan Coney had three. Deshawn Holley finished with two points.
MONROE 91
FRANKLIN 55
BATAVIA 56
EASTRIDGE 65
Tony Arnold and Kyndal Taggart scored seven apiece in the fourth quarter as Eastridge pulled away late. Leading by two at 53-51 with 3:17 to go, Arnold nailed a pull-up 3-pointer from the top of the key, and Taggart converted four of five free throws over the remaining time. Arnold finished with a game-high 24 points. Taggart had 14. Adrian Rscored seven for the Lancers. Amir Spain and Jalen Rose-Hannah had six apiece. Batavia's Antwon Odom scored all 11 of his points in the first quarter. Jonathan Liciaga also had 11. Mason McFollins added seven for the Blue Devils.
GATES-CHILI 65
VICTOR 52
Keith Slack and Thomas Jones III combined for 14 second-quarter points as Gates-Chili erased a five-point deficit to take a seven-point lead into the locker room. Slack connected on one of two 3-pointers on the night and converted four times from the free throw line in the stanza. Jones added seven of his 17 points over the eight minutes. The senior forward had rebounds on the night. Slack finished with a game-high 19 points to go with six rebounds. Damon Payton added nine points. Traylan McCray had eight. Devin Watson scored six, Vincent Ibezim four and Mitchell Harris two. Joey Colyer led Victor with 13 points. Matt Caggiano had 12. Caleb Clow added eight. Charles Nwugwo, Jeremy Summerson and Jon Crowley scored five apiece for the Blue Devils. Tanner Hay had four.
GREECE ATHENA 78
BRIGHTON 50
Pat Meisenzahl scored 12 of his season-high 22 points in the first quarter as Athena sprinted to a 24-8 advantage. Meisenzahl connected six times behind the arc for the night and led five in double figures. Melvin Council, Jr. added 14 points. Nigel Scantlebury had 13. Christian Jones and Ryan Kubanka scored 11 apiece for the Trojans. Nate Sponsel paced Brighton with 12 points. Jack Falter had 10 for the Barons. Other scorers: Athena – Kelvin Reaves (2), Johnny Salone (4) and Isaiah Brock (1). Brighton – Kendall Cleburne (5), Jasper Newman (6), Shea McDonald (4), Ryan Martin (5), Alex Einbinder (2), Chase Semibold (4) and Will Browned (2).
PITTSFORD SUTHERLAND 63 OT
PITTSFORD MENDON 68
Conner Krapf scored four of his 14 points in overtime, and Pittsford Mendon (11-1/4-0) grabbed the top spot in Monroe County Division III with its 1oth straight win.  Matt Powers connected three times behind the 3-point arc and led the Vikings with 20 points. Michael Harrington finished with 12 points. Jacob Shadders had 10. Sutherland's Josh Rosen hit two 3s and scored nine of his 12 points in the fourth quarter to send the game into overtime. Kevin Ryan posted a game-high 22 for the Knights. Ben DiGiovanni added a dozen. Mendon hit 13 of 16 free throw attempts. Sutherland (10-1/3-1) finished three of five from the line. Other scorers: Mendon – Michael Kneuer (3) and Daniel Cook (9). Sutherland – Graham Schild (8), Matt Thaney (5) and Craig Rosen (4).
IRONDEQUOIT 59
GREECE ARCADIA 38
Frederick June, Jr. matched a career-high with 15 points and led three in double figures as Irondequoit (9-2/2-0), ranked No. 9 NYSSWA Class A, won its sixth straight. Gerald Drumgools and Josh Stenglein scored 13 apiece for the Eagles who led 21-10 after the first quarter. Robert Smith paced Arcadia with 12 points. Ray Mineo added nine points for the Titans. Other scorers: Arcadia – Chris Collili (3), Caleb Barnard (3), Joe Gallery (4), Brendan Wilson (3) and Lucas Sadwick (4). Irondequoit – Jack Brennan (3), Robert Diaz-Judson (5), Tanner Pioch (4), Kenny Gonzalez (4) and William Porter (2).
SPENCERPORT 68
WEBSTER SCHROEDER 49
Noah Mundt led four in double figures with 19 points, and Spencerport (6-6/2-2) won its second straight and third out of its last four. Evan Clark added 14, and Josh Reding had 12 for the Rangers. Alton Jones, Jr., who netted a career-high 33 earlier in the week, scored 10 points. Malachi Duval and Mike Northrup scored nine apiece for Schroeder. Freshman Ky'mere Meeks chipped in seven. JoJo Plummer and Nate Hardy both scored six for the Warriors. Other scorers: Schroeder – Luke Insley (5), Colin Donnelly (2), Andrew Lake (3) and Josh Hauman (2). Spencerport – Malcolm McCullough (2), Josh Pierre (2), J.J. Jenkins (4) and Gino Pellett (5).
GREECE OLYMPIA 58
HONEOYE FALLS-LIMA 95
HF-L 's Dan Hayes scored 21 of his game high 29 points in the first half to lead the Cougars a 51-29 lead going into the locker room. Hayes finished with 11 rebounds. Matt Cardon hit five 3-pointers and scored a career-high 17 points. Garrett Ruff had added 11 points and seven assists. Turner Wilson collected nine points and nine rebounds. Owen VanNewkirk had eight points and nine rebounds. Other HF-L scorers: Tyler Selke (8), David O'Connell (4), Trevor Chamberlain (4), Will Gaylord (2), Owen Stein (2) and Jack Eastman (1). Jeff Jung, Jr. and Rah'Qual Avant paced Greece Olympia with 18 points apiece. William Green, Jr. had nine points.
CHURCHVILLE-CHILI 65
WEBSTER THOMAS 60
Marcellus James scored nine of his 29 points in the fourth quarter to lead Churchville-Chili. Marcus Postell added 11 points.  Andrew Mason led Thomas with 29 points.
BROCKPORT 38
CANANDAIGUA 57
Dan Herrick scored 24 points and grabbed eight rebounds to lead Canandaigua.
LIMA CHRISTIAN 40
NORTHSTAR CHRISTIAN 118
EAST ROCHESTER 58
CLYDE-SAVANNAH 60
GANANDA 69
NORTH ROSE-WOLCOTT 45
RED CREEK 43
LYONS 56
WILLIAMSON 45
SODUS 58
NEWARK
MYNDERSE
PENN YAN
PALMYRA-MACEDON
ROMULUS 38
MARCUS WHITMAN 50
LIVONIA 61
BATH-HAVERLING 39
PAVILION 45
DANSVILLE 47
WAYLAND-COHOCTON 79 OT
HORNELL 83
AVON 54
CALEDONIA-MUMFORD 71
LETCHWORTH 36
LEROY 61
KESHEQUA 38
PERRY 91
MT. MORRIS 52
GENESEO 53
HOLLEY 48
ATTICA 55
NOTRE DAME-BATAVIA 50
ALEXANDER 48
WHEATLAND-CHILI 43
PEMBROKE 75
BYRON-BERGEN 42
ELBA 50
OAKFIELD-ALABAMA 76
LYNDONVILLE 68
ADDISON 82
ALFRED-ALMOND 32
BOLIVAR-RICHBURG 50 OT
CANISTEO-GREENWOOD 60
FRIENDSHIP 34
BRADFORD 69
HAMMONDSPORT 47
AVOCA 88
PRATTSBURGH 78
ARKPORT-CANASERAGA 31