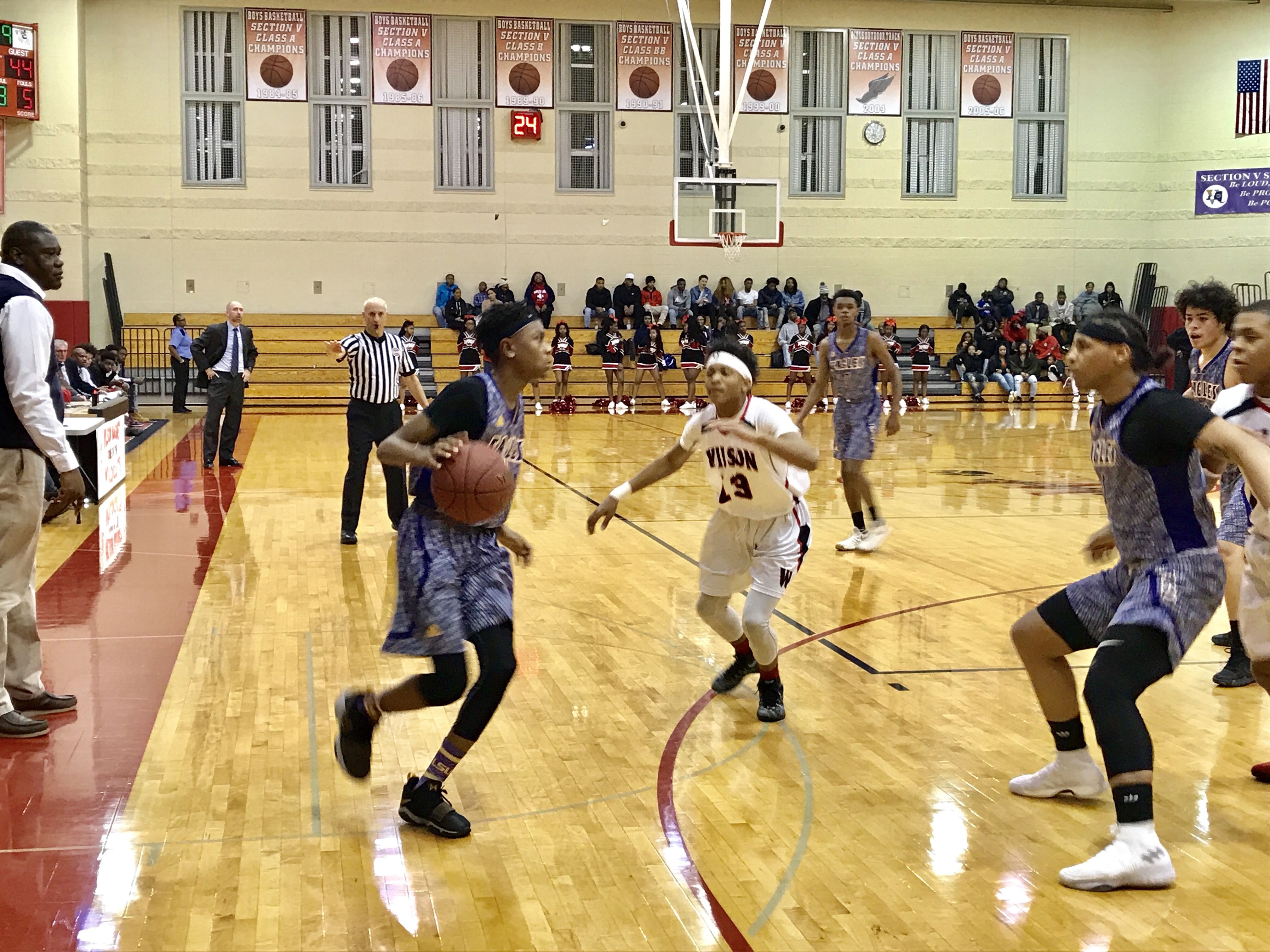 By PAUL GOTHAM
ROCHESTER, N.Y. — Less than one minute remained in Monday's RCAC matchup, and East High's Chaz Washington sunk the second of two free throws.  Along the near sideline, Washington's coach, Darrell Barley, gave a gentle fist pump.
The gesture was barely noticeable. It spoke volumes. This young East team is far from perfect, but Barley's squad is finding its way.
In a game in which they never trailed, East used an 11-2 run early in the third quarter to turn a three-point halftime edge into a double-digit advantage.
"It's the little things," Barley said after the 65-49 win over Wilson Magnet. "Having our hands up. Tipping the ball. Boxing out. If we do the little things, we can be in just about every game, especially in our division."
Washington led three in double figures with 25 points. Using his powerful low-center of gravity, the 5-foot-11 junior guard connected seven times inside the arc, all on drives to the basket, and finished 11 of 20 from the free throw line.
Patient work against the zone from @GoEastEagles Chaz Washington slices from the wing to finish the play. pic.twitter.com/jxuuD2ARO3

— Paul Gotham (@PickinSplinters) January 9, 2018
"He's our leader," Barley said. "He was a little more vocal this game. "I'm still waiting for him to get to that 30-point plateau. If he hits his free throws, that will happen."
The offensive output was one shy of his personal season-high of 26, but it was the sixth straight game Washington has scored 20 or more points.
"I feel like I'm stronger than a lot of people who get in front of me," Washington. "It's a mental thing. I go into every game with a strong mindset."
After losing to NE Douglass their last time out, the win was the fourth in the last five games for an East squad which opened the season with five straight losses.
Maurice Coney III dishing dimes. Shyheim Nichols-Lester finishes. @GoEastEagles pic.twitter.com/MOTdKGCIAz

— Paul Gotham (@PickinSplinters) January 9, 2018
"It was a good one," Washington said of the win. "Coming off an L, had to bounce back strong. We play Leadership tomorrow. It gives us good confidence.
"Our coach, he's giving us a lot of confidence. You know we're a young team. We got to go out every night and play strong."
Inserting Reynaldo Ayala, Kaori Barley, Freddie Brock and Shyheim Nichols-Lester into the starting lineup with Washington, East held a Wilson Magnet squad, which scored 92 points in its most recent outing, to a season-low.
Chaz Washington gets in the lane to feed Reynaldo Ayala for two. @GoEastEagles pic.twitter.com/0mjxYpJCRR

— Paul Gotham (@PickinSplinters) January 9, 2018
"We had to lock down," Washington stated. "Coach made an adjustment. New guys came out. They showed what they're capable of. That's what we need for the team."
Robert Davis led Wilson with 22 points.
Robert Davis goes baseline and earns a trip to the charity stripe. pic.twitter.com/6sgBNXlGUa

— Paul Gotham (@PickinSplinters) January 9, 2018
"Robert Davis is just tough," Barley said of the Wilson guard who recently topped the 1,000-point mark for his career. "He's been killing us since he was in the ninth grade. I think he came up in the eighth grade and hit a couple 3-pointers. We really had to limit his shots, make it tough for him, make him tired."
Washington collected five points as East scored the first eight of the game. Kaori Barley opened the contest with a 3-pointer from the top of the key. Barley's rebound and putback gave the Eagles their largest lead of the half at 12-3.
Davis hit a pull-up jumper and knocked down one of his three 3-pointers on the night to pull Wilson with three at 22-19 midway through the second quarter. That margin remained as the teams went into the locker room at 29-26.
Malikk Johnson hit a free-throw line jumper early in the third to make it 29-28 game. It was as close as Wilson (5-5) would get.
Kaori Barley connected three times behind the arc and finished with 12 points and two steals. Maurice Coney III added 10 for East. Jordan Randolph had six points and six rebounds. Ayala, Nichols-Lester and Kni Jear Sapp scored four apiece for the Eagles.
Desi Floyd had nine points for Wilson. Brennan Clark added eight. Tory Bradley scored five. Richard Rollin chipped in with two points.