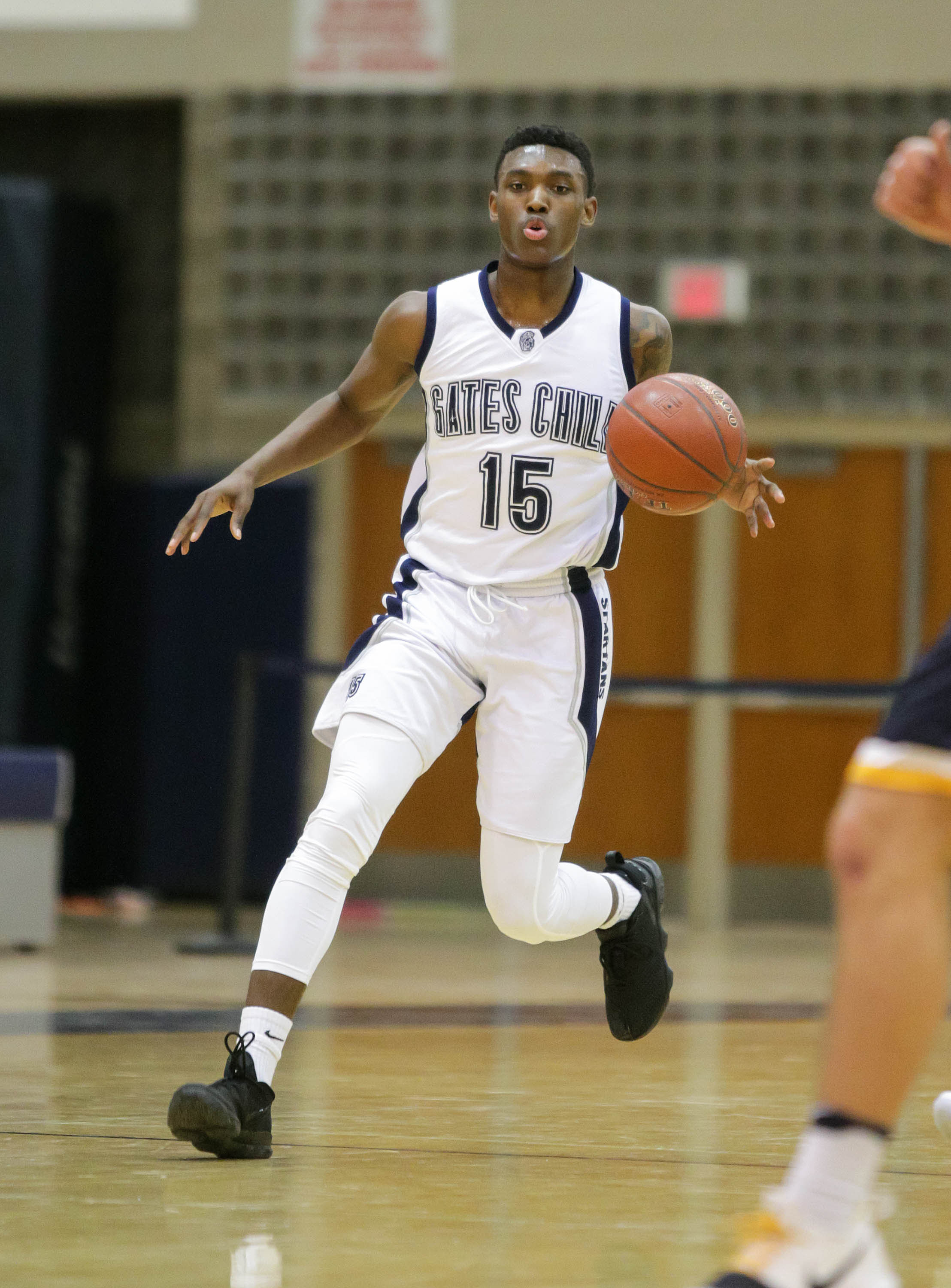 By MATT TRABOLD
TRABS KEEPS TABS
A New Look to Class AA
The Class A1 and Class A2 sections on the seeding points page on the Section V boys basketball website right now features plenty of familiar faces in terms of success over the past few seasons at the top of those standings, including Pittsford Sutherland, Irondequoit, Greece Athena, Wayne Central and Leadership Academy for Young Men. The portion of that webpage at the moment that might make some tenured fans of the sport here do a double take is a couple of scrolls above with the Class AA standings.
With the exception of usual stalwart Fairport being second in those standings at the moment, things look very different there from what they were going into postseason play last season. Rush-Henrietta is still the leader in them despite losing handily to the Red Raiders this most recent Monday evening. The Royal Comets entered the Class AA sectional bracket for this sport in the sixth spot a season ago.
Speaking of that bracket, Hilton, Penfield, Webster Thomas and Gates Chili were seeded ninth, tenth, eleventh and twelfth, respectively. In the standings for this classification as these words are typed, the Cadets, the Patriots, the Titans and the Spartans are slotted sixth, fourth, fifth and third, respectively.
With notable McQuaid Jesuit transfer Thomas Jones III sidelined for a chunk of this season up to this point, this lofty current spot for Gates Chili is in large part due to a Keith Slack, a Damon Payton and a new head man in Terry Nowden. The Spartans pulled off a sizable comeback victory over a Webster Schroeder team that is much better than its record states this past Wednesday with a Herculean effort in the second half by Jones III.
VIEW MORE CHRISTOPHER CECERE PHOTOS HERE.
Hilton star sophomore Tah-jae Hill has had to deal with a lot this season in trying to simply be able to hit the floor for his squad. That has included a rib injury that took the beginning of his sophomore campaign, a bloodied arm on his home floor against Greece Athena recently and a huge blow to the head from an unintentional opposing knee in the same game. There is no question though that Hill is back for the Cadets right now. He exploded for a career-high 31 points last night in a double-digit win over Victor. When Hill was missing games earlier this campaign, the likes of Joey Lipani, sophomore guard Colin Burkis and especially Mitchell Carr really came into their own while having a bigger piece of the offense then. Hilton is a better team because of it.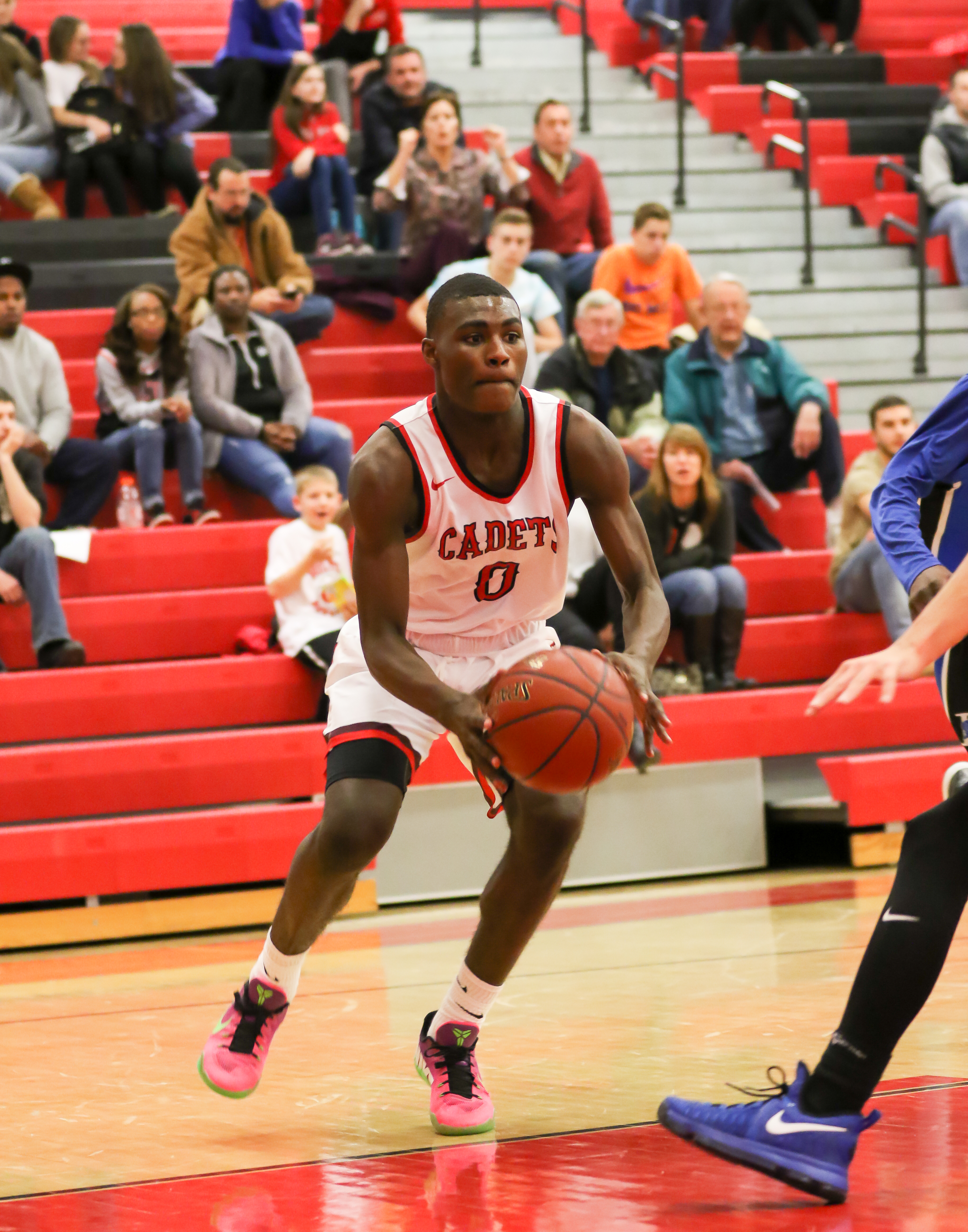 VIEW MORE CHRIS ROACH PHOTOS HERE.
Usual tanks Bishop Kearney and Aquinas Institute might be further down that list of standings at this point than they are used to, but that pair could be climbing back up by the end of the regular season depending on the impact of some key personnel boosts. Those will be much different sides going forward if Shykell Brown (Bishop Kearney), Kidtrell Blocker (Aquinas Institute) and Tyler Warner (Aquinas Institute) return to action fully and/or get back to their previous production.
SLAP YOUR PEEPERS ON THIS FIVER
Churchville-Chili at Gates Chili—Wed., Jan. 10, 7:30 PM
We have an underrated crosstown rivalry here, people. If Eric Lewis is not able to play again in this one, the top option for the Saints will arguably be boingy 6-foot-2 senior guard Corey Powell. Many are aware that current Rush-Henrietta star Kailee White played for Gates Chili two seasons ago, but some may also remember that Powell was one of the top bench options on that same group of Spartans back then. In the absence of Lewis lately, sturdy backcourt player Marcellus James has experienced a successful role expansion for Churchville-Chili. Junior guard Fidel Brock will be relied upon to try and stifle the speed of Keith Slack tomorrow night. A sizable hurdle the away side could face this time around is the superior size up front that Terry Nowden and his staff possess in this ballgame behind Thomas Jones III, Gunther Kroth and Vincent Ibezim.
Vertus Charter at Leadership Academy for Young Men—Wed., Jan. 10, 6:30 PM
This most recent Monday night, Vertus Charter more than held its own in a back-and-forth affair on the road with now 7-1 Pittsford Mendon. The success that the Warriors have grasped here in the infancy of that boys basketball program is pretty remarkable. They stuck so close with the Vikings despite not having the services of arguably the best weapon on the team in Tajman Ball. 6-foot-4 junior Jahmel Demery is one of the better inside-outside talents in the section this year. Many in this area will know the name of a more traditional current forward for Vertus Charter in 6-foot-3 sophomore Jabez Thompson in a couple of seasons. The first thing that you think of when the topic of Leadership Academy for Young Men boys basketball comes up these days is understandably Rondell Watson, but the tireless play of underrated 6-foot-3 Marcus Barr on both ends this campaign allows Reggie Simmons and his staff to begin some games with star forward Davon Brown coming off the bench.
Wilson Magnet vs. School of the Arts at John James Audubon School No. 33—Fri., Jan. 12, 6:30 PM
School of the Arts boys basketball always seems to find a way to be competitive. This most recent Monday night, the Silverhawks won a shootout over Patrick Geitner and Bloomfield in a ballgame that saw a first quarter that included around fifty combined points scored and a double-digit combined amount of threeballs sent through. A freshman guard for the home squad in this upcoming contest in Reginald Smith is not only one of the more productive perimeter shooters in this area this year, but he is also one of the most confident in terms of body language and facial expressions. Another freshman backcourt piece for School of the Arts at the moment in Ethain Clarke DeSouza also knows what he is doing from downtown on the offensive end, but he is also a very capable transition performer. Robert Davis and Tory Bradley compile quite the high-profile backcourt duo around here currently, but Wilson Magnet might need those two to do more of their work from the perimeter than usual against Smith, Clarke DeSouza and company.
Bishop Kearney vs. Rush-Henrietta at East High—Sat., Jan. 13, 12:45 PM
He is back. One of the biggest names in Section V for the past few seasons in Bishop Kearney starting point guard Shykell Brown returned to action this past Saturday after a lengthy injury spell. With his assistance, the Kings clobbered Lancaster out of Section VI by 21 points. The only underclassman on the roster for Kevin Goode Sr. and his staff right now in Michael Gentile could see his minutes decrease slightly due to Brown coming back, but he should still be a legitimate contributor going forward this campaign because his aggressiveness has the ability to result in striking spurts. Bishop Kearney has almost unlimited athleticism on the wing getting to the rim due to Anthony Gray, so keep an eye out for Rush-Henrietta employing the very active 6-foot-3 Tim Jackson against that specific style of attack. This contest at the latest installment of the Rochester Area Players Invitational at East High will be the whopping fourth ballgame the Royal Comets compete in this week.
Alley-oop from Shykell Brown to AJ Gray @PickinSplinters pic.twitter.com/26rOkziiHO

— Anthony Gray (@Anthonyg0221) January 7, 2018
Irondequoit at East High—Sat., Jan. 13, 7:45 PM
Even with Patrick Thomas sidelined, Irondequoit still has all sorts of size for this area behind 6-foot-5 Gerald Drumgoole, with 6-foot-3 Tanner Pioch and 6-foot-6 bench big Craig McGuire. The other Eagles in this one are also no stranger to having a frontcourt that has and will dwarf its counterpart in most ballgames this season. For East High, that comes in the form of 6-foot-4 Kni Jear Sapp and the broad shoulders of Jordan Randolph. East High has won four of its last five games after beginning this go-around with an 0-5 record. Some may remember how well Darrell Barley Jr., one of the sons of the head coach of the home crew in this one, performed recently under the tutelage of his father. Now, one of his younger brothers in junior guard Kaori Barley is already making his presence felt in his first season with the varsity group at the school. Josh Stenglein did not even start for Irondequoit until Thomas got hurt, but he has been almost unstoppable shooting the basketball from deep over the last pair of weeks since having his playing time boosted.
SECTION V IN DIVISION I UPDATE
Deyshonee Much—Sr., Iona (Gates Chili)
More times than not over his very successful two seasons and change with the Gaels, Deyshonee has been in the starting rotation for Tim Cluess and his staff. This past Sunday against Fairfield, Much began the contest on the bench, but the outing still ended up as maybe the best one of his collegiate career. He recorded a career-high 32 points, 9-of-13 shooting from the field, 6-of-10 shooting from downtown, perfect 8-of-8 shooting from the charity stripe, six rebounds, seven assists, three steals and just a single turnover against the Stags. That performance impressively included Much hitting his first five shot attempts from deep. Deyshonee went a combined 15-of-16 from the charity stripe against Fairfield, Saint Peter's, Canisius and Niagara over his last quartet of ballgames.