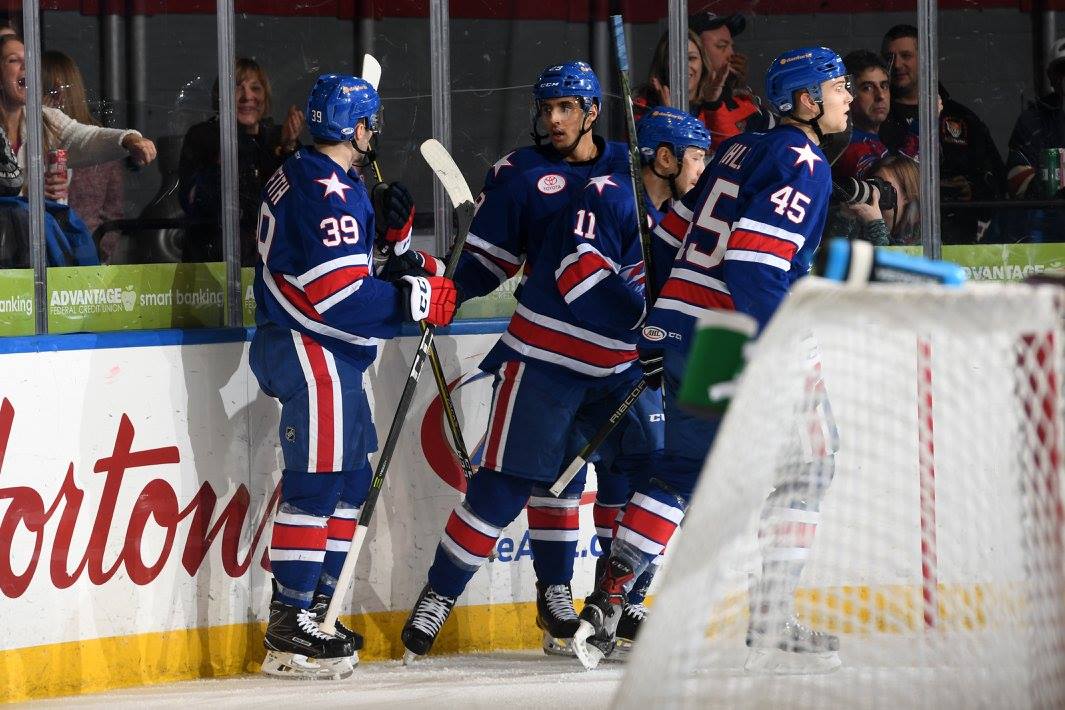 BY TODD ETSHMAN
ROCHESTER, N.Y. — Seth Griffith had a goal and two assists to lead the Amerks to a 3-1 victory over the Lehigh Valley Phantoms on Saturday night at Blue Cross Arena, giving the Amerks a perfect four points in two games on the weekend.
The Atlantic Division Phantoms, the AHL affiliate of the Philadelphia Flyers, were making their one and only appearance in Rochester and with a record of 21-10-2-3, provided a legitimate test for the Amerks at home where their 9-7-0-1 record pales in comparison to their 12 wins on the road.
Tight checking characterized the game between the two Eastern Conference heavyweights. Forwards had to fight for space all night.
"We had to backcheck hard and help our D (defense) out," said Griffith who sealed the win with an empty netter off a perfect long pass from captain Kevin Porter, looking like an NFL quarterback on the play.
Porter said it was a by design play they've worked on in practice and it finally worked out.
The pair also teamed up on the game winning goal off a two on one at 11:40 of the second period.  Porter said Griffith's pass was "right in my wheelhouse and I shot it as hard as I could."
Griffith also got an assist on the Amerks first goal of the night by C.J. Smith at 5:39 of the first period. Smith got the puck on the move in front of Phantom's goalie Dustin Tokarski and tucked it in the left side for the early lead.
The lead would last just over five minutes before perennial all star defenseman, T.J. Brennan, a former Amerk, showed why his shot is one of the most feared in the league as he sent a laser high into the Amerks net for the Phantoms only goal of the game on the power play with Hudson Fasching off for interference.
Brennan nearly had another one with 90 seconds to go in the second period but Ullmark seemed to jump up to keep it out.
Line combinations have remained steady of late and head coach Chris Taylor said linemate consistency is what the guys like.
Taylor does, too, as long as it's working and right now, it is.
The game-winning Griffith to Porter combo was a good example. Taylor said players like and respect knowing where their linemate is going to be.  Familiarity makes two on ones and no look passes more successful.
"Someone else might not have got that," Taylor said.
If there was anything Griffith, the game's first star and a former first round draft pick, can improve upon it's that his coach wants him to shoot more.
The Amerks defensive pairings are also benefitting from familiarity. Taylor cited Brendan Guhle and Casey Nelson as a pairing that worked especially well against the Phantoms.
But, the defensive play of the night went to Stuart Percy, who somehow managed to break up a three on one Phantoms rush in the second period to preserve his team's one goal lead.
Linus Ullmark played another strong game in net for the Amerks.
"We pushed him," Taylor said of his second start in two nights. "We need him to be our best penalty killer and Linus was our best penalty killer. He played the puck very well for us. That's big for our defense especially against a team like this."
The game featured two stellar AHL goaltenders as the Phantom's veteran goaltender, Dustin Tokarski, was equally as strong.
The Amerks were able to keep Phantom, Phil Varone, third in league scoring, off the score sheet. Varone was a fan favorite as an Amerk from 2011 to 2016.
A crowd of just under 6,000 braved the bitter cold elements to see the Amerks move to 22-8-3-3 and keep just two points behind Toronto with a game in hand in the Eastern Conference North Division.
The Amerks are off until Wednesday when they face Belleville in Ontario and return home to face bottom dwelling Binghamton on Friday night.
The Amerks will see Lehigh Valley only once more during the regular season when they meet again in Allentown on February 10th.
Notes-Injuries prevented area pros Stephen Gionta, 34 (Bridgeport) and Cole Bardreau, 24 (Lehigh Valley) from playing this weekend in familiar territory.