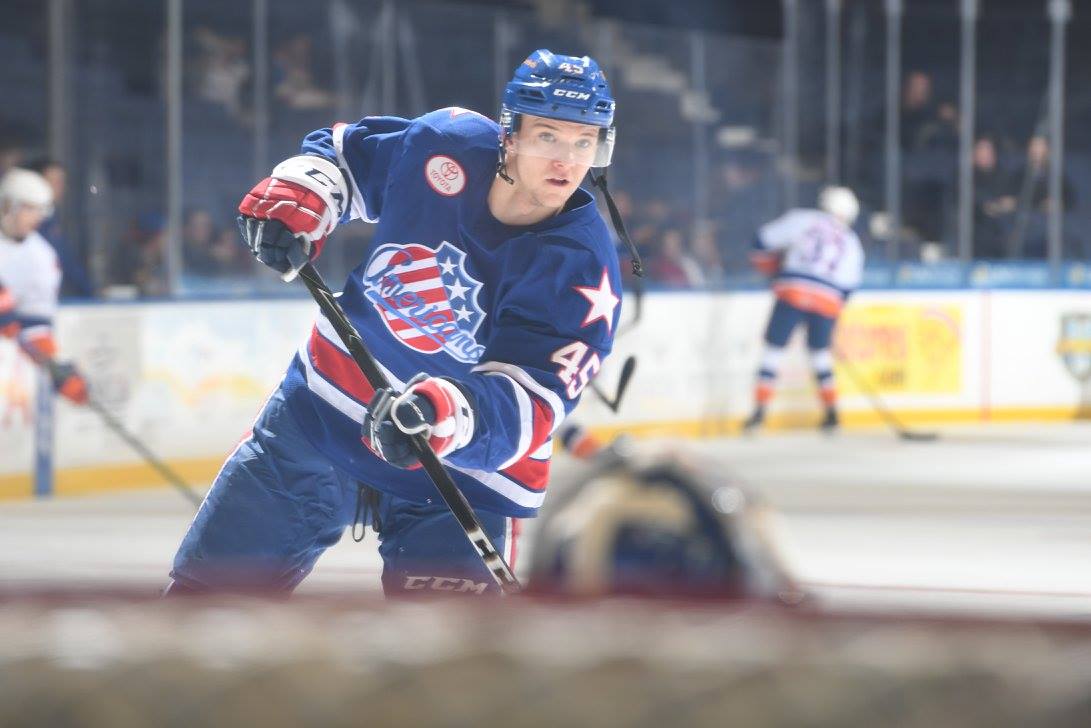 By KEVIN OKLOBZIJA
You see the speed from Brendan Guhle and think, who can catch this guy?
You see his zero-to-60 acceleration seemingly in just three or four strides and think, shouldn't he do this more often?
You see him sense a free puck and open ice and then suddenly he's off on a breakaway barely a minute into overtime. And with the defense giving futile chase as Guhle tucks the shot 5-hole to give the Rochester Americans a 3-2 victory over the Bridgeport Sound Tigers on Friday night, you think, how does he not just jump up into the play all the time?
Don't worry, you're not alone if you're thinking that.
OK, maybe the rookie defenseman shouldn't be pretending to be Paul Coffey of the 1980s and 1990s or Erik Karlsson of today's NHL. But he needs to understand he can take off and join the rush — or even lead it — a whole lot more than he has through his first 34 games of his rookie AHL season.
You know who thinks so? Amerks coach Chris Taylor.
Friday was a perfect example of why. Guhle was high in the Amerks zone when Kevin Porter was wiped out along the boards in the neutral zone in a fight for a loose puck.
Realizing the other two Bridgeport players had no chance to catch him, Guhle hit overdrive, sprinted out to center, grabbed the puck at the red line, and in fewer than four seconds was sliding a backhander past goalie Kristers Gudlevskis just 1:01 into overtime.
"That's what we want him to do," Taylor said after the Amerks improved to 21-8-3-3. "I think he needs to do a lot more of that. He's young and he's learning. He's cautious. He doesn't want to hurt the team. But there's times he can be a little more aggressive."
Talk about a reverse universe. Usually it's the freewheeling young Sabres prospect who must be reined in by the Amerks coach. Think Don McSween. Think Brian Campbell. Think Marc-Andre Gragnani.
But in this case it's the rookie wanting to be careful.
"You have to pay attention to the score of the game, who you're on the ice against; there's a lot that goes into it," Guhle said.
Wanting to take care of his own end first is admirable. So, too, is making sure he's not giving the opposition unearned scoring chances by racing out of position.
And even with this somewhat conservative approach, his one-goal, one-assist game against Bridgeport gives him 7 goals, 13 assists and 20 points in 34 games.
"He's a phenomenal skater," said Amerks left winger Sahir Gill, who scored his team-leading 12th goal. "He saw the loose puck and as soon as he gets those legs going there's no doubt it's a breakaway."
Guhle's 20 points have him tied for ninth among AHL defensemen. Among rookie defensemen, only Manitoba's Sami Niku has been more productive (5-18-23 in 33 games).
"The puck gets loose and he just takes off," said Amerks goalie Linus Ullmark, who stopped 28 shots a day after being named to the All-Star Classic roster.
The Amerks are home again on Saturday to play the Lehigh Valley Phantoms.