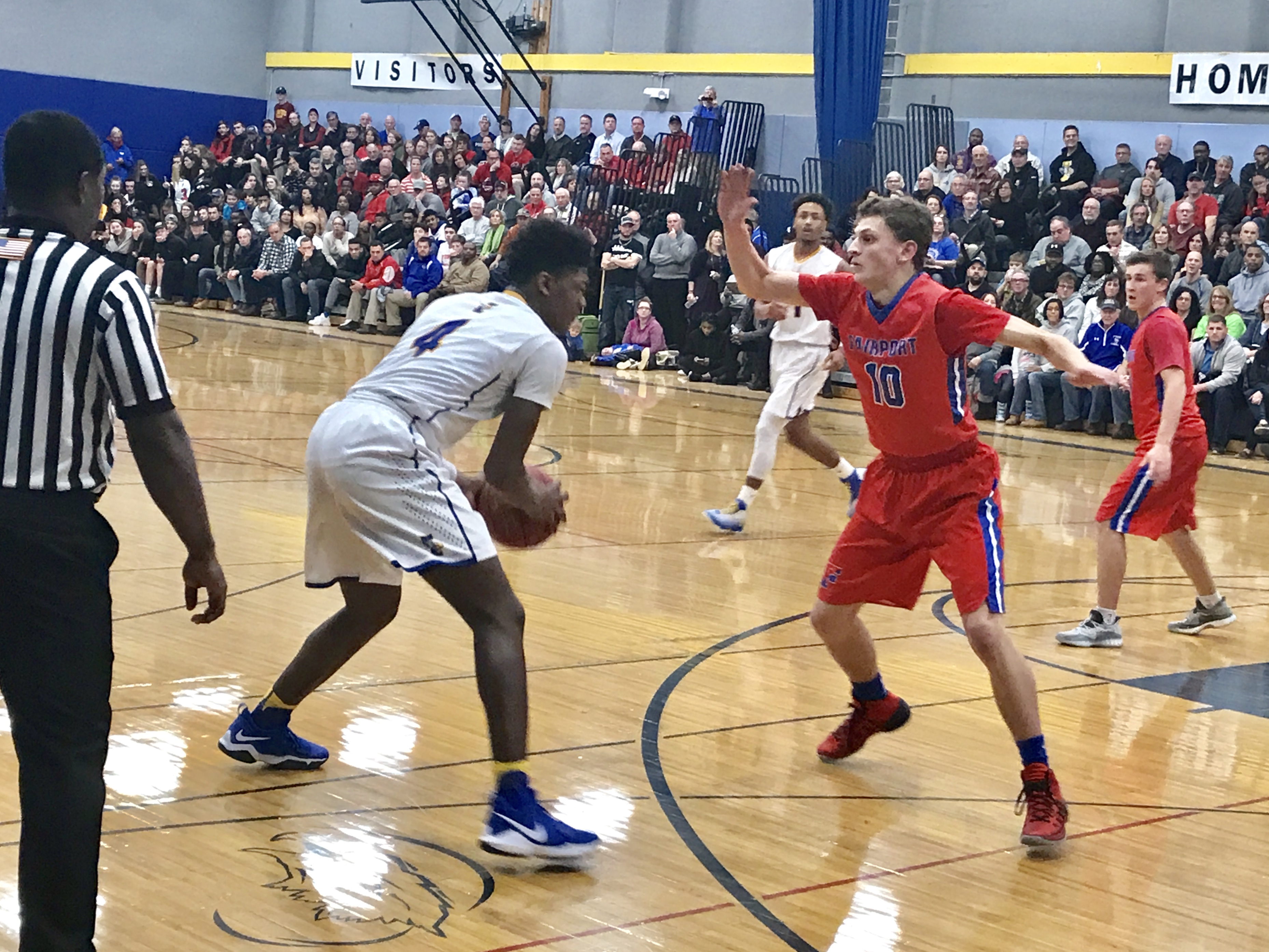 By PAUL GOTHAM
ROCHESTER, N.Y. — Gerald Drumgoole needed just nine shots from the floor to post a game-high, and the Irondequoit Eagles held off a late rally to defeat the Fairport Red Raiders, 64-56 in Section V high boys basketball action, Wednesday night.
Averaging 21.7 points per game, Drumgoole topped the 20-point mark for the fourth straight game with 23 points on 5-of-9 shooting. The junior hauled in 11 rebounds and handed out six assists, and the Eagles improved to 5-2 on the season.
But the win came at the expense of a recurring theme for Irondequoit which led by as many 17 points with less than three minutes remaining in the game.
Gerald Drumgoole threads the needle. Robert Diaz-Judson for two. @WIEagles pic.twitter.com/TRve9BH5CY

— Paul Gotham (@PickinSplinters) January 4, 2018
Fairport's Andrew Bartlett paced a 13-1 run as the Red Raiders pulled within five points in the final minute of the game.
"If you told me we would beat Fairport by eight I would be happy," Irondequoit head coach Chris Cardon said. "But the way we did it? We struggle to finish, and they didn't give up. I thought a large part of that game we played really well. But we just got to play smarter down the stretch."
Bartlett connected on two of his six 3-pointers on the night. Jackson Sullivan added a 3-ball, and Fairport trailed 61-56 with 28.8 seconds remaining.
Gerald Drumgoole finds Tanner Pioch underneath for 2. @WIEagles 48 Fairport 27 pic.twitter.com/JTMqluXbQC

— Paul Gotham (@PickinSplinters) January 4, 2018
Irondequoit had lost two of four entering the contest. The Eagles fell at then, No. 5 NYSSWA Class A, Canisius after leading for the first 31 minutes of the contest before surrendering a late basket. Eight days later, the Rush-Henrietta Royal Comets were not gracious hosts as they erased a double-digit halftime deficit to beat Irondequoit on a Shamire Broyld basket in the final seconds.
Wednesday night, Irondequoit needed a pair of Drumgoole free throws with 15.4 seconds remaining to avoid giving Fairport a chance to make it a one-possession game.
"Everybody's gunning for us, but they're gunning for them too because they're Fairport," Cardon said. "Rush beat us, and you would have thought they won the Super Bowl based on their reaction. Years ago, we were like that if we beat Rush.
"Canisius is the best team we've played in the last 10 years. To lead them all game and not win is tough."
The game pitted two teams experiencing the growing pains that can occur with graduation. Fairport, a NYS Class AA finalist last March, lost seven seniors from that squad. Drumgoole is the only returning starter from Irondequoit's NYS Class A championship squad.
The @WIEagles hold off @FCSDSports 64-56 in @sectvbb showdown; Eagles improve to 5-2. Great crowd tonight at @IrondequoitHS! @g_drumgoole24 @FreddyJune8 @TannerPioch pic.twitter.com/6lwUDkvIQM

— Varsity Media (@VarsityMedia) January 4, 2018
VIDEO COURTESY OF VARSITY MEDIA
"Scott and I were talking before the game," Cardon said referring to Fairport head coach Soctt Fitch. "We've got all these guys in new roles. Not only do they have new roles, but they have to get comfortable in those roles."
Josh Stenglein finished 4-of-5 on the night from behind the arc and hit all four of his 3-pointers in the first half to help pace a 37-21 Irondequoit (5-2) lead going into the locker room.
Robert Diaz-Judson added 14 points and eight rebounds.
"He is really an unsung guy," Cardon said of Diaz-Judson's effort.
Frederick June Jr. collected nine points and eight assists. Tanner Pioch chipped in four points. Kenny Gonzalez had two points.
Drumgoole finished 13 of 16 from the free throw line. The junior guard was six of eight in the fourth quarter as Fairport extended the game.
Irondequoit played without starting forward Patrick Thomas who fractured his wrist in the Eagles' win over Webster Thomas on December 21st.
Bartlett led Fairport (6-3) with 22 points. Sullivan had 12. Brett Heininger, Vanzell Johnson and Andre Startks scored five apiece for the Red Raiders. Tommy Lindstorm added three. Anthony Pappano and Brennan O'Connor both scored two points. The loss was the third straight for Fairport.