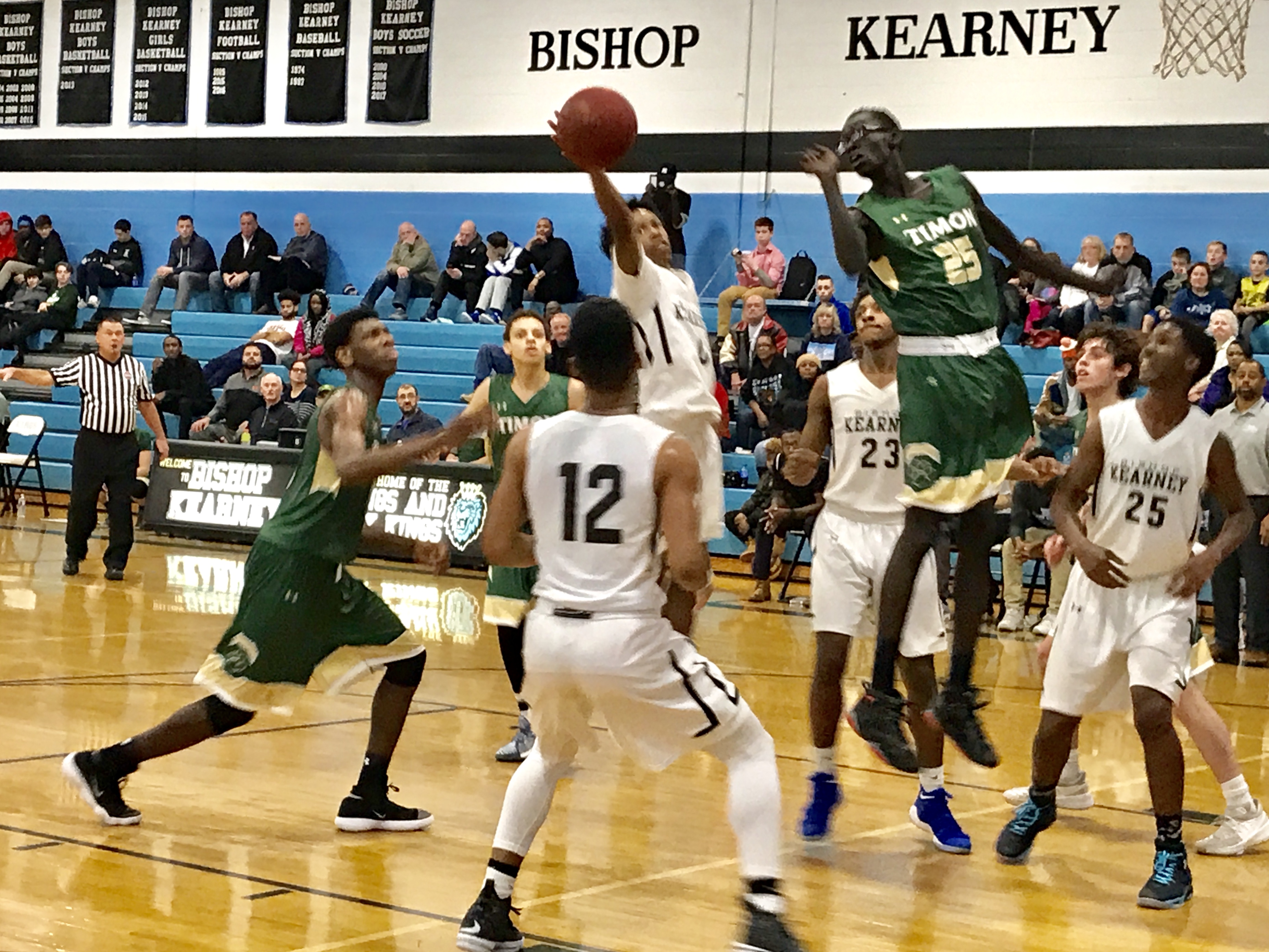 Five different players contributed points during the fourth quarter, and the Bishop Kearney boys basketball team cut a 24-point deficit to four, but it wasn't enough as the Kings fell to the Bishop Timon Tigers, 60-54 Saturday afternoon at Ed Nietopski Gymnasium.
Kevin Goode Jr. sparked a 10-0 run early in the fourth quarter as Kearney came within single digits of Timon for the for the first time since the start of the second quarter.
Trailing 53-37, Goode drilled a long 3-pointer. Two possessions later, Jamal Williams hit a pull-up jumper late in the shot clock. AJ Gray followed with a 3 from the right wing, and BK trailed 53-45.
Jamal Williams pulls Kearney within 11 with 3 to go. pic.twitter.com/kCFCfnp3sd

— Paul Gotham (@PickinSplinters) December 23, 2017
Jordan Love followed with a rebound and putback to pull the Kings with six at 53-47 with 2:11 remaining in the contest.
Three trips down the floor later, Goode converted three free throws. The senior guard then set up Love with a lay-in to make it a six-point game with 25.6 to go. After Kearney's press caused the fifth Timon turnover of the final stanza, Jamal Fennell hit two from the charity stripe.
Kearney trailed 58-54 with 13.8 left on the clock. It was as close as the Kings would get.
Tehron Goudelock and Master Radford combined on 12 points in the second quarter as Bishop Timon outscored Kearney 20-10 to take a 39-20 lead into the halftime. The duo had a hand in giving the Tigers their largest lead of the game. Goudelock scored on back-to-back steal-and-bucket situations before Radford's basket with less than two minutes to go in the third quarter gave Timon a 50-26 lead.
After committing six turnovers in the third, Kearney closed on a 7-0 and eventually outscored Timon 21-3 over the next even-plus minutes of play.
Fennell finished with a team-high 12 points. Goode scored 11. Love added 10. Gray had nine points for the Kings, and Williams chipped in with seven. Michael Gentile scored five for BK.
Bishop Kearney (2-4) played without starting guard Shykell Brown who was injured at the end of the Kings most recent game on December 16th against Campus Magnet School-Queens.
Redford led all scorers with 15. Goudelock and Alero World added 12 apiece for Timon.  Julian Cunningham and Cullen Tonge scored six apiece. Angel Torres had five points.
OTHER ACTION FROM SATURDAY IN SECTION V BOYS BASKETBALL:
MIDLAKES 52
NEWARK 65
Taylor Clements registered a double-double with 13 points and 15 rebounds for Newark. Jayden Peters finished with game-high 21 points for the Reds. Taylor Anglin added 14. Bryce Burri paced Midlakes with a dozen points.