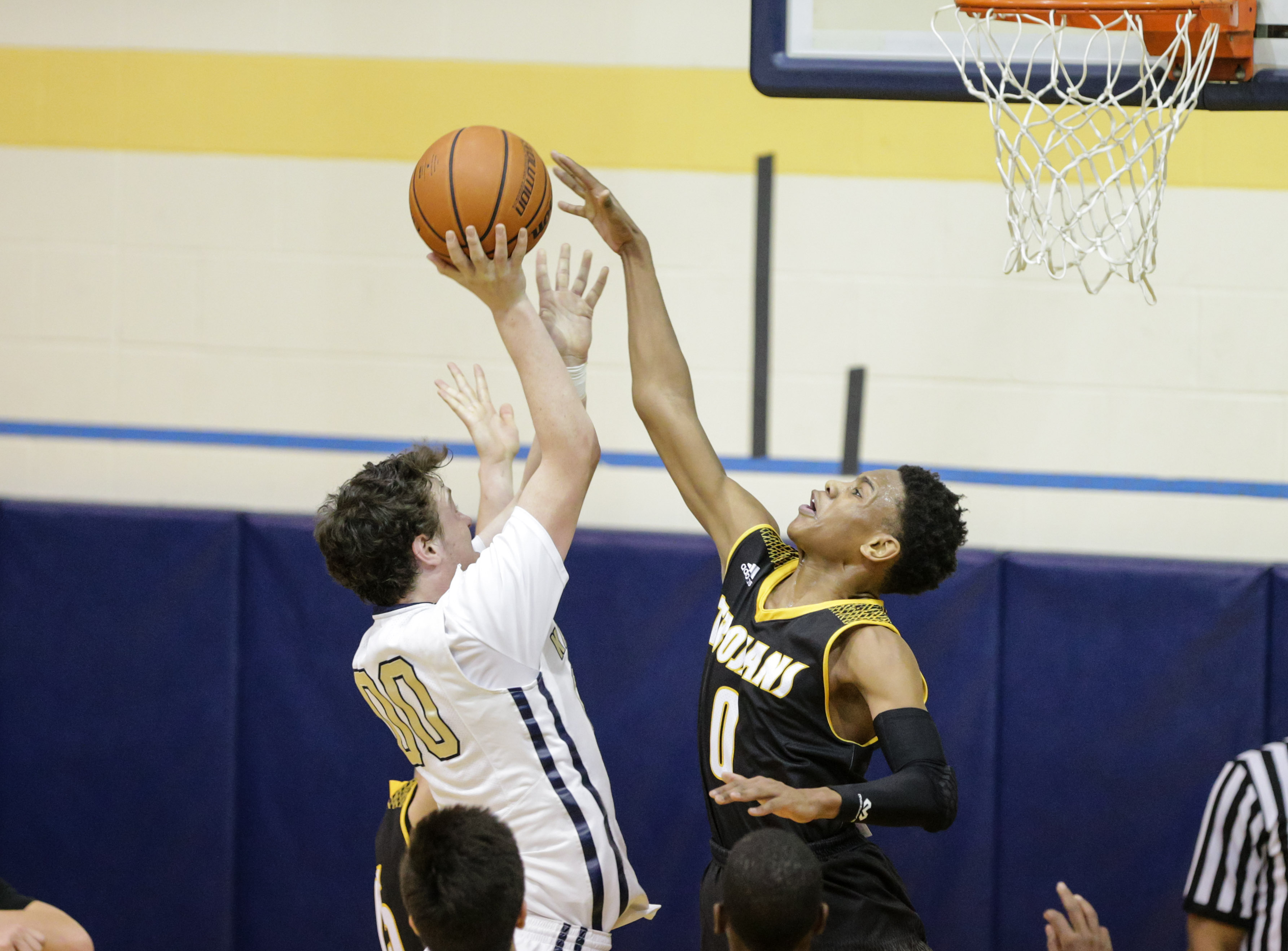 SATURDAY
BUFFALO EAST (VI) 68
AQUINAS 71
Justin Johnson netted 18 on 7-of-10 shooting from the floor including 4-of-6 from behind the arc to lead Aquinas. READ MORE.
BISHOP KEARNEY 51
CAMPUS MAGNET SCHOOL-QUEENS 37
Michale Gentile scored seven of his nine points in the first quarter as Bishop Kearney jumped to a 13-8 lead. AJ Gray netted five of his team-high 12 in the second quarter, and the Kings took a 26-18 advantage into the locker room. Shykell Brown added 11 points, and Kevin Goode Jr. had 10. Jamal Fennell chipped in six for Kearney, and Jamal Williams three.
ATTICA TOURNAMENT
PERRY 56
ATTICA 41
SOTA 69
LETCHWORTH 28
All-Tournament team selection Ethan-Clarke DeSouza netted 23 points to SOTA (4-3). Logan Hayes hit four 3-pointers and finished with 18 points for the Silverhawks. Reggie Smith added two 3s and 10 points. Joe Denegal scored seven. Nate Goodrich paced Letchworth with eight points. Williams Bean had seven. Other scorers: Letchworth – Jon Slater (2), Zach Brown (3), Tristin Lindsey (5), Caleb Hanson (2) and Ike Shearing (2). SOTA – Ke'vion Mitchell (4), Nygel King (3), Kentraly Brown (2), Remington Reyes (2).
LYONS 68
RED CREEK 45
Six different players figured in the scoring column as Lyons took a 35-17 lead at half and never looked back. Justice Smith finished with a game-high 23 points to go with six rebounds and five assists. David Weaver scored 12 for the Lions which hit just two 3-poiinters in the win. Kerel Kelly had nine and Benji Kemp eight. Dan Smith Smith paced Red Creek with 13 while Jack Smith had 12. Other scorers: Lyons – Aaron Romero (4), Seth VanBuskirk (6), Jordan Harris (4) and Xavier Reeve (2). Red Creek – Jon Gilbert (7), Torin O'Leary (2), Kevin Morrissette (3), Tristen Bliss (2) and Kyle Hughes (6).
WILLIAMSON-PA 49
ADDISON 102
Nick Sutryk connected six times behind the arc and finished with 24 points to pace an Addison long-range attack which hit 18 3s on the night. Danny Alves poured in 28 of his game-high 31 points in the first half as Addison (3-0) handed Williamson (2-1) its first loss of the season. Alves finished with eight rebounds, seven assists and six steals. Adam Chilson scored 17 to go with six assists and five steals. Evan McIlwain scored four points and hauled in eight rebounds. John Stierly had six points and six rebounds. Shawn Ribble scored eight. Donovan Yuma's had five. Gage Ames had four points and Nick Solinas three.
ARKPORT-CANASERAGA 10
JASPER-TROUPSBURG 63
LIVERPOOL
UPREP – CANCELLED
FRIDAY
GREECE ATHENA 43
PITTSFORD SUTHERLAND 52
Matt Thaney scored 14 points and sophomore ben DiGiovanni added 13 as Sutherland, ranked No. 21 NYS Class A, improved to 5-0 on the season and handed Athena, No. 6 NYS Class A, its first loss of the season. Kevin Ryan added eight points for the Knights while Graham Schild and Craig Rosen had six apiece. Athena's Christian Jones led all scorers with 16. Nigel Scantlebury had 10. Ryan Kubanka had nine points. Pat Meisenzahl and Melvin Council chipped in four apiece for the Trojans (3-1).
VIEW MORE CHRISTOPHER CECERE PHOTOS HERE.
BATAVIA 59
HONEOYE FALLS-LIMA 64
Junior Trevor Chamberlain scored eight of his team-high 22 points in the first quarter as the Cougars (3-1/2-0) jumped to a 15-4 lead before eventually having to erase a halftime deficit. Seniors Dan Hayes and Owen VanNewkirk each had 15 points. Batavia senior TeeSean Ayala connected seven times behind the arc and finished with a game-high 3o points. Senior Jonathan Liciaga had 13 points and fellow senior Steve Gilebarto had 11 for Batavia. After being outscored 24-11 in the second quarter, HFL came out of the locker room for the second half and outscored Batavia 22-11 in the third quarter.
GREECE ODYSSEY 58
EASTRIDGE 62
Kyndal Taggart and Terrence Reed combined for 13 points in the first quarter as Eastridge jumped to a 20-10 lead. Sophomore Tony Arnold led Eastridge with 21 points while Taggart finished with 17. Reed added eight. Jalen Rose Hannah chipped in five. Robert Clark and Jaden Keech had four points apiece.  Junior Travon Harper topped Greece Odyssey (3-2/0-1) with 17 points, followed by junior Ray Colbert with 15 and sophomore Jaden Hartsfield with 11. Eastridge (4-2/1-1) took a 38-25 point lead at the half.
GATES CHILI 45
FAIRPORT 57
Five different players put points on the board as Fairport (5-0/3-0) outscored Gates-Chili (3-1/1-1) 16-10 in the second quarter to erase an early deficit. Andrew Bartlett and Vanzell Johnson added nine points apiece for the Red Raiders. Ryan Lucey converted on 6-of-6 free throws and finished with eight points. Fairport hit eight of 10 from the charity stripe in the fourth quarter.  Gates-Chili's Keith Slack poured in a game-high 25 points in a losing effort. Slack connected twice behind the arc as the Spartans grabbed a 12-11 edge after eight minutes of play. The junior guard finished with four 3-pointers for the game and converted five of six free throws.  Damon Austin added nine points and eight rebounds. Mark Morrison had three for the Spartans.
PENFIELD 76
VICTOR 70
Isaiah Preston poured in a season-high 32 points, and Penfield (2-3) won its second straight. Preston scored nine in the first quarter as the Patriots grabbed the margin of victory at 20-14 after eight minutes of play. The senior guard connected three times behind the arc on the night and hit 17 of 18 free throws. Patrick Piampiano hit four 3-pointers and finished with 19 points for Penfield. Bryson Scott added 12 points. The Patriots connected on 26 of 27 free throws. Joey Colyer paced Victor with his second straight 20-plus point performance going for 22 in a losing effort.  Tanner Hay scored 13 for the Blue Devils. Other scorers: Penfield – Javion Monroe (3), Ryan Novy (2) and Dyllon Scott (8). Victor – Matt Caggiano (6), Charles Nwugwo (5), Jack LeRue (2), Caleb Clow (2), Jeremy Summerson (7), Connor Keenan (5) and Jon Crowley (8).
PITTSFORD MENDON 60
CANANDAIGUA 52
Junior Dan Cook posted a double-double (26 points, 13 rebounds) for Mendon. Juniors Michael Harrington (12 points) and Connor Krapf (10 points) added to the offense. Senior Connor Fisher led Canandaigua with 20 points.
SPENCERPORT 66
WEBSTER THOMAS 68   in OT
Senior Joe Luconte topped all scorers with 24 points, including the game-winning layup with four seconds to go in overtime. Sophomore Andrew Mason added 19 points and junior Garrett Reeves had 10 points. Spencerport had a pair of 20-plus point scorers: senior Alton Jones, Jr. with 22 points and senior Noah Mundt with 21 points.
BROCKPORT 72
BRIGHTON 60    in OT
Senior Amire Odey led Brockport with 28 points, including six points in overtime. Junior Emilio Ball added 18 points for Brockport. Senior Jasper Newman topped Brighton with 18 points, followed by senior Ryan Martin with 15 and junior Jack Falter with 13. Brockport took complete control of overtime from the start, outscoring Brighton in the extra period 14-2.
HILTON 42
RUSH HENRIETTA 62
CHURCHVILLE-CHILI 49
GREECE ARCADIA 45
EDISON TECH 64
MCQUAID 86
Sophomore Kobe Long netted 19 points and grabbed six rebounds for McQuaid, followed in scoring by sophomore Jermaine Taggart with 18 points and sophomore Reuben Daniel with 17 points. Senior Anthony Iglesia picked up a 14 point, 10 assist double-double for McQuaid. Junior Alton Knight topped Edison with 19 points, while senior Ryziere Wilson added 12 and senior Da'Shawn Sim-Jones had 11.
LEADERSHIP ACADEMY 95
FRANKLIN 55
Dezmere Ellis netted 15 of his team-high 23 points in the first quarter as Leadership raced to a 32-11 advantage en route to their third win in as many games. Shamir Mccullough added 21 points. Marcus Barr scored 12. Shaheem Britt chipped in nine and Davon Brown had eight. Devonta Goins paced Franklin with 21 points. The 5-foot-1 guard connected four times behind the arc and scored 14 of his points in the second half. Tahjir King and Tyree Spann added 11 apiece for the Quakers. Anthony Smith had eight, and Kentonio Kelly four. Leadership outscored Franklin 49-19 in the first half. The Lions are tied atop the RCAC Upper Division with the Monroe Redjackets.
MONROE 82
EAST 74
Trailing by six with less than four minutes remaining, Giovanelli Santiago connected on his seventh 3-pointer of the night to spark the rally. The senior guard took a Devante Mateo dish along the right wing and found the measure. READ MORE.
NE DOUGLAS 73
WORLD OF INQUIRY 74
Senior CeyQuan Salmon posted a double-double for World of Inquiry, scoring 28 points and grabbing 14 rebounds. Fellow senior Javonte Burrell added 13 points and junior Bobby Searight had 12, helping WOI improve to 4-1 on the season.
PERRY 76
SOTA 73    in OT
Austin Croll paced Perry with 29 points in the win. Tyler Cowie added 27.  SOTA's Ethain Clarke DeSouza scored seven of his team-high 23 points in the third quarter. The freshman hit one of two 3-pointers on the night to go with two free throws and a field goal. Sophomore Logan Hayes hit five 3-pointers and finished with 17 points on the night. Junior Joe Denegal had 14 points and freshman Ke'vion Mitchell had 13.
BISHOP KEARNEY 55
ST. MARYS-MANHASSET 63
AJ Gray hit a pair of 3-pointers and paced the Bishop Kearney (1-3) offense with 21 points. Shykell Brown added 15 while Jamal Fennell had 11 and Kevin Goode, Jr. scored eight points.
NORTHSTAR CHRISTIAN 131
LIMA-CHRISTIAN 69
ROCHESTER ACADEMY 61
C.G. FINNEY 75
MIDLAKES 46
MYNDERSE 71
PENN YAN 51
WATERLOO 31
Senior Dylan Stape led Penn Yan (5-0) with 13 points and seven rebounds, finishing seven for eight from the free throw line on the night. Senior Desmond Battin added a balance night of nine points, seven rebounds and five assists, while junior Will Rogers had nine points, eight rebounds and four assists. Junior Derek Slywka narrowly missed a double-double for Waterloo with 10 points, nine rebounds and three assists. Seniors Jake Webb (eight rebounds) and Tim Imhoff (seven rebounds) helped Slywka on the boards.
WAYNE 58
PALMYRA-MACEDON 34
EAST ROCHESTER 56
NORTH ROSE-WOLCOTT 28
GANANDA 53
LYONS 71
Junior Benji Kemp topped Lyons on the boards with 15, complimented by junior Justice Smith's nine. Smith also dished out eight assists. Senior Steven Heumann scored 13 points for Gananda and freshman Andrew Gabbard added 11 points. Gananda made a push for the win in the second half. After managing just 20 points in the first half, they scored 17 points in the third quarter and 16 in the fourth. However, the push fell short of the mark and Lyons claimed the win.
RED CREEK 49
MARION 47    in OT
SODUS 43
CLYDE-SAVANNAH 79
Senior Dru Carnevale led Clyde-Savannah with 26 points, including eight threes, and six assists. The Chances also contributed: senior Marcus with 24 points, senior Derrick with 17 and freshman Camden with 12 rebounds. Sophomore Lonnie Loggins led Sodus with 16 points, followed by junior Paul James with 14. Clyde-Savannah opened the game by outscoring Sodus 17-9 in the first half, and the smallest scoring of the game came in the second quarter when they outscored Sodus 18-14.
BOLIVAR-RICHBURG 37
GENESEE VALLEY 64
HINSDALE 20
HOUGHTON 43
SCIO 58
FRIENDSHIP 2425
WHITESVILLE 25
BELFAST 44
OAKFIELD-ALABAMA 41
ALEXANDER 59
PEMBROKE 74
BYRON-BERGEN 44
BARKER (VI) 63
LYNDONVILLE 30
ELBA 65
KENDALL 56
Sophomore Colton Dillon had a team-leading 19 points in the game, followed  by junior Jon Boyce (14) and fellow sophomore Grayson Huntington (11). Kendall saw junior Nathan Warters lead the team with 19 points, along with eight rebounds. Other contributors were junior John Rath with 12 points, nine assists, junior Hunter Menze with 13 points, eight rebounds, and finally sophomore Mason Kuhn with a double-double (10 points, 10 rebounds). Elba rode a strong first half, including an 8-0 run to finish the first quarter and a 34-17 lead at the half, to the victory.
NOTRE DAME-BATAVIA 60
WHEATLAND-CHILI 36
DANSVILLE 34
HORNELL 58
Senior Dantae Millner led Hornell with 15 points. Senior Nick Rosica grabbed 10 rebounds and had five steals for Dansville. Senior Hunter Little had nine points and seven rebounds, while sophomore Arrik Gerber had nine points, five rebounds and three assists.
Hornell's success mostly came in the second quarter, when they outscored Dansville 22-9 heading into the half.
"Tonight's game was in conjuction with the Hoops for Hope Benefit which was in Honor of Lisa Rosica, the mother of Nick Rosica, a senior Dansville basketball player," David Moodie said. "Lisa recently passed away after a tough battle with Cancer. The event was a huge success thanks to the joint effort of both the Dansville and Hornell communities. Dansville students organized the event, which raised $15,100. All of the money will be donated to the Ann and Carl Myers Cancer Center, located at NOYES Hospital in Dansville, NY."
LIVONIA 63
WAYLAND-COHOCTON 58
Freshman Alex Minnehan scored a team-high 22 points for Livonia. Senior Barrett Lowe contributed a 14-point, 16-rebound double-double for Livonia. After a strong 13-2 start for Wayland-Cohocton, Livonia battled and fought going into the half, taking a 33-27 lead into the locker room and not looking back.
AVON 49
LEROY 47
YORK 36
GENESEO 35
ALFRED-ALMOND 41
CANISTEO-GREENWOOD 55
PRATTSBURGH 71
AVOCA 67
Prattsburgh, No. 9 NYSSWA Class D knocked off Avoca, No. 16 NYSSWA.