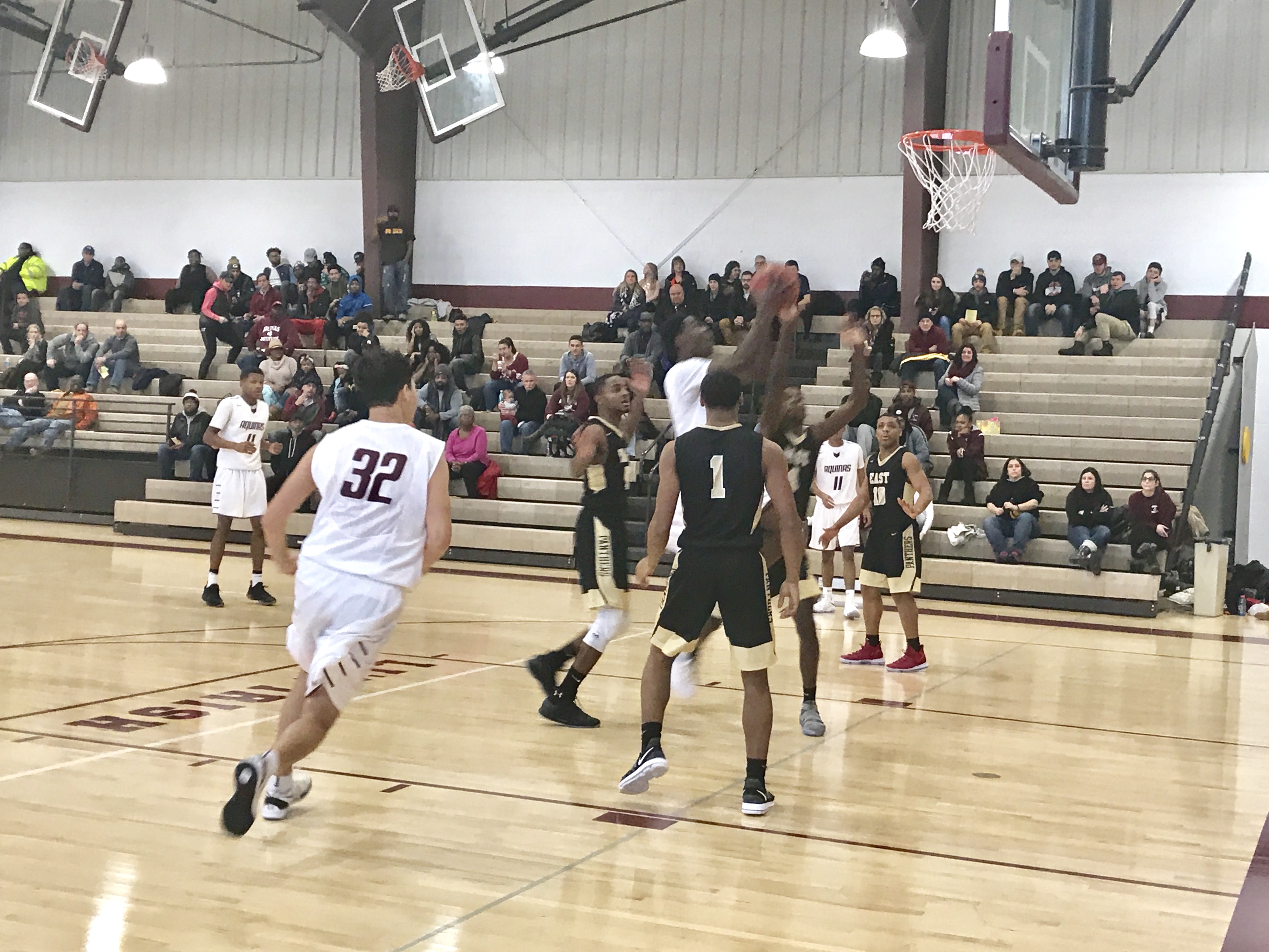 ROCHESTER, N.Y. — Justin Johnson led four in double figures, and the Aquinas Li'l Irish defeated the Buffalo East Panthers (VI), 71-68 in high school boys' basketball action Saturday at the Wegman-Napier Center.
Johnson netted 18 on 7-of-10 shooting from the floor including 4-of-6 from behind the arc. The sophomore guard connected twice from long range on AQ's first two possessions of the game and scored eight points to go with one assist as the Li'l Irish grabbed a 19-13 lead after the first quarter.
Johnson scored four more during a decisive spurt late in the third quarter. Trailing by two at 45-43, Danny Speed finished a layup. Two possessions later, Johnson got to the rim for a bucket and a 47-45 edge. Aquinas did not trail again. Kidtrell Blocker converted two free throws, and Johnson closed the quarter with a layup when Marlek Connor picked up a steal and led Johnson into the open court for the basket.
Marlek Connor gets the hurt and harm for @AQBoys_Hoops 6:20 to go AQ 55 Buffalo East 54 pic.twitter.com/N4LGizEpbx

— Paul Gotham (@PickinSplinters) December 16, 2017
Speed scored five of his 15 points late in the fourth to give AQ a seven-point advantage. The senior guard, who finished 7-of-12 from the floor, connected behind the arc and followed two possessions later with a layup for a 70-63 lead with :56 remaining on the clock.
Danny Speed to the rack before the buzzer. End 3rd: @AQBoys_Hoops 53 Buffalo East 47 pic.twitter.com/vwwQLLm9ib

— Paul Gotham (@PickinSplinters) December 16, 2017
Blocker and Speed finished with a team-high seven rebounds apiece as the Li'L Irish won the battle of the boards, 36-34.
Kidtrell Blocker drills the penetrate-and-pitch trey. 3:49 on the clock – @AQBoys_Hoops 60 Buffalo East 56 pic.twitter.com/n0INzrRZOk

— Paul Gotham (@PickinSplinters) December 16, 2017
Blocker added 13 points and handed out five assists. AQ finished with 20 assists on 23 made field goals.
Senior Luke Putnam scored 17 points on 6-of-10 shooting and 5-of-8 behind the arc.
Luke Putnam nails the three from the left corner. @AQBoys_Hoops 1:53 to go: AQ 66 Buffalo East 60 pic.twitter.com/bO4UiXx9PU

— Paul Gotham (@PickinSplinters) December 16, 2017
AQ finished 12 of 23 from long range for the contest.
Eric Carter had four points. Connor and Steven Mahar scored two points apiece. Mahar hauled in five rebounds.
Aquinas outscored Buffalo East in the paint (30-20) and on second-chance points (15-12). Led by Speed's 15 points, the Aquinas bench outscored its counterparts 19-2.
Willard Anderson led the Panthers with 33 points on 11-of-27 shooting from the floor including 7-of-16 from behind the arc. Anderson handed out a game-high seven assists. Waunya Shaw added 18 points and grabbed eight rebounds. Justin Allen corralled a game-high nine boards.
Buffalo East collected eight steals and forced 12 turnovers.
Aquinas improved to 2-3 with the win. The Li'l Irish will play at Bishop Timon (VI) on Tuesday. Buffalo East fell to 4-2.