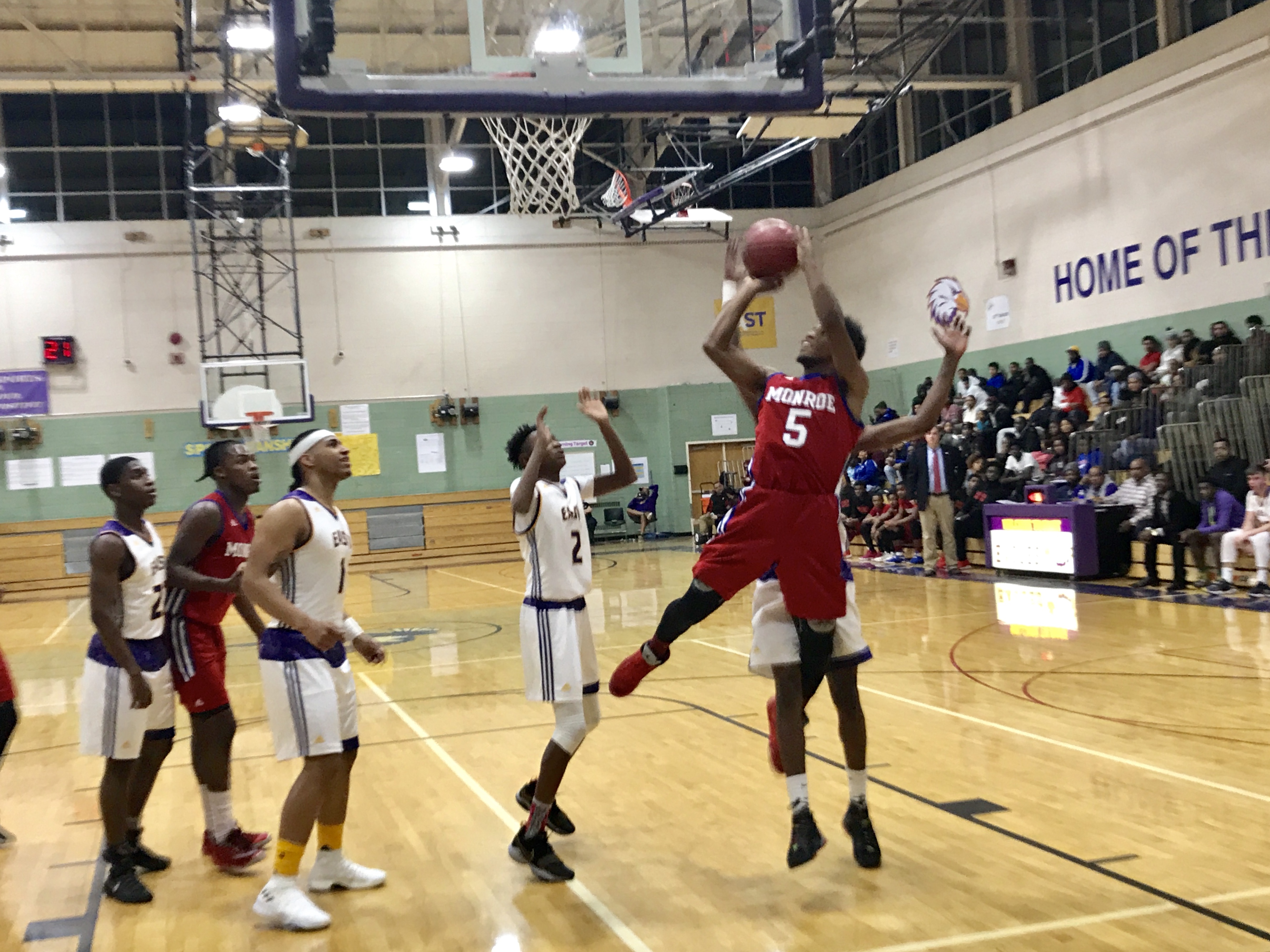 By PAUL GOTHAM
ROCHESTER, N.Y. — Five different players contributed as the Monroe Redjackets closed on a 14-0 run to defeat the East High Eagles, 82-74 in RCAC Upper Division action Friday night.
Trailing by six with less than four minutes remaining, Giovanelli Santiago connected on his seventh 3-pointer of the night to spark the rally. The senior guard took a Devante Mateo dish along the right wing and found the measure.
"He's a very confident shooter," Monroe coach Matt McCormick said of his senior guard. "He's a catch-and-shoot kinda guy. You get on a roll like that, you just keeping feeding the monster. He got the ball, and he just kept ripping it. He had a couple misses in a row (late). I think he got a little tired and a little short, but he kept with it and hit a couple more."
Two possessions later, Mateo hit a floater in the lane to give the Redjackets a lead they never surrendered at 76-74.
Santiago converted two free throws, and Ty Glasgow put the game out of reach with a 3-ball from the top of the arc – the Redjackets 13th triple of the night.
Chris Gibson Jr. uses the hesi to get in the lane for the finish. @JMHSRedjackets pic.twitter.com/JxtkMIexgQ

— Paul Gotham (@PickinSplinters) December 16, 2017
"Every guy that I have can shoot a 3," McCormick stated. "It's just a matter of them being confident and finding the person who's hot and getting it to him. Also it's about finding their space and their time and knocking it down and being confident."
Monroe improved to 4-2 overall and 3-0 in league play to stay tied with Leadership Academy atop the standings.
"This is a great atmosphere," McCormick said. "East is always a great team. Darrel (East High coach Barley) is a great coach, so to come in here and get this win is nice."
Ty Glasgow making it look easy with the catch-and-shoot 3 off the inbound. @JMHSRedjackets pic.twitter.com/j8Jaf3u7QR

— Paul Gotham (@PickinSplinters) December 16, 2017
It looked like Monroe would run away with the game early in the third quarter when Jones nailed a three from the right corner. Keron Kearse followed with a rebound and putback for a 53-38 advantage. East cut the deficit to seven, but Jones grabbed a defensive rebound and led Glasgow into the open court for a thunderous slam. The ensuing celebration resulted in a pair of technicals being assessed to the Redjackets.
1:38 to go in the 3rd – Kaori Barley gets the baseline leaner to fall. @JMHSRedjackets 60 @GoEastEagles 55 pic.twitter.com/C984QsuQSk

— Paul Gotham (@PickinSplinters) December 16, 2017
East High's Chaz Washington calmly sank four free throws and made it a five-point game at 57-52. Six possessions later. Washington finished with a finger roll in the lane to give East its first lead of the second half and first since 6-4.
"We stayed resilient," added McCormick. "We were able to knock down some huge shots there at the end."
Santiago led Monroe with 25 points. Glasgow had 21 and Jones 14. Mateo and Chris Gibson Jr. chipped in eight points apiece.
4:07 to go in the 3rd – Maurice Coney III finds Chaz Washington for 3. @JMHSRedjackets 55 @GoEastEagles 46 pic.twitter.com/DqqiQOy4B3

— Paul Gotham (@PickinSplinters) December 16, 2017
Washington hit 10 of 12 from the free throw line and led all scorers with 27. Kni Jear Sapp added 24. Maurice Coney III had 10. Jordan Randolph and Kaori Barley had seven apiece.