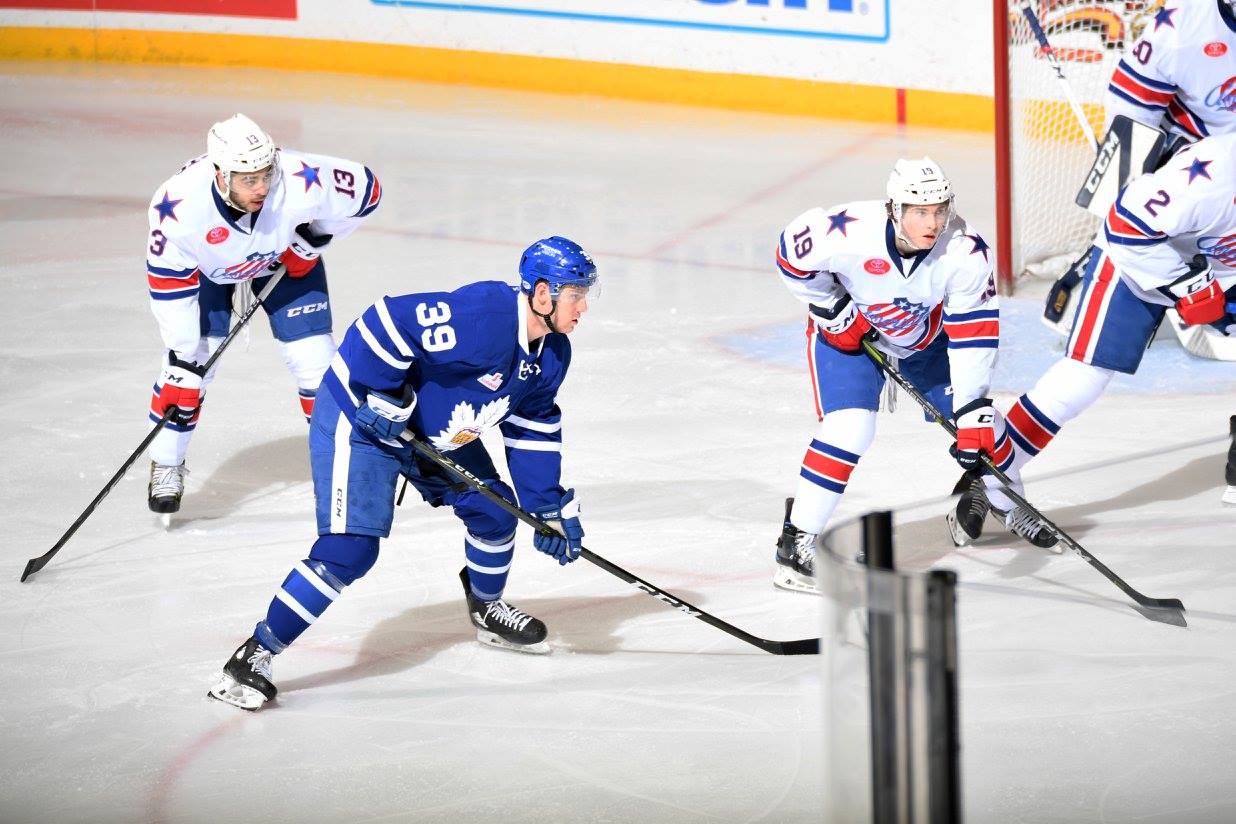 By TODD ETSHMAN
ROCHESTER, N.Y. — The first of eight meetings between the league leading Toronto Marlies and the Rochester Americans went to the Marlies, 3-2, at Blue Cross Arena on Friday night.
Despite the loss, the Amerks showed they were up to challenging the league's top team at the one third mark of the season. Crisp passes, fast skating, clean hitting and great goaltending and play making at both ends of the ice gave this game a special feel.
The Amerks had a strong second period and a 2-1 lead until the Marlies pulled even with 27 seconds left in the middle frame.
The game winner came at 13:29 of the third when Marlies right winger, Ben Smith, cut in front of the Rochester net, got a pinpoint feed from Jeremy Bracco and lit the lamp behind Amerks goaltender, Linus Ullmark.
"It was one of those games where a couple of bounces can get you a win or get you a loss," said Ullmark, who stopped several breakaway attempts and gave his team the opportunity at least, to win the game.
"It was a goalie's duel tonight," said head Coach Chris Taylor. "It was nice to see we're having this type of game in December."
The fast skating talented stable of Toronto forwards came out flying in the first period and grabbed the lead just over five minutes after the opening faceoff with precision passing and a goal by Kerby Rychel.
Close but no cigar post clangers were even at one in the period after C.J. Smith nearly tied it late in the first.
Defenseman Brendan Guhle did tie it at 8:22 of the second as he took a drop pass from Seth Griffith and ripped it glove side high on NHL experienced Marlies goalie, Calvin Pickard.
Guhle had seven shots on the night and fellow blueliner, Zach Redmond had six, making the Amerks defense an offensive threat the whole game.
"Guhle had an amazing night," Taylor said of his young defenseman. "That was an NHL goal. I love that our D (defensemen) are always up in the play."
After that, the Amerks proceeded to put on a show as they suddenly put a chokehold on freewheeling Marlies forwards, kept the opposition bottled up in their end and sent 19 shots on net.
Pickard, who seemingly had a job locked up in Las Vegas this year before he ended up back in the AHL, had to stop pucks with everything he had: glove, stick and facemask.
Alex Nylander got his second goal of the season halfway through the second period to put the home team up by one but it wasn't enough.
Down by one late in the game, Nick Baptiste took a hooking penalty with just over four minutes left to play then got a 10 minute misconduct for abuse of officials.
Taylor said Baptiste's penalty wasn't a bad one however, since he was just working hard to get the puck back. The Amerks killed the penalty then kept the pressure on in the final minutes but ran out of time.
Asked if the big game was a good measuring stick for his team, Taylor said: "We don't use a measuring stick against Toronto, we use it against ourselves. I'm pretty proud of what they did tonight. We came up short but I believe we're going to keep getting better."
"We played well, but not well enough, obviously," said Guhle. "They got the best of us in this one but I think we're a better team."
They'll have seven more chances to show if they are. The next test comes in Toronto on Dec 29.
The Marlies are back in Rochester on Feb 2.  Area hockey fans should circle it on their calendar. If it's anything like this one it'll be worth the price of admission.