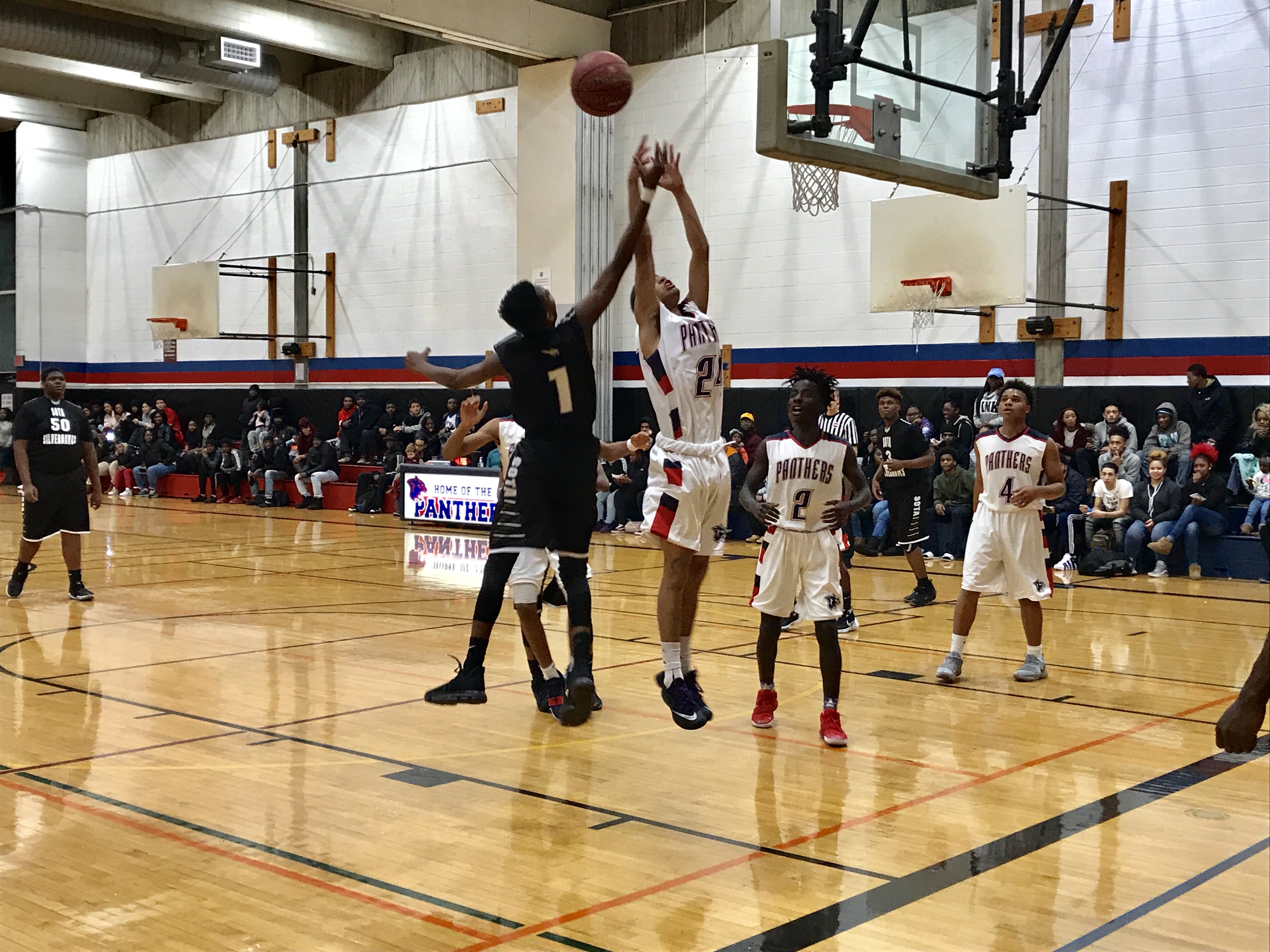 BY PAUL GOTHAM
ROCHESTER, N.Y. — For the early part of this 2017-18 boys basketball season, Jiahmere Mitchell has made his impact on the offensive end of the floor. The NE Douglass junior opened the campaign with an eye-popping 39-point performance in a win over Vertus Academy. He netted 26 the next night against Eastridge and carried an average of 27.3 points per game into the Panthers RCAC matchup with School of the Arts (SOTA).
Tuesday night, Mitchell let his defense do the talking.
With the clock winding down in the fourth quarter and NE Douglass clinging to a two-point edge, SOTA's Reggie Smith took advantage of a Panthers turnover and broke into the open court with nothing but open hardwood between him, the rim and a tying basket.
That is until Mitchell intervened. The 5-foot-10 guard caught up to the play, took flight and swatted away the layup attempt.
"I couldn't let them come into our home and win," Mitchell said. "I was just thinking in my head 'I can't let them make this.'"
A tie up ensued and NE Douglass took possession. Mitchell received the following inbound pass, was fouled and iced the game with two free throws for a 63-59 victory.
"We haven't lost at Douglass for three years," he added. "We wanted to keep the record. We wanted to fight more."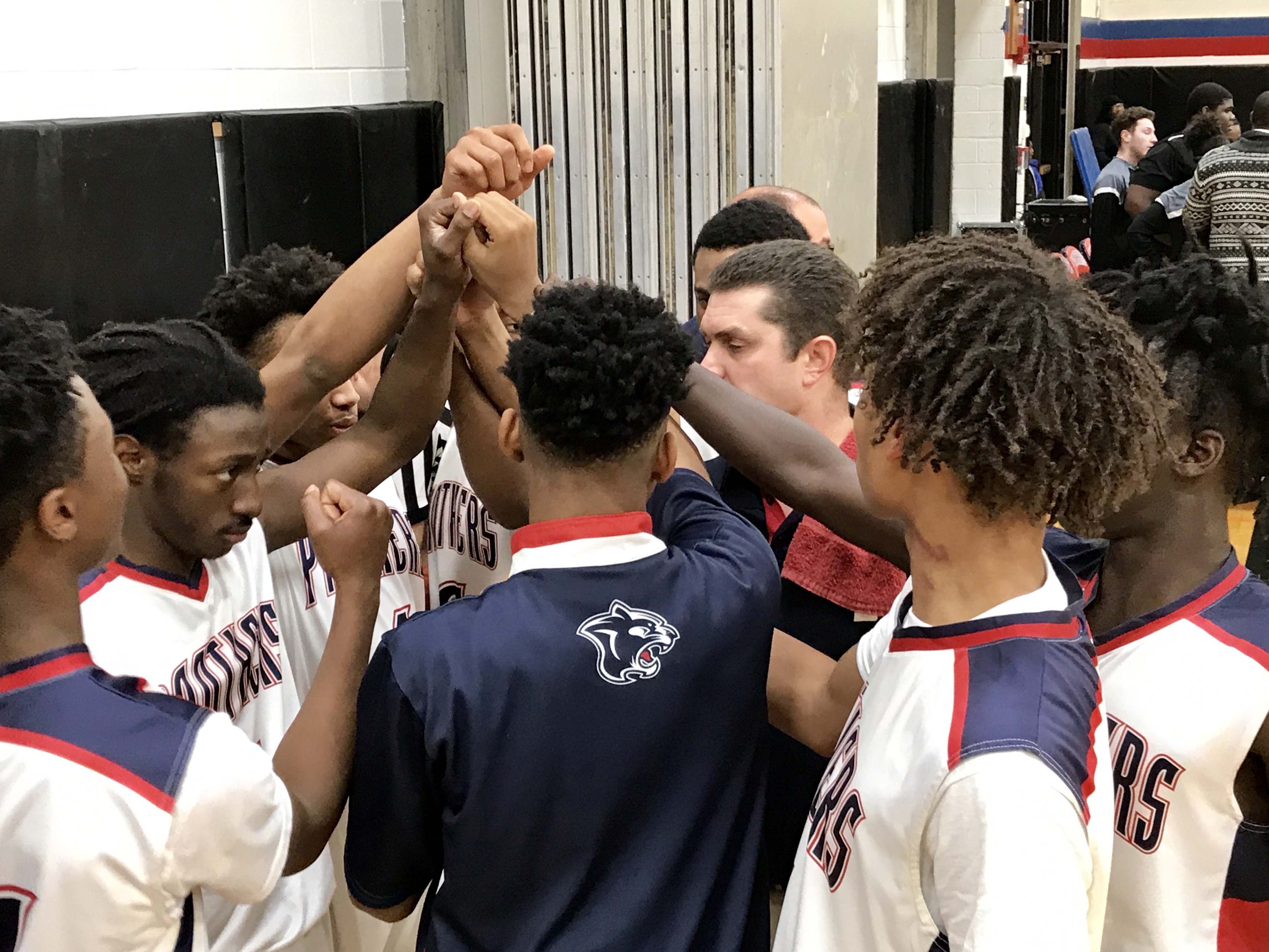 "That was a clutch play down the stretch," NE Douglass coach Kyle Crandall said. "When we needed him to come through, he did. That's what leaders do. We're hoping we can build on this and try to keep the momentum."
That Mitchell had a chance to preserve the win happened only because of his teammate, Lamar Lovelace, who moments earlier made another key defensive play when he intercepted a Ke'vion Mitchell pass intended for Ethain Clarke DeSouza waiting under the basket.
"They got a steal," Lovelace said. "I had to get back on defense. My teammate Maurice Glenn stopped the ball. I had to recover for him. I just went for the steal. I went off my instincts."
Saddled with early foul trouble, Mitchell scored 13 of his team-high 16 points in the second half. He keyed a pivotal 9-0 to start the second half.
Jiahmere Mitchell drive and bucket part of a 9-0 NE Douglass run to start the second half. pic.twitter.com/QfAlki6Iqa

— Paul Gotham (@PickinSplinters) December 12, 2017
"We tried to come out and disrupt them a little bit, but (at the same time) try to stay at home," Crandall explained.
Mitchell snapped a 28-all tie on the first possession of the half when he weaved his way through the SOTA 2-3 zone and finished with a scoop shot. Miguel Santos followed with a 3-pointer from the left corner.
Mitchell scored on a wing drive, and Adonis Flagler fetched a timeout from the SOTA bench when he converted a rebound and putback for a 37-28 NE Douglass lead.
"It wasn't really about any changes," Lovelace said. "We just got really motivated. We knew that we could play better. We came out in the second half and played way better."
The Panthers did not trail again, but they never gained separation from the Silverhawks.
"We've got two young teams out there," Crandall said. "Our young team is trying to figure out how do we build a lead and maintain it. School of the Arts battled the whole way. It was anybody's game with a minute to go."
DeSouza scored seven of his game-high 24 points over the remaining 5:51 of the third quarter. He hit one of two free throws with 3.8 seconds remaining in the stanza to cut the deficit to one at 47-46.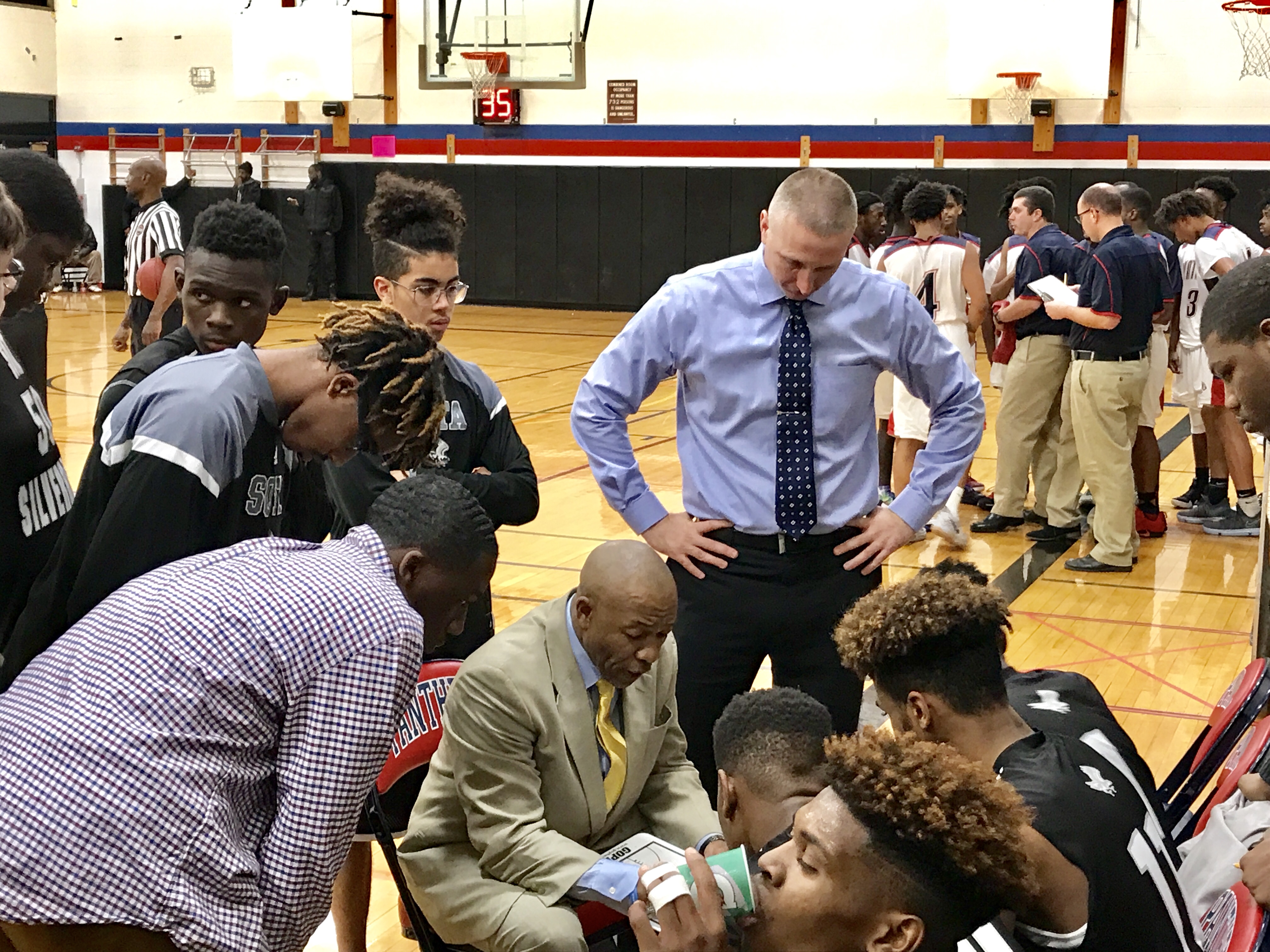 "He's a heckuva ball player," Crandall said of the 6-foot freshman guard from SOTA. "We saw him on film for a couple games, but seeing him live is different. He's a tough kid to stop, and he's going to be around for a while."
Glenn gave NE Douglass its largest lead of the fourth quarter when he dropped a baseline floater inside the four-minute mark for a 59-53 Panther advantage.
On the next play, DeSouza went end-to-end. Then Ke'vion Mitchell pulled SOTA within two when he converted a steal and layup. The Silverhawks stayed within two at 61-59 when Joe Denegal finished underneath.
"In the fourth quarter, we made an adjustment and went man," Crandall noted. "I thought we had to do that just to try to switch the momentum a little bit and see if we could cause them to take some shots that maybe they hadn't been shooting the rest of the game. We didn't know if we were going to go man today. I have to give credit to my kids for making those adjustments."
Smith connected three times behind the arc in the first quarter as SOTA led 17-16 after the first eight minutes.
"That was a hard-fought battle from beginning to end," Crandall said. "It was hard for us to try and figure out what our best defense was to go them. They obviously hit a bunch of threes. We caused some disruption with our traps at the beginning, but then our backside help left us vulnerable to the three."
SOTA still led at 26-25 when DeSouza grabbed an offensive rebound and stuck the putback.
Jiahmere Mitchell finished the game with six rebounds and an assist.
"He's our only returning starter," Crandall stated. "We've been working really hard especially since the Wilson game to strike that balance of making Jiahmere our go-to-guy but how is he able to get his teammates more involved in the game. He did a great job of that in the second half. He took really smart shots. Pretty much on every possession he dished the ball. He looked for assist opportunities."
Glenn added six rebounds and five assists. Lovelace scored 15 points. Trevion Miller had six rebounds. Nicolas Jeanty collected three steals.
Smith finished with 12 points for SOTA. Ke'vion Mitchell had nine. Denegal scored seven. SOTA starts three freshman: DeSouza, Mitchell and Smith.
From last night: SOTA's Ke'vion Mitchell drills a 3. pic.twitter.com/IGHwzr9l5t

— Paul Gotham (@PickinSplinters) December 13, 2017
With the win, NE Douglass improved to 2-2 overall and 1-1 in RCAC play. SOTA is 3-2 and Tuesday was their RCAC opener.