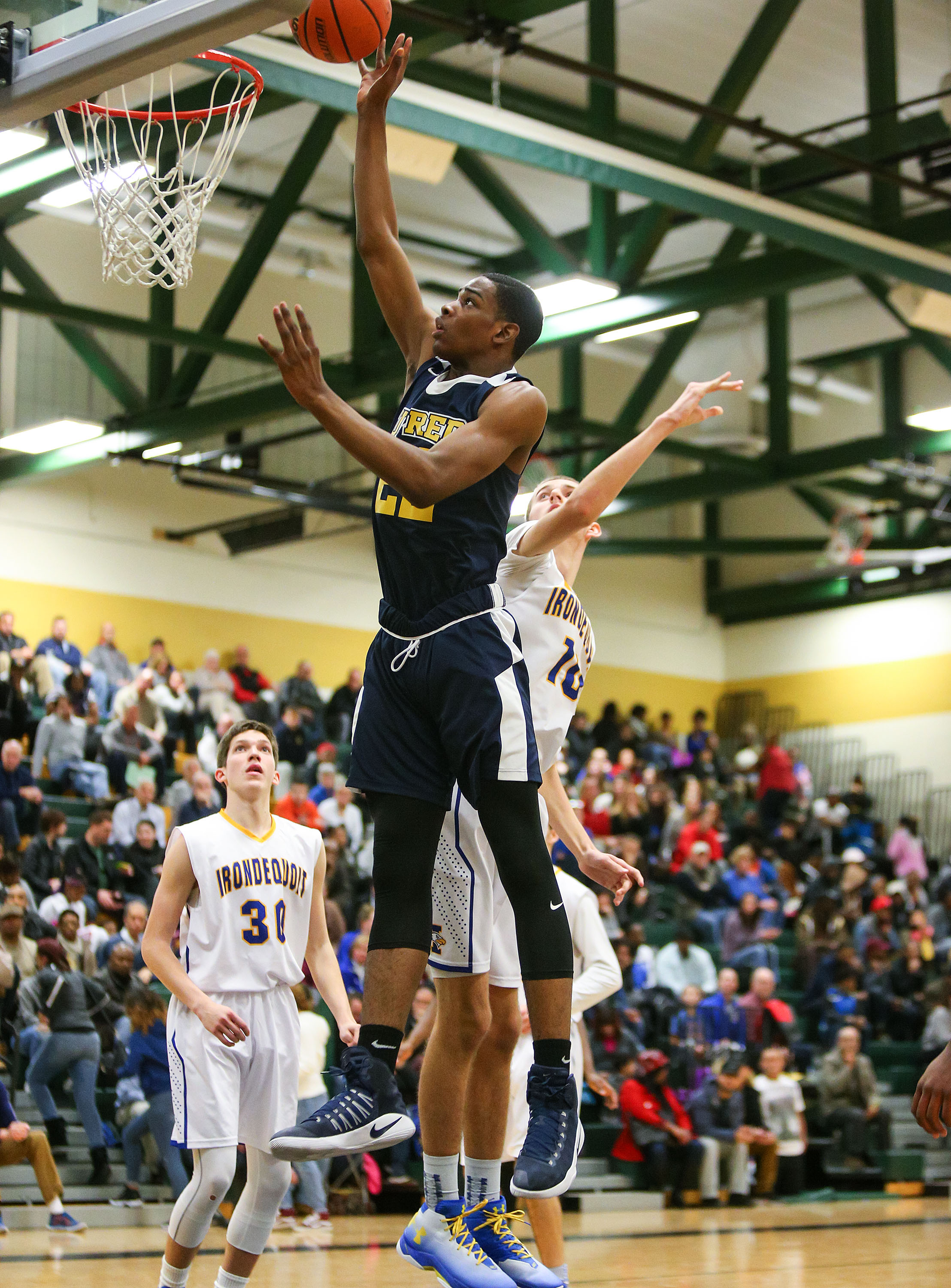 By MATT TRABOLD
Trabs Keeps Tabs
Class A1 Will Be Much Fun
We are just two full weeks into the current Section V boys basketball regular season, but it arguably already appears as though Class A1 has the most talent per capita in the section. Class A2 might contain a team or two more depth in terms of quantity, but the superior quality of its classification sibling is mesmerizing.
It took Irondequoit a little longer than most teams in the area to play in its first ballgame of this campaign, but the Eagles really did not even show a speck of rust in a victory by 45 points over Greece Arcadia. Bishop Kearney transfer Patrick Thomas and 6-foot-5 Gerald Drumgoole combined for 28 points and a few exciting transition tip slams and alley-oops against the Titans.
You guys. @WIEagles is fun to watch play the basketball. @g_drumgoole24 @FreddyJune8 @P_Thomas_3 pic.twitter.com/qndIqamSO3

— Toby Motyka (@TobyMotyka) December 9, 2017
More importantly, it appears that Robert Diaz-Judson and Frederick June Jr. could get close this year to pulling off the very difficult task of properly replacing Zach Stenglein, TySean Sizer and Devyn Walker in the backcourt for Chris Cardon and his staff.
Greece Athena also began its season a couple weeks back against Greece Arcadia. If you are counting at home, the Trojans beat those Titans by 42 points. The two results that Mike Setzer and company got their hands on this past week of action were much more striking though. This past Wednesday, Greece Athena rode a game-high 28 points from Nigel Scantlebury en route to a slim victory over University Preparatory Charter School for Young Men in a tussle that saw the score tied at the end of both the second quarter and the third quarter. In a fun and talented frontcourt battle filled with trash talk against the imposing 6-foot-7 Jabez Thomas, 6-foot-5 Ryan Kubanka held his own with eleven points.
This past Friday for the Trojans, all eyes were on senior guard Christian Jones. The first-year Section V player went off for 39 points, including a step-back threeball at the top of the key to just beat the buzzer at the end of the first quarter, eleven rebounds and five assists versus Brighton. Greece Athena is going to be tough to take down this season due to having essentially three lead guards with Jones, Scantlebury and Patrick Meisenzahl. The biggest x-factor though could be the only underclassman on that roster in sophomore Melvin Council due to his lengthiness, confidence shooting from the perimeter and lateral quickness off the bench. He is the son of Rochester RazorShark Melvin Council.
If any team is capable of winning the sectional title in this classification down the road this year over Irondequoit and Greece Athena, it is probably Pittsford Sutherland. The Knights have the best team height in Class A1 presently. Matt Thaney is a guard with plenty of perimeter prowess despite standing 6-foot-5 in this area, but a fellow 6-foot-5 weapon for John Nally and his staff in Kevin Ryan is a true post savant. Blessed with phenomenal spatial awareness on the court, Ryan wastes no time finding the best way to the basket if he senses that the defense is even a single iota not on top of him when the pass comes into him. 6-foot-2 Josh Rosen has really come into his own as a senior after the initial bigger name entering this campaign in 6-foot-1 Craig Rosen had to miss some time early on. The Knights host Greece Athena this Friday at 7:15 P.M.
Additionally, keep at least half of an eye on Canandaigua this time around. Scott Loforte and the rest of the Braves should come together to build a pretty good record this year due to just about everyone in that rotation being able to shoot well from deep on top of a suffocating press that gets utilized frequently.
VIEW MORE CHRISTOPHER CECERE PHOTOS HERE. 
SLAP YOUR PEEPERS ON THIS FIVER
University Preparatory Charter School for Young Men at Aquinas Institute—Wed., Dec. 13, 6:30 PM
Aquinas Institute sophomore guard Ruben Torres can be deadly shooting from the perimeter, so a big question mark for this game is if a junior backcourt player for the Griffins in Jakhi Lucas can properly defend Torres out there after going through a very noticeable growth spurt this most recent offseason. The home squad will have to deal with Jabez Thomas in this one, but its starting frontcourt goes 6-foot-4 with Kidtrell Blocker and 6-foot-10 with Tyler Warner. 6-foot-7 Steven Mahar comes off the bench behind that pair. Blocker threw down a baseline dunk to start the scoring for his side in their season-opening win over Penfield. Warner is still honing his scoring attack, but he has been putting up some solid rebounding numbers early this year.
Clyde-Savannah at East Rochester—Wed., Dec. 13, 7:30 PM
Thunderbolt Clyde-Savannah guards Derrick Chance and Marcus Chance Jr. have been Section V boys basketball staples for a few seasons now. Derrick, Marcus Jr. and their younger brother in freshman Camden Chance combined for a whopping 65 points in a victory by 28 points over Gananda last Thursday. On top of that, a 6-foot-2 senior for the Golden Eagles in Dru Carnevale was on a team that competed in the 2017 AAU Boys Basketball Nationals 17U DII Championship on ESPN3 this past July. Gone from East Rochester this time around is productive head coach's son Casey Michele. One of the top returners for the Bombers is 6-foot-4 man in the middle John Lexer. He will be the tallest player on the floor when these two teams do battle on Wednesday night.
Gates Chili at Fairport—Fri., Dec. 15, 7:30 PM
6-foot-5 Fairport senior Jackson Sullivan might be built like a hulking offensive lineman, but he is undoubtedly one of the smoothest frontcourt players Section V has to offer this season. Despite not getting to play much for the Red Raiders last season, Sullivan has a wide array of post moves and reverse layups in his repertoire to mystify opponents with on top of being a capable outside shooter at his size. McQuaid Jesuit transfer Thomas Jones III is a huge talent around here, but the Spartans could really use a big game out of fellow front line starter Gunther Kroth in this one. The 6-foot-4 Kroth showed some flashes against Monroe last Friday night. Mark Morrison is going to send home all sorts of triples for Gates Chili as a senior.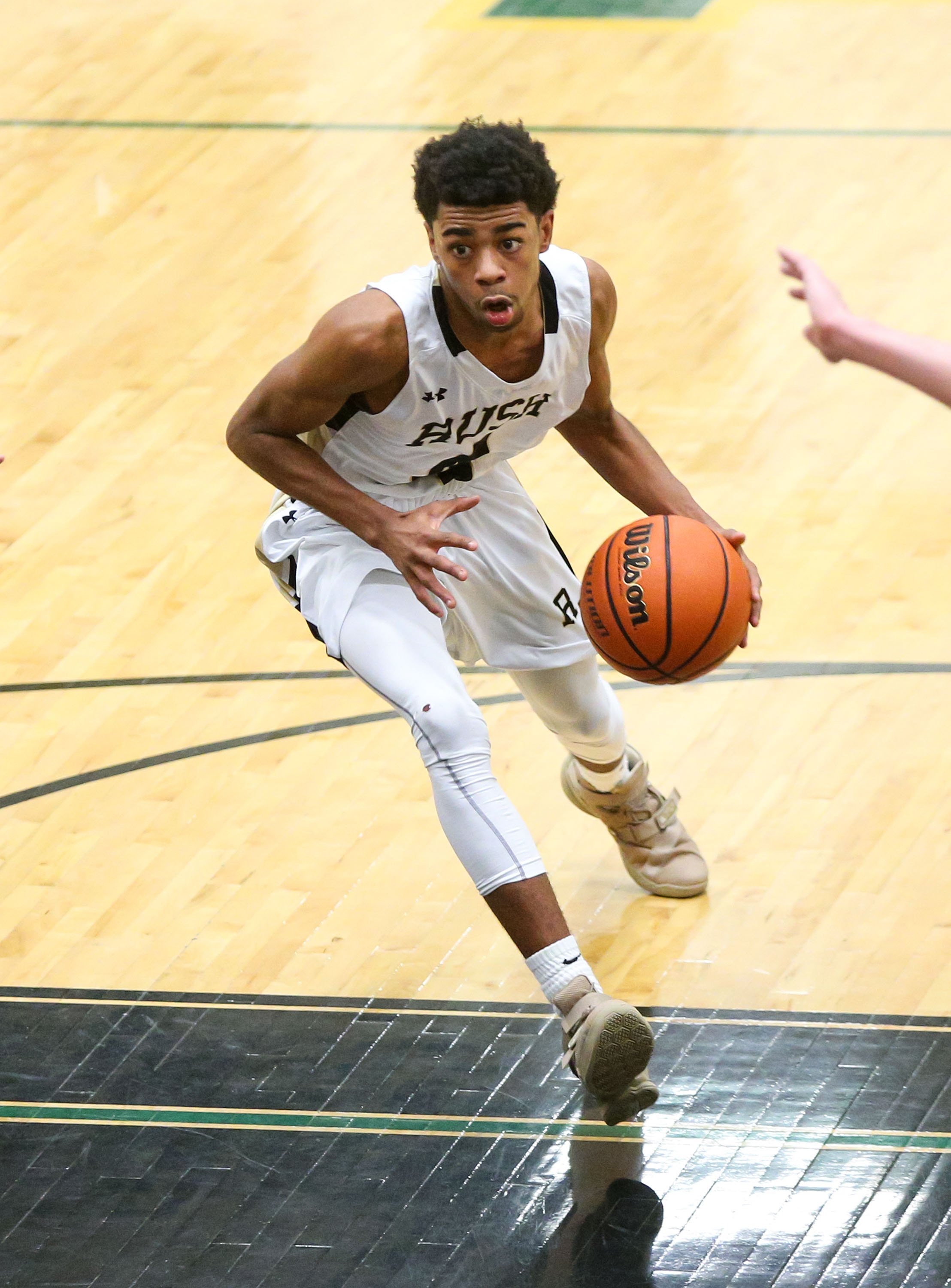 Hilton at Rush-Henrietta—Fri., Dec. 15, 7:15 PM
The biggest concern going into this game has to do with whether or not Tah-jae Hill will get to play for the Cadets against the Royal Comets. Hill participated in the layup lines surrounding the home game for Hilton last Friday versus Fairport, but he never changed out of his athletic department sweat suit for the actual action. The backcourt lengthiness of Hill would really help against the guard play size of Kailee White and Mecca McCullough. After not being present for Rush-Henrietta beginning this season on the road at Churchville-Chili, 6-foot-5 Shamire Broyld exploded for twenty points last Friday night at Penfield, including a threeball that narrowly beat the horn at the end of the third quarter. Another big man in this battle that is understandably not afraid to hoist from behind the arc is Hilton 6-foot-4 senior Nick Walsh.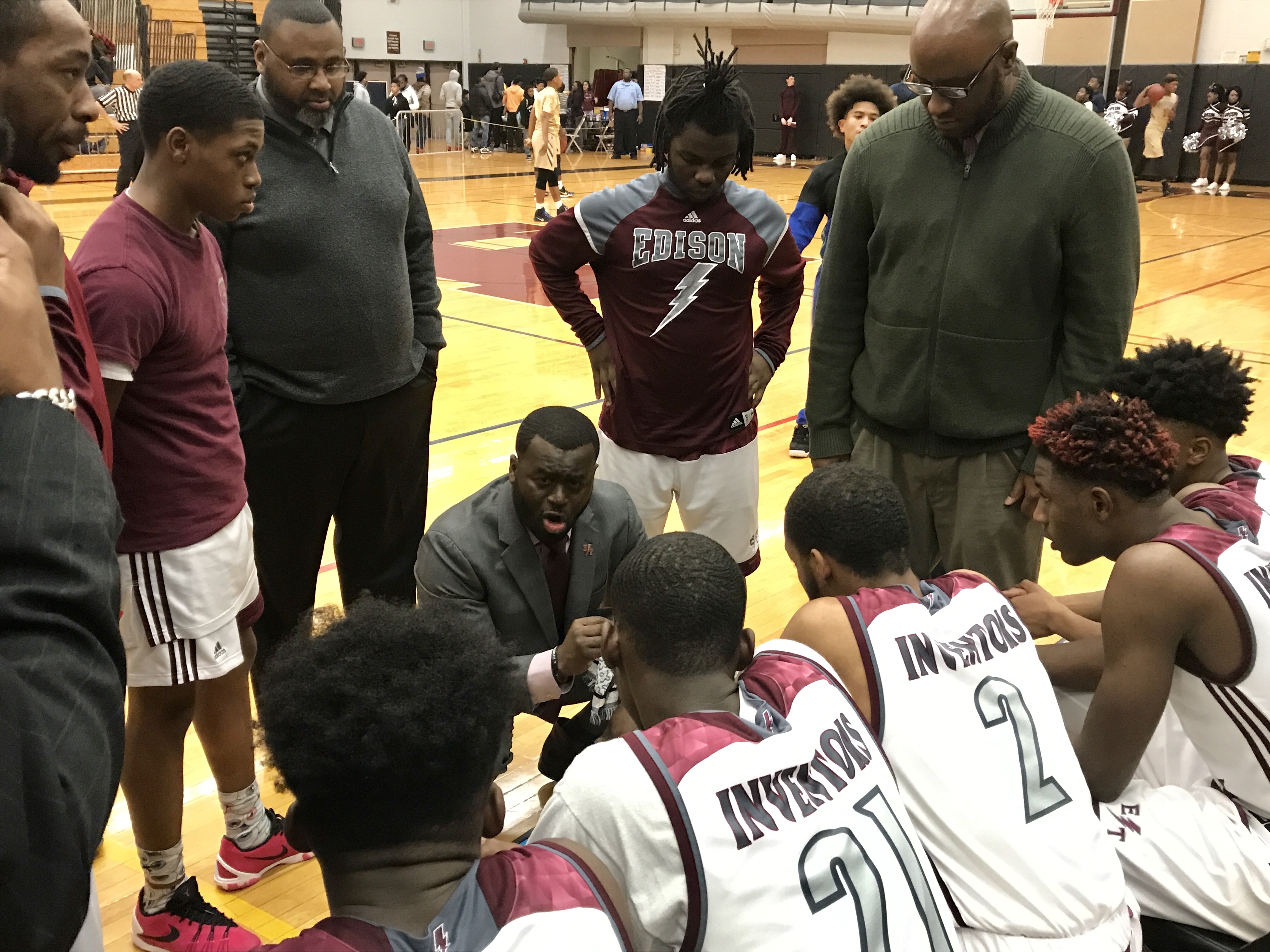 Edison Tech at McQuaid Jesuit—Fri., Dec. 15, 7:00 PM
McQuaid Jesuit may have lost the three members of its incredibly notable starting frontcourt from last season, but the starting backcourt stayed intact for this campaign behind Anthony Iglesia and Divine Williams. In addition, that roster brought back a couple more rotation guards from a year ago in sophomore Kobe Long and Josh Purcell. A new addition to the rotation for Jack Leasure and his staff to watch out for is 6-foot-3 sophomore Jermaine Taggart. He poured in 23 points in the first half of the squad's season opener versus Monroe. Speaking of new faces for this year involved in this one, Marquan Anderson and Alton Knight have quickly made their presence felt for the Inventors. What makes Anderson so dangerous is that he expertly navigates the front of the press for Edison Tech despite standing 6-foot-4. Dylon Foster started for the Inventors as a freshman last season.
SECTION V IN DIVISION I UPDATE
Anthony Lamb–So., Vermont (Greece Athena)
Lamb has come around since not playing his best in the two games immediately following his outing of fifteen points and seven rebounds against a ranked Kentucky group to begin his sophomore campaign. This past Saturday in an unfortunate loss to Northeastern, Anthony had a career-high 32 points and two blocks. In that one, he shot a bewildering 15-of-15 from the charity stripe. Lamb and the Catamounts square off with St. Bonaventure at The Blue Cross Arena at the War Memorial this Saturday afternoon at 4:00 P.M. Anthony will most likely be matched up in the trenches primarily with fellow sophomore Josh Ayeni. Both men shoot jumpers well for their position. The key for Lamb winning that frontcourt battle is arguably getting Ayeni into foul trouble. The latter has fouled out of the last two contests for the Bonnies.
Deyshonee Much–Sr., Iona (Gates Chili)
Much began his senior campaign with a foursome of double-digit scoring outings in a row, including a performance of thirteen points, four assists and just a single turnover on the road at Syracuse. Last time out, Deyshonee went for twelve points on 2-of-2 shooting from downtown and a season-high seven rebounds versus New Jersey Institute of Technology. Much is in the midst of his best collegiate rebounding season. 6-foot-7 Yale sophomore guard Miye Oni was not able to play in the last game for the Bulldogs against St. Bonaventure due to an illness. If Oni is healthy enough to compete Tuesday night against Much and the Gaels, it should be a fun battle between those two due to the similar rangy body types and sets of skills of those guys.