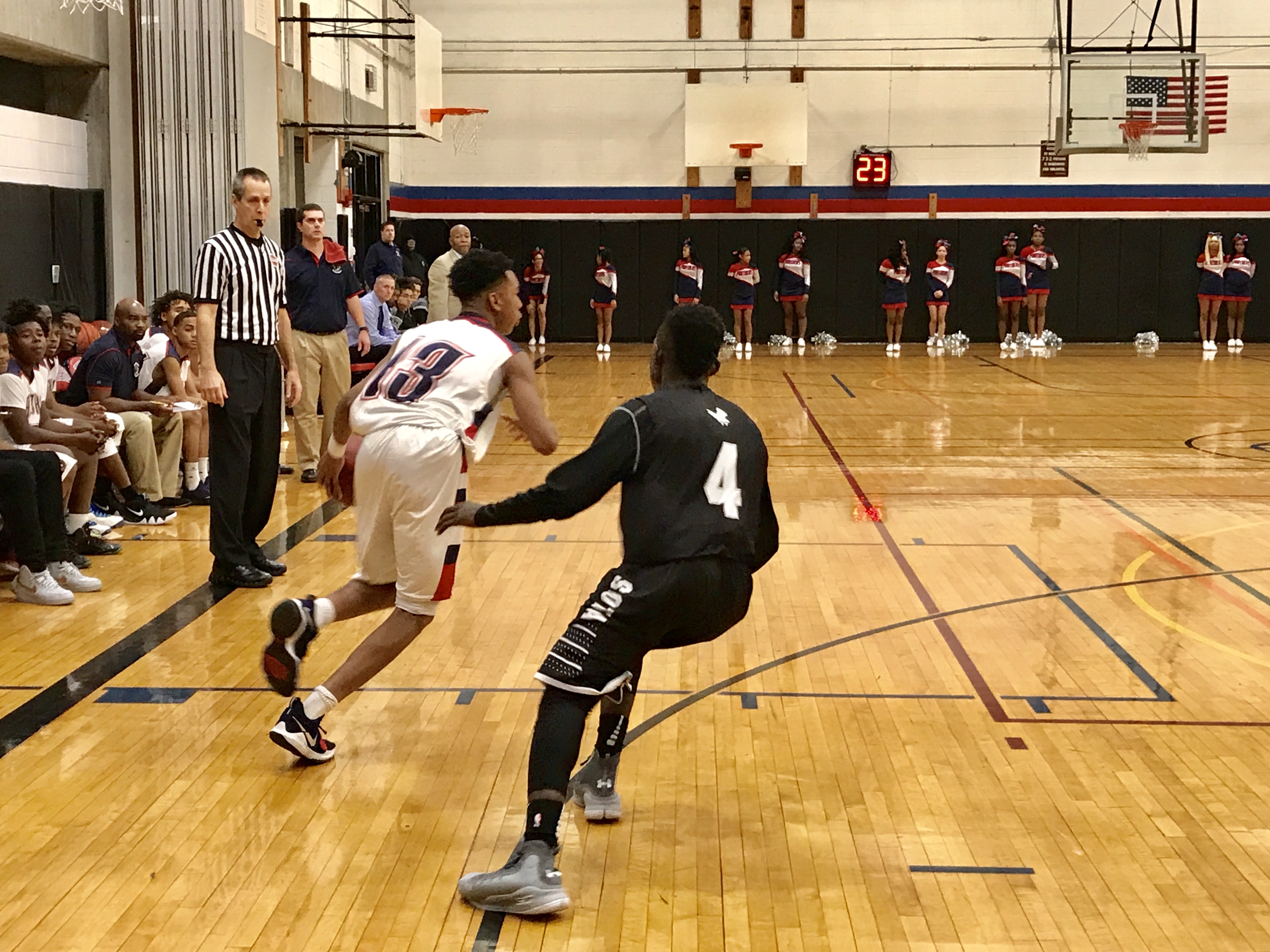 FAIRPORT 47
WEBSTER THOMAS 31
Jackson Sullivan connected five times from the floor in the third quarter as Fairport outscored Thomas 16-7 over the eight minutes. The 6-foot-5, 250-pound forward completed a traditional 3-point play connected once behind the arc and finished with a game-high 18 points. Fairport, which had hit 13 3-pointers in both of its previous two contests, connected just five times from behind the arc Tuesday night. Brett Heininger added nine points for the Red Raiders (4-0). Joe Luconte led Thomas with nine points. Andrew Mason and Colin LaBarbera added seven apiece.
GATES-CHILI 81
SPENCERPORT 72
Keith Slack registered a double-double, and Gates-Chili improved to 3-0 on the season. Slack, who averaged 29 points in the Spartans first two victories, netted 18 and grabbed 11 rebounds in Tuesday's win. Mark Morrison connected on four of eight attempts behind the 3-point arc and finished with 18 points. Mitchell Harris and Adam Williams added 1o points apiece for G-C. Spencerport's Noah Mundt scored 16 of his 18 points in the second half. Alton Jones Jr. chipped in 15. Josh Reding finished with 15 points and nine assists for the Rangers.
NE DOUGLASS 63
SOTA 59
For the early part of this 2017-18 boys basketball season, Jiahmere Mitchell has made his impact on the offensive end of the floor. The NE Douglass junior opened the campaign with an eye-popping 39-point performance in a win over Vertus Academy. He netted 26 the next night against Eastridge and carried an average of 27.3 points per game into the Panthers RCAC matchup with School of the Arts (SOTA).
Tuesday night, Mitchell let his defense do the talking. READ MORE.
FRANKLIN 58
WILSON MAGNET 85
Robert Davis scored 11 of his game-high 21 points in the second quarter as Wilson Magnet took a 13-point lead into the locker room. Davis connected twice behind the arc and finished 5-of-5 from the free throw line for the game. Brennan Clark converted seven of 10 free throws and added 15 points for the Wildcats. Malikk Johnson chipped in 12 points, and Tony Bradley had 10 for the Wildcats. Desi Floyd added nine points and Rickey Gamble, eight. Tramel Bush and Tahjir King scored 14 apiece for the Quakers. Tyree Spann had 11.
HAC 49
RED JACKET 47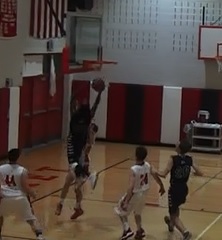 SHORTSVILLE — HAC's Xavier Israel scored on a driving layup with 4.4 seconds left to lead the Wolves to a stunning, come-from-behind 49-47 victory at Red Jacket Tuesday night.
With the score tied at 47, HAC called their last time out with 8.9 seconds left to set up sideline play from half court. Israel inbounded the ball to Ryan Hilton who was pinned by two Red Jacket defenders. But Hilton turned and hit Israel in stride with a perfect pass, and Israel made it count over the outstretched arms of a Red Jacket defender.
 HAC, off to its best start since 2009 at 5-1, exorcised their demons in a gym where they haven't won in nine games including a sectional loss in 2012. Red Jacket fell to 1-4, losing three games by a combined total of four points.
HAC took the lead 47-45 on a short runner by Israel, but Matt Record answered with :35 left with a layup of his own to tied the score. HAC missed four free throws down the stretch but got two offensive rebounds by Rob Dorsey to maintain possession and setting up the final dramatic seconds.
Red Jacket raced to a 31-20 halftime lead thanks to a second quarter which saw the Indians outscore HAC 24-14. Leading the charge for RJ was sharp-shooting Travis Liberty and Record (three 3-pointers) with nine points apiece.
But the Wolves regrouped at intermission, ratcheting up the defensive presssure, holding RJ to just 13 points over the last 15 minutes, but still trailed by 10 heading into the final quarter, 43-33. In the fourth, HAC outscored Red Jacket 15-4.
Israel (19 points), Zitong Jin (9 points) and Yuhui Feng (9 points) helped lead the offense for HAC, while Record finished with 19 and Liberty 11 and Tyler Cosgrove 9. Hilton finished with 7 points, 18 rebounds, 4 assists and 4 blocks.
BLOOMFIELD 101 2OT
HONEOYE 99
The top offensive performers for the Bombers were Pat Geitner, who scored 50 points with only two three-pointers, and Alex Roach, who added 25 points. For the Bulldogs, Max Yale had 33 points, Jon Marble, who tallied 25 points, and Jonny Viera scored 13 points. READ MORE.
We're all driving in snow, but @pgeitnerr is driving the lane for @goBCSbombers against @HoneoyeSports. Bombers lead 70-66 with 5 min left. @sectvbb pic.twitter.com/5E8vb2ZZDs

— Bob Chavez (@MPN_bchavez) December 13, 2017
PRATTSBURGH 66
HAMMONDSPORT 36
Prattsburgh senior Garrett Socola finished with 19 points, 10 rebounds, six assists, five steals and four blocks. Sophomore teammate Mason Putnam scored 25 points and swiped five steals. Mo Anderson chipped in 11 points. Prattsburgh led by 20 at half. Brayden Whitcomb paced Hammondsport with 10 points. Cameron Roote had eight points and Parker Watson with six for the Lakers.
YORK 53
CALEDONIA-MUMFORD 69
Vin Molisani connected on four triples and finished with 18 points, eight rebounds and four assists, and Caledonia-Mumford (3-0) turned a 20-7 advantage after the first quarter into a 22-point bulge at half. Ian Lenhardt scored 15 points and hauled in 15 rebounds. Eric Wilson chipped 11 points. Jon Bollard had nine points and four assists. Matt McFarland led York (1-3) with 15 points. Connor Reilly hit three 3s for York.
MARCUS WHITMAN 34
LIVONIA 64
Devante Gwyn led three in double figures for Livonia with 12 points. Barrett Lowe added 11 points and five assists. Andrew Crossway had 10 points. Livonia opened a 21-4 lead to start the game.
NAPLES 68
ROMULUS 56
DUNDEE 30
SOUTH SENECA 50
GENEVA 56
VERTUS 47
ADDISON 78
BATH-HAVERLING 58
MT. MORRIS 67
AVON 72
ALLEGANY-LIMESTONE 47
CUBA-RUSHFORD 75
ARKPORT-CANASERAGA 37
WHITESVILLE 56
OSWAYO VALLEY 71
FRIENDSHIP 25
CANISTEO-GREENWOOD 38
BRADFORD 36
After trailing by as many as 10 points through the first three quarters, Canisteo-Greenwood outscored Bradford 15-6 in the fourth quarter for the comeback win.
HORNELL
NORTHSTAR CHRISTIAN PPD.
KESHEQUA
LETCHWORTH PPD.
PAVILION
WARSAW PPD