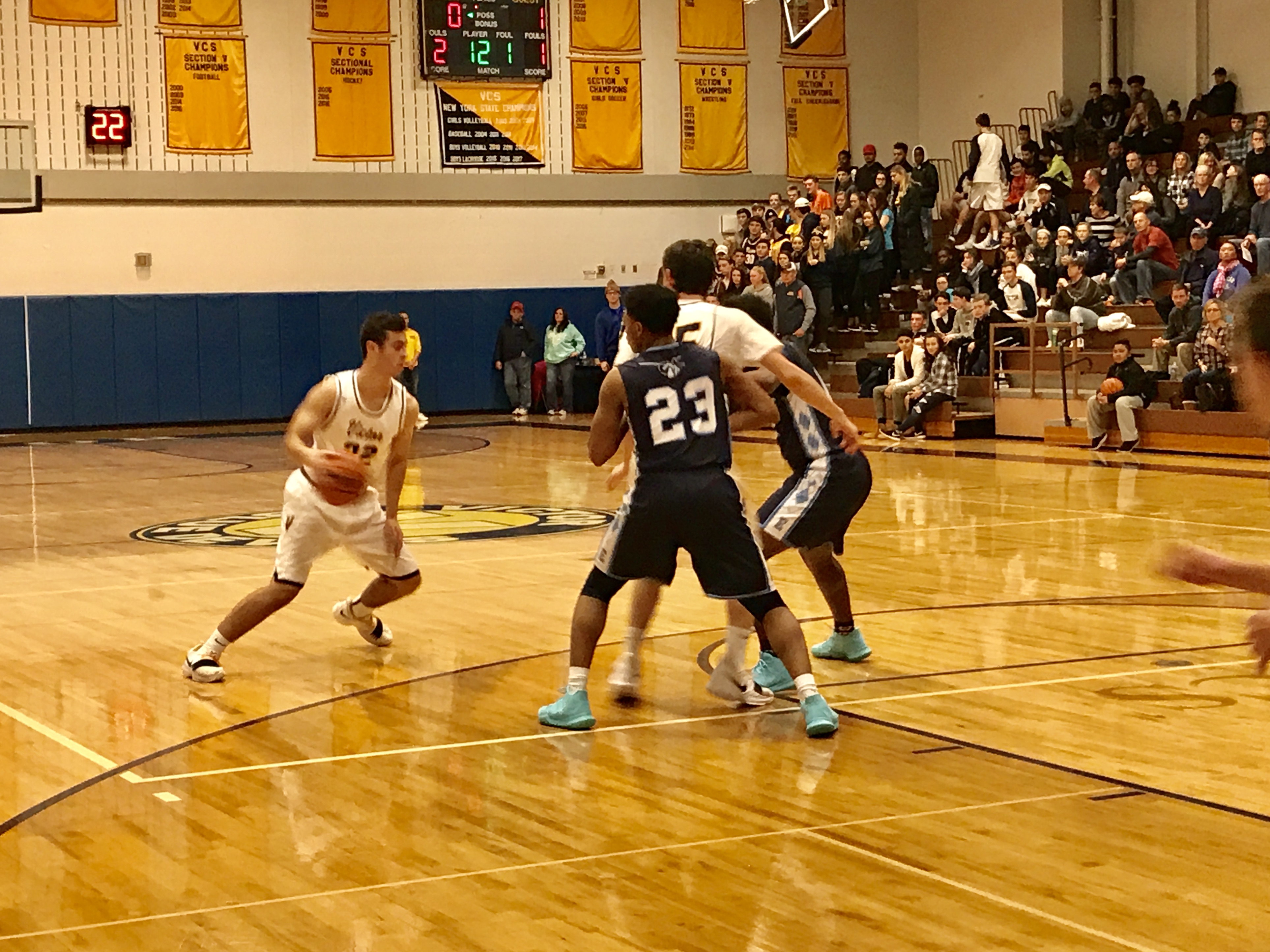 EASTRIDGE 60
VICTOR 62
Tanner Hay hit a runner off the window with less than three minutes remaining to give the Blue Devils a lead they did not surrender. READ MORE.
GREECE ODYSSEY 40
PENN YAN 66
Desmond Battin netted 12 of his game-high 21 points in the first half as Penn Yan took an eight-point advantage at 25-17 into the locker room . The senior guard connected nine times from the floor in the game including a pair from behind the arc. Dylan Stape added 13 points for the Mustangs while Ben Emerson and Peyton Shuck chipped in 10 apiece. Romell Griffin hit three 3-pointers and finished with nine points to lead Odyssey. Ray Colbert and Travon Harper added seven apiece for the Leopards.
PALMYRA-MACEDON 71
WILLIAMSON 56
Logan Ameele poured in 32 points to go with 12 rebounds, five assists and five steals to lead Pal-Mac. The Red Raiders took a 13-point lead into halftime, and Ameele scored 12 points in the third to help secure the win. Travis Snyder added 19 points and 11 rebounds for Pal-Mac. Sawyer Bloom had seven points, eight assists and two steals. Drew DiSanto led Williamson with 16 points and five assists. Nigel Cobb had 15 points and six rebounds. Adam Fisk chipped in 10 points.
ROCHESTER PREP 52
HOLLEY 54
Pat Bower scored 28 points and corralled 10 rebounds to lead Holley. Andrew Moseman added 11 points and 10 assists.
ANDOVER 75
FRIENDSHIP 26
NEW LIFE SCHOOL 63
HOUGHTON 40
BARKER 62
KENDALL 71
C.G. FINNEY 79
ALBION (VI) 51
MARCUS WHITMAN 60
NORTH ROSE-WOLCOTT 46
MIDLAKES 56
GANANDA 62