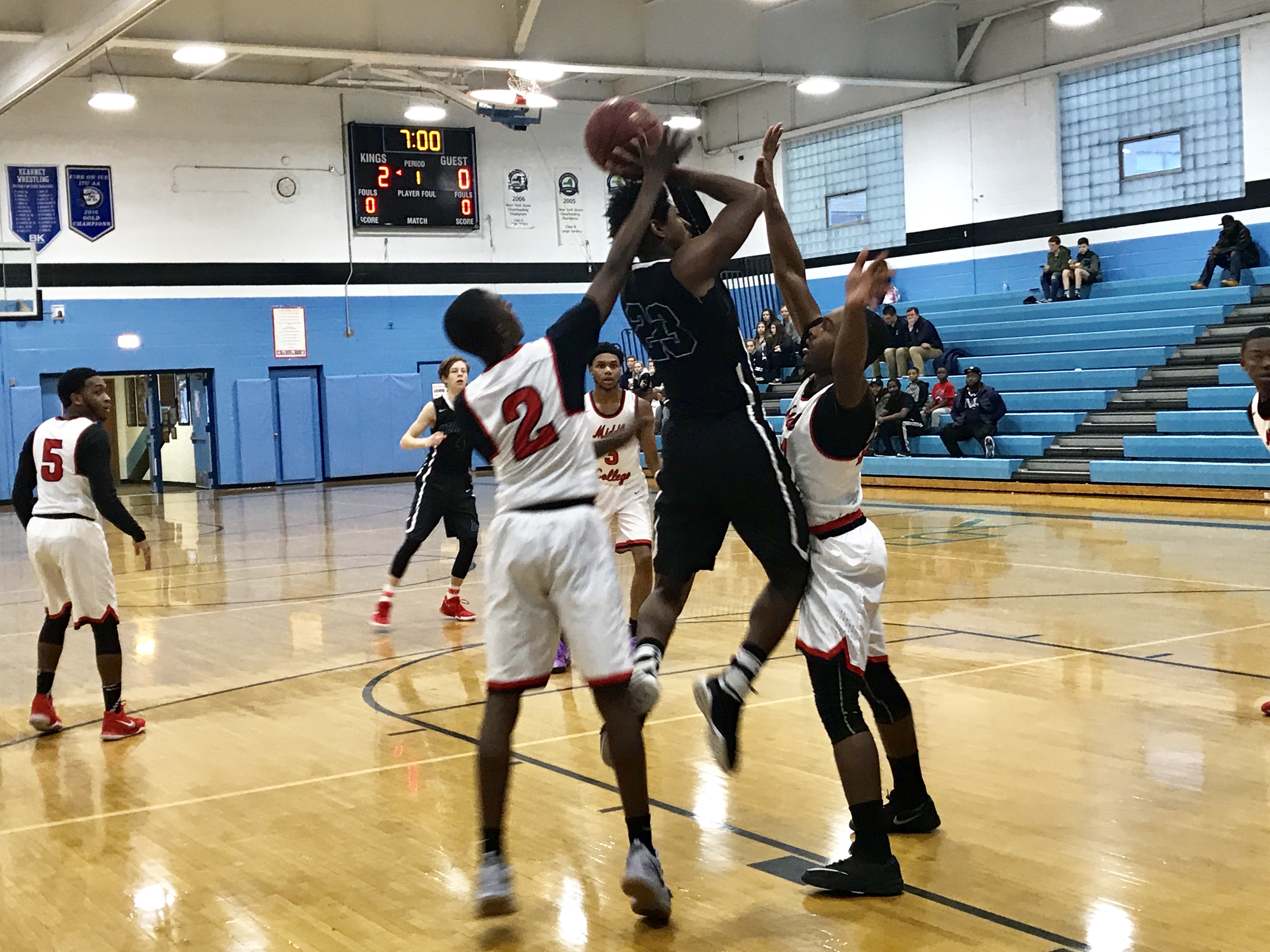 By PAUL GOTHAM
ROCHESTER, N.Y. — After Saturday's disappointing performance, Kevin Goode Sr. asked his squad a question.
On Sunday, the fifth-year coach received the desired response.
Four players scored in double figures, and the Kings defeated Middle Early College (VI), 76-60 in the Bishop Kearney Christmas Showcase played at Ed Nietopski Gymnasium.
"It was like night and day compared to yesterday," Goode said. "That's the way we're supposed to be playing on a consistent basis."
Kevin Goode Jr. scored six points and handed out two assists in the fourth quarter as BK outscored Middle Early College 22-9 over the final eight minutes to turn a one-possession game into a blowout.
"We had to just keep playing our game," the younger Goode said. "Just move the ball, and keep passing the ball like the way we were in the first half and keep getting at the basket."
Kevin Goode Jr. converts the run out. At the half: Bishop Kearney 34 Middle Early College 29. AJ Gray leads all scorers with 13. Nate Jackson and Hakeem Dobbins have 10 for Middle Early College. pic.twitter.com/zPmk2a2Rnn

— Paul Gotham (@PickinSplinters) December 10, 2017
Leading by three at 54-51, Goode got in the lane and finished a finger roll. After Michael Gentile set up Jamal Fennell for two, Goode dished to AJ Gray in the lane for the hurt, harm and a double-digit lead at 61-51.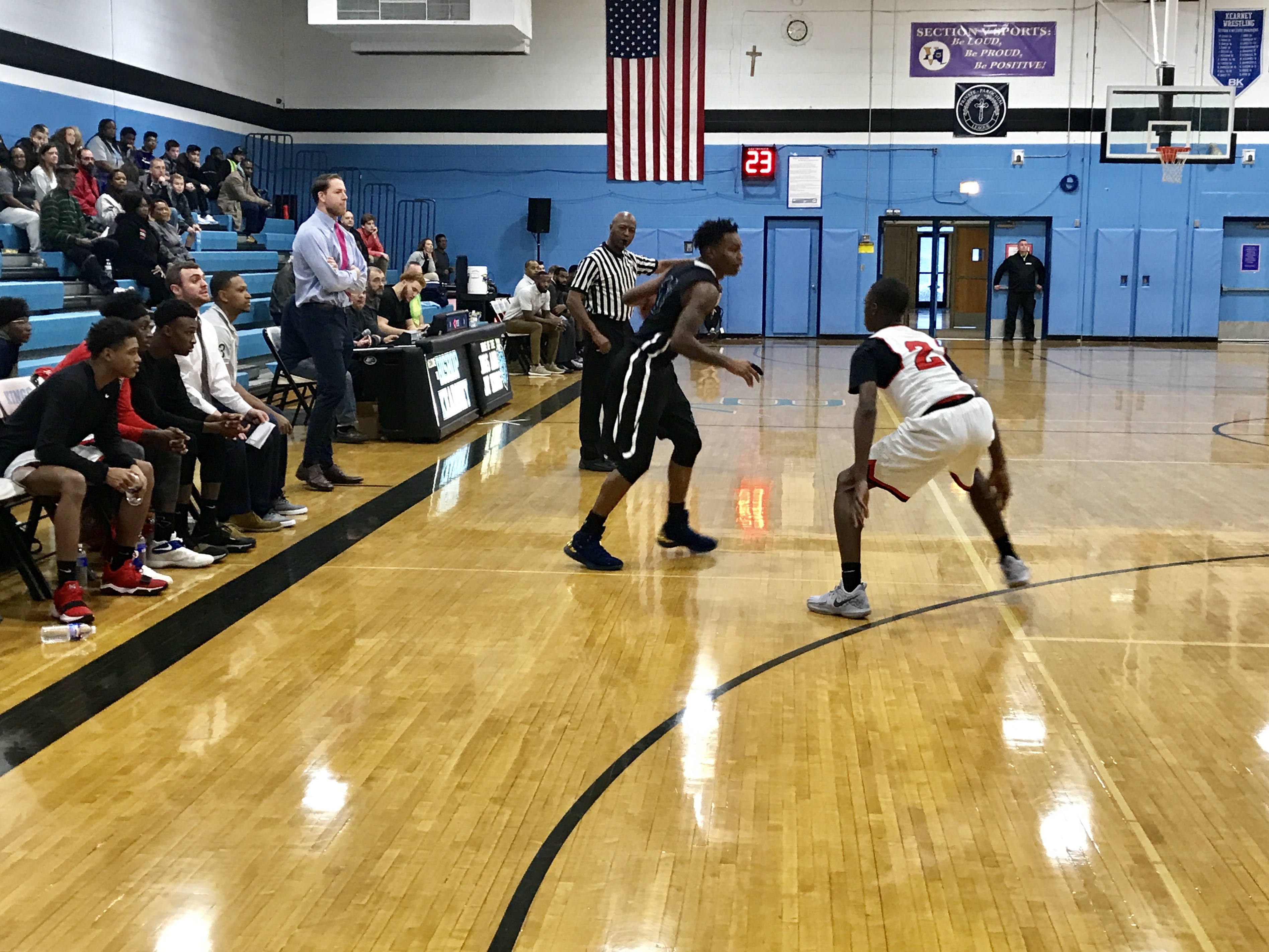 "That was pretty much what we work on in practice every day," the younger Goode said. "It was getting to the basket and finishing at the basket."
Gray netted nine of his game-high 20 points in the first quarter when the Kings jumped to a 16-2 lead. The 6-foot-4 forward finished a layup on the break and completed a traditional 3-point play. He took a feed from Goode inside and converted at the rim and later scored on a baby hook in the lane. Finally Gray grabbed a Shykell Brown lead to give BK the 14-point advantage at 16-2.
AJ Gray finishes the baby hook in the lane for 2 of his 9 first quarter points. Bishop Kearney 16 Middle Early College 6. pic.twitter.com/6FEEJJxouD

— Paul Gotham (@PickinSplinters) December 10, 2017
Less than 24 hours after falling to the Elmira Express, 60-54, the Kings had a lead they never surrendered.
"I told them to do some soul searching," the elder Goode said of his post-game comments to his team Saturday. "You know, how good do they want to be? That was the question that I posed to them after yesterday's game. We're not playing anywhere like what we should be playing. Today was their answer to the question that I asked them."
Brown and Goode Jr. combined to give Kearney its biggest lead of the game midway through the third quarter. Brown used a Fennell ball screen to get loose for free-throw line pull-up jumper. Goode took a Brown lead in transition and knocked down a triple from the right wing. Brown went end-to-end for a layup and then led Goode into the open for two.
Shykell Brown making it look easy. pic.twitter.com/8ph7Wyr3j1

— Paul Gotham (@PickinSplinters) December 10, 2017
Middle Early College made a run late in the third quarter but unlike Saturday, the Kings bent but didn't break.
Brown had 19 points and five assists. Goode scored 18 and collected six assists. Fennell scored 14 including six straight in the second quarter.
Hakeem Dobbins paced Middle Early College with 19 points. Nate Jackson added 17. Jamond Jones had 10.
Kearney (1-2) travels to play at Nottingham High School (III) on Wednesday.