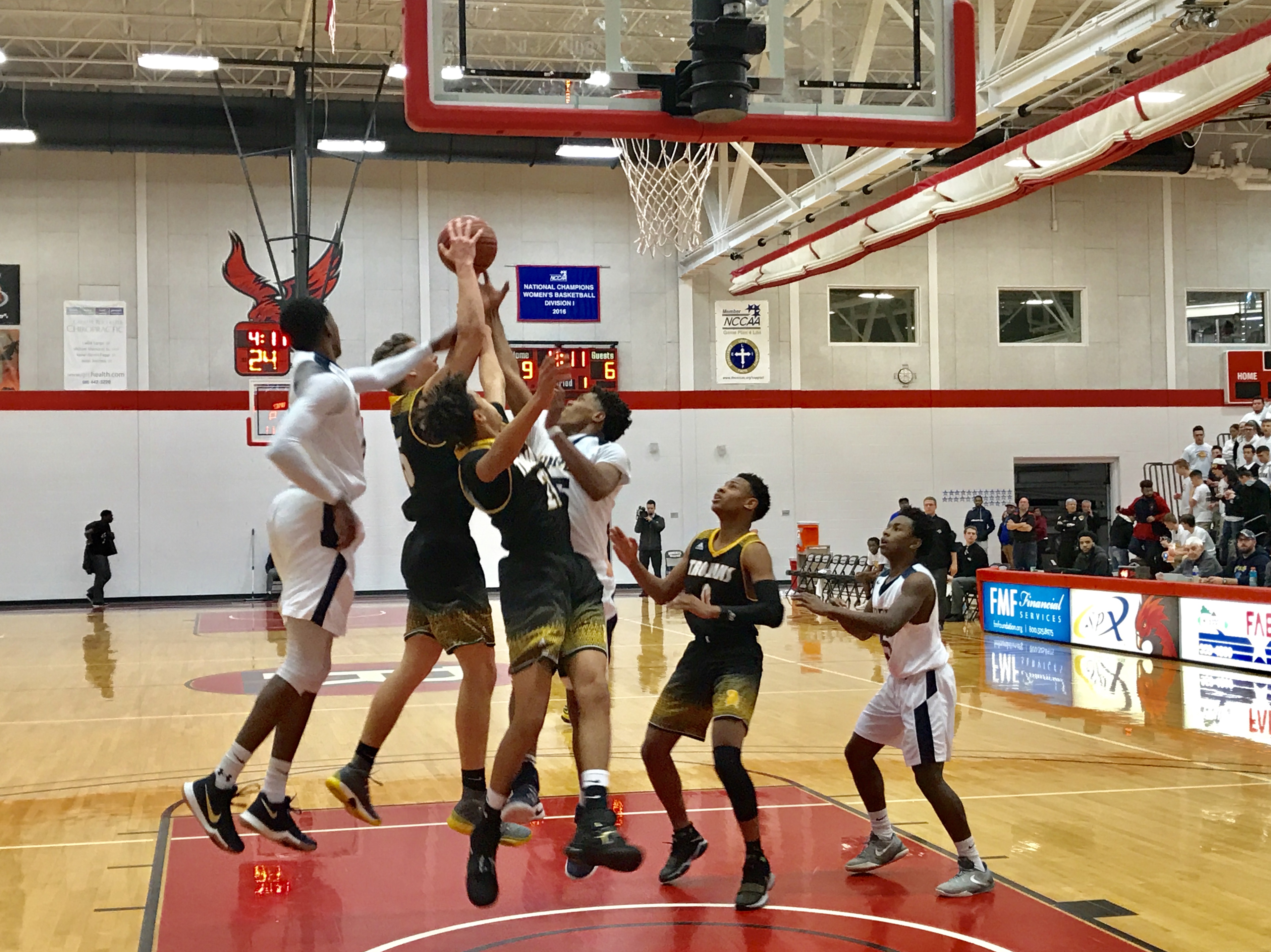 By PAUL GOTHAM
ROCHESTER, N.Y. — Second-year Greece Athena boys' basketball coach Mike Setzer knew his team had something to prove if to no one else but themselves. Wednesday night, the Trojans did just that.
Nigel Scantlebury netted 28 points and led four in double figures as Athena outlasted the UPrep Griffins, 77-73 in non-league action at Roberts Wesleyan College.
"If you can beat a team like them, that puts you on the map; plain and simple it puts you on the map," Setzer said of UPrep which lost in the 2017 Section V Class AA final to eventual state finalist Fairport.  "We were very excited for this game and really excited for this opportunity to play them. We knew they were going to challenge us big time."
Christian Jones gave Athena a lead it did not surrender when he lofted a floater in the lane over the outstretched arms of UPrep's 6-foot-7  junior forward Jabez Thomas for a 63-62 Athena edge with 3:05 to go.
Two possessions later, Scantlebury made it a 68-62 game – the largest advantage held by either team up to that point.
"It's good to get a win like that against a team that's in a higher class than us," Scantlebury said. "Teams in (Class) A1 they're pretty tough, but that's as tough as they come. I feel like if we can beat them, we probably can beat anybody."
Pull-up jumper from @_Nigel___ @GAHSBoysHoops pic.twitter.com/JSfD2TXtdZ

— Paul Gotham (@PickinSplinters) December 7, 2017
To do so the Trojans had to outlast 16 ties and 10 lead changes in the contest before Jones tilted the scales for the last time.
"They just get you into a hurried game," Setzer said of UPrep. "They're so hard to prepare for. They play such great defense and they throw three or four different defenses at you.
"I really liked our composure at the end of the game. I thought we did a good job there at the end of the game."
Scantlebury paced the Athena offense early with a pair of 3-pointers. The junior guard, though, adjusted when UPrep's defense extended its pressure and used the dribble to set up his mid-range game before attacking the rim late and hitting six of seven free throws in the fourth quarter.
"The last two years he's been our general; he really has," Setzer said. "He's such a good floor general. Most of the offenses we run start with him just because he's got great floor vision; he's got really good savvy in the paint. He's got the speed of a guard and the savvy of a big in the paint."
It appeared UPrep had grabbed control late in the game when the Griffins rattled off eight straight points.
Trailing by five at 59-54, Elroy Clark drilled a catch-and-shoot 3 from the left corner. Jahki Lucas took a feed in the lane from JJ Strothers and finished underneath. Strothers converted the first of two free throws, and Thomas was there for the offensive rebound, putback and a 62-59 UPrep lead with four minutes remaining.
JI Strothers gets the hurt and harm. 46-All. 3:31 to go in 3rd: @GAHSBoysHoops vs. UPrep pic.twitter.com/4Iq1i4lYjX

— Paul Gotham (@PickinSplinters) December 7, 2017
"We didn't lose that game at the end," UPrep coach James Reaves said. "We lost it at the beginning of the game. A lack of energy, turnovers caught up to us. We were playing catch up."
Jones responded for Athena with two straight buckets including the floater for the go ahead.
"I knew my team was down," Jones said. "I got to put my team on my back. I got to do anything we need to win."
Jones, a transfer from Southwind High School out of the Memphis area – a program that has produced Memphis Grizzlies starter Jarnell Stokes and current Gonzaga star Johnathan Williams III, finished with 16 points, four rebounds and three steals.
Ryan Kubanka, who fouled out with 4:23 to go, had 11 points, and Johnny Salone had 10. Kubanka and Salone drew the defensive responsibility of having to slow UPrep's Thomas.
"They did a phenomenal job on defense," Setzer said.
Clark led UPrep with 18. Lucas chipped in 17. Thomas scored 13 picked he picked up his fifth foul with 2:27 to go. Quinton Sanders added 10.
The loss was the first for UPrep (3-1) which defeated Niagara Falls (VI) in overtime this past Saturday.
"From our last game to this game we're battle tested," Reaves said. "We've been in two tight games against two good teams. To prepare for February, which is the ultimate goal, you need games like this. Now we know what we need to work on."