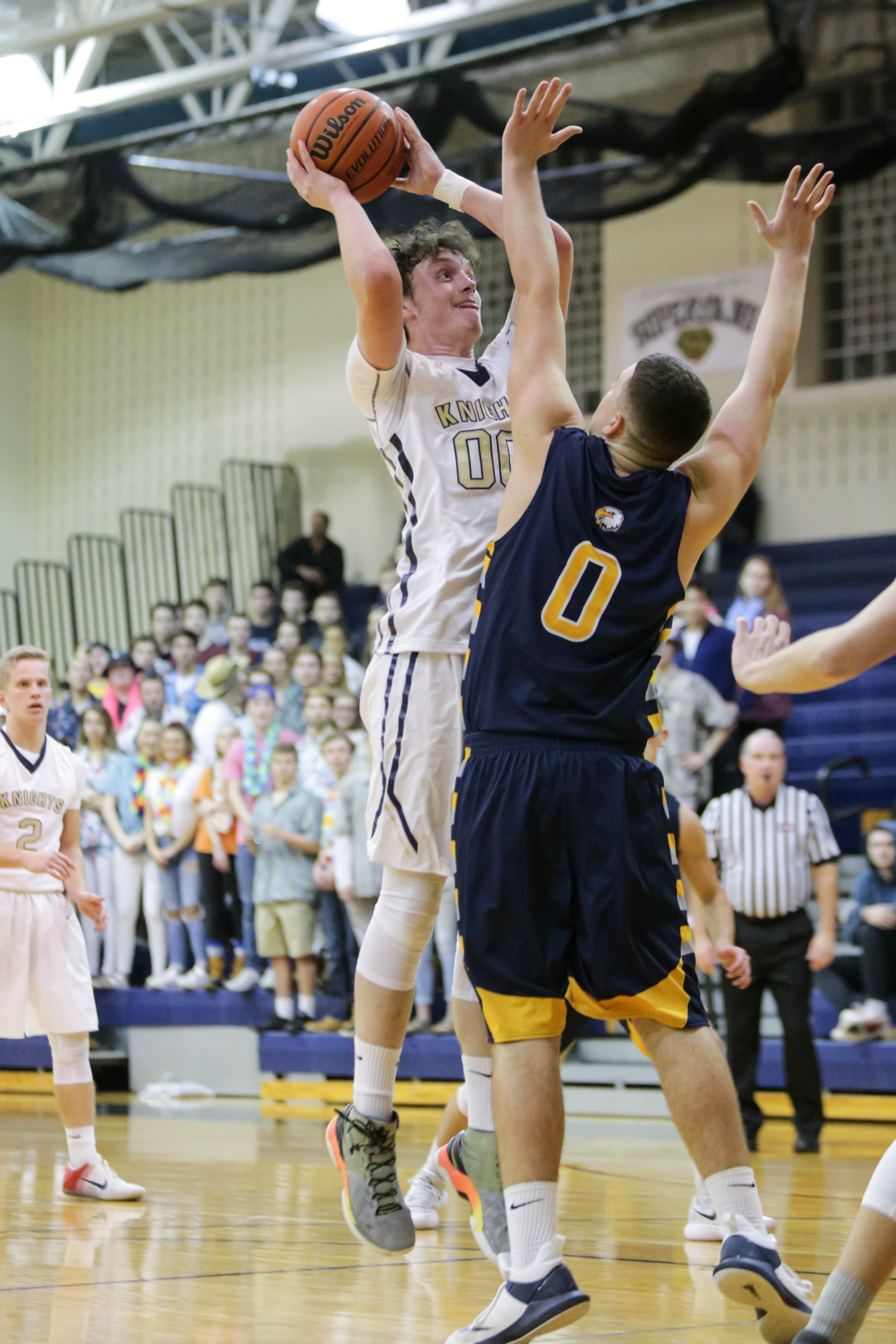 Looking back at some of Section V's top individual performances from last week.
Tony Arnold 6-foot So. G Eastridge Lancers (Monroe County Division IV) – Fearlessly attacks the rim from any where on the floor; at his best pushing the offense in transition, but is willing to be patient in the half court set and allow the ball to move from side to side before going to the basket; finishes well in traffic; still young and once he develops consistency from the perimeter, the floor will open for him; a riverboat gambler on defense, he makes aggressive decisions to create turnovers.
Logan Blankenberg 6-foot-4 Jr. G Wayne Eagles (Finger Lakes East) – Lanky guard who is always a threat on the perimeter, uses height and wingspan as an advantage to shoot over defenders; simultaneously he can put the ball on the floor and attack, makes economic use of the dribble and wise decisions with the ball; deceptively sturdy despite slight frame and strong off the dribble; a willing defender he covers a lot of space with active arms.
Desi Floyd 6-foot-2 Jr. F Wilson Magnet Wildcats (RCAC) – MVP of the Section V Class A football championship game when he rushed for 239 on 18 carries, Floyd looks the part on the basketball court. On a team that includes lightning quick guards Tony Bradley and Robert Davis, Floyd provides a proficient up-the-middle compliment. Sturdy off the dribble, he creates matchup problems when grabbing a defensive rebound and busting it up the middle of the floor: opposing guards are too small to defend him without fouling. Forwards struggle to keep up with him in the open floor; solid finisher, thrives on contact; aggressive defender who uses footwork to guard bigger post players, at the same time he can get out on the perimeter and stay with smaller guards.
VIEW MORE CHRISTOPHER CECERE PHOTOS HERE.
Jiahmere Mitchell 5-foot-10 Jr. G NE Douglass Panthers (RCAC) – Making his second appearance on the Starting Five, Mitchell followed up a 39-point performance on Friday with a 26-point outing on Saturday; the only returning starter for Kyle Crandall's squad, Mitchell did most of his offensive work last year behind the arc. This year opposing teams will know to extend their defense on him, he has added to his arsenal the ability to attack the cup, finishes in traffic with either hand; a cagey defender who anticipates well, sees one play ahead.
Kevin Ryan 6-foot-5 Jr. F Pittsford Sutherland Knights (Monroe County Division III) – Throwback post player who is comfortable making decisions with his back to the basket; big, sure hands he creates an easy target for teammates, advanced court vision out of the block, he finds open teammates on the perimeter when the situation presents itself; nimble footwork, rarely seems out of his comfort zone, combines soft touch around the rim with range out to 15 feet; intelligent defender, effectively uses size to force opponents to shoot over him.