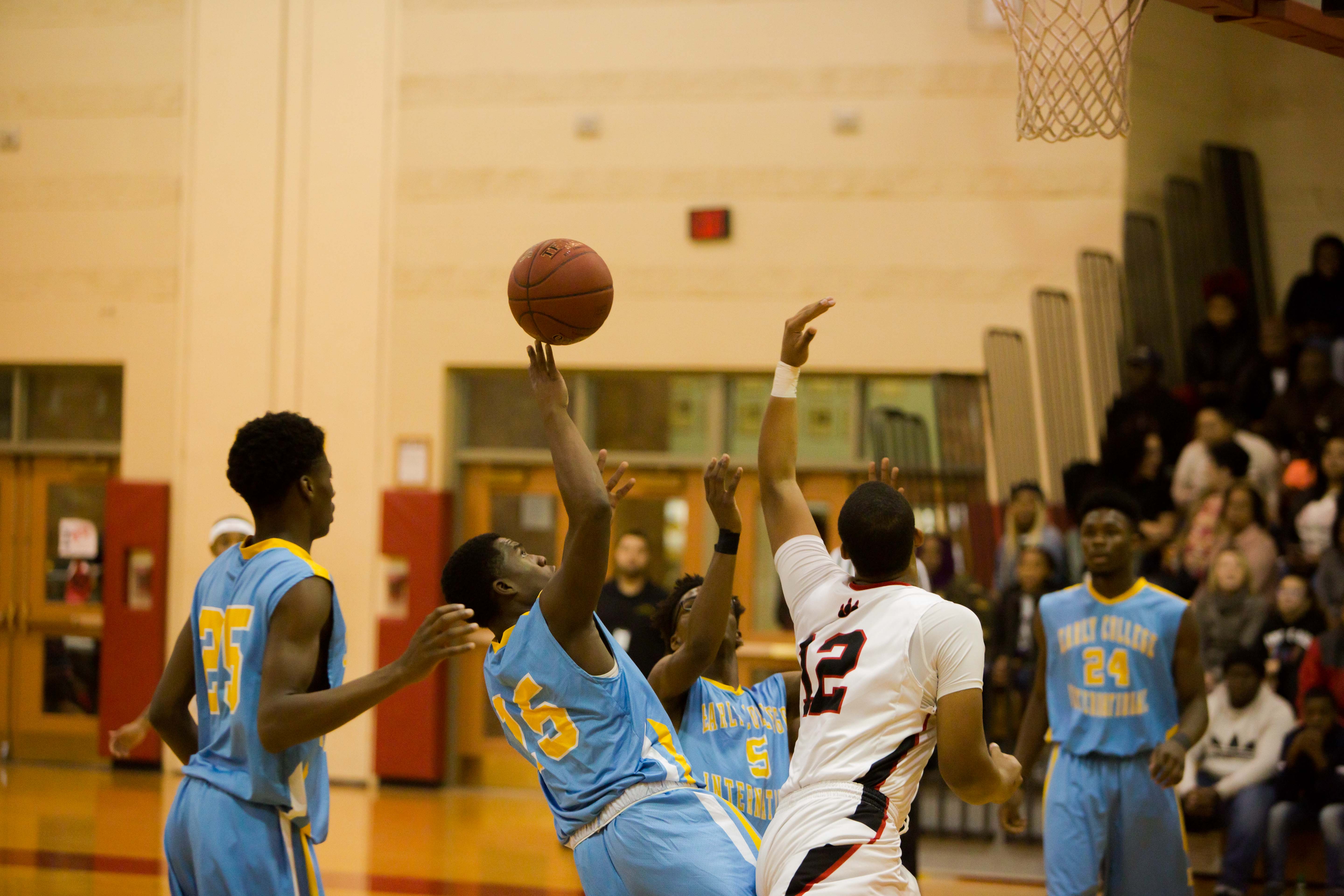 AL MASINO MEMORIAL TIP OFF TOURNAMENT
Eastridge 74 NE Douglass 63
Tony Arnold and Kyndal Taggart scored 19 points apiece. The Eastridge Lancers needed nearly every one of them. READ MORE. 
The Chip! pic.twitter.com/WZmKNhhHrf

— Eastridge Basketball (@EastridgeHoops) December 3, 2017
Brighton 55 Vertus 53
When the Brighton Barons couldn't get their first option in the closing seconds of Saturday's consolation match of the Al Masino Memorial Tip Off Tournament, Sam Gosselin was there to take take advantage of the opportunity. READ MORE.
Gosselin @sgosselin32 with the putback with 1.8 seconds left to grab Coach Tisa's first Varsity Victory pic.twitter.com/moBNEER3DL

— BrightonHoops (@BaronsHoops) December 3, 2017
HOOPS FOR THE HOSPITAL TOURNAMENT (Spenceport)
Canandaigua 61 Webster Schroeder 50
Tournament MVP Connor Fisher scored 19 points for the Braves. All-Tournament Team selection Scott LoForte added seven. Dan Herrick, Jack Ferris and Devin O'Dell added nine points apiece for the Braves.
Hoops for the Hospital Tourney winner @Canandaigua_BB tops Schroeder in the final. https://t.co/iXQRGmNWBj

— Tim Irving (@TimIrvingSports) December 3, 2017
Spencerport 60 Brockport 49
Spencerport's Evan Clarke scored a game-high 17 points. Josh Reding hit three 3's and finished with 12 points. Noah Mundt added nine points for the Rangers. Noah Schultz led Brockport with 13 points. Willie Ball chipped in a dozen points.
UPrep 82 Niagara Falls (VI) 76
Kani Legree and Quentin Sanders turned in double-doubles for the Griffins. Legree scored 10 points and grabbed 10 rebounds. Sanders handed out 10 assists to go with 10 points. Elroy Clark had a game-high 21 points. Jabez Thomas scored 16 points to go with five rebounds.
MANLIUS-PEBBLE TOURNAMENT
HAC 56 Faith Heritage (III) 52
SYRACUSE — Tournament MVP Ryan Hilton scored 20 points and grabbed 16 rebounds to lead the HAC Wolves to a come-from-behind win over Faith Heritage (Section III) to take the inaugural Manlius Pebble Hill Tip Off Tournament Championship late Saturday night.
With a chance to tie the game with five seconds left, Hilton corralled his 16th rebound. After being immediately fouled, he calmly sank two free throws with 3.3 seconds left to seal the victory.
HAC trailed at halftime 35-26 against a very quick aggressive Saints team. Hilton, Xavier Israel and a frenetic defensive effort sparked the comeback as the Wolves outscored Faith Heritage 16-4 in the third quarter to take a 42-39 lead. In the fourth quarter, HAC (3-0) continued its hard-nosed defensive effort and maintained its small cushion until the dramatic final moments.
Israel, who was named to the All Tournament team, finished the game with 18 points and three steals.  The game also featured a break-out performances from Rob Dorsey and Zitong Jin. Jin finished with nine points and three steals while Dorsey capped a very good tournament with seven points and nine rebounds.
For the tournament, Hilton scored 35 points and grabbed 38 rebounds while Israel finished with 42 points and eight steals. The tournament victory was the first championship of any kind for the resurgent Wolves since 2009.
@HACAthletics Wins the Championship at the MHP Tournament in Syracuse with a well earned win over Faith Heritage in the final. 56-52. #Go Wolves!! @sectvbb pic.twitter.com/o4pWxYCOjp

— Doug Crego (@hoopstalkdc) December 3, 2017
WATERLOO TOURNAMENT
Geneva 62 Weedsport (III) 57 OT
Reid Patchett scored 16 points and grabbed 10 rebounds while Akim Hudson netted 18 points to lead Geneva. Adrian Porter chipped in 12 points for the Panthers.
Lyons 64 Waterloo 60
Justice Smith poured in 31 points to go with seven rebounds and five assists to pace Lyons which led 51-37 going into the fourth quarter. Justin Smith added 10 points, seven rebounds and four assists. Waterloo's Derek Slywka scored 19 points and had seven rebounds and four assists. Julian Ruiz scored 13 points in a losing effort. JaiQuan Lewis had eight points and four steals.
Gowanda (VI) 59 Hornell 42
Jamesville-Dewitt (III) 60 Newark 40
GOW School 42 Houghton 34
Mynderse 71 Marcus Whitman 44
Jake Robinson scored 14 points for Mynderse. Quentin Battle added 10 points, six rebounds and four assists. Seth Benedict and Riley McLoud scored 11 apiece for Marcus Whitman.
Bath-Haverling 42 Campbell-Savona 23
C.G. Finney 75 Genesee Valley 64
Cuba-Rushford 62 Bolivar-Richburg 25 
FRIDAY
Wilson Magnet 71 Early College 59
Desi Floyd gave Wilson its first double-digit lead at 46-36 when he converted one of two free throws. Two possessions later he channeled his gridiron mojo. The junior forward, who garnered MVP honors in the sectional title game when he rushed for 239 yards on 18 carries to lead Wilson to its first sectional title in football program history, grabbed a defensive rebound and bull-rushed the length of the floor for a layup and a 48-37 Wildcats advantage. READ MORE.
Edison Tech 89 Franklin 40
Edison Tech senior forward Ryziere Wilson led three in double figures with 14 points. Alton Knight and Jeremiah Caldwell added 13 apiece for the Inventors. Keeashman Hendrix had 15 points for Franklin.
Monroe 74 McQuaid 65
Chris Gibson Jr. scored 21 points for Monroe.
Leadership Academy 63 East 54
Davon Brown and Dezmere Ellis had seven points apiece as Leadership Academy outscored East High 20-10 in the fourth quarter for the come-from-behind victory. Brown netted 13 of his team-high 16 points in the second half. Ellis and Rondell Watson finished with 12 apiece. Marcus Barr chipped in eight points and Lee Mcknight had seven for the Lions. East High's Chaz Washington tallied 17 of his game-high 19 points in the second half. Junior forward Jordan Randolph scored 14 for the Eagles.
Greece Athena 72 Greece Arcadia 30
Christian Jones and Melvin Council Jr. combined for 15 first-quarter points as Athena jumped to a 23-8 advantage after eight minutes of play. Council connected twice behind the arc in the first stanza and four times overall to finish with a game-high 18 points. Jones added 15 points for Athena which led 42-15 at half. Nine different Trojans figured in the scoring with Ryan Kubanka getting 10, Nigel Scantlebury had eight. Pat Meisenzahl and Kelvin Reaves, Jr. had six apiece. Anthony Morris led Arcadia with seven points. Ray Mineo had six.
Rush-Henrietta 78 Churchville-Chili 70
Mecca McCollough scored eight of his 10 points in the fourth quarter as Rush-Henrietta rallied three-point deficit at the end of three quarters. McCollough's backcourt mate, Kailee White, poured in a game-high 39 points to lead the Royal Comets. Don Swain added nine points for R-H. Eric Lewis led a balanced Churchville-Chili attack with 20 points. The senior guard netted 13 in the first half to give the Saints a 37-35 edge going into the locker room. Marcus Postell and Corey Powell combined for a dozen third-quarter points to give C-C a 60-57 advantage after three quarters. Postell had 17 points and Powell 12. Marcellus James added 10.
Fairport 61 Victor 43
SPENCERPORT TOURNAMENT
Webster Schroeder 50 Spencerport 40
Webster Schroeder's Nate Hardy led three in double figures with 15 points. Malachi Duval added 11 and Ky'mere Meeks 10. Noah Mundt led Spencerport with 15 points.
Canandaigua 58 Brockport 52
Dan Herrick scored 17 points, and Scott LoForte hauled in 15 rebounds to lead Canandaigua. Conner Fisher added 11 points and five rebounds for the Braves. Herrick had four steals. Brockport's Emilio Ball scored 12 points. Amire Odey had 11.
EASTRIDGE TOURNAMENT
Eastridge 68 Brighton 61
Tony Arnold netted 13 of his game-high 25 in the third quarter, and the host Eastridge Lancers erased a halftime deficit to advance to the finals of the Al Masino Tip Off Tournament. Arnold hit five shots from the floor in the stanza including his only 3-pointer of the game as Eastridge, trailing 33-30 at the break, took a 51-43 lead into the fourth quarter. Kyndal Taggart added eight in the fourth quarter and finished with 18 in the game. Brighton's Kendall Clyburn scored 13 of his 20 points in the second quarter. Ryan Martin and Jasper Newman scored 11 apiece for the Barons.
NE Douglass 80 Vertus 69
Jiahmere Mitchell poured in 17 of his game-high 39 in the third quarter as NE Douglass overcame a 15-point first-half deficit to advance to the championship of Eastridge High's Al Masino Tip Off Tournament. Mitchell, an All-RCAC performer a year ago who averaged 19.4 points per game, connected seven times from the floor including one 3-pointer in the stanza. The junior guard collected five rebounds and two assists. Adonis Flagler added 13 points, eight rebounds and three steals for the Panthers. Maurice Glenn had five assists. Robert Lowe scored 16 of his team-high 18 points in the first half to lead Vertus to 46-36 advantage going into the locker room. Jamel Demery finished with 13 points for Vertus. Tajman Ball had 12.
Greece Odyssey 58 World of Inquiry 39
Aric Williams netted seven of his team-high 12 points in the fourth quarter as the Greece Odyssey Leopards held off a late rally. READ MORE.
Wayne 48 Honeoye Falls-Lima 34
Aquinas 55 Penfield 51
Justin Johnson hit one of his two 3-pointers on the night with 5:50 remaining to break a 45-all tie, and Aquinas went on to win in non-league action. Kidtrell Blocker led Aquinas with 16 points, and Tyler Warner grabbed 10 rebounds to pace an overall effort which saw the Li'l Irish collect 38 boards to 26 for Penfield. Ruben Torres came off the bench to score 13 points as the AQ bench outscored its counterparts 21-0. Penfield's Isaiah Preston finished with a game-high 18 points on 6-of-15 shooting including 5-of-9 from inside the arc. Bryson Scott had 13 points and seven rebounds for the Patriots. Patrick Piampiano chipped in 12 points. Dyllon Scott had 10 rebounds for Penfield. Blocker handed out four assists, and Aquinas finished with 13 helpers on 22 made field goals.
HAC 59 Blessed Virgin Mary (III) 36
Xavier Israel scored 24 points while Ryan Hilton netted 14 and grabbed a career-high 22 rebounds to lead HAC to a convincing victory over Blessed Virgin Mary (Syracuse) in the first round of the Manlius Pebble Hill (Syracuse) Tipoff Tournament.
After a slow start and trailing 11-9 after one period, the Wolves dictated the flow of the game and exploded over the next two quarters by pushing the tempo and applying stifling defense. With Israel slashing through the Saints' defense, and Hilton clearing the glass, the Saints had no answer for the Wolves who ran out to a 44-28 lead after three quarters. HAC's (2-0) victory was the first game played in MPH's new gymnasium. The Wolves play the winner of Faith Heritage-MPH in
Saturday's
championship.
WATERLOO TOURNAMENT
Geneva 46 Lyons 45
Adrian Porter scored the winning layup with six seconds remaining. Reid Patchett had 10 points and seven rebounds for Geneva. Tyrese Evans had eight points and eight assists for the Panthers.
Weedsport (III) 74 Waterloo 57
Jake O'Connor scored 19 to lead Weedsport (III) which outscored Waterloo 22-6 in the second quarter. Jeff DeJohn added 17 for Weedsport. Derek Slywka connected six times behind the arc to lead Waterloo with 24 points. JaiQuon Lewis had 11 points, six rebounds and three steals in a losing effort.
GVCSD TOURNAMENT
Wellsville 59 C.G. Finney 49
Bolivar-Richburg 60 Portville 58
OLEAN TOURNAMENT
Gowanda (VI) 59 Hornell 42
Warsaw 55 Letchworth 29
Ben MacConnell led Warsaw with 23 points and 19 rebounds.  Ethan Grawe had 15 points, eight rebounds and four assists.  Warsaw jumped out to a 20-3 first quarter and never looked back.  MacConnell had nine in the quarter, and Grawe added eight in the stanza. Tanner Lampson paced Letchworth with 14 points.  Grawe, Dmitri Steele, and Tom Standera each had one three for Warsaw.  Tanner Lampson had one three for Letchworth.  Warsaw is now 3-0 and Letchworth is 1-1.
Mount Morris 63 York 56
Dylan Cicero and Josh Hart scored scored 16 points apiece to lead Mt. Morris which led 51-39 after the third quarter. Jensen Martinez added 15 points. York's Matt McFarland finished with 28 points, seven rebounds and four steals. Dylan Zambito, NickCunningham and Walker Major scored eight apiece for York.
Wayland-Cohocton 83 Keshequa 47
Livonia 60 Geneseo 20
Northstar Christian 102 Rochester Prep 39
Albion (VI) 77 Lyndonville 55
Albion's Bryce Pritchard scored 25 for Albion. Kevin Hillman added 14 and Liam Ward had 10. Zach Johnson led Lyndonville with 24.
Midlakes 64 Gananda 60
Hammondsport 49 Whitesville 35
Parker Watson scored 15 points and Brayden Whitcomb grabbed 13 rebounds to lead Hammondsport. Alex Davis hit three 3s. Dutch MacGartney had 13 points for Whitesville.
Scio 60 Arkport-Canaseraga 24
Marion 48 Romulus 32
THURSDAY
Wellsville 57 Genesee Valley 48
Cuba-Rushford 61 Bishop Walsh 39
Dundee 53 Canisteo-Greenwood 28
LeRoy 72 Albion 45 
Avoca 76 Campbell-Savona 54
LaDre Stanford poured in 38 points to lead Avoca. Evan Reppert added 10. Nate Gleason had 12 for Campbell-Savona. Ethan Park chipped in 11 in a losing effort.
WEDNESDAY
Pittsford Sutherland 58 Wayne 44
Ryan netted eight of his game-high 22 points, and Sutherland, which never trailed in the contest, forced four turnovers in the first eight minutes to take a 13-5 lead into the second quarter. READ MORE.
HAC 50 Honeoye 49
PITTSFORD, N.Y. — HAC's xavier Israel scored a career-high 29, and Ryan Hilton 15 points, 15 rebounds and eight assists to lead the Wolves to a wild win over rival Honeoye in the season opener for both teams.
With the game tied at 47 and 1:04 remaining in the game, Hilton converted a 3-point play. Honeoye's Jon Marble hit a floater in the lane to the lead to one with :42 left. After HAC (1-0) ran down the clock, Israel drained a 3-pointer, but it left his hand a fraction of a second after the shot clock expired with :10.2 to go on the game clock. Given one last chance, Honeoye pushed the ball, but Wolves' Kyle Lacey stepped in front of Max Yale's wing pass to Marbel with ;06 to go and ran out the clock. Neither team led by more than five points in the Finger Lakes West matchup. Marble and Yale scored 16 apiece for Honeoye. Jon Viera had 10 in a losing effort.
Canandaigua 58 Newark 52
Scott LaForte scored 16 to lead Canandaigua to the season-opening win under first-year head coach, Charles DeTaeye. Jack Ferris added 12 points. Connor Fisher had 10.
Taylor Clements @Taylor_Lax_Life of @NewarkAthletics is not just a dunker! One hand. Length of the court. Beat the buzzer. #SCTop10 @sectvbb pic.twitter.com/Z2knu1SDGK

— Matt Trabold (@TrabsMatt) November 30, 2017
Avon 44 Geneseo 39
A strong all-around showing for the Blue Devils early on in the first quarter as an early three from junior guard Nicholas Hammond opened the scoring for an early lead. READ MORE.
Pembroke 76 SOTA 56
Vertus 72 Rochester Academy 55
Rochester Prep 45 Wheatland-Chili 38
Romulus 47 Hammondsport 44
Penn Yan 50 Wayland-Cohocton 44
Letchworth 45 Dansville 44
Lima-Christian 62 Holley 42
Kendall 66 Pavilion 61
Hornell 58 Palmyra-Macedon 37
Prattsburgh 61 Cuba-Rushford 51
Alfred-Almond 49 Whitesville 47 OT